Every day, one or more people are elated when their favorite sports team wins, while others are disappointed when their favorite team loses. With millions of people watching and enjoying these sporting events every day, sports marketing plays a vital role in these major sports events.
Sports marketing is an excellent technique many large sports businesses have used to become viral. It has a significant impact on nearly every dynamic sports brand.
Sports marketing comprises two unique characteristics reflected in its dual nature. They might utilize sports to promote the sport or the brand through the sport. It ultimately boils down to putting fans in front of unforgettable events.
What is Sports Marketing?
Sports marketing is a method of connecting with potential customers through a common interest in sports. Businesses may reach out to consumers who are not otherwise exposed to their brand by utilizing sports as a platform.
Sports marketing uses sports in any form to assist in selling goods and services. This type of marketing relies less on a single plan and more on utilizing sports content to aid marketing efforts. This does not just apply to professional sports but also college athletics, minor leagues, and alternative sports.
What is branding in sports marketing?
Branding in sports marketing refers to the process of creating and promoting a unique and distinct identity for a sports team, athlete, or sporting event. It involves developing a set of visual and verbal elements that represent the essence and values of the entity, which helps differentiate it from competitors and resonates with the target audience.
A strong sports branding strategy aims to establish a memorable and recognizable image in the minds of fans, sponsors, and the general public. It goes beyond just the team or athlete's performance on the field and encompasses various aspects such as logos, colors, team names, mascots, slogans, and even the overall fan experience.
Types of Sports Marketing
When it comes to Sports Marketing, there are multiple ways to market it. But ultimately, it comes to what exactly you are trying to advertise. So classified below are types of sports marketing with relation to what you want to be promoted.

1) Marketing of Sports
The promotion of sports, sporting events, associations, and teams is known as sports marketing. This sort of marketing has a direct connection to sports. It is described as creating or designing a "live" activity centered on a specific subject. The purpose is to promote or advertise events, teams, and associations.
2) Marketing through Sports
Sports marketing is the promotion of various commodities, services, or causes by leveraging the popularity of sports and athletes. This is the business in which sports people and teams promote multiple firms and sponsors who use sporting events to sell their products to spectators.
3) Grassroots Sports Marketing
At the grassroots level, sports marketing is all about promoting sports to the general people. This is done to make a sport more appealing as fitness rather than entertainment. The purpose is to encourage people to participate in sports. This is social marketing since it helps everyone.
Types of Sports Marketing Sponsorship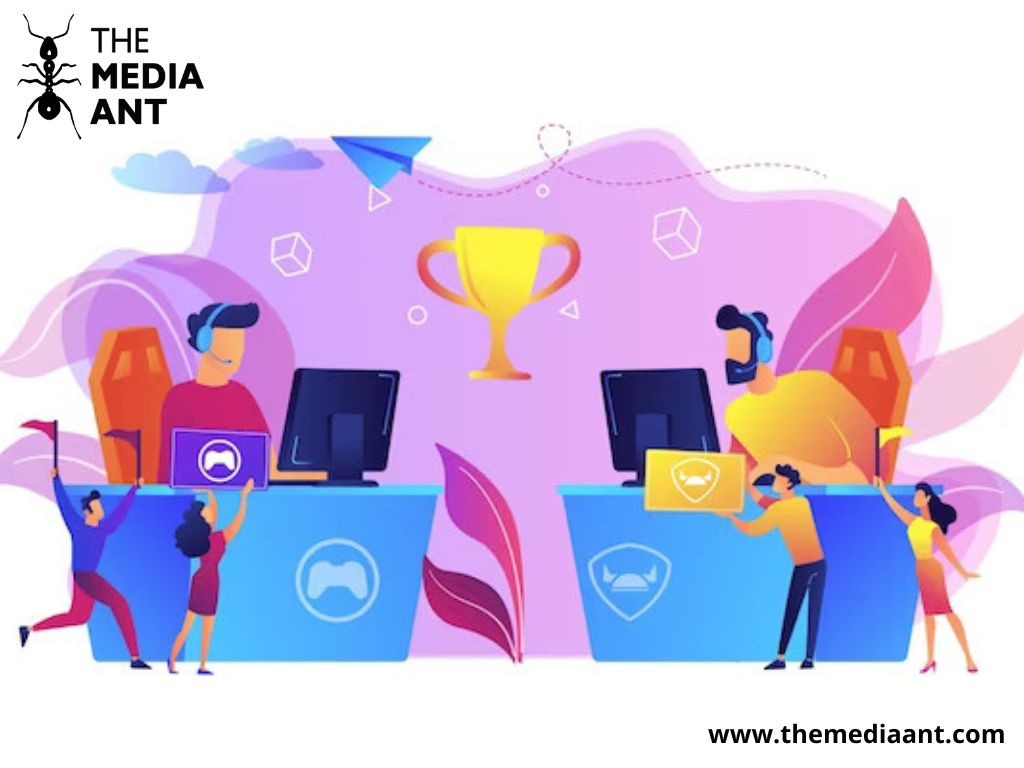 The three major types of sports marketing sponsorship each provide different advantages and ways for businesses to connect with and engage with their target markets. Companies may collaborate with sports organizations to create a successful sponsorship plan and select the type of sponsorship that best suits their marketing objectives and financial constraints.
Let's look more closely at each of these three sports marketing sponsorships:
1) Individual Sponsorship
This type of sponsorship focuses on sponsoring a specific athlete, typically in individual sports such as golf, tennis or track and field. The sponsor is made more visible through the athlete's appearance, brand, and performance. Individual sponsorship offers sponsors chances to activate their brand through athlete product endorsements, media exposure, and personal appearances.
2) Team Sponsorship
In team sponsorship, a business finances an entire sports team and its competitions. The sponsor's logo and branding are on the team's apparel, merchandising, and signs. The media covers the team's events, and the business gets publicity. With this kind of sponsorship, the sponsor may reach a broad audience and appeal to a sizable fan following.
3) Event Sponsorship
Sponsoring a particular sporting event, such as a tournament, championship game, or season, is known as event sponsorship. The sponsor may also get visibility through media coverage, as their name and logo are frequently displayed prominently during the event. By sponsoring events, businesses may promote their goods and services while reaching a sizable and focused audience.
5 Ps of Sports Marketing
The 5 Ps of Sports Marketing is a collection of tactics businesses may use to sell their goods and services through sports successfully. Product, price, promotion, place, and people are the five components that make up the core of a successful sports marketing strategy. Let's explore each one in more detail:
Product
Product is a term that describes the item or service being advertised via sports. Businesses should ensure that their product reflects their target market's choices, values, and interests. For instance, a sports nutrition business should concentrate on developing goods that address the unique requirements of athletes. The product should also stand out from the competition with unique features and advantages.
Price
Price refers to the cost of the product or service and how it compares to similar offerings in the market. Companies should price their products appropriately to ensure they are accessible and appealing to their target audience. For example, a sports equipment company may offer a range of products at different price points to appeal to customers with different budgets.
Promotion
The techniques used to increase knowledge of and interest in the good or service are referred to as promotion. This can involve public relations, events, sponsorships, and advertising. Businesses should pick them wisely to ensure that promotion methods are successful and appealing to their target audience. As an illustration, a sportswear firm may support a well-known athlete or team to raise awareness of the brand.
Place
Place describes the methods of delivery that are utilized to reach the target market with the product or service. Companies should carefully choose the right places to sell their products and services to ensure they are accessible and convenient for their target audience. For example, a sports equipment company may partner with a sporting goods retailer to make its products available to customers.
People
The term "people" refers to the people and organizations engaged in the sports marketing process. Athletes, teams, events, and anyone working on promoting and distributing the good or service are all included in this. Companies should ensure they have the right people to market their products and services effectively through sports. For example, a sports nutrition company may have a team of athletes and nutritionists who can promote its products and share their expertise.
The 5 Ps of Sports Marketing provides a comprehensive framework for companies to market their products and services through sports effectively. Companies can build strong brand recognition, reach a targeted audience, and drive sales and revenue by focusing on these elements.
Examples of Sports Marketing
Betway is an international betting service that has successfully used sports marketing to become one of the largest betting brands in India. Betway has hired brand ambassadors to represent the brand, including South African cricketer Kevin Pieterson and the gorgeous Nargis Fakhri.
To market their brand, Star Sports has taken advantage of practically every well-known sports league and competition in India. One of their advertisements had Virat Kohli pleading with parents to let their children play outside. A different campaign highlighted athletes from India's north-eastern region.

Breaking social preconceptions or promoting a cause have frequently been the focal points of Star Sports' campaigns.
Advantages of Sports Marketing
1. Increase Brand Awareness and New Clients
One of the initial advantages of sports marketing is that it raises brand recognition and attracts new and potential customers. As you associate your brand with local sports teams, you will notice that you have positioned your brand to attract new audiences unfamiliar with your product/services.
When you raise your general brand recognition, you will see a significant increase in sales since your brand will begin reaching out to local team supporters. Social media and digital advertisements may also increase your brand's visibility among sports enthusiasts.
2. Sports Marketing has a high level of loyalty
Loyalty is just as important in sports as in any other company. The second most important benefit of sports marketing is brand loyalty.
In sports marketing, it is critical to assist supporters in identifying with their teams and developing a passion for them. Your company may improve its loyalty by linking your brand with what your consumers care about, such as the sports teams they routinely support. Existing customer recommendations account for about 50% of a company's revenue.
3. Increase in sales and season ticket sales
Season ticket holders generate more interest in media coverage.
Season ticket sales are the backbone of any professional sports team in sports marketing. Because there are many sports fans, aligning your brand with sports can help raise your sales. Revenue may be generated for your brand by selling team products such as programmes, shirts, hats, jerseys, and posters, among other things.
4. Obtaining a high Return on Investment (ROI)
The final but not least benefit of sports marketing is increased brand ROI. According to research, event sponsorship provides a decent investment return for organizations that operate efficiently. A defined plan of action and a specific objective are one method to increase your chances of success. Set metrics to monitor the impact of your efforts to stay on target.
Sports Marketing Services
The sports industry is so huge that it can be difficult for a brand to stand out on the Internet. There are hundreds of well-known brands and corporations, as well as thousands of smaller-scale businesses that market themselves online.
It is challenging to identify and locate the best advertising agency. This is due to the overwhelming volume of such marketing agencies. Each agency, large or small, may be distinct in its own manner.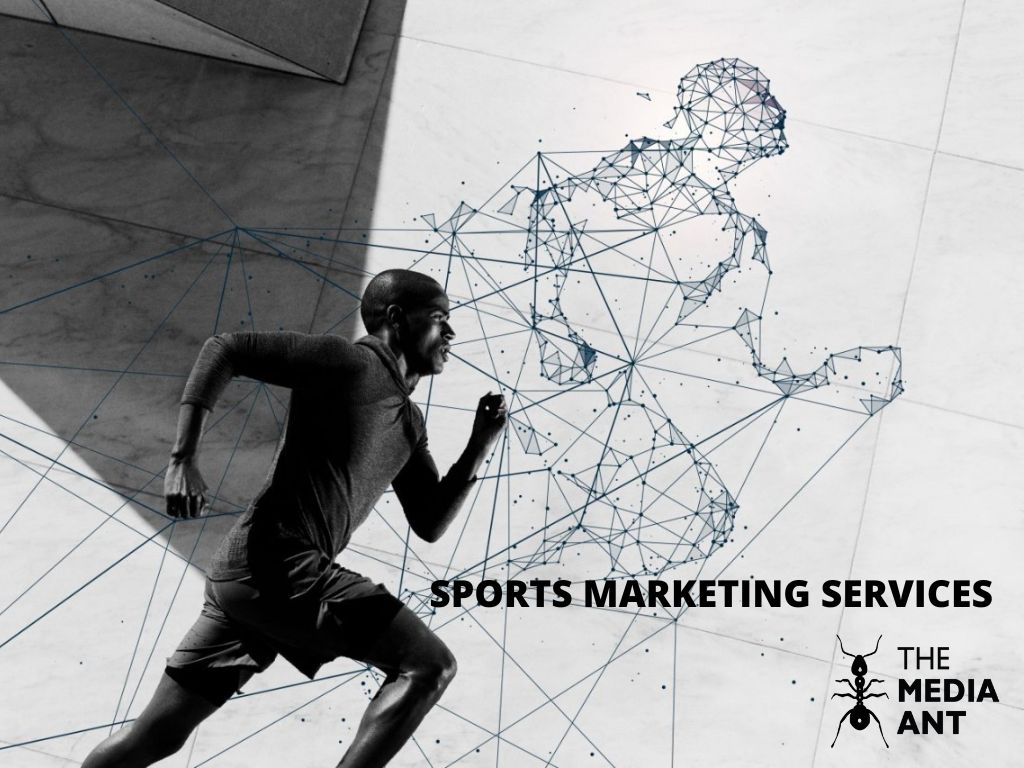 As the leading advertising agency, The Media Ant offer online advertising services across several media platforms, such as:
OTT (over-the-top) refers to accessing TV material over an internet connection rather than traditional cable or satellite. OTT advertising is thus the act of promoting to this internet-connected audience while they are streaming content. Sony Liv, Voot, Hotstar, Connected TV, and more platforms are available through The Media Ant.
App advertising or In-app advertising enables businesses to reach out to new clients worldwide who use the app you are advertising in and provide tailored experiences. Marketers may track the success of their efforts in real-time and adjust as needed. The Media Ant allows you to promote on Instagram, Inshorts, Gaana, and many more platforms.
Website advertising helps businesses to reach out to new clients all around the world and provide tailored experiences. Marketers may monitor the effectiveness of their efforts in real-time and make changes as needed. The Media Ant provides websites such as YouTube, Times of India, Facebook, Cricbuzz, and others.
Book online advertising at low prices with us and get your desired results. Our digital sports marketing services can help in campaign and promotion effectiveness.
Sports Marketing Strategies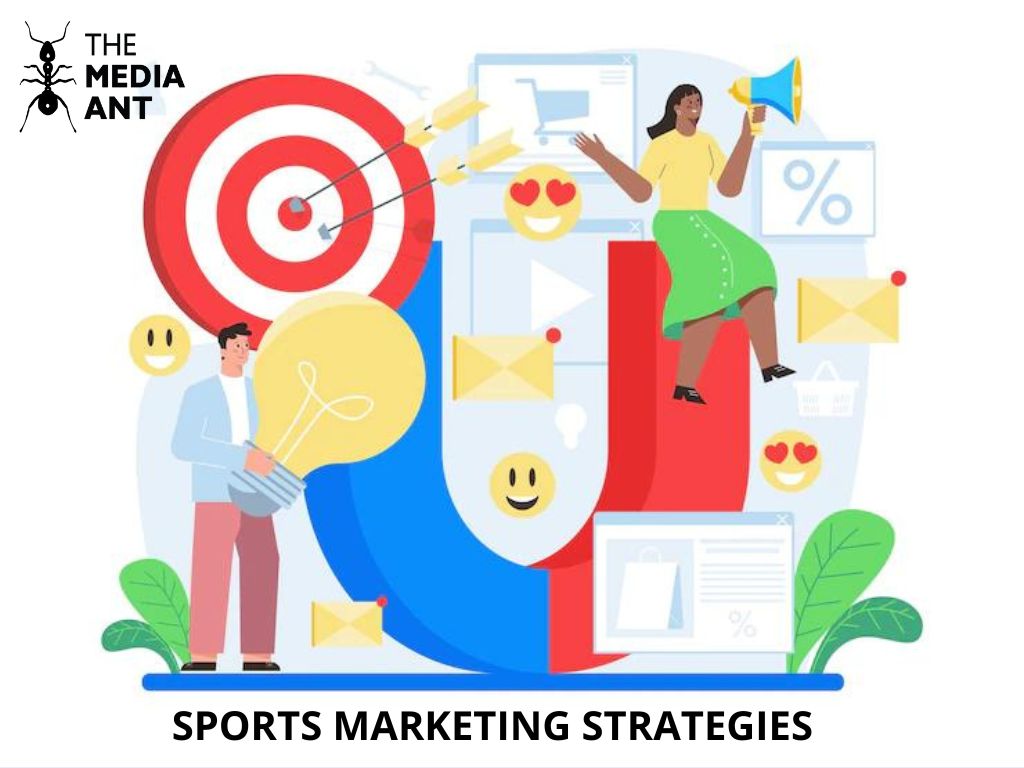 There are quite a few sports marketing strategies out in the marketing world. But to simplify your understanding of the whole thing, here are a few strategies.
1) Target Audience
Consider your target audience's qualities, such as their interests, lifestyle, and money. A message aimed at young people on the Coast who value an athletic, outdoor lifestyle will look quite different from one aimed at elderly seniors, who may prefer nostalgic sports references and fundamental healthy living choices.
2) Utilizing Social Media
Due to fans' strong engagement with social media, social media has become the modern cornerstone of sports marketing. Create a brand presence on Facebook, Instagram, or Twitter to take advantage of this resource. In-depth sports fans use their mobile device to watch an event in about 52% of cases. Utilize this force by strengthening your social media marketing to establish connections with your clients.
3) Put Engaging Content
You will expose your audience to new possibilities if you want to make the most of the already established networks of passionate sports fans. As a company that consistently uses some of the most iconic sports marketing strategies, Nike continues to rule. Consider using content marketing with written, visual, and written content across various platforms to reach this vast pool of potential customers.
4) Roll out content while taking advantage of events
Because sports marketing is so tightly linked to seasonal sports and live events, it is critical to identify the best time to release your content. Know when an email is more successful than social media and vice versa. Once you've found the right publishing content, try employing automation to maintain continuous material coming.
5) Brand Management/ Sponsorships
Some of the most exciting aspects of sports marketing stem from its connections to well-known sports and individuals. Use one-of-a-kind methods to attract potential clients. Consider how often you've seen a company logo on a jersey, a stadium, a court, or a helmet. Connecting with sponsors may result in tremendous exposure.
Sports Marketing Strategies Examples
Many incredible examples are out there that have had an enormous impact and are very memorable. A few major ones are-
1) Mauka Mauka: Star Sports
At one of the most significant sporting events in the world, the Cricket World Cup, the Mauka Mauka campaign emphasized India's history with Pakistan. The advertising campaign made fun of Pakistan for falling to India five times.
During the World Cup in 1992, a Pakistani cricket fan saved firecrackers to honor his country. Sadly, Pakistan failed, so the fireworks were useless that year. Even so, as he gets older, the fan continues to save fireworks every year: 1996, 1999, 2003. He anticipates the opportunity to toast Pakistan's victory over India.
Fast forward to 2011, and the same fan is still there. He is supporting Pakistan in the 2011 World Cup semi-final and has a wife and child now. They lose, though. When will we burst the crackers, buddy? He asks his son in the final moments of the video.
Many cricket fans were won over by the Mauka Mauka campaign, which attracted the most viewers during the 2015 World Cup. The advertisement has received more than 30 million views (excluding videos from third parties) and sparked much discussion.
The reason why this campaign succeeded was because of two things.
While, in a way, poking fun at Pakistan, India displays good sportsmanship in the advertisement.
The campaign used storytelling to its fullest potential.
2) "Waka Waka" by Shakira x Freshlyground
One of the most widely shared advertisements for the most-watched sporting event in the world was Shakira's 2010 World Cup song. This case study in sports marketing illustrates the extensive efforts that went into song creation and promotion. This song was more than just a song; it was an iconic movement representing a nation, an occasion, and the sport itself.
The song's music video included a lot of players and match scenes. This sports marketing song, which has received over three billion views on YouTube, honors the first World Cup game ever held in Africa.
Importance of Sports Marketing
Sports Marketing is important in many terms and it goes a long way, let's discuss how sports marketing is important –
It helps you in building Brand Awareness
Sports marketing has the potential to give your brand international recognition within a shorter span of time.
It adds positive values to the brand
Sports marketing associates you with the positive value of the sports that you have chosen, developing brand preference.
Loyal customers that you can rely on
If your brand is marketing through a particular sport, sports team, or sports player you gain loyal customers who are going to stick to your brand.
High ROI
Sports marketing is cost-effective, and the return on investment is higher than with traditional ways of marketing.
Sports Marketing Agencies In India
The Media Ant is the leading advertising agency in India, providing advertising and marketing solutions for all digital media platforms.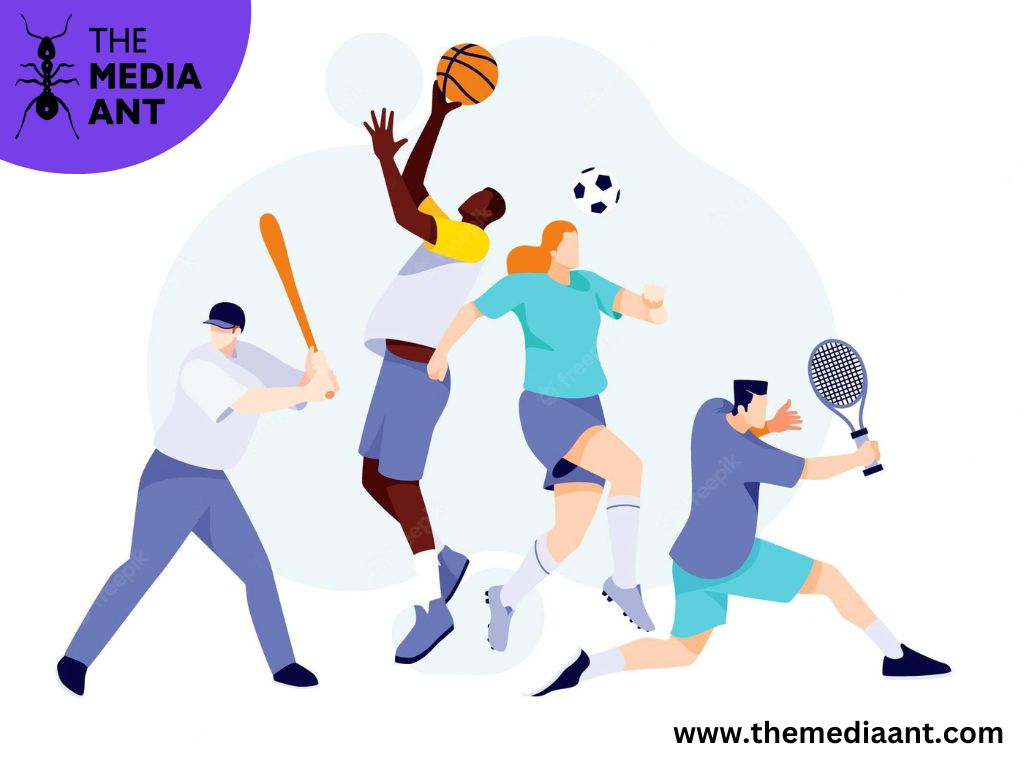 If you own a sports business or are a sports person looking to utilize sports to market products and services, The Media Ant can help you reach out to your target audience. You've come to the right spot; visit The Media Ant website to learn about your possibilities. Find an appropriate venue for advertising your goods and services through your preferred sports.
FAQs Related to Sports Marketing
What are the 3 types of sports marketing?
The three types of sports marketing are:
Sponsorship Marketing: This involves brands partnering with sports teams, leagues, events, or individual athletes as sponsors. Through sponsorship, brands gain visibility by having their logos featured on team jerseys, event signage, or through other promotional activities. Sponsors may also engage in collaborative marketing campaigns with sports entities to enhance brand association and reach the sports audience.
Event Marketing: Event marketing focuses on leveraging sports events as platforms to promote brands or products. This includes creating on-site activations, experiential marketing initiatives, or hosting brand-sponsored events and hospitality suites during sports events. Brands may also run contests, giveaways, or promotional activities at sports venues to engage with fans and increase brand awareness.
Athlete Endorsements: Brands collaborate with professional athletes to promote their products or services. Athletes with a strong following and influence serve as brand ambassadors, appearing in advertising campaigns, endorsing products, or engaging in social media promotions. Athlete endorsements leverage the popularity, credibility, and fan base of the athlete to create positive brand associations and drive consumer engagement.
What do you do in sports marketing?
The primary responsibility of sports marketers is to manage the operations of their organization. They engage fans and build connections with possible commercial partners or sponsors to promote their brand and increase attendance at sporting events.
Other typical responsibilities include cultivating brand loyalty, establishing a target audience, doing market research to understand what the public wants, negotiating contracts, and planning and implementing market strategies.
What is meant by sports marketing?
Sports marketing is a means of interacting with potential clients with a passion for sports. Businesses may use sports as a platform to reach out to consumers who would not otherwise be exposed to their brand.
Athletes or teams are used in sports marketing to advertise sporting events, equipment, products, and services. Using a sportsperson or a team only serves one goal. An influencer is a player or a team who has a direct impact on the audience.
What are some examples of sports marketing?
P&G's "Thank You, Mom" campaign is among history's most influential sports marketing examples.
A 2012 Summer Olympics campaign used this moving masterpiece. P&G promoted its products as a practical means for mothers to support Olympic heroes in it.
Athletes were brought on-screen to thank their mothers for their positive influence on their careers as part of a celebration of mothers and sports.
Another example comes from Nike and their Dream Crazier campaign, which builds on its well-known Just Do It campaign. Serena Williams shares a moving story about what it's like for women in the sports industry in this advertisement.
Williams transforms derogatory remarks and stereotypes about women in sports into a message of empowerment for young female athletes everywhere. You'll see instances in sports history where female athletes pushed the envelope, accepted their "crazy," and owned it throughout the video.
What is sports marketing with examples?
Sports marketing involves promoting and advertising products, services, or brands through sports-related activities. It includes various strategies to engage with fans, athletes, teams, and sports events. Examples of sports marketing include:
Sponsorship of sports teams or events by brands like Nike sponsoring the Manchester United football club.
Athlete endorsements, such as Gatorade featuring professional athletes like Serena Williams in their advertising campaigns.
Creation of branded merchandise, like Adidas producing jerseys and apparel for the FIFA World Cup.
Activation of in-stadium experiences or fan engagements, like Coca-Cola sponsoring interactive fan zones during the Olympic Games.
What are the 4 P's of marketing and sports marketing?
The 4 P's of marketing, also known as the marketing mix, apply to sports marketing as well:
Product: In sports marketing, the product refers to the sports-related goods, services, or experiences being offered, such as sports apparel, event tickets, or sports training programs.
Price: Price encompasses the cost associated with sports products or experiences. This includes ticket prices, merchandise costs, sponsorship fees, or registration fees for sports events.
Place: Place refers to the distribution channels used to make sports products or experiences available to consumers. This includes physical retail locations, e-commerce platforms, sports venues, or sports facilities.
Promotion: Promotion entails the marketing communications and promotional activities used to create awareness and drive interest in sports products or experiences. This includes advertising, public relations, social media campaigns, and sponsorships.
What are the 10 sport marketing steps?
The specific steps in sports marketing may vary depending on the context, but here is a general overview of 10 key steps:
Define marketing objectives and goals
Conduct market research to understand the target audience and competition
Develop a strategic marketing plan
Identify and secure sponsorship or endorsement opportunities
Create compelling marketing messages and materials
Execute promotional campaigns across various channels
Engage with fans and consumers through interactive experiences
Measure and analyze the effectiveness of marketing efforts
Make necessary adjustments based on data and feedback
Continuously evaluate and refine marketing strategies to optimize results
What are some challenges in sports marketing?
Challenges in sports marketing may include:
High competition for sponsorship and endorsement opportunities.
Managing and maintaining a brand reputation in the dynamic sports environment.
Effectively reaching and engaging with a diverse and fragmented sports audience.
Navigating legal and regulatory considerations, such as intellectual property rights and licensing agreements.
Adapting to rapidly evolving digital marketing technologies and trends.
Balancing the need for authenticity and credibility in athlete endorsements.
Mitigating risks associated with unpredictable outcomes in sports events.
What is sports marketing research?
Sports marketing research involves conducting studies and gathering data to gain insights into consumer behavior, market trends, and the effectiveness of marketing strategies in the sports industry. It helps organizations make informed decisions, identify target markets, measure brand impact, evaluate sponsorship ROI, and understand fan preferences. Sports marketing research methods may include surveys, focus groups, data analysis, and market segmentation studies.
What are the forms of sports marketing?
Forms of sports marketing include:
Sponsorship and endorsement deals.
In-stadium advertising and branding.
Digital marketing and social media campaigns targeting sports fans.
Event activations and experiential marketing.
Licensing agreements for merchandise and apparel.
Broadcast and media partnerships.
Sports-related content marketing and storytelling.
Community and grassroots initiatives.
Athlete appearances and personal appearances.
Fan engagement and loyalty programs.
| | |
| --- | --- |
| Was this article helpful? | |