The sun has hit the horizon, you wake up, wear your Puma tracksuits, Nike shoes, and drink your favorite protein drink to leave for a healthy start of the day with a walk.
Do you realize that there is a common thread connecting all of them?
We don't realize the choices we make subconsciously, we make choices influenced by the business's marketing techniques. There is a lot of advertising, especially during any athletic or sports events, which impacts our purchasing decisions and also helps the brand catch the imagination of the public so that when people think of sports, they instinctively identify a product with it.
This type of promotion gave rise to the marketing phrase "Sports Marketing"
And in this article we will discuss some of the record breaking best sports marketing campaigns that have made their mark in the world of advertising.
When thinking about sports, it drives a certain kind of emotion in all of us and fills us with a lot of emotions and enthusiasm.
Especially in a country like India where sports is considered a religion, it gives brands a golden opportunity to advertise in sports events.
And if you're thinking that sports marketing is just for bigger brands then you're wrong because it offers equal opportunities to all, you just have to come up with campaigns that are going to break records.
Now, when talking about breaking records through sports marketing campaigns it doesn't happen overnight, it takes a lot of ideation, patience, and hours of work. But don't worry, we are here to make your life easy, this blog will answer all your questions related to sports marketing campaigns and will also help you in the execution of the same.
Let's now talk in detail about the best sports marketing campaigns that have been executed to date, it will help you to brainstorm ideas on how to move forward towards the planning of your campaigns.
Top Sports Advertising Campaigns
1. Pelé: Puma and the Pause
Just before the start of the 1970 FIFA World Cup final, after all of the players, had taken their positions, Brazilian star player Pelé stepped on the midfield and asked the referee to halt the game for a minute to tie his laces, which the official granted. It looked very normal at first, but Pelé took about 42 seconds to tie his shoelaces. Pelé was fully aware that, as the top player, all eyes and cameras were on him.

Pelé used the 42-second pause to promote his Puma cleats since all of the cameras were focused on his Puma shoes while he was tying his laces. It didn't take long for everyone to see that Puma had pulled off a spectacular marketing coup. Pelé's Puma and the Pause campaign was one of the first viral promotional sports marketing initiatives in history.
2. Nike- Winner Stays On
Nike is known for its feel-good advertisements, when one thinks about Nike, they just don't think of it as a shoe brand, there is a certain kind of emotion that comes along with the same. Nike's "Winner Stays On" is again one of the best examples of a feel-good ad that brings out raw emotions related to football.

The idea was a simple but relatable one. As football fans, we already have tried to imitate our idols at the local park or playing fields and so Nike brought that to life here, with a group of lads playing 'Winner Stays On' and transforming into the world's best.
3. Under Armor- Rule Yourself
Before the start of the 2016 Rio Olympics, Under Armour developed a marketing campaign called "Rule Yourself". The campaign's main goal was to showcase each athlete's unique talents by repeating the compelling statement "You are the sum of all your training."
Misty Copeland (ballerina), Tom Brady (football), Michael Phelps (swimming), and other professional athletes were featured in the ad campaign where they are shown doing all the hard work that is put into practice to achieve that one single goal, the ad ends with a beautiful quote which says- "It's what you do in the dark that puts you in the light"
4. Pepsi- Change the Game
Cricket World Cup is one of the most anticipated sporting events in the world, with both sports fans and sponsors looking forward to it. The World Cup gives a wonderful platform for firms to conduct marketing activities and reach a broader target group. Pepsico admirably took this once-in-four-year chance during the 2011 ICC World Cup. Their unusual, imaginative advertisements created a sensation in the industry and earned widespread appreciation from fans.
During the World Cup, Pepsi created a series of adverts containing amusing invented stories about famous cricketers' distinct unorthodox cricketing techniques. The advertising included M S Dhoni's Helicopter Shot, Virendra Sehwag's Upper Cut, Dilshan's Pallu Scoop, Kevin Pietersen's Switch hit, Harbhajan Singh's Doosra, Lasith Malinga's Slinga action, Shakib Al Hasan's Super Scoop, and Umpire Billy Bowden's Tedi Ungal.
Pepsi's commercial provided a message to the young that was larger than life, pushing them to challenge current traditions rather than chasing them in their chosen industries.
Best Sports Team Marketing Campaigns
When talking about sports we cannot leave behind the best sports team marketing campaigns used by the brands to market their products through sports teams.

Let's look at a few examples of some of the best sports team marketing campaigns-
1. Oppo F3 Diwali Ad featuring Indian cricket team
Oppo chose a very unique way to advertise their product through the ad featuring Indian Cricket team where an Apsara turns these handsome hunks into gullible boys who then go on the search of the perfect gift for the Apsara, a folklore continues until they find the perfect that ,i.e., Oppo F3.

2. Vivo IPL- Game Banayega Name
# Game banayega name is a slogan used by Vivo Ipl in the advertisement which clearly states that Vivo Ipl is a platform where one's talent precedes one's name. In the video the sport stars are shown battling with youth in raw form on a spilt screen, both the parties are battling to grab the screen space, and the ad ends with renowned players acknowledging the young talent and inviting them to show their game.
3. Kingfisher IPL 2018 Ads featuring RCB players
Divided by teams united by kingfisher is a funny commercial where RCB players are shown fooling around with each other, by playing pranks on each other. This is a very light form of advertising yet impactful as it brings joy when looking at the advertisement and it will subconsciously associate joy with the brand in people's mind when thinking about Kingfisher.
4. Starvaluepack featuring MSD and Hardik Pandya
Starvaluepack " Sach me" is yet another funny advertisement done by "Star" where both Indian players, MSD and Hardik Pandya are shown watching cricket by sitting over a tree through horoscope and simping on each other's game, and complaining about sports value pack for ads being expensive until they discover Starvaluepack. The ad is still remembered over the years because of tonality used in the advertisement.
Sports Marketing Promotion Ideas
Survey your Sports Fans
Sending out a survey can help you gather fan feedback and then work on the feedback to serve your audience in a better way.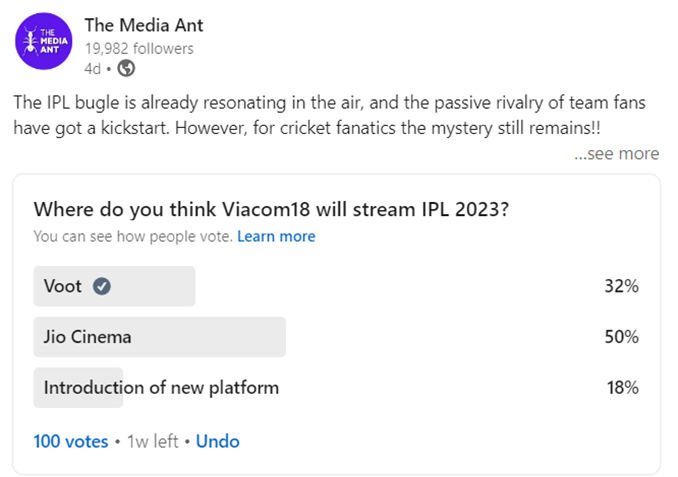 Reach out to people through E-mail list
When visitors sign up through their mail, they are willing to receive updates from your end, so when you send a newsletter they are more likely to interact with the same.
Work with Sportspersons or Sport Influencers
Working with influential people will increase your audience base. Nike is an excellent example of collaborating with influencers to promote its products. But it's not always necessary to spend a lot of money targeting big faces in the market, you can reach out to your niche audience through small influencers but a tight-knit and loyal audience.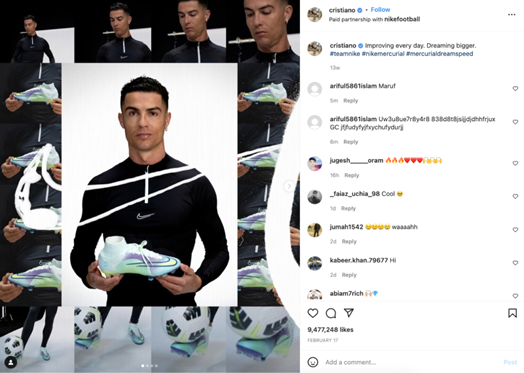 Future of Sports Ad Campaigns
The future of sports viewing, and consequently sports ad campaigns, is constantly shifting, with new ways for fans to enjoy their favorite sports. It's enough to make even the smartest marketers' heads spin with the metaverse, NFTs, fantasy sports, legalized betting, performance-boosting technology, and over-the-top (OTT) content.
Sports are now called the Sunrise Sector in industry dialect with a growth rate of 12 % YOY. By 2022, FICCI's Vision document estimated that there will be 43.7 lakh human resources across the sports sector. Since India is becoming a hot spot for; sports fest and sports leagues, great scope for prosperity is growing for sports ad campaigns.

Sports leagues like ICC World Cup T20, Indian Premier League, Pro Kabbadi League, Indian Table Tennis League, ISL, Futsal, etc., India's annual calendar is now dotted. These leagues have developed collective kinship towards sports and have also increased overall awareness and enthusiasm about it. Sports have also caught the attention of names, fame, glamour, media, and a considerable amount of money.
Along with growing funds through advertising and sponsorship in a different sports league, India is hastily becoming a multi-sports country from a single-sport one. The sports industry is believed to grow at 10% per annum and is now pegged at close to INR 48 billion in market size. Since sports are consumed through online and social media modes, it is now becoming the medium for brands and marketers to find their audience.
(Source- isbr.in)
FAQs Related to Sports Marketing Campaigns
What is a Sports Marketing Campaign?
Sports Marketing can be defined as a marketing strategy that is aimed at promoting sporting events, equipment, or products and services using an athlete or a team. Using an athlete or a team has one clear motive. An athlete or a team acts as an influencer which has a direct impact on the audience.
What makes a good Sports Marketing Campaign?
A good sports marketing campaign is made up of what we know as the four P's. The four P's are product, price, place, and promotion. Each sports organization will employ a unique blend of these four P's. To attract any particular target demographic, they will each have a distinct product, a different pricing, a different location, and various promotions.
Which are the best sports league marketing campaigns?
The 42 seconds pause by Pele to pause and tie his shoes broke records in advertising history. It was one of the first viral promotional campaign.
The idea was simple and relatable where Nike showed footfall fans imitating their idols and then transforming into world's best football players. It's again one of the best examples of Nike feel good advertisements.
Under Armor- Rule Yourself
Before the start start of 2016 Rio Olympics the campaign started with the main goal of showcasing each athlete's unique talents by repeating the compelling statement "You are the sum of all your training".
Pepsi- Change the Game
During 2011 ICC World Cup, Pepsi created a series of adverts containing amusing invented stories about famous cricketers' distinct unorthodox cricketing techniques.
Which are the best sports marketing campaigns that involve digital advertising?
#ThisGirlCan
Sport England sought to address the reality that men outnumber women in the UK sports by 2 million.
According to research, women are discouraged from participating in sports because they are afraid of being judged for their beauty, aptitude (good or bad), or poor priorities.
Street casting resulted in the use of actual individuals (performing their usual exercise) in advertisements and ads.
Influencers and media outlets were contacted well in advance of the campaign.
Sport England instilled comparable feeling in its audience (through social media and the media) even before the campaign debuted.
Women began creating their own marketing answers, which Sport England then published on social media.
Whereas 1.6 million have begun exercising
( Source:Econsultancy)
Adidas "Support is Everything" Campaign
If you're a frequent LinkedIn user, you've probably seen Adidas' 'Support is Everything' campaign come up on your page a few times.
Adidas highlighted the necessity for different sorts of sports bras and support for different women while promoting their new sports bra line, and demonstrated this by incorporating a collage of several distinct female breasts. The campaign's nuance made it an eye-catcher and a controversial matter of controversy for many.
The ad aims to highlight the diversity in women's bodies, normalising uniqueness, and demonstrating the necessity for various sorts of support in sports bras. The ad was eye-catching and thought-provoking, and it stuck with people. After all, this is the recipe for a successful campaign.
(Source:Crunchdigitalmedia)
| | |
| --- | --- |
| Was this article helpful? | |