Big-hitting, high-octane, and the most anticipated cricket carnival is about to begin. A golden ticket for brands and advertisers-because all that glitters is not gold- sometimes it's IPL 2023 Auction. The great symbiotic relationship between the brands and the IPL is about to get a kickstart, as the IPL auction for the 2023 season is all set to take place on Dec 23 in Kochi, Kerala.
You must be thinking why go for TATA IPL 2023 Auction Advertising. Here's us helping you decide!
Over 991 players have signed for the mini-auction, with a total of 10 teams competing against each other to snag some strong players for their roster. So the battle to win the best amongst 714 Indian and 277 foreign players is about to begin. While cricket fanatics get their team jerseys ready, and spirits high, it's time for brands to start strategizing their IPL advertising plan.
IPL 2023 Auction will be broadcasted live on Star Sports channels for TV viewers, while the live online streaming of the auction will be on Jio Cinema. So consider the TATA IPL 2023 Auction Advertising to be the genesis of your IPL marketing campaign.
IPL Auction 2023 Ads Platform
In the media rights auction held on June 12 and June 13, Viacom18 won the digital rights for the Indian Premier League (IPL) for the 2023–27 cycle for a price of Rs 20,500 crore. Hence, the e-auction of TATA IPL Auction 2023 will be streamed online on Jio Cinema.
The network overpaid for the TV rights with a 30% premium over the basic price of Rs 18,130 crore, according to experts. The broadcast rights were sold to Disney Star for Rs 23,575 crore, and for TV viewers the auction will be broadcasted live on Star Sports channels.
TATA IPL 2023 Auction Advertising on Jio Cinema and Star Sports can help brands and advertisers to get the maximum exposure and brand awareness. The growing viewership and the fact that IPL has now become synonymous with entertainment is something that brands must tap into.
TATA IPL 2023 Auction Player List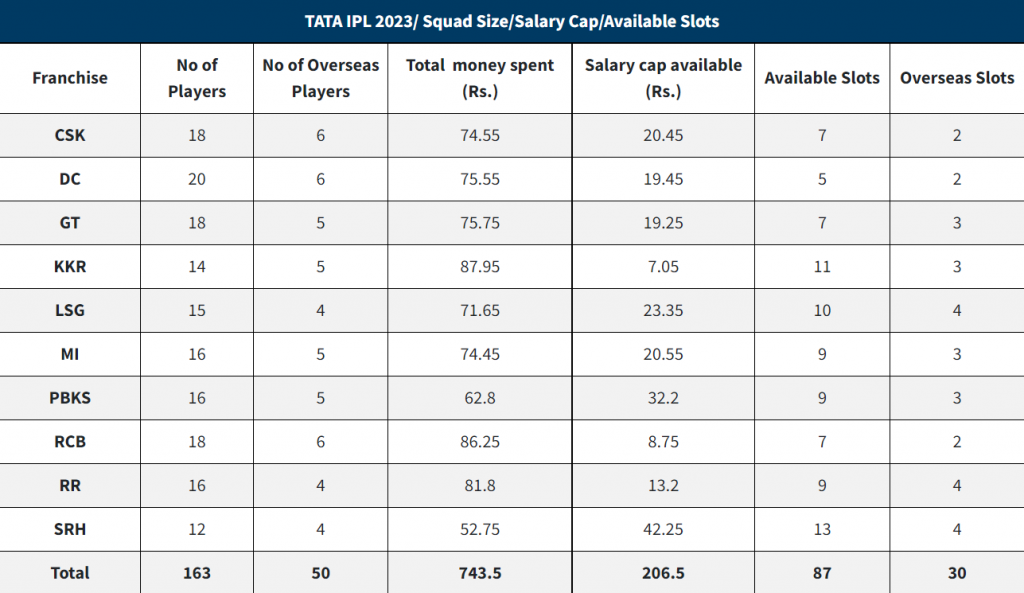 The much awaited list of TATA IPL 2023 auction players list is out with a total of 405 cricketers who are set to go under hammer in Kochi, Kerala on Dec 23rd, 2022. Initially, 369 players were shortlisted by the 10 teams from the initial list of 991 players.

However, 36 additional players were requested by the teams, which are now added to the final list that makes a total of 405 players which will be presented at the TATA IPL 2023 Auction.
Amongst the 405 players, 273 are Indians and 132 are overseas players of which 4 are from associate nations. The total number of capped players is 119, uncapped players are 282 and 4 from associate nations. A maximum of 87 slots are available now with up to 30 being slotted for overseas players.
For now, INR 2 Cr is the highest reserve price with 19 overseas players who are choosing to be slotted in the highest bracket.
Right in the TATA IPL auction there are 11 players with a base price of INR 1.5 Cr. Amongst the list of 20 cricketers, the two players with a base price of INR 1 Cr are Manish Pandey and Mayank Agarwal.
IPL Auction 2023 Advertising Effectiveness
One of the most sought-after athletic events in India for advertising is the IPL auction 2023. Some brands utilise it to boost sales, while others use it for branding. However, IPL advertising has constantly been the top choice for sponsors, regardless of the goal.
Why not, then? In India, cricket is not just a popular sport but also a national celebration that brings everyone together. IPL has evolved into a carnival for cricket fans in a nation like ours where the sport is no less than a religion.
The IPL craze is back strong this year. Every brand wants to take advantage of the opportunity presented by the billions of viewing minutes by getting a piece of the sponsorship and advertising pie.
Loyal Audience: The majority of people watch the IPL series to cheer for their favourite team since IPL viewers are devoted spectators and die-hard cricket fanatics. According to a projection by Ormax Media in 2020, there are 8.6 crore supporters in total among the eight franchises (86 Mn).
Mass Reach: Star India, the league's official broadcaster, received 458 million viewers for IPL 2021, while Disney+Hotstar received 300 million or more. IPL's popularity is consistently growing; in fact, it surpassed the combined viewership of Indian Idol, the Kapil Sharma Show, Big Boss, and Super Dancer by 51% last year.
Growing Popularity: Given that the IPL is the largest domestic cricket tournament, it is not surprising that it has grown to be the most well-known and eagerly anticipated event. The popularity of the IPL increases yearly, just like the series itself. Brands do all possible to take advantage of it.
2023 IPL Auction Advertising Rates
While fans are eagerly anticipating the 2023 IPL Auction, brands are also looking to the big game to boost sales and engagement. Brands and advertisers have no doubt already set aside a portion of their cash and are hoping for successful results. IPL is regarded as a fantastic platform for marketers to communicate with a wide range of audiences.
The fact that the IPL has consistently been marketed as a "tyohaar"(festival) or a family-friendly entertainment venue also contributes to its rising popularity. Thus, it is clear that the Indian Premier League combines cricket with entertainment, drawing a broad viewership.
The 2023 IPL Auction Advertising Rates may vary depending on the type of ad you opt for.
The pricing model for 2023 IPL Auction Advertising Rates depend upon the position, type and placement of the ads.
The 'Top Choice' section in the page of IPL 2023 Auction Advertising has detailed information of 2023 IPL Auction Advertising Rates for all media options available on The Media Ant portal.
You can also select various parameters while using IPL 2023 Auction Advertising. This can be done by saving the media option to the bag and accessing it there.
You will find headings like 'banner' and 'video' from where you can pick the most suitable one.
You can also check the best-discounted rate for your selected volume. However, 2023 IPL Auction Advertising Rates are very effective and are ideal for big brands as well as small ones.
Hurry up! The chance to give your brand the flavour of the massive commercial opportunity is just a click away.
| | |
| --- | --- |
| Was this article helpful? | |