Online Ecommerce Advertising
The Indian online e-commerce advertising market has witnessed a huge upsurge in the past few years. As per IBEF (India Brand Equity Foundation), in 2022 the Indian ecommerce market is expected to grow by 21.5 %, reaching USD 74.8 Billion.
The festive season of 2021 was a boom for the e-commerce platforms in India. The sales generated by various Indian ecommerce platforms in the festive season of 2021 had a Gross Merchandise Value of USD $9.2 Billion which meant a 23% increase from the previous year's USD $7.4 billion.
The pandemic acted as a blessing in disguise for the e-commerce sector in India. As per Business Standard India's e-commerce business will grow by 84% due to the demand created due to the pandemic.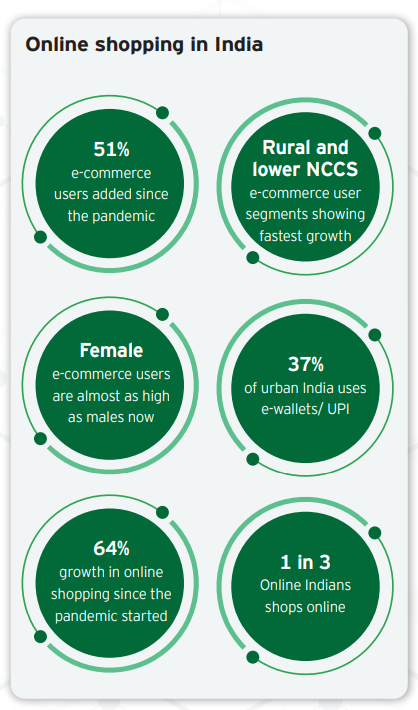 The growing e-commerce industry and the changing consumer behaviour makes it evident why online e-commerce advertising is a necessity for e-commerce brands and advertisers.
In case you have decided to go for online e-commerce advertising, here's a way to book your online ecommerce ads now.
Are you still indecisive about the advantages of online advertising for e-commerce? Don't worry, as we've got your back, read the complete article to get detailed information about online e-commerce advertising.
Types of Online Ecommerce Advertising
There are many types of online ecommerce advertising including Native advertising, SEM, Display Advertising, Email marketing, Video marketing, Mobile advertising, and so on. Among these the most effective ones for an ecommerce business seem to be:
1) Native ads : These are pieces of content, usually written, that advertise your brand discreetly. The content is published in the form of regular, editorial content, but functions like an advertisement.
For example, if you sell toy cars you can pay a blog owner writing about toy cars to publish your article on their blog as sponsored content. The article looks just like another piece of content on the blog but is designed to promote your brand.
2) SEM (Search Engine Marketing): This is usually one of the most effective types of online ecommerce advertising. With search engine marketing, you can pay search engines like google to make your brand appear higher on the search results page.
You can also have your ads on google by paying for google ads. SEM is often called PPC (Pay Per Click) as the advertisers pay only when a user clicks on the ad and is redirected to the advertiser's landing page. Both Google Adwords and Microsoft Bing Ads use this model.
3) SEO (Search Engine Optimization): It is an unpaid way of promoting your brand. It involves writing the content in such a way that your piece appears higher on the search results page. There are many ways of doing this like writing original, quality content, frequently using the key words you want to rank higher on and making the content informational and useful.
4) Social Media Marketing: Out of all types of online ecommerce advertising, social media marketing is the one that advertisers avail most readily. You just can't survive the fierce competition in ecommerce without having a strong online presence.
Major social media platforms like Instagram and Facebook have a great analytic tool called Facebook Ads Manager that enables you to access the performance of your ad campaigns very closely.
In addition to promoting your brand on your own social media accounts, you can also invite others to promote you for a commission by way of affiliate marketing. You may also try out sponsored tweets if a significant number of your target audience are twitter users.
5) Email Marketing : Among all different types of online ecommerce advertising, there is no method that targets consumers with a higher intent than email marketing. The people who have agreed to receive emails from you are marginally more likely to turn into customers than others.
Through email marketing you can send out targeted and personalized messages to your potential customers that can help you build a relationship with them.
Online Ecommerce Advertisement Rates
The field of online advertisement is very versatile in terms of costs. This diversite is clearly reflected on The Media Ant website where the minimum spend for Youtube, Facebook, Times Of India website and Google Search is Rs. 10,000, while for Instagram it is only Rs. 1000.
Online ecommerce advertisement rates can vary a lot on the basis of the platform you pick.
To know more about online ecommerce advertisement rates on various platforms like Hotstar, Inshorts App, MX Player, Sony Liv, Truecaller, and others, visit The Media Ant website today.
In addition to paid marketing channels, there are also unpaid channels of online advertising that small businesses can use to promote themselves without incurring any costs. The most popular among them are Email marketing, search engine optimization, and social media content marketing.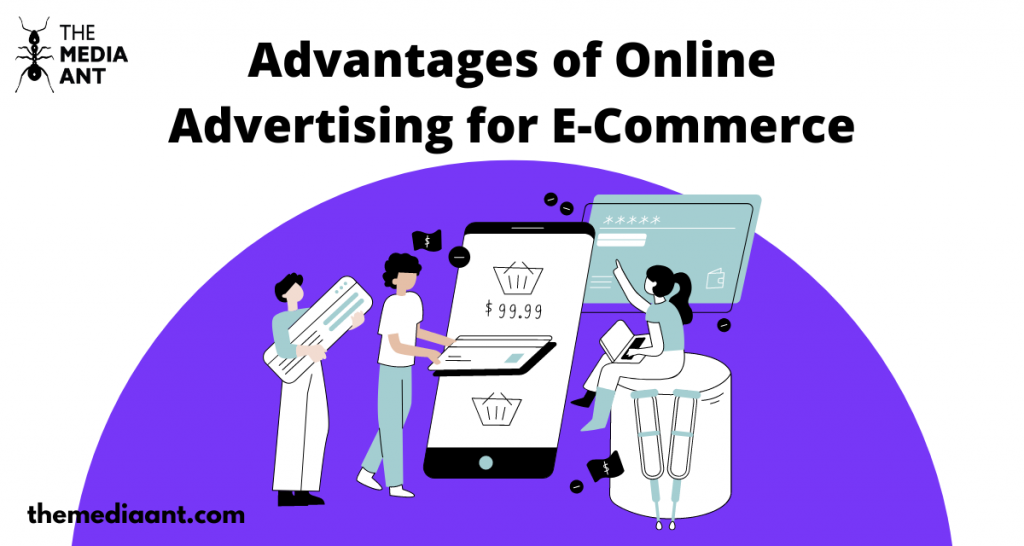 Advantages of Online Advertising for Ecommerce
The advantages of online advertising for ecommerce websites are innumerable. You can promote your brand without incurring any costs at all through online advertising channels like email marketing, SEO, and Social media content marketing.
And with paid channels like Facebook ads and Instagram you can run highly targeted campaigns and monitor their performance very closely with Facebook Ads Manager.
Digital marketing also allows you to have a global reach, if that's what you want. You can practically target anyone in any corner of the world with a computer and an internet connection.
One of the greatest advantages of online advertising for ecommerce is that digital marketing is very easy to scale. Meaning that if your ad campaign is working well, you can very conveniently increase its magnitude to target more people.
Digital marketing is one of the most scalable kinds of marketing out there, technically, it is infinitely scalable.
Online Advertising Agency for Ecommerce
The Media Ant is a leading online advertising agency for ecommerce in India. We provide advertising options like Youtube, Instagram, Facebook, Hotstar, Jio Saavn, Google Display, Inshorts, Google search, YourStory, Book My Show, and many more.
We provide over a hundred media options in digital marketing.Our team provides you planning guidance and helps you every step of the way right from choosing the right media options to the monitoring of your ad campaign.
We at The Media Ant believe in catering to the client to the very end of the campaign. We coordinate and keep in touch with the client regularly to ensure a seamless execution of the campaign.
Our team is a helpful and cooperative bunch who would be happy to help you with any queries you have regarding online ecommerce advertising. Get in touch with us at The Media Ant or fill the form below:
Best Ecommerce Advertising Company
With over a hundred digital options, The Media Ant is one of the best ecommerce advertising companies in India.
The Media Ant not only provides you the best media options at reasonable rates but also provides you step by step guidance on how to execute your campaign. We ensure a seamless execution of your campaign and provide top class monitoring services as well.
How to advertise an ecommerce website online?
As already established, to advertise an ecommerce website, online marketing works best. Now, the question arises, but how to advertise an ecommerce website online? Due to the multitude of advertising options available online, it can be hard to choose the one that suits your marketing goals most closely.
Nevertheless, it is absolutely essential that you pick out the most appropriate online marketing channels to reach your marketing goals in a hasslefree, unwasteful, and seamless manner.
Otherwise you might find yourself analyzing analytical reports on your ad campaign for hours in confusion without having an inkling of where you need to make changes in your advertising.
The Media Ant provides various online advertising options like Google Display, Facebook, Instagram, Linkedin, TikTok, and many more. Our team is there for you to help you find the most appropriate options for your advertisements at the most reasonable rates.
We guide you every step of the way through your online advertising campaign from choosing the right media option to monitoring the campaign so that you can reap the most benefits out of online advertising.
| | |
| --- | --- |
| Was this article helpful? | |