There is no getting around the fact that "If you build it, they will buy it" is a myth. Building something is just the beginning, much to the chagrin of creators everywhere; you then need to advertise it so that your target clients are aware of its existence.
E-commerce advertising is one of the best strategies if you sell items online.
What is E-commerce Advertising?
To raise brand recognition and advertise e-commerce goods, sponsored messages are sent through many publications called e-commerce advertising.
Advertisers have access to both physical and internet publishers to deliver their ads. However, we will solely discuss internet advertising strategies in this post. We will now examine digital advertising platforms like Google and social media.
E-commerce advertising, which is the overall activity of promoting an online business to raise brand awareness, create leads, and improve sales, includes e-commerce advertising. E-commerce marketing includes digital techniques like search engine optimisation (SEO), which concentrates on generating organic visitors.
When delivering advertisements to publications, you pay for impressions and clicks with e-commerce advertising. So, for instance, when your eCommerce advertising shows on YouTube videos, you will pay Google for the impressions or views they receive. Meanwhile, pay-per-click models are used by social media sites like Facebook and Instagram. The publisher will charge you for each click your social media advertising receives.
Different types of E-commerce Advertising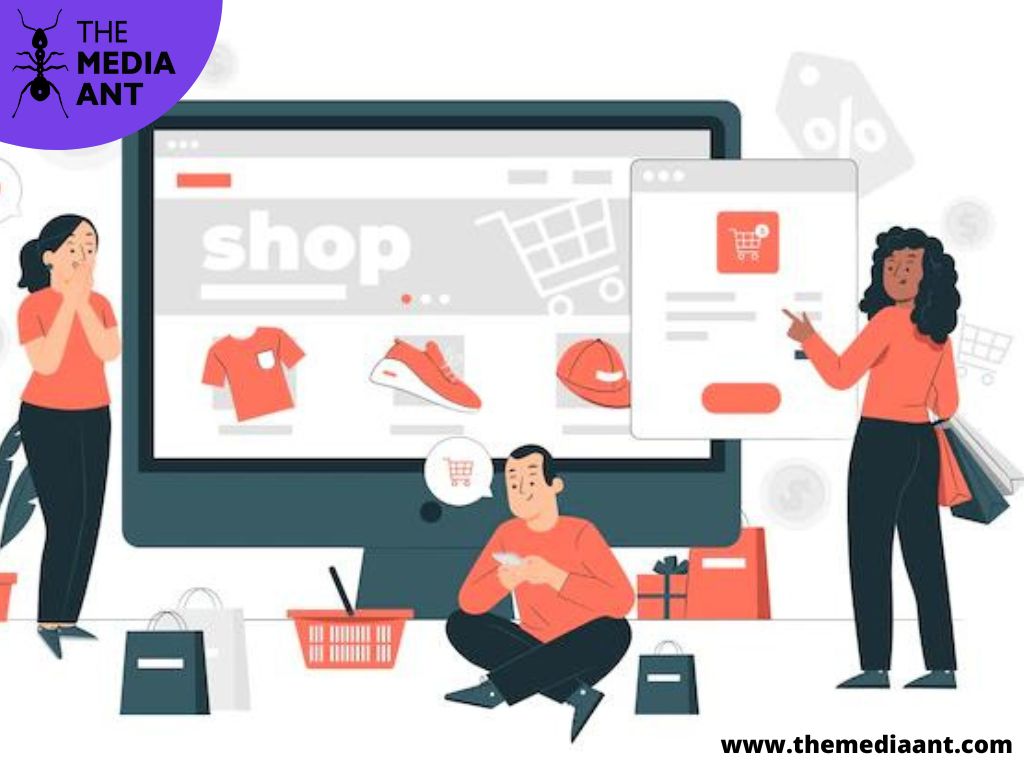 The different types of e-commerce advertising are:
Display Advertising
Online paid advertising, known as "display advertising," often consists of text and visuals. Banners, landing pages, and popups are the three most frequently used display ad formats. Due to their absence from search results, display advertising varies from other types of advertisements.
Display advertising is most frequently featured on websites and blogs to draw users' attention to the company's goods. Display advertisements are effective when used in conjunction with remarketing. Website visitors retargeted with display advertisements are 70% more likely to convert on your website, claims Digital Information Word.
Unfortunately, these expenditures could be more sustainable for e-commerce enterprises because of a high CPM and poor CTR. Although many marketers still rely on display advertisements to raise brand awareness, businesses have strategically adopted a marketing strategy that relies on their own marketing channels, or the channels that are under their control, such as your website, email, and mobile marketing, to improve customer experience, reduce costs, and communicate with customers more effectively and on their terms.
Start with a low budget for display advertisements and keep testing and optimizing to ensure your ads reach the proper people.
2. Search Engine Marketing & Optimization (SEM & SEO)
SEM and SEO are two forms of internet marketing that support content and improve search visibility.
SEM: Advertising pays each time a person clicks on an ad to go to a website, rather than for the cost of the actual ad. Gaining detailed information about their market is advantageous to businesses.
SEO: In order to appear higher in search engine results, marketers employ a variety of SEO strategies, including linking, focusing on specific keywords and meta descriptions, and producing high-quality content that attracts links from other websites. SEM is a sponsored tactic, but SEO is organic, making it a highly sought-after kind of online advertising.
3. Social media
There is no denying that social media advertising continues to grow every year.
Organic, online word-of-mouth marketing, and paid are the two categories of online social media advertising. Paid advertisements, promoted posts, and sponsored articles are popular ways to expand a company's demography without spending a fortune, according to the graph below.
However, as with display advertisements, marketers need help to expand their e-commerce businesses due to the escalating expense of social media advertising. The cost of these channels has increased by 90% annually.
While social media advertising is likely required for companies to expand their consumer bases and attract new clients, you must be strategic with your spending and find ways to offset the expenses by maximizing your marketing channels. You may improve the accuracy of your social targeting and boost the return on investment of paid advertising by integrating your custom lists to develop lookalike groups.
4. Email Marketing
An email will remain in the inbox until viewed, removed, or archived, making it one of the companies' most widely used marketing tools.
Email marketing can establish a connection with your audience and increase traffic to your blog, social media accounts, and other websites you want people to explore. To ensure that people are only receiving the communications they want to see, you can even divide your emails and target users based on demographics.
By using email marketing tools that can be set to send out emails quickly, you can also use email marketing to conduct A/B tests on a subject line or call to action to determine the best-performing message.
5. Native Advertising
Have you ever seen sponsored adverts at the bottom of Facebook or blog posts? Users can click on suggested samples labeled "other recommended reads" or "other people enjoyed." This is native marketing.
6. Pay Per Click (PPC)
Pay-per-click (PPC) advertising' namesake clearly explains their goal. The power of PPC as a tool is enhanced by the fact that marketers only pay for these adverts when users click on them. The cost of the advertisement depends only on the one who clicked if 100 people saw it, but only one did. PPC advertisements typically contain text and, if any, a tiny graphic.
7. Remarketing
Remarketing (also known as retargeting) is a form of internet advertising that delivers on its promises. The user is practically followed throughout the internet by this cookie-based technology to remarket to them. After the viewer leaves the page without checking the website, these individuals are targeted by viewing subliminal cues (ads) that remind them of their prior interests.
Making the adverts as relevant as possible is the most crucial component of retargeting (and any effective advertising plan). Avoid using a one-size-fits-all strategy when retargeting since you'll squander a sizable portion of your spending.
8. Video ads
Particularly among the younger generation of customers, video advertisements are becoming more and more common.
As the most popular video platform, YouTube has implemented video advertising tactics for its viewers. Businesses that use the PPC strategy only pay when customers interact with their ads. Due to targeting, analytics, and customisation, companies have flocked to the video ad genre.
9. Programmatic advertising
This trend is being heralded as the future of ad purchasing and is rapidly gaining ground. The decision-making process for purchasing adverts may be automated with programmatic advertising.
Programmatic advertising aims to eradicate the frequent human mistakes in ads, making the entire ad purchasing process effective. It does the former by concentrating on specific demographics and audiences.
Major e-commerce firms will undoubtedly adopt the automated ad-buying method once that obstacle clears. Advertising trends can be short-, intermediate-, or long-term, as is noted below. This is undoubtedly the latter.
10. Mobile Advertising
Mobile advertising has become obsolete, given how strongly e-commerce businesses rely on mobile customers and how quickly the consumer base is expanding.
Since the invention of smartphones, mobile commercials have been a staple of the digital marketing sector.
Most of all traffic to Indian e-commerce websites comes from mobile devices. This focuses on the idea that mobile advertising will stay a popular trend in the business.
Be careful; there are efficient tactics that can quickly deplete your advertising budget, leaving you with something to show for your marketing efforts. However, for many firms, the benefits exceed the drawbacks.
E-commerce Advertising Platforms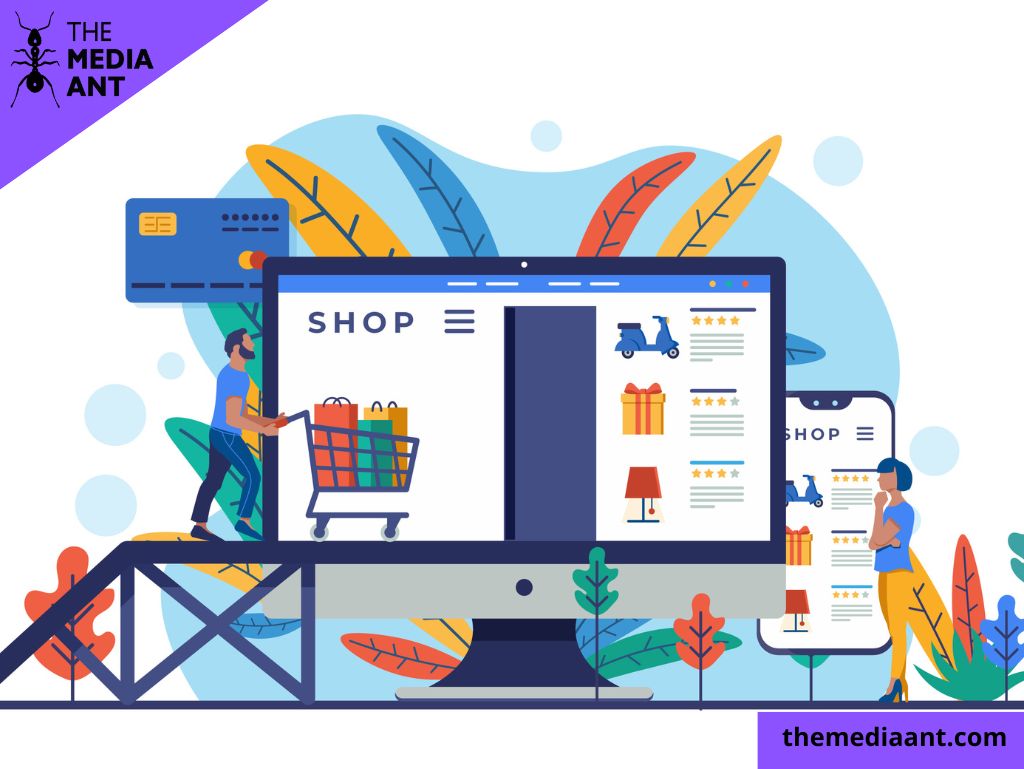 Below are a few ecommerce advertising platforms:
Google Ads
Google Shopping
Bing Ads
Facebook Ads
Instagram Ads
YouTube Ads
Twitter Ads
Pinterest
Tik Tok Ads
Snapchat Ads
LinkedIn Ads
Amazon Ads
How to advertise your e-commerce website
Any e-commerce website may advertise its platform or services by using these techniques:
Make use of social media
Lead lively discussions with consumers online
Use Pay-Per-Click marketing
Create a strong SEO
Form collaborations
Create compelling content
Start email marketing campaigns
Make product reviews a priority
Use of influencer marketing
Retargeting advertisements
5 Most Creative E-commerce Ads Strategies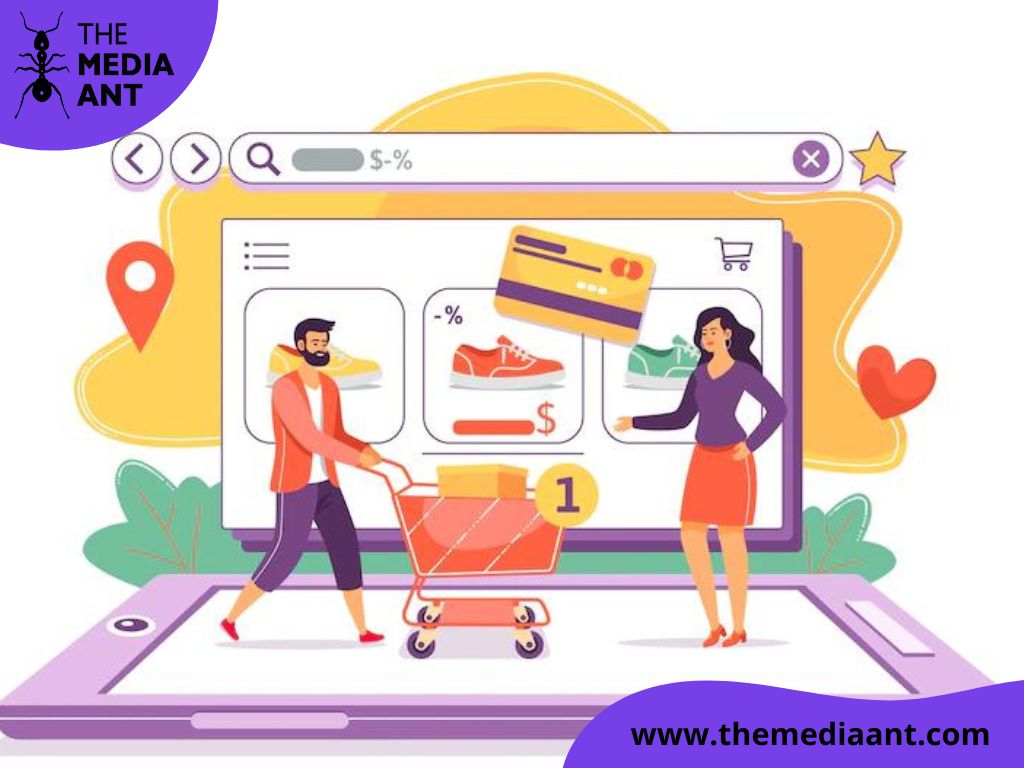 The only way to capture a potential customer's attention in a market overloaded with advertisements is to provide a personalized experience through your content, landing pages, online shop, and advertising. By learning exactly what your audience needs and then providing for those needs, personalisation aids in developing relationships with your audience.
The most effective marketers put their resources into finding customers where they congregate, which is why social media has emerged as a top strategy for DTC marketers trying to contact consumers. The US consumer spends two to three hours each day looking through social media, making this a popular advertisement location.
Most social media sites include various ad styles, targeting options, and brand visibility. Let's look at Meta, the company that owns Facebook and Instagram, as an illustration. Various ad forms are available through Meta, including video, display, lead ads (which allow users to provide their information without leaving Facebook), dynamic ads, and more. You can handle advertisements for both social media networks in one location because Facebook owns Instagram.
Several target audience possibilities exist, including audience segments made from your supplied subscriber lists or bespoke audiences made from Facebook's pixel and user data. According to Facebook's algorithm, lookalike audiences are a practical approach to connecting with people who "look like" your highest LTV clients.
Using Google's pay-per-click (PPC) advertising is another well-liked strategy to introduce new consumers to your company. The most popular website in the world, Google, provides marketers with a variety of ad types, such as Google search advertisements, Google shopping ads, and Google Adwords. Google advertisements function by matching the keywords you use in your advertising to the search phrases entered into the search box. Your ad campaigns have a specific budget and you "bid" on the most important keywords.
Google will display your ad on the SERP if it decides that it is both relevant and within the budgetary constraints (popular search phrases cost more to bid on) (search engine results page.) You only pay when a user clicks on your advertisement.
Conversational advertising
If you've read thus far, you already know how crucial personalisation is to make your business stand out from the competition and give them the impression that you care about them. Because of this, conversational marketing stands out in a sea of display advertisements.
The most prevalent type of conversational marketing you have undoubtedly encountered is a website chatbot that interacts with you on different website pages. Similarly, conversational advertising engages specific customers in 1:1 dialogues inside the context of the advertisement by using automation and logic.
Similar to how investors are advised to diversify, the most excellent method to get a high return on investment is through omnichannel advertising, which involves running ads across various platforms or channels. Even though Google, YouTube, and Facebook are some of the most popular websites in the world in terms of traffic, most consumers visit many websites daily. You can be there for customers wherever they are or from whatever source they are coming with omnichannel advertising.
Different referral sources, such as Google, influencer marketing, affiliate marketing, review websites, or social media likes, can be used with omnichannel advertising. You can track customers as they navigate the web, since interactions on one channel might update information on others.
Retargeting is an e-commerce advertising strategy to reach a previous website or app visitors, often by displaying ads or sending emails. If a visitor leaves your website without selling or accomplishing a marketing objective, retargeting enables you to catch them again.
Retargeting, for instance, enables you to display an advertisement for a product a potential buyer recently watched on a different website they frequent if they abandoned their shopping cart without completing their purchase. You can improve conversion rates and reach your marketing and income targets by re-displaying your ads.
E-commerce Advertising Examples
In the most unexpected situations, individuals may sometimes get closer to one another. Uber's #BeyondFiveStars campaign, which refers to the highest rating a consumer may give one of its drivers, was created to acknowledge these ties.
Uber urged users to use the hashtag #BeyondFiveStars on all social media platforms to showcase their beautiful interactions with Uber drivers.
Uber chose a few of these customer testimonials, turned them into films, and shared the touching tales of these drivers with millions of people. Here's a fantastic adventure from Fred, an Uber driver. Thanks to Uber, he met one of his favorite stars, the well-known American musician Pat Boone.
Uber still provides a tool called "Compliments", where users may tell their drivers how they improved their day in an effort to keep the campaign's message alive.
Outdoor clothing company Patagonia is renowned for its devoted following and unwavering support for environmental concerns. The company's social media efforts reflect its ideals and strengthen its brand identity.
Consider the "Shell, Yeah!" campaign as an illustration. Patagonia wants to advertise its 100% recyclable, water-resistant Shell Yeah range of goods. Their campaign's goals included raising awareness, increasing sales, and educating potential clients.
They produced a film demonstrating the processes used to make their goods and their beneficial effects on the environment. They later utilized it to produce several video commercials for Facebook and Instagram and used YouTube and Google AdWords to broaden their audience.
The outcomes were extraordinary. Over 66 million impressions and 728K video views were registered at the end of the advertising campaign.
Best Agency for E-commerce Advertising in India
The Media Ant, as the top digital advertising agency, provides all e-commerce advertising services across a variety of media channels, including:
OTT Platforms
Apps
Websites
Social media Platforms
Book low-cost e-commerce advertising with us and get the results you want. Our digital advertising marketing services may improve the efficacy of campaigns and promotions.
FAQs RELATED TO E-COMMERCE ADVERTISING
What are the 4 types of e-commerce?
Business-to-Business (B2B)
The term "business-to-business" (B2B) e-commerce refers to all electronic exchanges of products and services between businesses. Producers and conventional distributors primarily use this kind of internet commerce.
Business-to-Consumer (B2C)
The development of electronic commercial interactions between firms and ultimate customers distinguishes the Business-to-Consumer kind of e-commerce. It refers to the area of e-commerce devoted to retail, where conventional retail trade often takes place.
These connections can be more straightforward and dynamic, but they can also be infrequent or terminated. Due to the development of the internet, this sort of commerce has rapidly expanded, and there are now several online virtual shops and malls that offer a wide range of consumer items, including computers, software, books, shoes, vehicles, food, financial products, digital magazines, etc.
Comparing online shopping to traditional retail, consumers typically have access to more informative content. There is a general perception that online shopping will lower prices without sacrificing equally personalised customer service or the prompt processing and delivery of their orders.
Consumer-to-Consumer (C2C) (C2C)
E-commerce of the consumer-to-consumer (C2C) variety includes electronic exchanges of products and services between customers. Typically, a third party offers the internet platform where the transactions are carried out, which is how these transactions are carried out in most cases.
Business to Consumer (C2B)
In C2B, the conventional meaning of trading products is completely reversed. This kind of e-commerce is widespread in initiatives that rely on crowdsourcing. Many people sell their goods or services to businesses specifically looking for these kinds of goods or services.
Sites where designers submit several concepts for a corporate logo and only one is ultimately chosen and purchased serve as examples of such methods. The platforms that offer royalty-free photos, pictures, media, and design components, like iStockphoto, are also quite popular in this kind of commerce.
| | |
| --- | --- |
| Was this article helpful? | |