The festive season is the time of the year when event listing websites and events sections of social media platforms (Facebook, Google) are overflowing with information. Amid the clutter, it is difficult to grab eyeballs by relying on paid event promotion on these platforms only.
It is important to look for opportunities both online and offline to reach out to maximum people. In this article, we would discuss festive season advertising platforms that would help advertisers reach out to maximum people within a limited budget.
Hyperlocal Advertising Ideas To Promote Festive Season Ads
Google and Social Media Advertising: Social media is a great platform to promote an event. Most of the social media pages have event sections where event organizers can list their events.In terms of hyperlocal targeting, both Facebook and Instagram, as well as Google, help advertisers target people located in a certain area.
Cinema Advertising: Cinema advertising is one of the best media to promote an event. Being in a captive environment and a relaxed state of mind, the audience is most likely to act positively on the ads. Also, the last two weeks in December witnessed mega-blockbuster movies release hence a surge in the number of moviegoers.
Transit Advertising: Transit advertising is a great medium to target specific areas and their neighbouring localities. Advertising in metro trains, public transport buses, metro train stations, autos, etc can help your brand to reach out to daily commuters.

Owing to the rise in traffic, people spend a lot of time on the road. This makes transit advertising one of the most preferred advertising media.
Outdoor Advertising: Outdoor advertising refers to placing ads on static properties like hoardings, bus shelters, skywalks, metro pillars, road medians, etc. Like transit advertising, outdoor advertising is an effective medium to promote a product in a specific area.
Newspaper Inserts Advertising: Newspaper inserts advertising is another hyperlocal advertising tool that offers the best of print advertising along with the benefits of hyperlocal targeting.
Newspaper inserts are leaflets/pamphlets that are inserted inside the newspaper at the distributors. Through newspaper inserts advertising, advertisers can even target residents of a particular apartment complex.
Ola App Advertising: Ola app and Ola Play advertising together come with a suite of targeting options that help advertisers reach out to the right set of audience. Ola offers targeting options like time of the day, location, income level, cab type, etc as audience filter options as well as some fixed cohorts like frequent airport visitors, office goers in a particular location, etc.
Daily Hunt Advertising: Daily Hunt is a very popular content platform that provides content in 14 Indian languages. Apart from the usual targeting options like age, gender, etc, Daily Hunt offers an advanced level of location targeting at a pin-code level making it an apt choice for hyperlocal advertising.
All the advertising options that we discussed in the section above can be used for city-level targeting as well. Apart from the above-mentioned advertising media, the following are popular advertising ideas that you can include in your city-level advertising plan.
Radio Advertising: With an increasing number of private vehicles and cabs plying on the busy roads of the cities, listeners spend a considerable amount of time listening to radio channels. Radio channels are no more limited to playing music only.
They have emerged as people's local guides in the city. Hence, promoting an event on radio channels (especially through RJ Mentions or Contests, etc) would bring desired results.
Advertising in Little Black Book: Little Black Book is a website/app that acts as a local guide on topics like travel, shopping, food, events, lifestyle, etc. Advertising on LBB would help brands meet their right audience.
Advertising in Audio OTT: Indians have a high affinity for audio OTT platforms. An average Indian audio OTT user spends about 21.5 hours per week on audio OTT as compared to 17 hours.

Owing to the high engagement rate, advertising on audio OTT platforms is a unique way to reach out to the audience. Not only banner ads but audio jingles are also popular on audio OTTs. You can check out the advertising rates for Wynk, Saavn, and Gaana.
Advertising in Video OTT: There is no data required to back the fact that video OTT platforms have grown to a tremendous size. From Hotstar to Jio Apps, cheap Internet data has helped video OTTs to reach out to every household.
Not only the popularity, the advanced targeting options that video OTTs have like genre targeting. Some of the popular video OTT platforms are Hotstar, SonyLiv, Zee5 and Voot.
Advertising in Swiggy: Swiggy, the popular food delivery app also offers advertising options to brands. Their order tracking page where most of the users spend considerable time has ad spaces where brands can place visually appealing ads about their events.
Cab Branding: A type of transit advertising, cab branding is a very attractive and premium advertising medium. With the rise of usage of Ola and Uber, there are thousands of cabs plying on the city streets. Due to high traffic, people spend a significant amount of time on the road hence making cab branding a preferred advertising medium to promote events.
Newspaper Advertising: Newspaper advertising is one of the most popular advertising media for city-level targeting owing to audience reach and authenticity. Events are usually covered in the daily supplements of the newspapers.
Festive Ad: Hit The Jackpot With Transit Advertising
The Indian festive season ads start in October with Durga Puja/Dussehra and ends with Christmas and New Year is the best time for shopping, travel, meeting friends and family and celebrating. This period not only drives sales for most of the Indian companies but also marks a significant jump in physical and digital traffic.
While digital traffic can be captured through digital advertising, there are many ways to capture the attention of physical traffic like radio advertising, outdoor advertising, airport advertising, and transit advertising.
Metro Advertising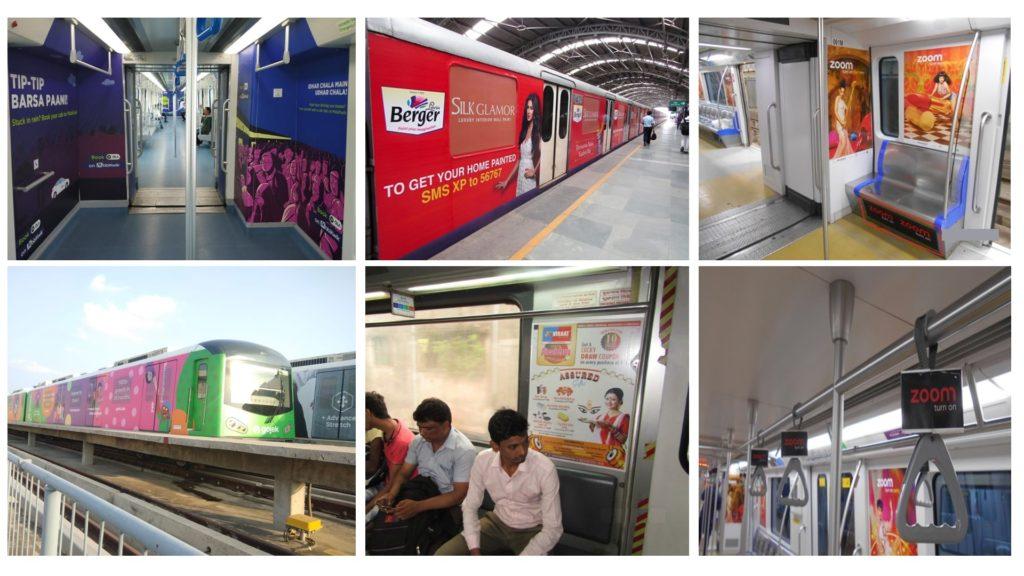 Advertising Options: Metro Train Interior Branding- Display Panel, Grab Handles, Interior Wrap; Metro Train Exterior Branding- Train Wrap; Metro Train Station Advertising- LCD Panels, Display Boards, Kiosks
Reasons to Advertise

Premium Audience
Hyperlocal Targeting Possible

Best For Brands Who want to target premium audience like luxury products, high ticket items, apps etc because metro tickets are priced higher and mostly cover commercial and corporate hubs
Starting Budget: INR 1 Lakh onwards
Bus Advertising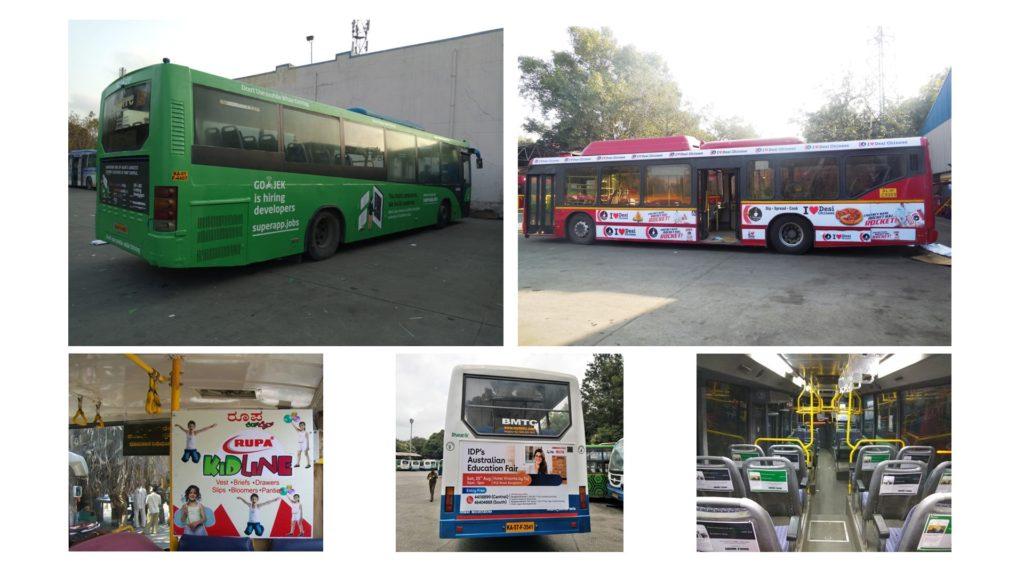 Advertising Options:Bus Branding- Interior; Bus Branding- Exterior
Reasons to Advertise

Mass Reach
Hyperlocal Targeting

Best For Brands Who want to target audience in a particular city/route/area
Starting Budget: INR 50,000 onwards
Cab Advertising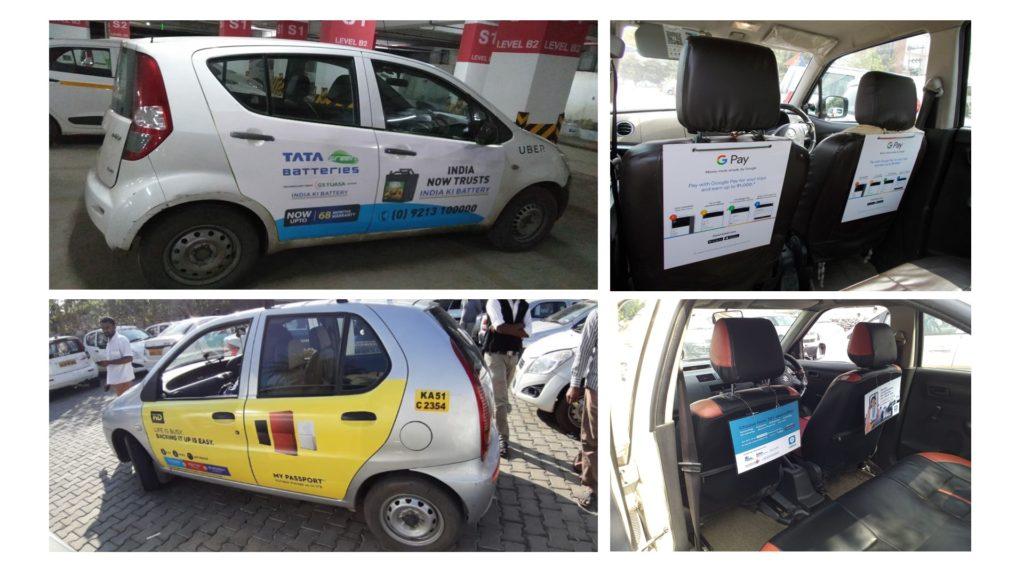 Advertising Options: Cab Branding- Seat Back; Cab Branding- Exterior
Reasons to Advertise

Premium Placement
Mass Reach
Captive audience (interior branding)

Best For Brands Who want to do brand awareness campaign, create a buzz in a particular city
Starting Budget: INR 2 lakh onwards
Auto Advertising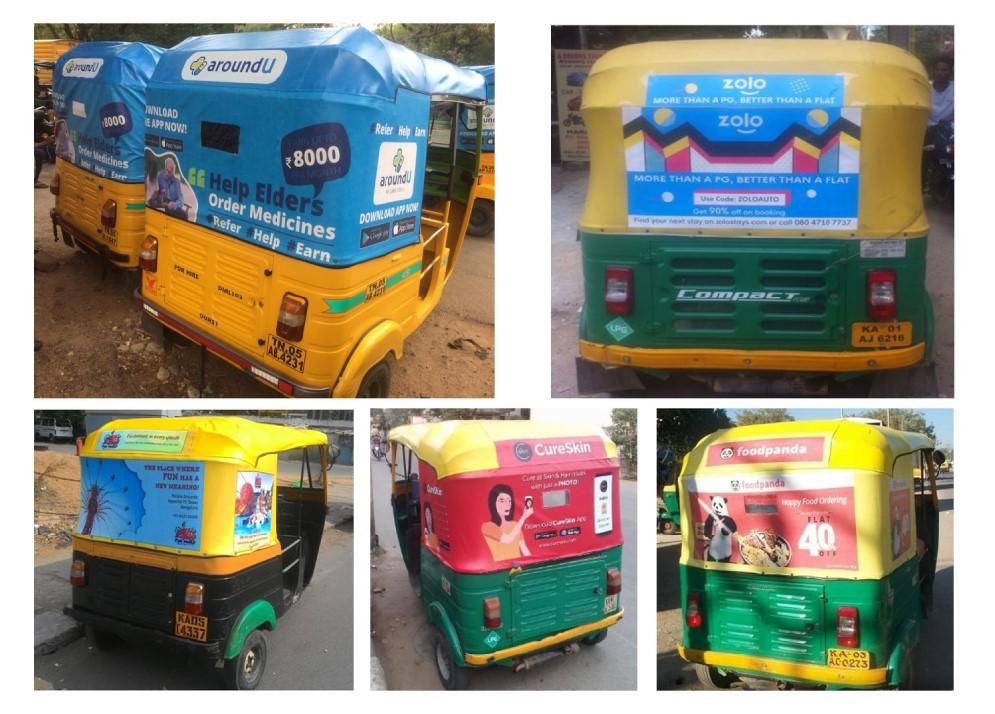 Advertising Options: Auto Branding- Back Panel; Auto Branding- Hood
Reasons to Advertise

Mass Reach
Low Cost and easily scalable

Best For Brands Who: Want a mass reach in a short duration like events & exhibition, offers, new launches
Starting Budget: INR 10,000 onwards
Here are the categories that witnessed the highest jump in advertising spots during the festival ads:
Airline & Tourism: During the festive season holidays, people like to travel to home and tourist destinations to celebrate and relax.
Pharmaceutical: These are various OTC medicines. Along with the festive season, comes a variety of ailments due to over-indulgence, exhaustion, pollution, etc.
Events & Exhibitions: Various events like Dandiya Nights, Diwali Mela etc happen during this season.
BFSI: The festive season is the time when people make high-ticket purchases like home, car, mobile and even small-ticket items like clothes, gifts, grocery, etc. This is the time when they are actively looking out for credit and payment options.
Furniture & Furnishings: Home renovation and cleaning is the top activity for families during the festive season.
Automobile: People consider it auspicious to buy cars and two-wheelers during the festive season. Also, since it's close to the end of the year, auto brands offer lucrative discounts and offer to drive sales of old models.
Dotcom: E-commerce businesses like Flipkart and Amazon plan their biggest annual shopping fest coinciding with the festive season.
Shop: These are mostly the offline shops and retailers who depend on the festive season for most of their sales.
Effectiveness of Festival Creative Ads
Festive advertisement will not only give a push to your sales but it will even boost your brand identity. This is because festive ads provide you with the opportunity to give an emotional narrative to your brand. Long gone are the days when Indian festive ads were about selling your products, now brands are wanting to say a story through their ads.
Festive season can be a good time for brands to experiment with their festive creative ads. We have seen various brands like Mohey, Fab India, Surf Excel, etc. come out as fearless and thought leaders.
Festival Advertising Options
While there are various festival advertising options available, we will be talking about a few ad options that SMEs can incorporate in their festive ad strategies. It is commonly believed that advertising during the festive season is confined to big brands, however there are a lot of ad options that are cost-effective and beneficial.
So, here we are telling you about some festive advertising options that you might have been missing out on.
1. Radio Advertising Options To Rise Above The Clutter
In the previous section, we saw there is a very high demand for FCTs during the festive season. This makes us wonder if radio advertising for small businesses with a limited budget during the festive season is a good idea or not.
Radio has a mass reach at a city level and with innovative content, the radio experience is not limited to music only but has become a part of the city life experience. Hence, it would be useful for advertisers to look beyond radio jingles and consider more engaging properties like contests and RJ Mentions.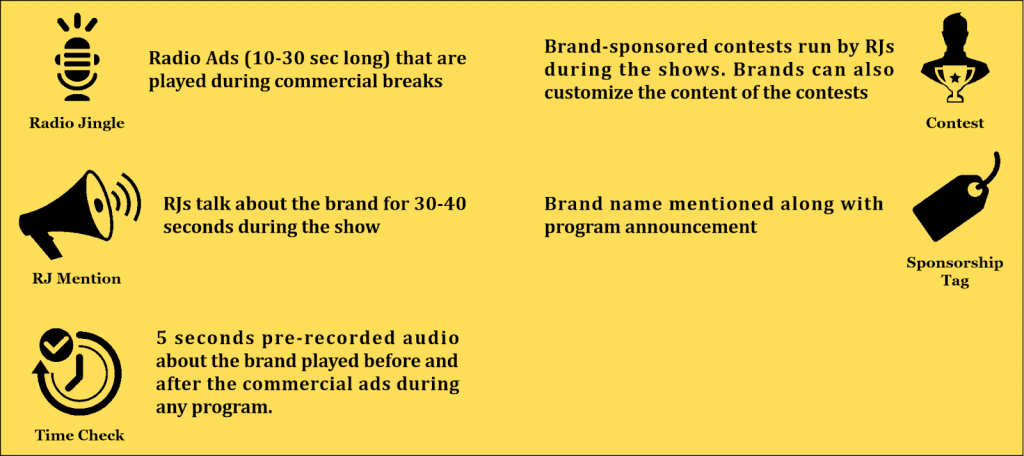 Radio Advertising properties to help advertisers rise above the clutter
Contests (Radio Contest Sample): Contests are run by RJs on their shows during which they ask some questions or give some activities for the audience to answer/perform. The gifts or prizes for these contests are sponsored by the advertising brands.

Following are the advantages of advertising through RJ contests:
Engagement: Unlike other radio programs, contests are two-way communication that happens between the RJ and audience and it happens through-out the program hence, it has better engagement compared to jingles.

Call to Action: Contests are sponsored by advertisers. Advertisers can offer prizes/vouchers/gift hampers and attach incentives to make the audience engage with the brand. For example, a retail store can offer a voucher to the contestant that can be redeemed by visiting the store and making a social post.
Customized Content: Advertisers can also prepare customized content for contests that bring out the unique proposition of the brand. For example, a popular restaurant can ask the contestants to tell about their favourite dishes from the restaurant.
Higher Reach: A contest runs for a longer period hence, has a higher reach.
RJ Mention (RJ Mention Sample): RJs' job is not limited to host radio programs only, they are also influencers with a fan-following of their own. RJ Mention involves the RJ talking about the unique proposition of the brand for 30-40 seconds during his/her program.

Following are the advantages of RJ Mentions:
Credibility: RJ promotes the brand in his/her own style, making the content more credible and authentic.
Engagement: Unlike the jingle ads playing when most of the audience change stations, the audience sit through and listen to the RJ mentions.
2. Some Underrated Apps to Advertise On
MX Taka Tak is very popular among youngsters in tier 2 & 3 cities. It is mostly known for its short video creation and collaboration features. Hence, it can be a very good option for advertising for brands targeting young audiences and want to reach out to non-metro cities.

Jio Apps are very popular across cities and across age groups, making it a very popular choice for mass targeting. The ability of appographic targeting makes Jio Apps suitable for advertising to particular interest groups.

Truecaller is another popular app among the young audience that's being used in the metro cities. Truecaller has some highly accurate cohorts that can be used to do interest-based targeting.

Ola is used by premium audiences in metro cities. It offers predefined cohorts like airport and apartment targeting which makes it apt for advertising of high-ticket items like financial investments, luxury brands, real estate, etc.

Swiggy is mostly used by young and premium audiences in metro and tier 1 cities. Though there are not a lot of targeting options, the ad placement is an attractive one and can be used for brand awareness campaigns for youth-centric products like apps, travel, fashion, etc.
App Locker is another app popular among the youth and has a high level of engagement.

The popularity of Quora is on the rise in India. It's one of the few platforms that offer text ads based on keywords/context. People visit Quora for knowledge sharing making it apt for brands into finance, education, tech products, etc.
3. The power of Digital OOH
Whenever we think of a festival we all can instantly visualize colours, lights, and vibrance. Hence, Digital OOH can be an excellent option as it can bring out the best of your products and services through eccentric digital features.
A digital OOH ad can bring out the best of your brand and attract consumers and impact their buying decisions when they are out shopping.
Frequently Asked Questions on Festive Season Advertising
What is a Festive Campaign?
A festive campaign is any ad campaign that is run during the festive season (August-December in India) and is designed in such a way that it targets prospects looking to shop for festivals. They usually draw on the themes of family and tradition and exchanging gifts.
Why is Advertising Important In Festivals?
The time of festivals is very important for brands looking to boost sales as it is during this time that public spending is at its highest. Proper advertising during festivals is crucial to take advantage of this spike in spending and drive sales.
How Do You Advertise at a Festivals?
There is no general formula to advertise at festivals; it all depends on your personal preferences and requirements. Generally, however, hyperlocal advertising is preferred for festivals.
You could use media like Hoardings, Newspaper inserts, Apartment branding, Cinema, and different PPC methods on the internet to make your advertisements hyper localised.
| | |
| --- | --- |
| Was this article helpful? | |