Online Home Automation Advertisement
Home automation is a fairly new industry in India, and this novelty is a double-edged sword for advertisers. The downside is that the default attitude of the public towards an industry they have never seen advertisements of before tends to be somewhat skeptical.
So, the advertisers are faced with the double challenge of enticing the customer to the industry itself as well as to their particular brand.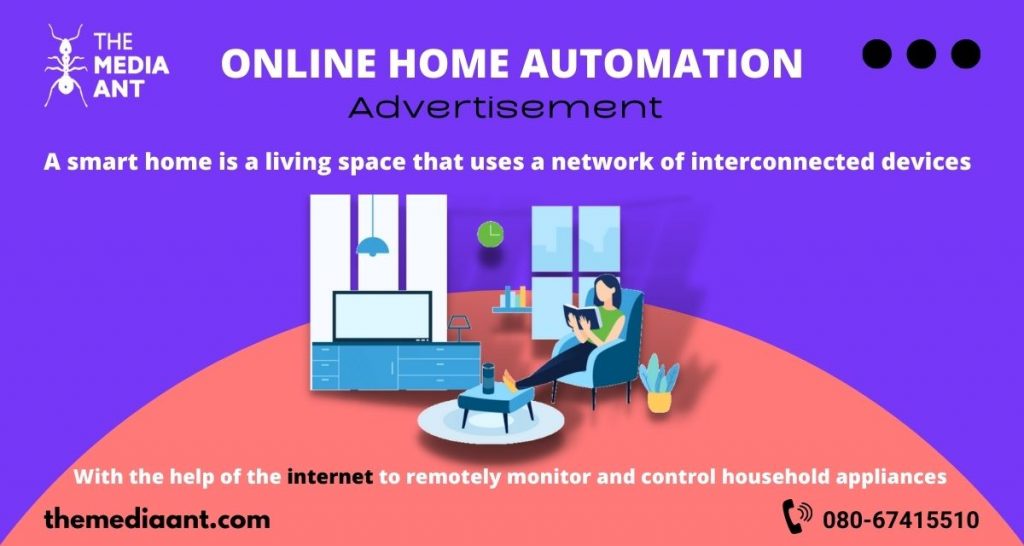 Perhaps the most effective way to deal with this challenge is to borrow the good will of the medium you advertise through. Putting the ad on a platform the customers respect like Google or The Times of India helps the advertiser push them past that initial hesitation.
The reassuring familiarity of the well known platform counters the negative associations people have with novelty which keep them from giving up the control of the electronic devices of their home to, basically, a robot.
As someone advertising a product that looks like something straight out of a sci-fi, you could really use the authoritative and credible image enjoyed by the medium of newspapers in India.
Now, it seems safe to assume that your target audience only ever read the newspaper online, if they read the newspaper at all. So, the online issues of newspapers like The Times of India and The Hindu, should be perfect for an online home automation advertisement.
And besides, online advertising seems to be the proper way to advertise a high tech service like home automation anyway.
The various digital platforms are far better than Billboards,TV, and other traditional media to target tech enthusiasts, who presumably make up the most part of your target audience.
Some apps and websites that should be on your must-consider list for your online home automation advertisement campaign are Google Ads, Facebook ads, Youtube, The Times of India, The Hindu, Dailyhunt, Truecaller and The Business Line.
Online Home Automation Advertising Options
If you are a freelancer who provides home automation services, you should probably check out Fiverr (an online marketplace for freelance services) before even considering other online home automation advertising options. Just go on fiverr.com and put ''home automation'' in the search box. You will find a whole page of people advertising their home automation services of all sorts which will help you get an idea of how it is done.
Out of all online home automation advertising options, social media platforms such as facebook are probably the best for newbie advertisers.
Facebook boasts of providing advertising solutions for all levels of expertise. You can start advertising on facebook with a very basic knowledge of the platform.
Facebook has got simple self-serve tools that advertisers can use to create and run campaigns and track their performance with easy-to-read reports. And, of course, with Facebook's over two billion monthly usership, it is one of the best online home automation advertising options anyway.
Online Home Automation Ads Rates
Online home automation ads rates is a multi variable equation. There are many technical factors that determine the rate of advertising online, however the most important factor is probably the type of platform the ad is put on.
As an online home automation company it is of utmost importance to choose the correct advertising platform and go for the best online home automation ad rates. The Media Ant aims to provide the best online home automation ad rates, and ensures a seamless execution of your home automation ad campaign.
For the best online home automation ads rates, visit The Media Ant. In the digital section of the website, you can browse through multiple online advertising options and hopefully find one that suits your budget and other preferences.
Advantages Of Online Home Automation Advertisement
Listed below are some of the advantages of online home automation advertisement:
Online platforms have a much wider reach than the traditional modes of advertising and are hence more likely to bring in leads.
Advertising online would reach a more relevant audience for a home automation advertisement.
You can execute highly targeted campaigns online and monitor their performance very closely.
The quality of engagement on online platforms is higher than the traditional ones.
You can get the best of both worlds – traditional advertising and non-traditional advertising – by advertising on the online editions of newspapers.
These are only some of the advantages of online home automation advertisement but they are enough to make any serious advertiser think again before deciding not to exploit online media options for their home automation ad campaign.
Efficacy Of Digital Smart Home Ads
The various forms of digital advertising are very popular today due to their wide reach and cost effectiveness. However, the efficacy of digital smart home ads lies mostly in the cross section between the medium and the industry of the product to be advertised.
The potential customers of a home automation business are more likely to be found browsing the internet than changing channels of the tv or flipping newspaper pages.
You wouldn't expect to find a home automation ad on a traditional billboard, it would at least have to be a digital billboard.
After all, it is only fitting that something so advanced and high-tech as home automation is advertised on the most advanced advertisement platforms. So, yeah, the efficacy of digital smart home ads, for the most part, has to do with the customers' notions of propriety.
Best Online Home Automation Ads Agency In India
There is no agency in India dedicated solely or even primarily to online home automation ads as such, however, The Media Ant is probably your best bet if you want to run an online ad campaign for your home automation business.
The website of the agency has a myriad of digital advertising options ranging from Google ads to the Jio Saavan app and it is arguably the best online home automation ads agency in India.
| | |
| --- | --- |
| Was this article helpful? | |