Social commerce is an emerging sector in India and the growth is primarily driven by the global pandemic. With strong support from Gen Z's and millennials along with the steady growth pace, the industry will be revolutionizing and democratizing the overall e-commerce scenario in India.
Social commerce is currently accounting for 1 to 1.5% of the overall e-commerce industry in India. According to a Bain & Company report, 40% of online shoppers have made at least one purchase via social media in 2020.

Therefore, it's quite evident that the competition in the social commerce landscape is high, which is why advertising for your social commerce brand has become even more important.
The social commerce industry in India is estimated to grow by almost 71.5% on an annual basis, in order to reach US $8,258.8 Mn in the coming years. The GMV of the social commerce industry in India will grow from US $8,258 Mn in 2022 to US $1, 43, 583.3 million by 2028. (Source: India Social Commerce Market Report 2022)
Hence you understand how important it becomes for you to advertise your social commerce brand. However, we do understand that choosing the right advertising platform to promote your social commerce business can be daunting. But worry not, we are here to help you make a sound decision.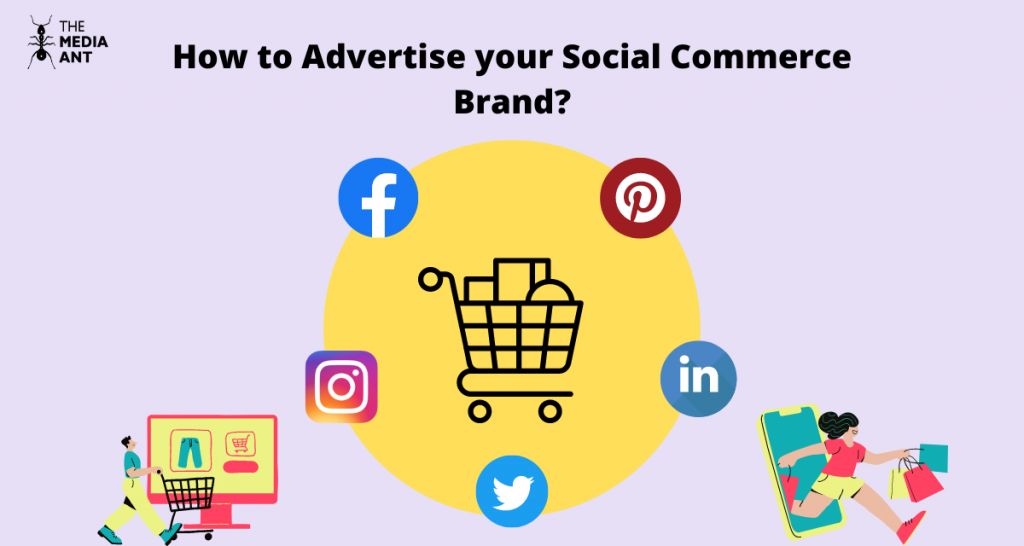 How to Advertise your Social Commerce Brand?
1. Get To Know The Audience Profile
If you are looking for the best engagement strategy, you must align your social commerce marketing plans with the customers (your target audience) to whom you want the message to reach.
Knowing your target social audience might take some time and effort, but remember it will definitely make a difference in sales and conversions. It is not a secret that one can expect better results when one conveys the correct message by using the appropriate platform and to the right people.

So apart from using the same messages for your website, understand your intention and then choose the message accordingly that resonates with your social media customer subset.
One of the best practices that you can implement is the use of analytics for staying informed on the performance data and demographics that will help you to identify how the products are working and how to position them.

For instance, having a better understanding of your audience can create a better browsing experience for your customers. Even for social media apps like Instagram you can use a smart listing based on content engagement and hashtags.
2. Stay Creative With Your Social Profile
Consumer behaviour has changed drastically post the pandemic, which has inevitably affected shopping habits and increase in online shopping. In fact, most of the shoppers (especially the younger generation) learn about brands through social media.

Therefore, it is important to rethink and revamp your social media profiles as they serve as the brand's digital storefront.
Keep in mind that your social commerce brand has just one shot to create a good impression.
So try creating a good buying experience because the ambiance of your social media profile is as important as the product you sell.
3. Scheduling of Consistent Promotional Posts
Promotional posts are a great way to share your product details, such as product shots, walk-throughs, close-ups and short demos. You can also add links to the posts which can help you in:
Creating better brand awareness.
Meeting the customer demands.
Streamlining the purchase process.
4. Humanizing Your Social Media Replies
The primary reason that people prefer reaching out to brands on social media is the expectation of a quick response. Social media is an interactive platform and it makes it easier for brands to make personal connections with their audiences.
Apart from that, you can always drive a personal conversation with your customers and reply accordingly to their queries. Instead of giving just a simple answer, you can:
Recommend any of your products.
Share a link to purchase.
Provide a promo code to lock the sale.
A personalised interaction with your audiences can give you an opportunity to show the personality of your brand and even build trust with the shoppers.

All in all, it's a winning situation for brands as they will deliver an outstanding customer experience and increase their potential bottom line.
5. Streamlining your User's Mobile Journey
Several studies have found that mobile users generally have a higher rate of abandoning your site or cart than desktop users. Hence, when your buyers move to the smaller screen for everyday purchases, it is important to get their full attention and support. This can only be possible if you pay fine attention to the buying and selling process on the smaller screen.
The benefit with social commerce is that buyers do not have to make personal accounts in order to shop from your site. Instead of that, they can use their social media profiles to make a seamless transaction.
6. Collaborating With Social Influencers
Influencer marketing is one of the best ways to advertise your social commerce brand, to reach your target audience as influencers pay attention to specialized content. For instance, Meesho has recently been collaborating quite actively with influencers who specialize in the fashion and lifestyle category.
The influencer marketing approach can curate an engaging experience for the customers as they can see a live story and 'real life person' promoting the brand and product.
Influencers have a massive and loyal fan base and advertising through them can help you tap their audience.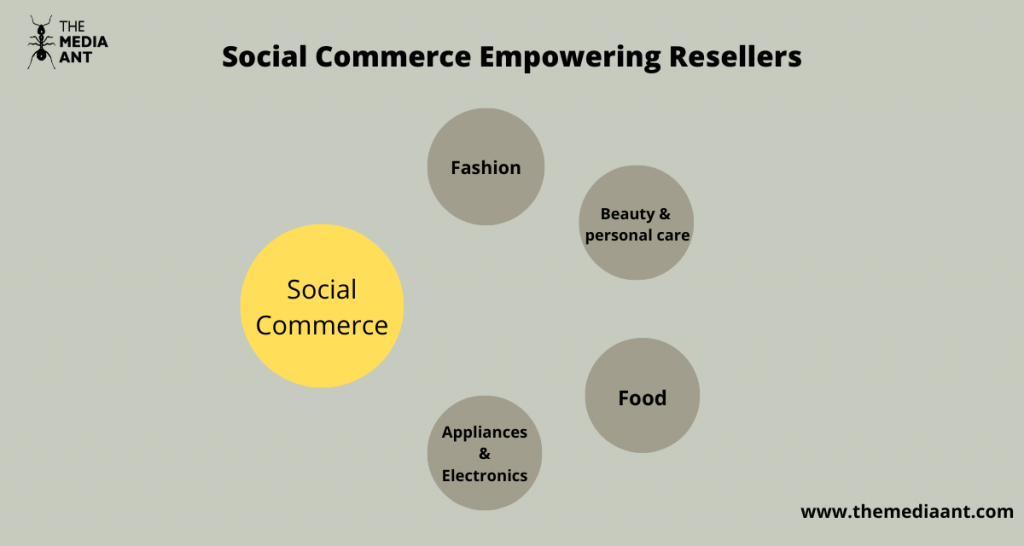 Why Advertising Your Social Commerce is Important?
The steadily growing digital space, backed by the high internet and smartphone penetration is adding to the growth of social commerce in India. As Indians are becoming more digitally connected, and especially the tier-2 and 3 cities and rural areas that are untapped till now. The social commerce market in India is estimated to skyrocket in the coming 4 to 6 quarters.
To top all of this, the pandemic fuelled the growth of social commerce as consumers were confined to their houses and spent more time online.
Another factor which is driving the social commerce landscape is the change in consumer behaviour of millennials and GenZ. Apart from that, the growing demand for customized products and unique items are also another reason that has helped social commerce businesses to grow.
The market in India is poised to grow in a really high-speed aiding to the adoption of social media platforms.
Various big names and brands such as Facebook and Myntra have entered the social commerce market too, and are trying to capitalize on the new trend of making purchases through social media.

The overall social commerce market is in a nascent stage now and it will reshape the market dimensions in the upcoming years.
Currently the forerunner in social commerce in India is Meesho, which has already doubled the valuation in 2021 from $2.1 Bn in Apr 2021 to $4.2 Bn in Sept, raising around $570 Mn in Series F funding.

As a result, the competition in the market is intense and rising with companies like Flipkart, Meesho, GlowRoad coming into play.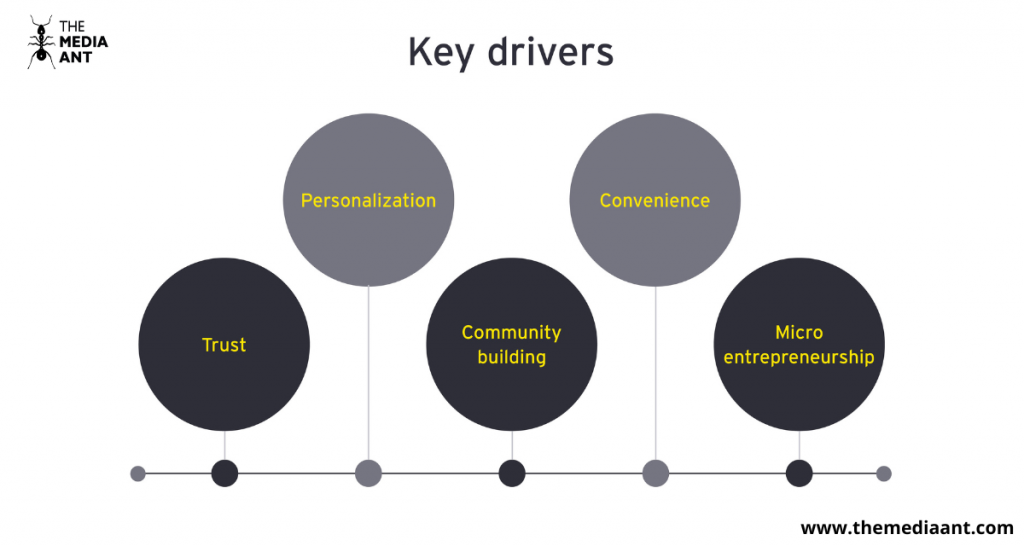 Types of Social Commerce Advertising
Determining what advertising option you should go for to advertise your social commerce business is of utmost importance. However, choosing the correct advertising option can be a daunting task.

Hence, here are a few types of social commerce advertising options that might help you to make a sound decision.
1. Collaborating with Influencers
Influencers are no more a homogenous group of individuals with a humongous number of followers. They have been successful in expanding their domain beyond just content creation and have gradually become a brand themselves.

Therefore, you can reach out to your target audience by collaborating with an influencer who resonates with your brand.
2. Social Media
According to Redseer, a management consulting firm, there are approx 210 Mn internet users in India. Currently, India has over 448Mn active social media users who spend 2 hours & 25 minutes on an average consuming social media. (Source: Times Of India).

This shows how impactful social media advertising can be to your business especially if you want to reach out to millennials and GenZs.
3. E-Commerce Sites
As per Business Standard India's e-commerce business will grow by 84% due to the demand created due to the pandemic. Incorporating e-commerce advertising for your social commerce brand can work really well for your business. Keeping in mind the growing popularity of e-commerce platforms in the current scenario.
Social Commerce Vs ECommerce
| | | |
| --- | --- | --- |
| | Social Commerce | E-commerce |
| Monitoring | Needs daily monitoring | Doesn't need daily monitoring |
| Trading scope | Limited trading scope | Global trading scope |
| Communication | Two-way communication | One-way communication |
| Customer Engagement | More comprehensive customer engagement | Less comprehensive customer engagement |
| Time | Less time-consuming | More time-consuming |
| Trust | Less trustworthy | More trustworthy |
| Offered by | Facebook, Instagram, Pinterest, etc. | Amazon, Flipkart, Alibaba, etc. |
Benefits of Social Commerce Advertising
The benefits of social commerce advertising are innumerable, and tapping into the ad options available for you social commerce can work for you real good.
You can promote your brand without incurring any costs at all through online advertising channels like email marketing, SEO, and Social media content marketing.
And with paid channels like Facebook ads and Instagram you can run highly targeted campaigns and monitor their performance very closely with Facebook Ads Manager.
Digital marketing also allows you to have a global reach, if that's what you want. You can practically target anyone in any corner of the world with a computer and an internet connection.
One of the greatest benefits of social commerce advertising is that digital marketing is very easy to scale. Meaning that if your ad campaign is working well, you can very conveniently increase its magnitude to target more people.
Digital marketing is one of the most scalable kinds of marketing out there, technically, it is infinitely scalable.
Social Commerce Advertising Examples
Meesho
Coutloot
Fabriclore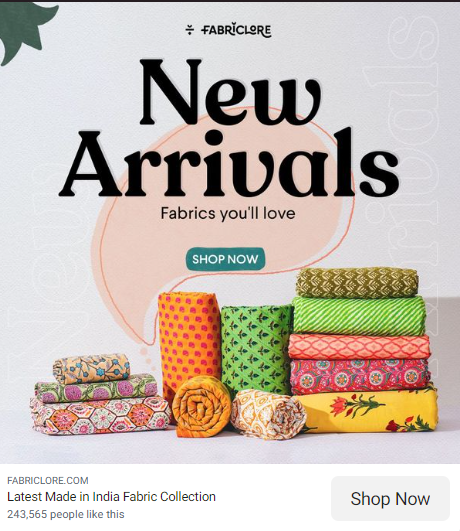 Social Commerce Advertising Strategy
The social commerce industry in India is still in its early stages but it is evolving rapidly. Several start-ups and home-grown businesses are realizing the potential of social commerce, hence they are quickly moving towards capitalizing on this opportunity.
In the past eight quarters, over a dozen start-ups have emerged whose businesses revolve around social commerce, this includes B2C, B2B and even C2C.

As per estimates, social commerce start-ups that are homegrown have raised approximately $100 Mn in funding with around 10 Mn resellers.
Here are some statistics related to the social commerce industry in India which might help you in making your social commerce advertising strategy. (Source: BusinessWire)
India Social Commerce Industry Market Size and Forecast by End Use Segment, 2019-2028
India Social Commerce Industry Market Size and Forecast by Retail Product Categories, 2019-2028.
Clothing & Footwear
Beauty and Personal Care
Food & Grocery
Appliances and Electronics
Home Improvement
Others
India Social Commerce Industry Market Size and Forecast by Location, 2019-2028
India Social Commerce Industry Market Size and Forecast by End Use Device, 2019-2028
India Social Commerce Industry Market Size and Forecast by Payment Method, 2019-2028
Credit Card
Debit Card
Bank Transfer
Prepaid Card
Digital & Mobile Wallet
Other Digital Payment
Cash
India Social Commerce Industry Market Size and Forecast by Location, 2019-2028
Tier-1 Cities
Tier-2 Cities
Tier-3 Cities
India Social Commerce Industry Market Size and Forecast by Consumer Demographics & Behaviour, 2021
By Age
By Income Level
By Gender
Growth of Digital Payment Acting as a Boon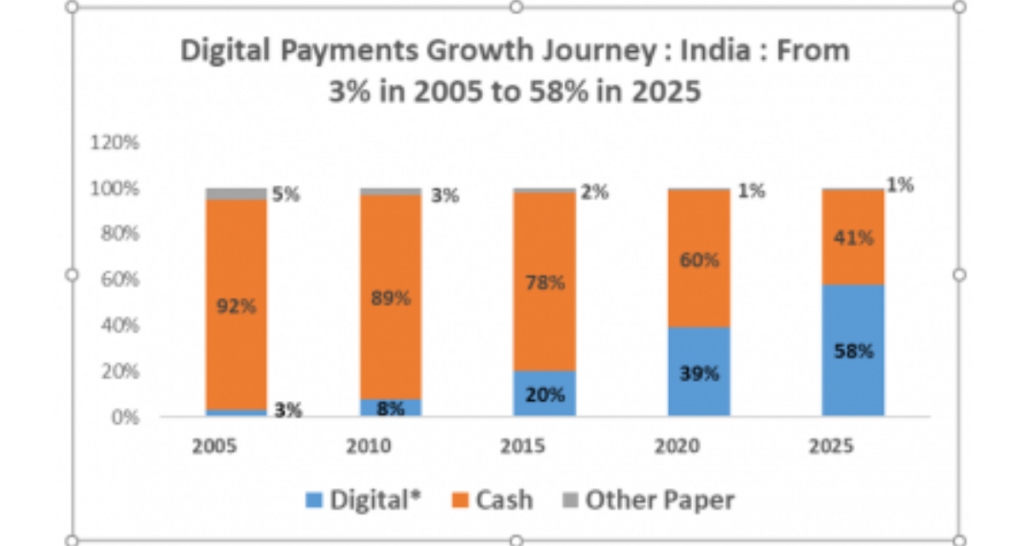 The banking, financial services and insurance category is experiencing a boom over the past few years, this is due to the growing use of digital payments among the masses.
Especially, during the pandemic the use of PayTM, PhonePe and GPay has increased. In the last few years there has been a spike in the BFSI category, because of the growing space and levels of adoption have gone up in the pandemic period.
This growth has also boosted the demand in social commerce, as it has become easier for consumers to make payments online.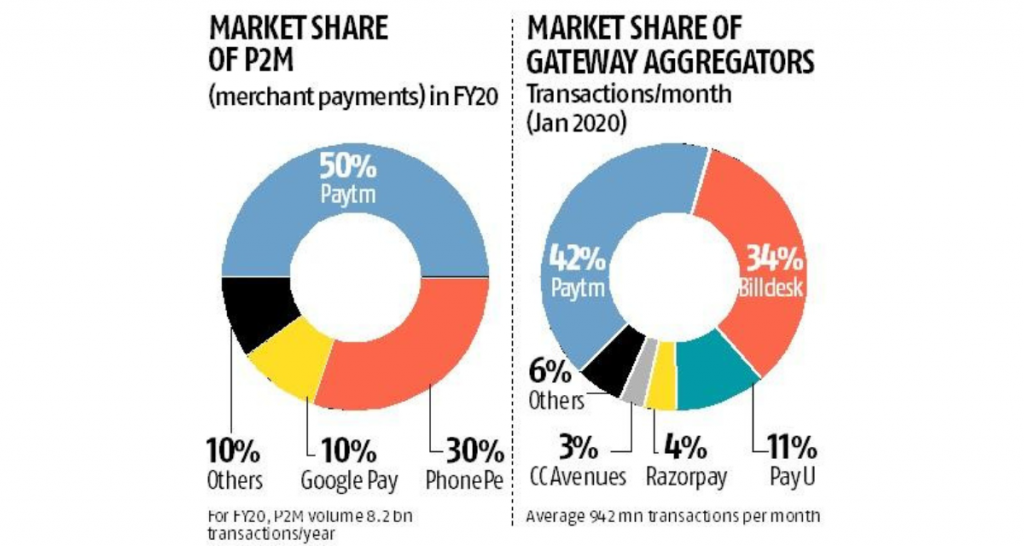 Use Facebook and Instagram to Leverage Your Social Commerce Brand
Facebook: Facebook is the largest social media platform with 2.91 billion monthly active users. 9.3 percent of total active Facebook users are women between the age group of 18-24 years and male users are between 25-34 years. Average time spent on Facebook is 58 minutes per day.
Since social commerce is highly popular on Facebook, advertising your business on the platform can be beneficial too. To get a better understanding of Facebook advertising, you can also read our Media Kundli- Facebook.
Instagram: Instagram is again one of those platforms that has welcomed the social commerce business with open arms. Hence, advertising your brand on the platform can be effective too. As of 2022, most of the audience on Instagram are Gen Z and Millennials. On a global scale, internet users in the age group of 16 to 24 prefer Instagram over other social media platforms. (Source: Hootsuite)
For more information read our Media Kundli- Instagram which will definitely help you to decide whether to advertise on Instagram or not.
Social Commerce Platform Advertising
The Media Ant is a leading social commerce advertising agency in India. We provide advertising options like YouTube, Instagram, Facebook, Jio Saavn, Book My Show, and many more.
We provide over a hundred media options in digital marketing. Our team provides you planning guidance and helps you every step of the way right from choosing the right media options to the monitoring of your ad campaign.
We at The Media Ant believe in catering to the client to the very end of the campaign. We coordinate and keep in touch with the client regularly to ensure a seamless execution of the campaign.
Our team is a helpful and cooperative bunch who would be happy to help you with any queries you have regarding social commerce advertising. Get in touch with us at The Media Ant or fill the form below:
| | |
| --- | --- |
| Was this article helpful? | |