Top 3 facts about Instagram advertising
The average monthly downloads of the Instagram App in India is 175.7 Million. (April 2023 data)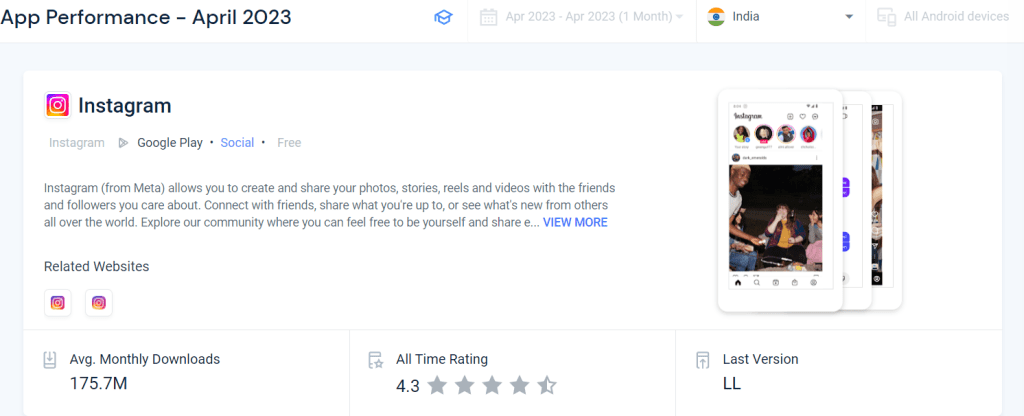 The Monthly Active Users of Instagram App in India are 235.3Million and the average session duration is 5.25 minutes. The Daily active users of the app are 187.0Million. (Data from May 2022 to April 2023)

The user demographics (India) of the app are 19.8% Female and 80.2% Male, with the highest age group being 25-34 year old (41%) followed by 18-24 year old (34%). (Data from May 2022 to April 2023)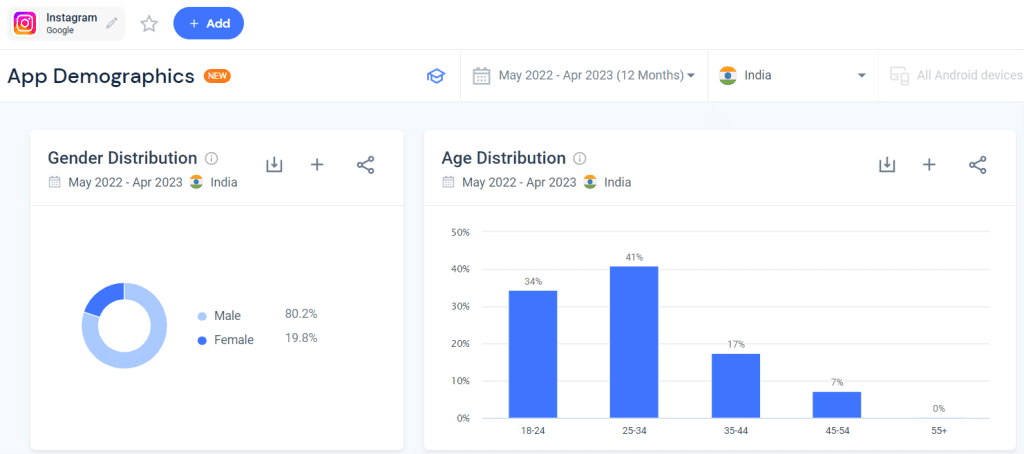 Top 3 ad options on Instagram
Carousel Ads: Carousel Ads are ad content that comes in a Carousel format, which is a series of photos that rotates in the view, similar to that of carousel. This type of ad format is best used when it comes to displaying different views or angles of a specific product or various variations of products. For example, if you are an e-commerce company which sells different types of lifestyle and fashion items, you may select the Carousel Ads format to display different products to let your customers know the variety of items available in your company.
Video ads: As the name suggests, these advertisements come in a video format and are a great way to grab the attention of your audience. Video ads provide you the space to become creative with your content, and Instagram allows you to post videos up to 60 seconds. Hence, you get enough time to pitch your product or service to the customers. You may use video ads to give testimonials of your products, customer reviews, etc.
Reels: Instagram Reels is one of the most recent additional features which have got massive popularity. Reel videos lets you create and share short videos that are eye-catching and do not disappear in 24 hours unlike stories. Your reel ad must be 30 seconds long and it must include a song or music, in order to make it look like an organic reel post. Note that you can only use videos for this ad format. Instagram reels has a separate section in the feed, hence the chances of the audience seeing your reel ad is fairly high.
Top targeting options available on Instagram
Location: Location targeting is one of the most amazing ways to target your preferred customers. Instagram offers advertisers the benefit of targeting their customers based on their location. You can reach the members on the basis of where they visit or live by searching for locations. This includes country/ state/ city, custom region, geo-fencing (radius around a point or location.) Instagram allows you another layer to location-based targeting, allowing you to be even more specific:
Everyone in the location (default targeting option) – This is a default targeting option where you can detect the user's last updated location of the actual Facebook user.
Audience who stay in the location – The location is set by the location on the Facebook profile of a user and confirmed by the IP address.
Audience recently in the location – You can track the user by the mobile device usage in a specific geographic area that you intend to target.
Audience traveling to the location – The users who had one geographic area as their recent location which is at least 100 miles away from the home location.
Demographics: You may even define the gender, age and location of your Instagram Saved audiences.
1. Age: If you are aware of the average age of your audience members, you can easily set some simple age restrictions in order to narrow your audience.
2. Gender: If the product or service is targeting a gender-specific audience, you may let Instagram know about it.
3. Language: If you are advertising in a specific language or targeting an audience who speak a particular language, you may want to just target the audience who can understand the ads.
Interests & Behaviour: Interests are one of the easiest and best Instagram audience targeting options available because they allow advertisers to target audiences particularly interested in brands and products related to your product. For instance, you may target an audience interested in your competitors or blogs and magazines that cover your industry.
Lookalike audiences: You can even target lookalike audiences on Instagram, it is a way in which your ads can reach new audiences who are likely to be interested in the business you have, as they share similar interests to your existing customers. When an advertiser uses a lookalike audience, the ad is delivered to the audience who are very similar to your existing or 'look like' customers.
Top 3 reasons to go for Instagram advertising
Leverage high engagement rates: The engagement rate of the audience on Instagram ads and posts are exceptionally high in comparison to various other platforms. In case you are a new brand and don't have UGC content yet, you can use trending hashtags or start a hashtag trend for people to share and follow it. In addition to this, you can also ask questions or polls on your stories and then put some ad budget on them to expand your visibility and reach to new audiences. One of the best ways to drive engagement in Instagram is through influencer marketing. Reach out to small influencers, to develop a partnership program with them.
Purchasing power: According to Hootsuite more than ⅓ of Instagram users use Instagram to make purchases, which makes them 70% more likely to buy products online than non-instagram users. This is mostly because most of the Instagram users are Gen Zs and millennials who are open to experimenting with new products and services. Instagram is also a great platform for new brands whose target audience is young and urban customers.
Targeting Options: Instagram's advertising platform has access to one of the most advanced social media ad targeting options available. You may advertise to your audience by interests, age, location and behaviour, as you can do on Facebook, which basically means that the advertiser can do the same on Instagram. Which means that an advertiser can do detailed targeting and target the right audience as per their product and service. In addition to these targeting options that we have mentioned above, Instagram also has some extensive retargeting capabilities that Facebook does.
Top 3 brands that should go for Instagram advertising
E-Commerce
Fashion & Lifestyle
Quick service restaurants
Top 3 brands that should not go for instagram advertising
B2B
Manufacturing
Metals & Mining
Top 3 cities that prefer Instagram advertising
Average CTR for Instagram
The average CTR for Instagram is 0.5%.
| | |
| --- | --- |
| Was this article helpful? | |