Do we need an introduction to social media? We guess not, because over the years social media has become more like a muscle memory. There's no doubt that social media has not only impacted our lives but has also made a huge impact on the advertising industry.
Hence, amid the continuous adjustments to search engine rankings and social media algorithms, it can become pretty impossible to get your content noticed. 
Though organic search is one of the most comfortable and free options, the chances of going all viral without putting some money on the table can be quite less.
Although content, SEO and email marketing are a big part of your brand campaign, social media advertising is something that should be a must-have in your marketing strategy. 
As per BigCommerce, in 2021 about 75% of Gen Zs and 48% of millennials made purchasing decisions based on social media ads.
The 5 most popular social media platforms (including messaging apps) in India (2022) are:
WhatsApp (534.30 million active users)
Instagram (503.37 million users)
Facebook (491.53 million users)
Telegram (374.40 million users)
Facebook Messenger (324.39 million users)
No matter whether you are a small or big business enterprise, social media advertising is definitely a must, especially if you are looking to stand out from the crowd, drive more sales and boost brand awareness.
What is Social Media Advertising?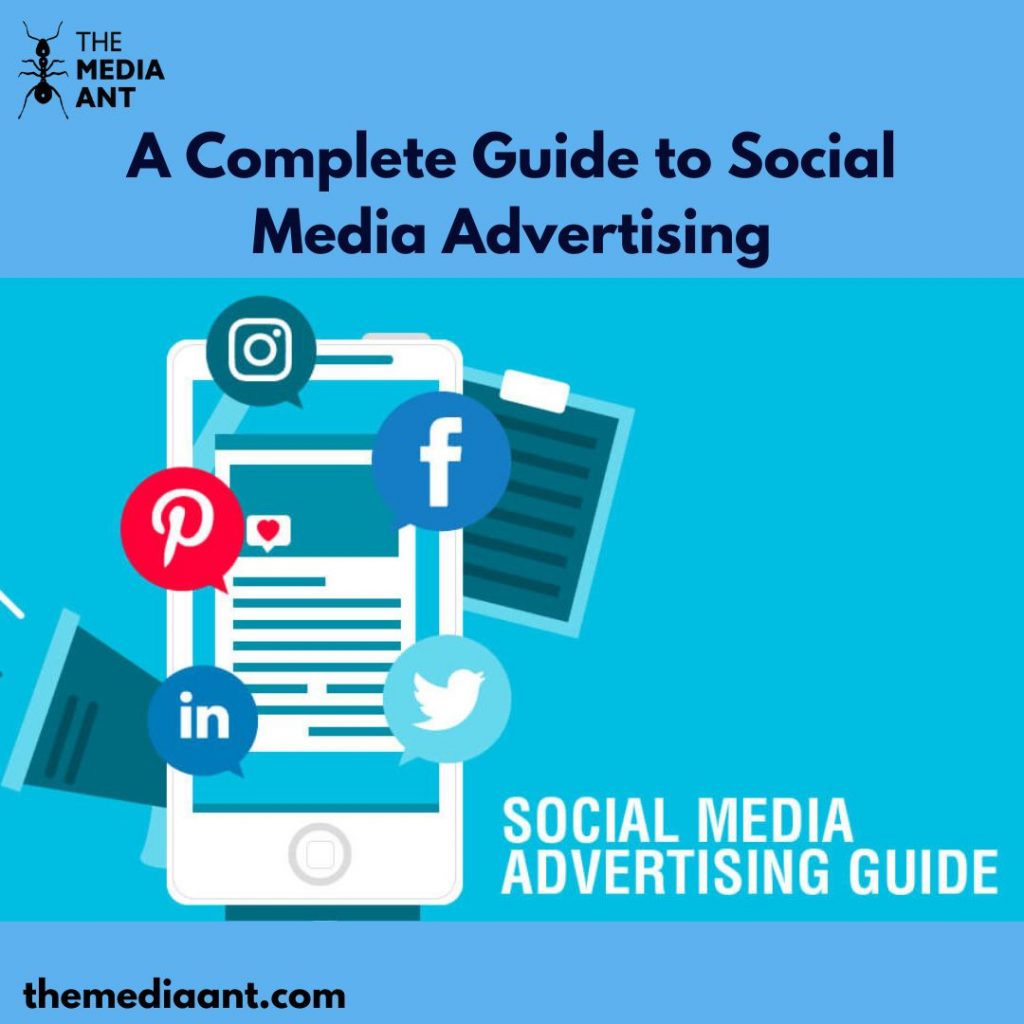 Talking of social media, let's understand what social media advertising is. Advertisements that are served to the users on social media platforms are known as social media advertising.
Social media platforms utilize user information in order to serve highly relevant ads based on the interactions made by the users in the specific platform.
In various instances, when the user demographics align with the target audience, social advertising can give a huge increase in conversions as well as sales in a cost effective way. 
In this blog post, we'll cover all the ins and outs of social media advertising, from managing a campaign to different types of ads, as well as practical examples of how to put them into practice.
In this blog, we will be covering all the nitty gritty of social media advertising, from the effectiveness to the different types of ads you can avail.
We will also be sharing some practical social media advertising examples that will help you make a sound decision. 
Types of Social Media Advertising in India
Social media advertising can be a hyper-direct way to reach your target audience. One can target new customers or even go for retargeting. Online advertising platforms give you the space to try out new things, experimenting and have a more interactive experience with your audience.
When it comes to social media advertising in India, there are innumerable options however that does not mean you need to avail yourself of all of them. When you are choosing in which platform you are placing your ads
When choosing where to place your ads, it's also helpful to know which networks are most popular with your target audience.
So, here are a few types of social media advertising in India which might help you in making a decision as to where you must place your ads.
Facebook Ads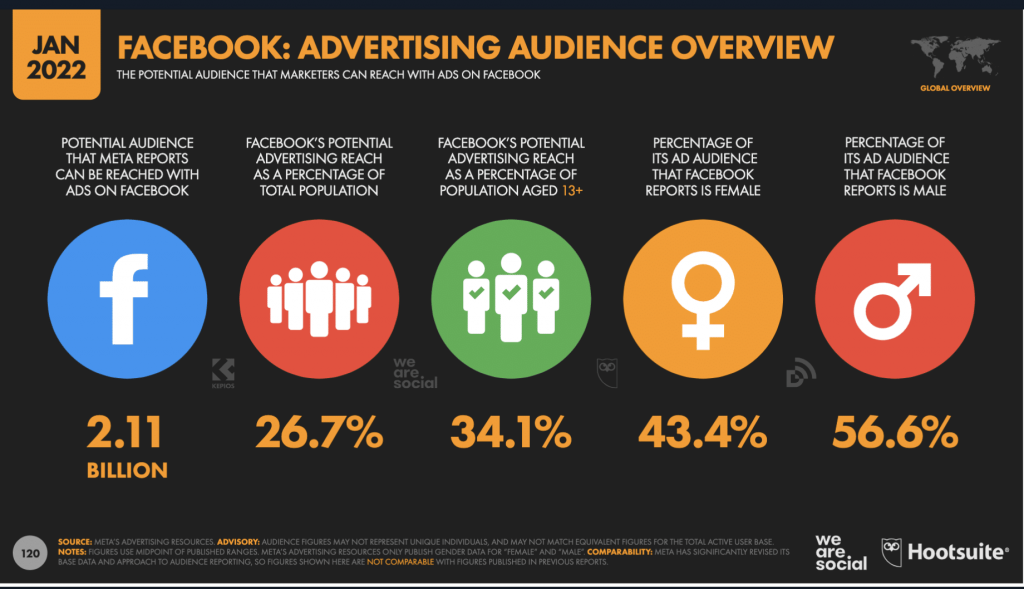 Facebook ads can help you in achieving one of the three main types of campaign objectives:
Awareness: Building brand awareness or increasing reach.
Consideration: Sending traffic to the website, increasing engagement, encouraging app installs, generating leads or encouraging users to to communicate with your brand on Facebook Messenger.
Conversion: Increasing purchases and leads via the site or app. Good social media ads can even drive traffic to your website and even to offline stores.
Audience considerations: Facebook is amongst the oldest social media platforms and is popular across several demographics, with about 2.91 Bn monthly active users worldwide (Source: SimilarWeb). Facebook is one of those platforms which is widely used by teenagers as well as their parents.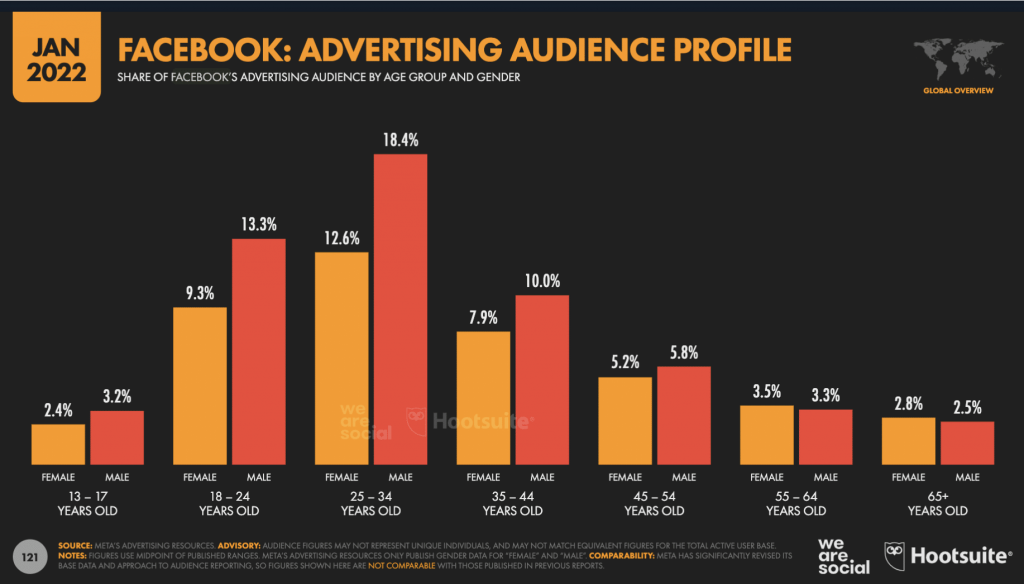 Facebook has detailed targeting options, and is a great platform to get started with social media marketing.
With ads, brands can direct the users to the Facebook page of your brand or to the website. You can also direct the users to any customized instant experience.
Facebook is an informational destination page and a full-screen interactive within the facebook mobile app.
Instagram Ads
Instagram is owned by Facebook. In light of this, it is not unexpected that Instagram advertisements serve the same three major campaign goals as Facebook ads:
Awareness
Consideration
Conversion
Audience Factors: Millennials are the primary users of Instagram. Gen Xers and members of Generation Z also frequently use the platform.
With specific targeting options, you can find your perfect audience just like on Facebook. Create lookalike audiences and specify the demographics, interests, and behaviours of your target market.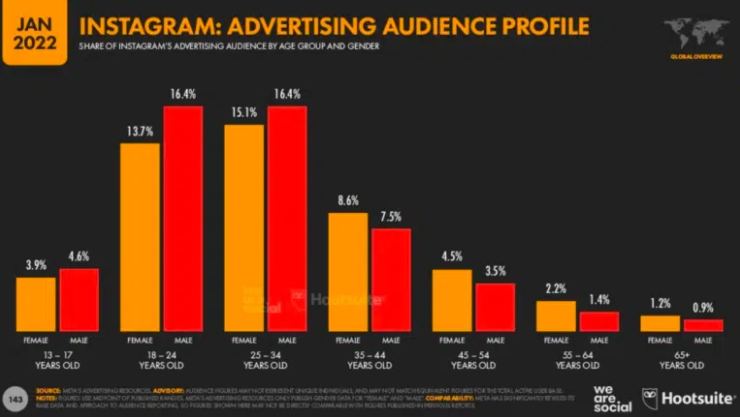 Four of the Facebook ad kinds are also reflected in the specific Instagram ad categories:
Photo
Video
Carousel
Collection
Each sort of advertisement can be made for Instagram Stories or the regular Instagram feed. Ads on IG TV provide distinctive methods to connect with your audience.
Although Instagram Reels are a new type of content for the site, there aren't any paid advertising opportunities at this time. Having said that, the novelty of Reels may be a fantastic opportunity to test out organic reach.
Get in early and tell your grandchildren that you were there when it all started.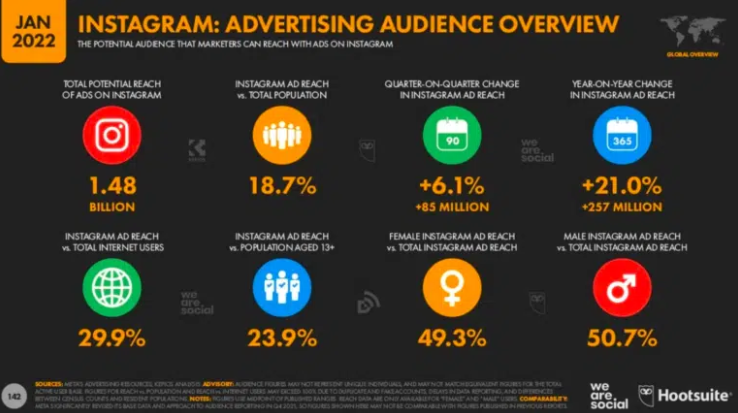 Photo and Video Ads
Your Instagram image or video will seem just like any other post on Instagram, with the exception of the word Sponsored in the top right corner. You might also be able to include a call-to-action button, depending on the goal of your campaign.
Pro tip: Make sure the aesthetics of your Instagram photo and video advertising match those of your regular postings. This makes your brand's identity more obvious to viewers.
Twitter Ads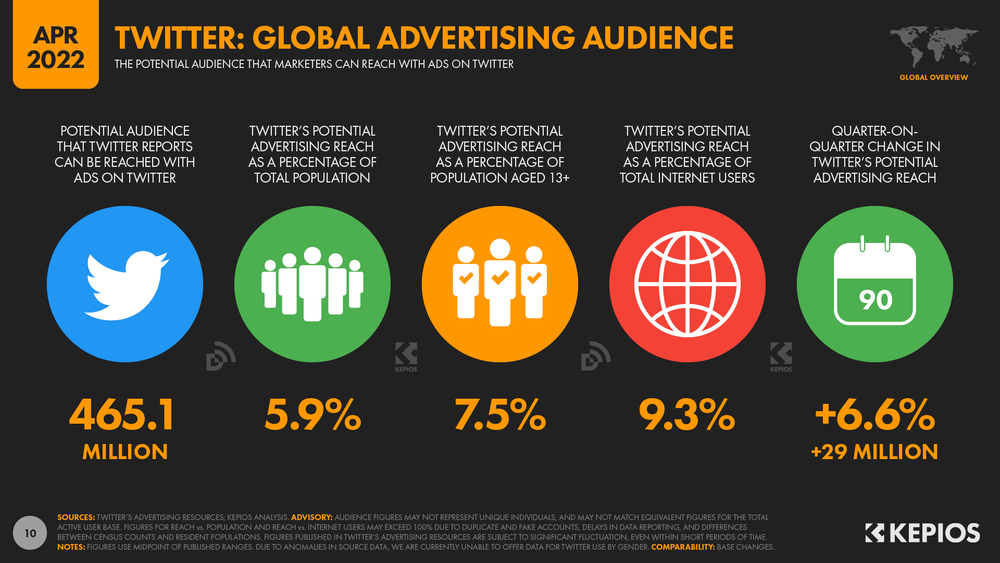 Three different business goals are served by Twitter advertisements:
Awareness: Increase the reach of your advertisement.
Consideration: This is your category if you want pre-roll views, video views, app installs, online traffic, interaction, or followers.
Conversion: Encourage users to utilise your app or website.
Audience: Considering the audience The addressable male market for Twitter advertising is around two thirds.
Snapchat Ads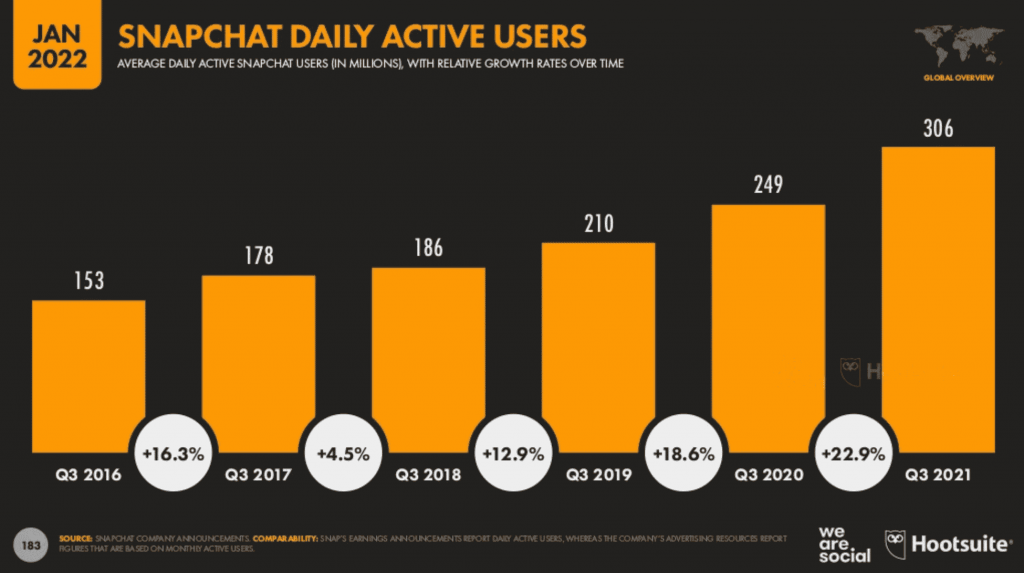 You can accomplish three different types of marketing goals using Snapchat ads:
Awareness: Reach a broad audience to promote your business and show off your products and services.
Consideration: Drive users to your website or app, boost interaction, and promote app installations, video views, and lead generation.
Conversions: Promote catalogue sales or online conversions.
Audience considerations: Snapchat is overwhelmingly popular with younger users, with 220 million users under the age of 25. Nearly three-quarters of 18- to 24-years olds use the app. Compare that to only 25% of 30- to 49-year-olds. About 60% of the audience you can reach with Snapchat ads is female. (Source: Hootsuite)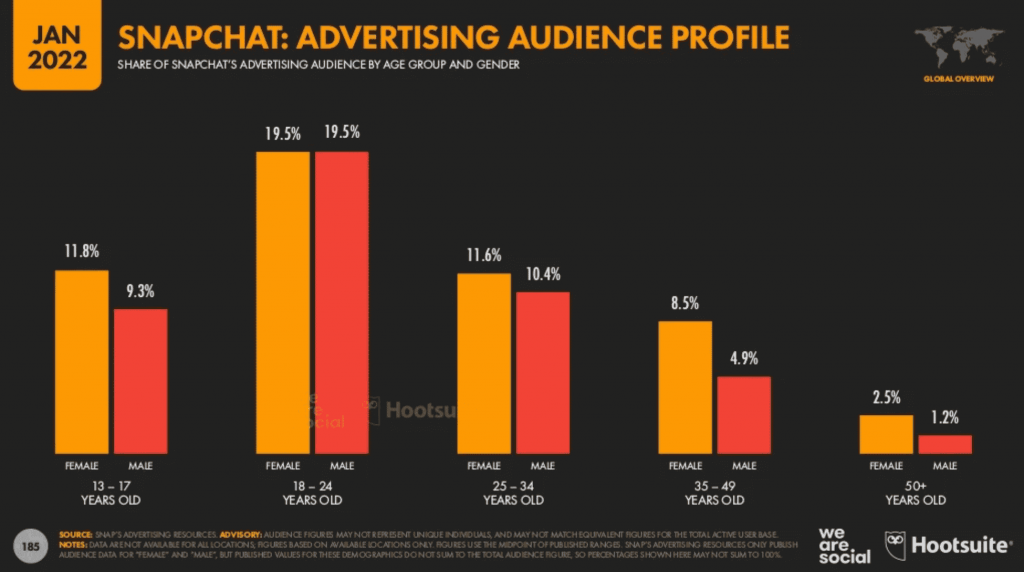 LinkedIn Ads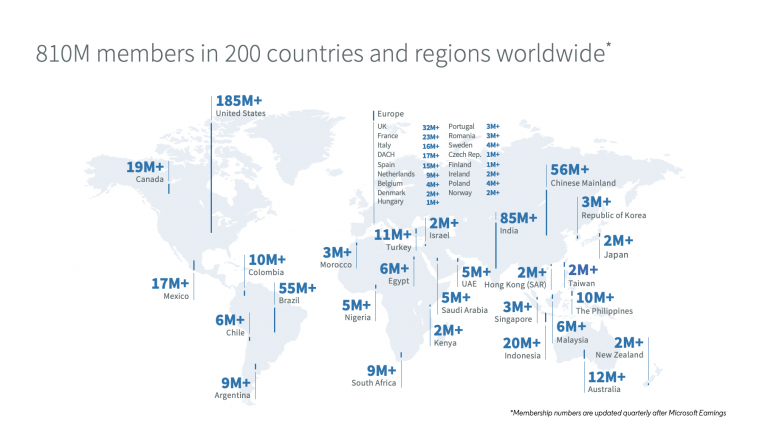 LinkedIn advertising support three different kinds of marketing goals for your company:
Awareness: Increase public awareness of your business or brand.
Consideration: Drive traffic to websites, boost interaction, or promote video views.
Conversions: Lead gathering and website conversion promotion.
Audience Considerations: Compared to the other social networks in this article, LinkedIn is far more focused on business. Based on professional qualifications like job title and seniority, it provides targeted possibilities.
Benefits of Social Media Advertising
Run the Ads Campaign Manually: By managing your social media advertising campaign yourself, you may avoid paying extra for ad management software or agency fees and devote all of your budget to testing and identifying the best commercials.
Additionally, managing your own campaigns will definitely enable you to build a keen eye for advertising, allowing you to learn from your mistakes and future campaigns.
Even if you do wind up hiring external ads down the line, you can become an expert yourself and learn the language instead of letting someone else handle the work.
Research Your Audience: In the end, the buyer is more interested in the potential benefits of the product than merely the physical item itself. In fact, the Common Thread Collective classifies product issues at three levels:
Physical: The product itself.
Functional: What the product does for the customer.
Identity: How the product makes the customer feel.
To market to your audience, you must therefore first grasp who they are and what they desire. It's not always clear cut if your product serves a functional purpose or what your customers genuinely want.
Grab Your Audience Attention: It is understandable that Facebook users only interact with mobile content for an average of 1.7 seconds in a world of unending scrolling and short-form movies.
As a result, marketers have a decreasing window of opportunity to grab customers' attention before they scroll on to the next item.
And the way to achieve this is by embracing an emerging story arc, which begins with the climax, as opposed to the conventional TV story arc of increasing action, climax, and dropping action. 
By doing this, you can entice customers from the outset and guide them smoothly into a call-to-action.
Social Media Advertising Examples and Tips
It's time to start your advertising campaign after choosing your social media platform and the kinds of ads you want to run.
Here are five social media advertising examples and tips to get you started so you can start converting views into paying clients.
1. Audience Targeting
Targeting an audience means to zone in on a select demographic, whether it be age, gender, occupation or interest — but you can't target everyone using the same tactic.
Using keyword search, surveying and interviewing customers and creating clear customer personas, you'll get a better picture of who your customer is, and therefore you'll be able to target them more accurately.
Not only should you be targeting new and potential customers, but also make sure to retarget existing customers. This will help remind customers of your brand even if they've already made a purchase, and it's much more cost-effective than advertising to potential customers.
2. Uplift your social media strategy
It may go without saying, but improving your social media strategy is a crucial component of social media advertising. You can tell your brand narrative and make it stand out on social media by promoting and repurposing your organic material.
3. Paid search and social ads
You can modify your PPC search advertising depending on whether a consumer has previously visited your online store and the pages they browsed by using remarketing lists for search ads (RLSA).
You can target customers who are already familiar with your company in this way.
But you can take this a step further by combining paid search with social ads to target both brand-aware and brand-unaware individuals.
You can increase brand recognition and assist clients get more familiar with your products by first targeting social media ads. They will then feel more at ease and likely to click on your website when they later see your PPC advertisements.
4. Improve quality score
Quality score is a crucial component of social media advertising since it is a ranking indicator that search engines use to assess the quality of your keywords and PPC ads.
Your ad will rank higher and receive more impressions at a lower cost per engagement if your quality score is better.
You'll be able to identify which paid advertisements are doing best by posting organically to social advertising sites and monitoring engagement with each ad; these are the ones you want to promote.
5. Optimize user engagement for SEO
Optimizing your ad text is one of the most effective strategies to increase traffic to your website and subsequently increase revenue.
User involvement is one potential SEO component, along with other ranking variables like keywords, page speed, and mobile friendliness.
These statistics include, among others, the click-through rate (CTR), bounce rate, and conversion rate.
High CTRs and conversion rates will still result in improved organic search results and more conversions even if user engagement isn't a primary ranking criterion for search engines.
Here are some social media advertising examples, that might help you design your ads: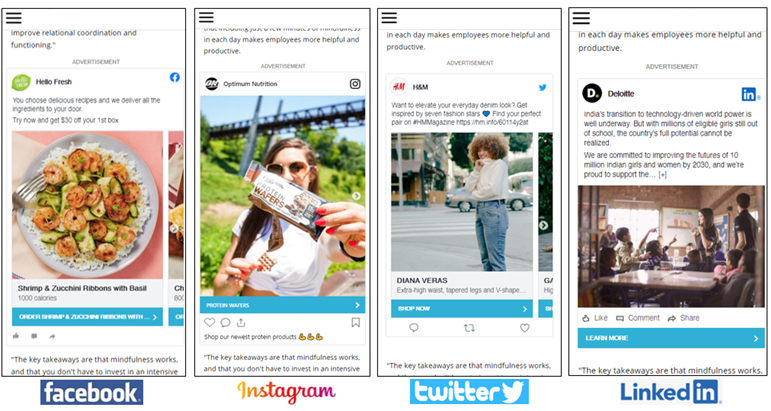 Twitter Ad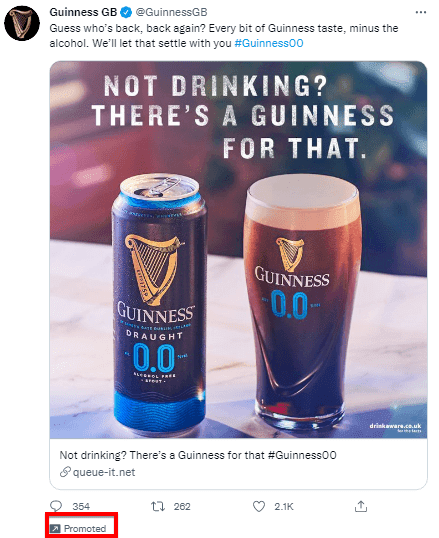 Facebook Ad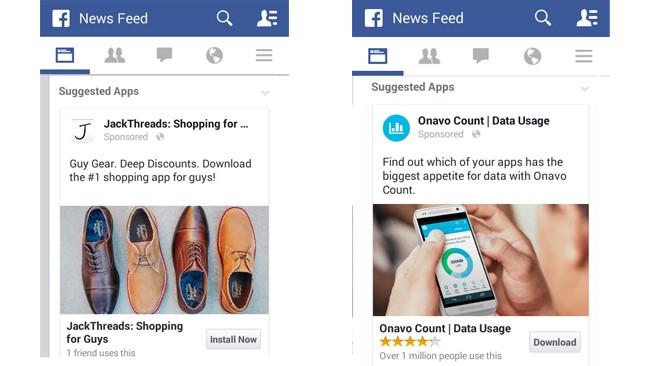 Instagram Ad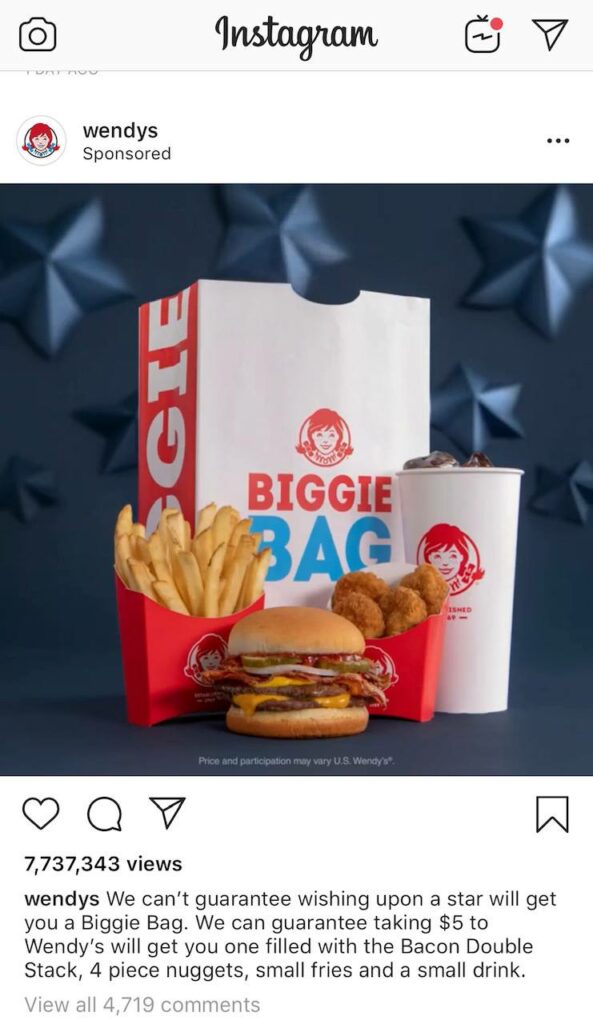 Social Media Advertising Cost in India
There are no cogent reasons why anyone would miss out on social media advertising. The Media Ant is a media buying agency that specialises in negotiating the best prices with media vendors.
For your convenience, our special discounted rates are shown on our website page alongside the rack rates. You can visit The Media Ant to get a better understanding of social media advertising costs and the media options available.
You may rest easy knowing your advertising strategy is in capable hands and put more of your attention on other facets of your company. We are aware that managing a business is difficult enough without having to worry about the erratic trends in marketing.
People Also Ask
How to Advertise my Business on Social Media?
Advertising on social media can be quite easy and seamless with The Media Ant. All you need to do is visit our website and go to the digital page and go to social media.
You will find various media options like Facebook, Instagram, Snapchat, etc. You can look at the rates, targeting options, etc. 
Is Social Media Good for Advertising?
Social media advertising should be a part of any brand's marketing strategy. This is because social media can help you in brand awareness, promotion of offers and sales. In fact if used correctly social media can also drive users to your website and lead to conversions.
How Social Media Advertising works?
With the steady growth of digital media, social media advertising in India has become an important part of marketing. You can use platforms like Facebook, Instagram, Snapchat to target a whole set of audiences. In fact, if you are looking to reach out to young audiences, Instagram and Snapchat are the best options.
How Effective in Social Media Advertising?
Social media advertising in India is quite effective when it comes to brand awareness and promotion. In many cases, social media can also lead to website traffic and sales. You can use social media to reach millennials and Gen Zs, and other platforms to target a different audience.
What is the cost of advertising on Social Media?
If you are looking for social media advertising costs in India you can go for The Media Ant which is a media buying agency that specialises in negotiating the best prices with media vendors.
| | |
| --- | --- |
| Was this article helpful? | |