What is Digital Advertising?
Digital advertising, also known as online marketing, refers to advertisements delivered through digital channels to promote brands and connect potential customers using the internet and other forms of digital communication such as:
Search engines
Websites
Social media
Email
Mobile apps
Text messaging
Web-based advertising
In-short, if a marketing campaign is using any of the above online media channels, it is digital advertising.
Why to do Digital Advertising?
Consumers today rely heavily on digital means to research products. Some 77% of customers research a brand online before engaging with it, according to HubSpot Research. Meanwhile, 51% of consumers say they use Google to research products before buying.
Digital marketing uses a variety of tactics to contact customers, with the goal of persuading them to make a purchase, increasing brand recognition, or simply engaging with your brand.
Social media, content marketing, website marketing, SEO (search engine optimization), and PPC (pay-per-click) advertising are all examples of modern digital marketing channels.
To harness the potential of digital advertising, marketers must go deep into today's huge and sophisticated cross-channel environment to develop engagement marketing strategies that are successful.
Based on the data you acquire over time, engagement marketing creates meaningful relationships with new and returning consumers.
By engaging customers in a digital landscape, you increase brand recognition, establish yourself as a thought leader, and position your company at the forefront.
To understand it in a better way let's have a look at a few digital marketing examples-
Digital Advertising Examples
There are generally three major types of digital advertising that brands prefer to go with, them being-
Search digital ads
Social media digital ads
Video display ads
Online display ads
We will discuss each of these in detail along with the examples.
What is Search Digital advertising?
Search digital advertising often called paid search advertising or search engine marketing involves placing digital advertisements inside search engine results. Companies that run search advertising campaigns pay a small fee each time someone clicks on one of their ads.
Search Digital Advertising Examples
Search Digital advertising examples will help you understand how your ad will appear in a google search.
What is Social media digital advertising?
It is a type of digital marketing that utilizes social networks such as Facebook, Twitter, and Instagram to deliver paid ads to your target audience.
Social media ads are a quick and effective way to connect with your consumers and boost your marketing campaigns.
Social Media Digital Advertisement Examples
Are you planning to design the greatest social media marketing campaigns that will generate monetory for your company?
These tremendous social media digital advertisement examples might assist you!
Almost 74% of people use social media platforms to make a purchase choice. Social media is a great tool to increase brand recognition, advertise your products and services, and reach consumers online.
And with these fantastic social media digital advertisement examples to guide you, you'll be able to increase your sales and earnings. Continue reading to find out more!
1. Zomato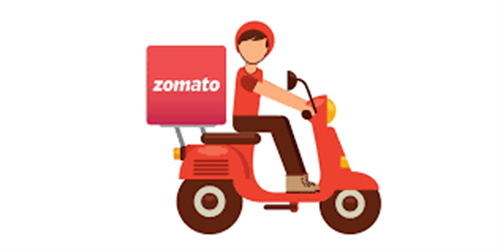 Establish your brand's tone and persona
The brand often plays around with humor, metaphors, and ideologies garnering a good amount of social media following. They share updates and announce things that matter to them, big and small.

The faces behind the brand have come grown into people who stand by their values, irrespective of consequences. They have even tried their hand at Original content!
It was just another July afternoon until a tweet appeared on Zomato's timeline – Guys, kabhi kabhi ghar ka khana bhi kha lena chahiye (Guys, sometimes you should have home food too).
Coming from a food tech unicorn – valued at $2.6 billion at last count – which takes in millions of orders for home delivery from restaurants, the tweet went viral and invited several other leading brands – YouTube India, Amazon Prime, Fox Star, Jio Saavn and many more – to join in. (Source)
The 'anti-marketing' post, not only worked well – the sheer scale of its virality was surprising even for Zomato.
2. Snickers
Hold an Exciting and Engaging contest

In this Snickers social media marketing example, they offer a contest in which people submit their rookie mistake on the Snickers website for a chance to win tickets to the upcoming Super Bowl.
By introducing exciting competitions like these into your social media strategy, you can help generate more discussion about your business and encourage more customers to participate on your social media page, therefore increasing your reach and exposure online.
3. Coca- Cola
Bring on the Emotions
In this post Coca-Cola demonstrates their social media campaign as "#TogetherTastesBetter." Coca-Cola is adept at appealing to its followers' emotions by asking them to recall someone who has mentored or encouraged them.
Associating your brand with emotions is always a win-win situation. Emotional and personalized messages are a very good way to connect with consumers.
Implementing an emotional marketing campaign among your followers may improve leads and conversions while also highlighting your brand's personality and values.
Are you ready to start implementing effective social media strategies that will drive revenue for your business?
Top-level social media marketing services from The Media Ant can help.
What is digital video in advertising?
Digital video advertising is a part of the digital advertising that displays video ads – either standalone or within online video content.
This includes lots of formats designed for various environments, such as banner video, connected TV, or other OTT services.
Video Digital Ad Examples
Now, we will discuss few iconic Video Digital Ad Examples that can help your brand to plan your campaign to create next best Video Digital ad example.
1. Dove: Real Beauty Sketches
Dove asked several women to describe themselves to a forensic artist as he sketched their faces without seeing them. He then sketched them again based only on descriptions provided by others in the group.
It was inevitable that the two representations wouldn't match exactly but the curveball was just how altered women's perceptions are about their own faces.
2. PregaNews : #YourSecondHome
The idea of a pregnant lady working is not that popular in India, considering the facilities, work environment & associated stereotypes.
Through this social video marketing campaign, Prega News urged the employers to take special care of their pregnant employees.
3. Amazon: Mom Be a Girl Again
This Campaign series catches the fancy of those who let their inner child die and let go of their passion in favor of their stressful daily lives.
What are Online display ads?
Online display advertising is a form of online keyword advertising that promotes a brand message visually using text, logos, videos, photographs, or other graphics.
Digital advertising displays target specific user demographics to increase the ads' effectiveness and overall campaign success.
Online Display Ad Examples
By looking at these Online Display Ad Examples, you'll understand that even an image can help your brand run a successful campaign.
1.Urban Decay
What makes it worth noticing
Striking Visuals
Distinctive messaging
2. Adobe
What makes it unique than other campaigns
Eye-catching imagery with vivid colors
Simple messaging
3. Ridge Display Ad Example

Realizing your customers pain point and making it into a campaign
This wallet promises to address one literal pain point and
One security one all in a single slim package, appealing to men everywhere.
People Also Ask
What is the most common type of digital ad?
Display ads are the most common type of digital advertising, typically found on banners, websites and blogs, and consisting of some combination of images, text and animation.
Display ads can either be traditional, in fixed sizes, displayed in a fixed space irrespective of the device being used, or responsive, adapting to the size of the viewing screen.
They can also be personalized based on user activity, behaviors and interests, or released without personalization to increase brand exposure.
What are the four types of digital advertising?
The four main types of digital advertising are social media, paid search, native, and display advertising.
Social media– It is a type of digital marketing that utilizes social networks such as Facebook, Twitter, and Instagram to deliver paid ads to your target audience. Social media ads are a quick and effective way to connect with your consumers and boost your marketing campaigns.
Paid Search– Paid search results have a little green box with the word "Ad" before the listing; this is where a company, like yours, has paid to have their page show up at the top of the list. This can be done through Google Ads search campaign, which charges you a small amount of money for every person who clicks on that link.
Native Ads– Native advertising is a form of paid advertising in which the ads match the look, feel and function of the media format where they appear. They fit "natively" and seamlessly on the web page. Unlike banner or display ads, native ads don't really look like ads, so they don't disrupt the user's interaction with the page.
Display advertising– Display advertising refers to marketing through online channels, such as websites, streaming content, and more. Display ads media formats include text, image, audio, and video.
What is the most effective type of Digital Advertising?
Search engine marketing is perhaps the most dependable type of digital advertising because it's based on keywords that users are already looking for.
The two main subtypes of SEM are pay per click (PPC), and search engine optimization (SEO).
The most popular SEM platforms include Google and Bing. Even though search engines can show thousands of results, 90% of users will end their search on the first page.
That's why it's crucial to use SEM and strategize to make sure your listing shows up on the first couple of pages.
What are some of the best digital marketing campaigns?
Gillette's "The Best Men Can Be"
Gillette took a specific social issue, spun a powerful message, and built it into their brand narrative. In the ad, "We Believe: The Best Men Can Be" Gillette confronts toxic masculinity while humbly pointing out that their slogan of 30 years "The Best A Man Can Get" was indeed part of the problem.
OREO' s " Dunk in the Dark "
'You Can Still Dunk In The Dark' tweet from Oreo can be considered as a marketing moment since it has been cited by many in the industry as one of the best real-time marketing efforts to date.
Oreo capitalized on the massive power outage inside of the Mercedes-Benz Superdome in New Orleans by tweeting out the following message.
Conclusion
The best digital marketing campaigns reach out to people on a personal level through captivating and emotional content. These campaigns make sure that their customers are heard, acknowledged, and remembered. And on achieving so we at The Media Ant will help your brand get the recognition that you want!
| | |
| --- | --- |
| Was this article helpful? | |