In a world where companies or businesses are built from scratch, the most challenging thing is advertising your business "effectively." It is primarily because of fierce competition and shifting advertising/marketing trends. We have many options to choose from, which often chases us down the rabbit hole of which platform to choose.

Advertisers and marketers frequently need help to optimize any advertising/marketing channel and make the most of it.
However, there is one advertising channel that is not only effective but also worthwhile to invest in. Yes, we are discussing newspaper advertising.
Newspaper advertising is one of the oldest and most widely used methods of promoting various companies, goods, and services. As it still offers many possibilities for businesses to market their brands. People still enjoy reading newspapers, especially in this digital age.
There are four significant types of newspaper advertising:
Classified Ads
Insert Ads
Display Ads and,
Coupons Ads
Classified advertising is a brief statement or advertisement published in newspapers, journals, or periodicals. In a separate part, these communications are classified under specified themes, sometimes known as classifications. Classified advertising is relatively inexpensive.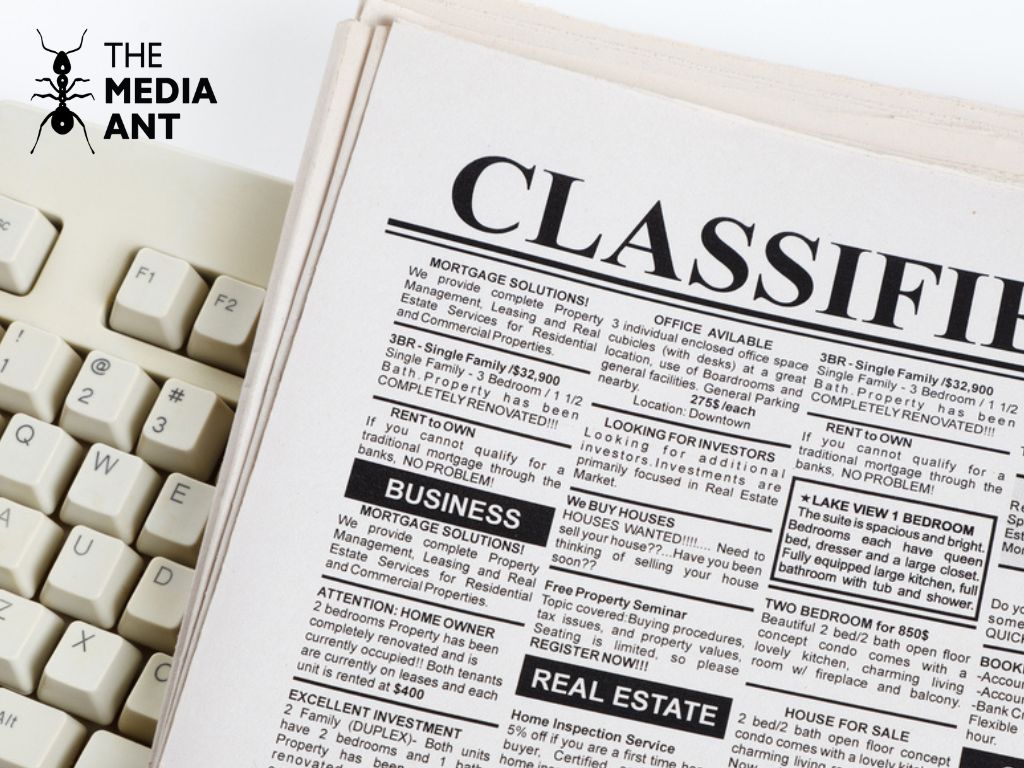 There are several sorts of classifieds:
Situation Wanted/Vacant
Property/Vehicles/Household Goods Sale/Purchase
Lost and Found
Tours & Travels/Packers and Movers
Education, Language Lessons, Hobby Classes
Matrimonial Services
Falling into the category of classified ads is a Situation Wanted. Situation Wanted advertisement is one of the many forms of classified advertising, and we will discuss this in detail in this article.
What exactly is Situation Wanted?
Situation Wanted, a job applicant sends it for publishing in a newspaper in which he expresses his readiness to serve. In this section, you are an advertiser who provides a service to individuals or organizations that require it.
One thing that makes this situation wanted advertisement so effective is that it appeals directly to the person who needs your services as opposed to other ads that may or may not help you find as many leads.
Situation Wanted Advertisement Format in Newspaper
Following the title 'Situation Wanted', the individual seeking a job should include the following vital facts as part of situation wanted advertisement format in newspaper:
Experience and Qualifications
Age and Gender
Job Description
Minimum Salary Acceptable
Contact Information (Address and phone number)
Any other relevant and vital information is required, but the advertiser should be careful to keep it at a limit of 50 words.
Situation Wanted Advertisement Example
A first-class graduate in Chemistry from Pune University with five years of experience teaching in top national schools. Seeks a job in or around Delhi. B.Ed trained, Fluent in English, and experienced in dealing with hundreds of students. Expected pay of -50,000. *contact details*
The above situation wanted advertisement example can help you with the details to be mentioned in the situation wanted advertisement.
FAQs RELATED TO SITUATION WANTED ADVERTISEMENT
How do I get the situation wanted ad published in the newspaper?
You must wonder, "How can I get my Situation wanted, and reap its benefits?" Newspaper classified advertising for booking situations will help you contact your target market! You can take several approaches, and the best way to determine which is best for you is to try them all.
To get started, you can browse The Media Ant website using the ad placement Choices.
Find the ads section by opening the newspaper genre on the home page.
Once you've located it, put your ad there by following these easy steps:
1. Select the type of advertisement you want to run (classified ad).
2. Type the ad text or pick one from a library of sample ads.
3. Pick your ad's size and position.
4. Include the image for your advertisement.
5. Press "Submit"
6. Get an express quotation.
Following the pricing, you may specify the day you want your situation wanted advertisement to appear in your favorite newspaper.
How much does situation wanted advertisement cost in the newspaper?
The cost of a situation wanted advertisement in the newspaper is determined by the ad style you select; the cost of such an advertisement in the newspaper may change. However, other factors influence your price. The city where you want the ad to appear, whether black and white or colour, how many extra lines, and so on.
The ad position, size, and placement will determine the cost structure for situation wanted adverts in the newspaper.
You don't have to worry about the cost and ask yourself how much it costs me to put up with this Situation wanted? The cost of the situation wanted ads in the newspapers for each media option accessible on The Media Ant's website is described in detail under the 'Newspaper' section.

When employing newspaper ads, you may choose from various targeting options. This is accomplished by visiting the media option from the bag after saving it there.
The newspaper area of our website offers several filters from which you can choose the most appropriate. Additionally, you can look up the most excellent discounted price for the volume you've chosen.

However, newspaper advertisements are incredibly cost-effective and the best option for those wishing to place their ads in newspapers.
How effective is situation wanted advertisement in the newspaper?
Due to the large audiences that many publications have, newspaper advertising has long been a successful method of marketing situation wanted ads. You will be able to target a particular demographic interested in job seekers in local newspapers with a small readership.
Numerous newspapers can also provide a tailored marketing strategy because they will be well aware of their primary audience. In addition, you may publish your Situation wanted ad in a particular newspaper section, where it will be noticed by readers who are already interested in your requirement.
As the name implies, newspaper advertising entails placing an ad for your request in a publication. Various things can be included in situation wanted ads, depending on what job role you're looking for.
Why place the situation wanted ad in newspapers?
Benefits of placing situation wanted ad in the newspaper:
Job searchers might locate a position that meets their needs and is appropriate for their skills and expertise
It gives you large-scale access
By publishing their skills, preferred job responsibilities and income expectations in newspapers, job seekers can reach a bigger audience, making their Situation wanted ad seen by many more people.
It simplifies the hiring process.
Employers can identify potential candidates using the information provided in their Situation needed ads, which makes recruiting easier.
Directly links Job Seekers and Companies.
Due to the ability of potential employers to get in touch with job seekers directly, the Situation wanted advertising to serve as a communication channel between the two Parties.
Nationwide reach of Newspapers.
In India, newspapers are read by a sizable population in cities and rural areas. People from many walks of life read newspapers.
| | |
| --- | --- |
| Was this article helpful? | |