What is Classified Advertising?
Classified advertising is a form of advertising, pervasive in newspapers, online, and other periodicals, which may be sold or distributed for free.
A small advertisement that you put in a newspaper or a magazine, usually because you want to sell or buy something or to find or offer a job.
This form of advertising has been popular for many years. This is typically connected to the inexpensive cost of the advertisements as well as their accessibility to the general audience. Anyone can offer things for sale, rent, or trade for a small price, typically dependent on the number of words or characters in the ad. The ad may incorporate product and service information. Other classified advertisements include little more than the service or item's name and a contact phone number or an e-mail address.
Types and Examples of Classified Advertisement
There are several types of classified ads, which are as follows:
Situation vacant
To-let
Sale and Purchase of Property/Vehicles/Goods
Education institutions promotion
Missing person
Tour and Travels
Situation Vacant
Situation vacant advertisement means that you have a vacant place(for jobs) and you are publishing an advertisement that the one who is eligible can apply for that.
To-let
These ads inform the potential tenant about a room or property, which is available for rent.
Sale and purchase of Property/Vehicles/Goods
We frequently buy and sell properties and other items in our daily lives. We often issue a newspaper advertisement called a sale and purchase advertisement for this purpose.
Education Institutions promotion
Ads that are published for the purpose of attracting students to enroll in particular institutions are called education institution promotion ads.

Missing person
Missing person advertisement can be published in any Indian leading Newspaper in case a person is considered to be missing when he or she is not found where he or she is usually found without any reason. For that, the first thing to do is lodge a first information report (FIR) with the appropriate police station and collect a copy of the FIR. Submitting a photocopy of the FIR is important for releasing a missing person newspaper advertisement.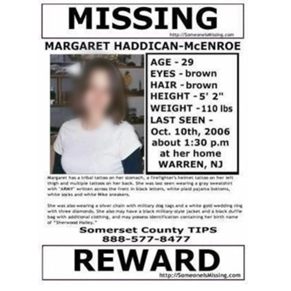 Tour and Travels
Travel newspaper advertisements offer three options:
1.Travel classified ads in newspapers which are simple, black and white text ads chargeable by the word or line depending on the concerned newspaper's policy
2. Travel classified display ads in newspapers which can be made more attractive with the use of colour screens, small visuals and other permitted enhancements
3. Travel display ads in newspapers in which there are no restrictions in colours or size.

Accommodation Wanted
This type of classified advertisement is used by individuals or families who are seeking rental accommodations, such as apartments, houses, or rooms. People looking for accommodation typically specify their preferences, such as location, budget, and the type of property they are seeking. Contact information is usually provided for interested landlords or property owners to get in touch.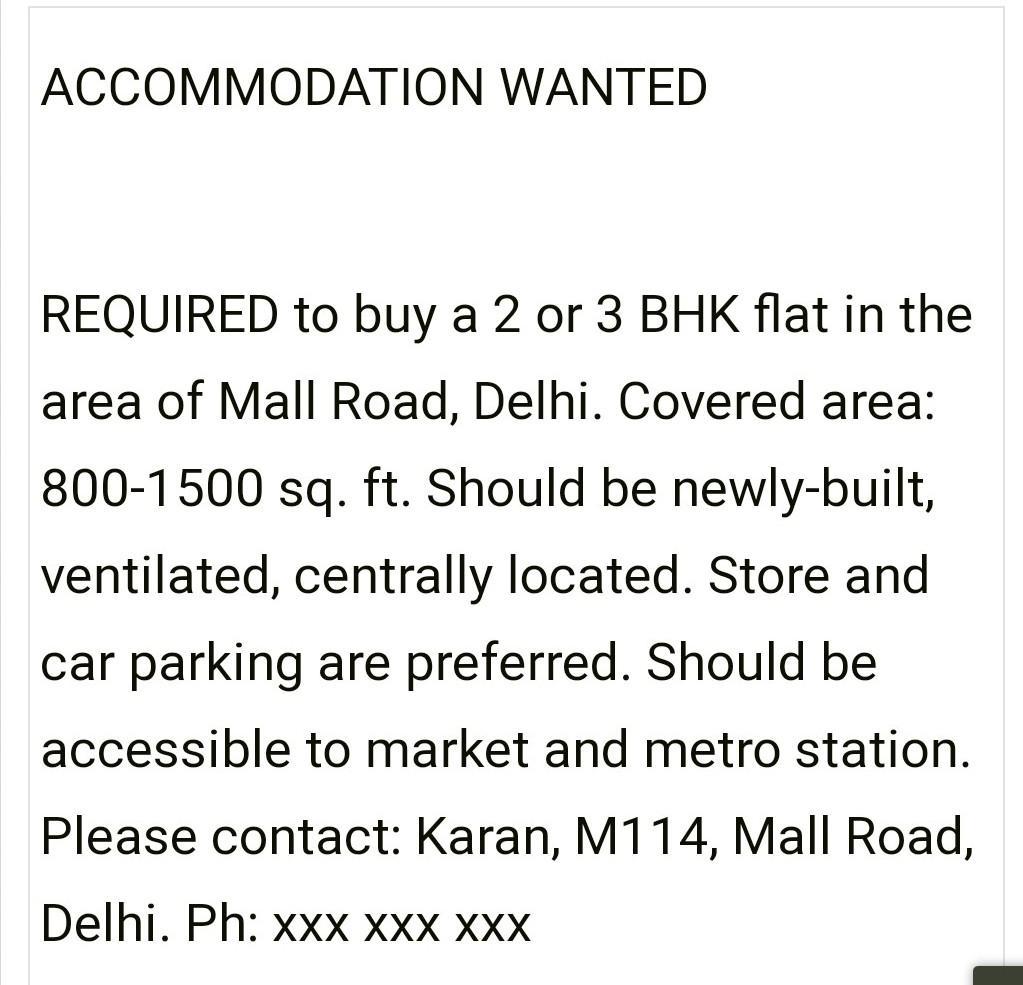 Matrimonial
Matrimonial classified advertisements are used by individuals or their families who are searching for prospective life partners. These ads provide details about the person seeking a partner, including their age, profession, religion, caste, and personal interests. Matrimonial ads often mention the qualities or attributes they are looking for in a potential spouse. Interested parties can contact the advertiser or their family to express interest or initiate further discussions.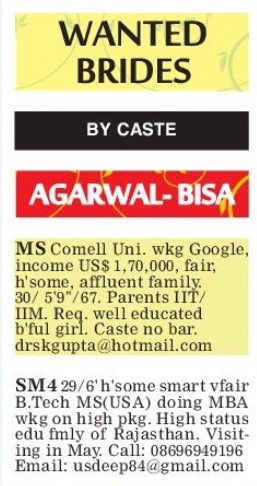 FAQ's related to classified Advertisement
What is classified advertisement in newspaper?
A small advertisement that you put in a newspaper or a magazine, usually because you want to sell, buy, inform something or to simply offer a job.
What are three types of newspaper classified advertising?
There are three types of newspaper advertisements, Text Classified Ad, Classified Display Ad and Display Ad.
How much is the cost of classified ad in newspaper?
The classified ad in newspaper cost may vary depending on the type of ad you opt for. The pricing model for classified ad depend upon the position, size and placement of the ads.
The 'Top Choice' section in the page of newspaper advertisinghas detailed classified advertisement costs for all media options available on The Media Ant portal.
What is the reach of classified ad in newspaper?
Using classified ads allows you to focus your marketing on the areas you do business in and reach people who are likely to buy goods or services from you. You should place print ads only in publications that are distributed in locations you can serve. There'll be little point in advertising in classified listings that are mainly distributed in areas you're not willing to travel to or trade in. If you're placing your ad in a local paper, ask for a media pack so you can see what type of readership it attracts to make sure your ad will reach the right demographic.
What is a classified advertisement system?
A classified advertisement system is a platform, service, or section in a publication (print or online) where individuals and businesses can post short, text-based ads to buy, sell, rent, offer services, or seek information. These ads are typically organized into specific categories, making it easier for users to find relevant listings. Classified ad systems are a common way to connect buyers and sellers or those seeking and offering various products, services, or opportunities.
What are the characteristics of classified advertisements?
Characteristics of classified advertisements typically include:
Conciseness: Classified ads are short and concise, often limited to a specific word or character count.
Categorization: They are organized into specific categories (e.g., jobs, real estate, personals) for easy navigation.
Contact Information: They include contact details, such as phone numbers or email addresses, for interested parties to reach out.
Objective: They have a clear purpose, whether it's buying, selling, renting, offering a service, or seeking information.
Affordability: Classified ads are usually cost-effective and accessible to a wide range of advertisers.
What is a classified advertisement system?
A classified advertisement system is a platform or medium where individuals or businesses can post specific ads, usually short and categorized by type, to sell products, services, or to make announcements. These ads are typically organized in categories such as jobs, real estate, automobiles, services, etc. Classified ads can be found in newspapers, magazines, and online platforms.
 How many types of classified ads are there? 
There are several types of classified ads, and the exact number can vary depending on the medium and region. However, some common types include:
Job Classifieds: Listings for job openings or job seekers.
Real Estate Classifieds: Listings for properties for sale, rent, or lease.
Automobile Classifieds: Listings for vehicles for sale or rent.
Services Classifieds: Advertisements for various services like tutoring, plumbing, cleaning, etc.
What are the characteristics of classified advertisement? 
Classified ads are typically short and concise.They are organized into specific categories for easy navigation and search.They provide specific details about a product, service, or announcement. Compared to other forms of advertising, classifieds are usually more affordable. Most classified ads are time-sensitive, meaning they are relevant for a specific duration.
What is an example of classified?
Here's an example of a classified advertisement for a job:
Title: "Job Opportunity – Marketing Coordinator – ABC Company"
Description:
ABC Company is hiring a Marketing Coordinator with experience in digital marketing and social media management. Requirements include a bachelor's degree in marketing or related field and proficiency in SEO and content marketing. Competitive salary and benefits. To apply, send your resume and cover letter to [email@example.com] or call [Phone Number]. Deadline for applications: [Application Deadline].
This is just one example, and the content and format of classified ads can vary depending on the category and purpose.
| | |
| --- | --- |
| Was this article helpful? | |