Teacher recruitment advertisement is not a new term that you'll come around, you must have seen it while reading or just going through a newspaper.
In simpler terms, a teacher recruitment advertisement in a newspaper just lets eligible candidates know there is a vacancy available for the teaching post.
Below are a few examples of the same for your reference-
What is a Teacher Recruitment Advertisement?
A Teacher Recruitment Advertisement is a notice or announcement in a public medium promoting the hiring of teachers for a particular institution or organization. It is designed to attract potential candidates by outlining the qualifications, responsibilities, benefits, and other pertinent details about the teaching position.
Teacher Job Advertisement Samples
Qualifications: Bachelor's degree in Education or related field, state teaching license, minimum of 2 years of teaching experience.
Responsibilities: Develop lesson plans, teach students in grades 1-5, assess student performance, participate in parent-teacher conferences.
Benefits: Competitive salary, health insurance, professional development opportunities.
How to Apply: Send your resume and cover letter to [email protected]
Teacher Recruitment Advertising Options  
There are basic three types of advertising options for teacher recruitment ads in a newspaper, custom size ads, fixed size ads, and Jacket front and back side.
Custom Size Ads
Custom Size Ads are display advertisements showcased in newspapers per the advertiser's requirement. These ads are customizable and are based on the advertiser's budget and can be displayed on any page of the newspaper. Custom Sized Ads have a minimum sizeof approx. 240sq.cm on the front page and approx. 20sq. cm on all other pages.
Fixed Size Ads
Fixed Size Ads are basically of three types, full-page ads, half-page ads, and quarter-page ads.
Full Page Ads
Full-page ads refer to advertisements in a newspaper that occupy a full page. They offer the largest amount of space for the advertisement and its message, making them the most prominent and eye-catching option for advertisers. Full-page ads are often used for major product launches, brand promotions, or special events, and provide a lot of flexibility in terms of design and content. They are usually the most expensive option, but can also have the greatest impact and generate the most attention for the advertiser.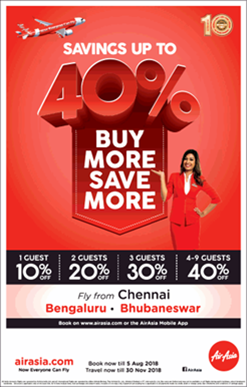 Half Page Ads
Half-page ads refer to advertisements in a newspaper that occupies half of a full page. They are larger than quarter-page ads and provide more space for the advertisement and its message. Half-page ads can be a good option for advertisers who want to make a stronger impact and stand out in the newspaper. They are often used to promote a product or service in greater detail and with more visual elements than a smaller ad might allow.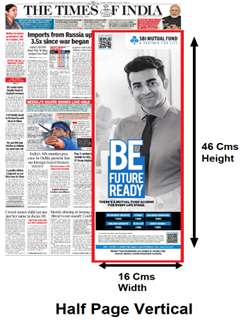 Quarter Page Ads
Quarter-page ads refer to advertisements in a newspaper that occupy a quarter of a full page. They are smaller than half-page and full-page ads, but still provide a significant amount of space to display an advertisement and its message. Quarter-page ads are a good option for advertisers with a limited budget or for those who want to supplement a larger advertisement.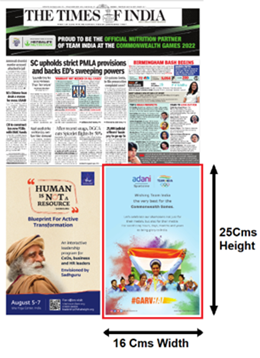 Jacket Front Side
The jacket front side ads refer to the front cover of a newspaper, where an advertisement can be placed. Placing an advertisement on the front cover of a newspaper is a premium advertising option, as it is the first thing that people see when they pick up the paper. Advertisers who choose this option want to make a big impact and be the first thing that people see when they read the paper. Jacket front-side advertisements are usually more expensive than other types of ads in the newspaper, but they provide a lot of visibility and can be a good way to promote a brand, product, or service.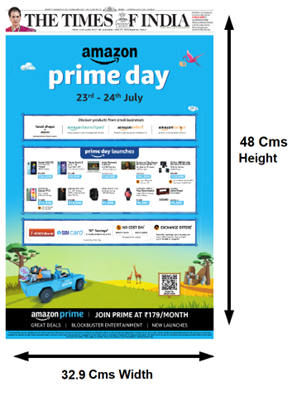 Jacket Back Side
The jacket back side ads refer to the back cover of a newspaper, where an advertisement can be placed. Similar to the jacket's front side, placing an advertisement on the back cover of a newspaper is a premium advertising option, as it is the last thing that people see before they put the paper down. Advertisers who choose this option want to leave a lasting impression on their target audience. Jacket backside advertisements are also usually more expensive than other types of ads in the newspaper, but they can be a good way to promote a brand, product, or service, especially if the advertisement is attention-grabbing and memorable.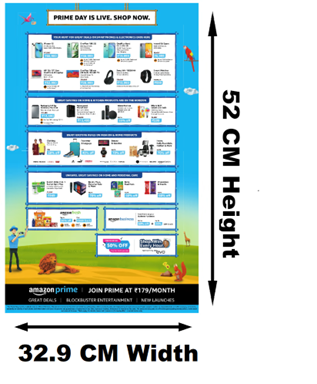 Advantages of Teacher Recruitment Advertisement in Newspaper
In today's world where everything is digitalized you must be wondering if newspaper advertisements are still relevant when there are a lot of online job portals offering a job. However, we must not forget that India is a developing country. Only about 43.5% of the individuals in our country have smartphones that are optimized for browsing job websites, according to Wikipedia's latest data for 2021.
1) Offers Credibility
Newspapers exhibit a certain trustworthiness. The Times of India, The Anandabazar Patrika, The Tribune and The Hindustan Times are more than simply publications. As a result, when people see job postings on such reputable media, they are more likely to reply quickly and enthusiastically. The name of such newspapers naturally lends credibility to their job adverts.
2) Helps in Hiring Local
Newspaper recruitment ads are effective for hiring locally.
Newspaper recruitment advertising enables businesses to target a specific regional audience.
Booking employment ads in newspapers with strong circulation and readership in that region is a wise move if you're willing to hire within the city.
Furthermore, if a newspaper publishes a supplement catering to this genre, it benefits the organizations since they may place advertisements there for increased participation.
3) Flexibility
When we mention flexibility, you might incorporate a photo, logo, backdrop design, and message in your recruiting ad based on your needs.
You can select the ad placement, ensuring a higher level of viewing.
You may create your own job advertisement based on the message you want to convey and the cost per word/character/line.
The majority of newspapers have at least three typical options: classified text ads, classified display ads, and display ads, you can choose among the three based on your preference.
While booking the ad, you may evaluate the advantages of location, placement, content, and cost.
Newspaper ads are easy to book when you are familiar with The Media Ant
We provide you with the best newspaper ad rates.
We have 10+ years of experience and expertise in the market.
We make the process of planning and execution easy for you.
Best Agency for Teaching Job Advertisement in Newspapers
The Media Ant is a well-known advertising agency that offers services for teaching job advertisements in newspapers. They provide access to a wide range of newspapers, with a presence across top cities like Mumbai, Delhi, and Bangalore, they are the best newspaper advertising agency in India. They help advertisers plan, buy, execute, and monitor their newspaper campaigns.
The Media Ant is considered one of the top magazine advertising agencies in India because of their extensive reach, innovative strategies, and excellent customer service with an overall experience of 10+ years. They have a team of experts who can help businesses identify the most suitable newspaper for their target audience and create compelling ad designs that capture the attention of readers.
In addition to teacher recruitment advertising in newspapers, The Media Ant also offers a variety of other advertising services, including outdoor advertising, radio advertising, TV advertising, and more.
Overall, if you are looking for a teacher recruitment advertising agency in India, The Media Ant is definitely worth considering.
FAQs Related to Teacher Recruitment Advertisement in Newspapers
How do I write newspaper advertisement for a teaching job?
1. Grab the reader's attention with an intriguing title
Create an intriguing job ad title to make your job ad stand out! A strong job ad title may make all the difference in getting your employment post discovered by the precise sort of people you're searching for.
Think creatively and outside the box. What may pique the interest of your ideal candidate? What would cause them to come to a halt? What type of opportunities might entice them to study more? Start with that!
2. Keep your advertisement brief and to the point.
If you want to save your job advertising expenditures, make your newspaper job advertisements as brief as possible. In any case, strive to make your job ad brief and clear to interpret.
To make the ad more understandable, write in the clear and detailed language and employ action verbs. Avoid using terms that are superfluous. For example, instead of "To apply for this position, you should send your CV and cover letter to the following address" just put "Send your CV to Address".
3. Describe your ideal candidate
You should have a clear concept of who your ideal candidate is if you want to employ the best people for your vacant job position. Creating a candidate persona can help you think about your candidate in terms other than the job criteria.
Defining the demographics, interests, and even hobbies of your ideal applicant will assist you to understand the sort of individual you want to recruit. Use these insights to target the best candidate for your position. Write your job ad in a way that speaks directly to your target audience.
4. Market your Institute
Don't only talk about your requirements. Concentrate on the applicants and their requirements. This is the key to each effective job advertisement. An enticing job advertisement entices prospects to apply. Tell applicants how working for your firm will benefit them.
What distinguishes your company? Why would your ideal prospects choose to work with you rather than one of your competitors? What would they gain if they join your company? Consider factors other than money. Highlight intriguing projects, possibilities for professional advancement, and the advantages and perks you provide.
5. Describe the application procedure
Remember to include a call to action at the end of your job posting. Inform prospects exactly what they need to do to apply for your vacant position. Should they submit their resume and a cover letter? Do they have a portfolio or other examples of their work? Do you need any more papers, such as a copy of your candidate's diploma, certificates, and so on?
(Source:talentlyft.com)
Why do you advertise teacher recruitment ad in newspaper?
Wide Economic Reach: Due to their high affordability, literate people from all sorts of financial backgrounds have equal access to newspapers and so,  they can give you a reach into diverse economic sections of society. 
Flexibility: Newspapers have very flexible advertising options. You can display ads of varying dimensions in different sections of the newspaper. The most effective of them all, of course, is the font page. The pricing options you get with newspapers are also really flexible and negotiable.
Economical: Newspaper advertising is less costly than most other, equally potent forms of advertising. Even costlier ad options like display ads are available in varied dimensions. Except for premium advertising options like full front-page ads, newspaper ads are generally very wallet-friendly for advertisers.
If you still have doubts about placing your teacher recruitment ad in a newspaper, check out the Ultimate Advantages of Newspaper Advertising and give your thoughts a direction.
| | |
| --- | --- |
| Was this article helpful? | |