What is politics in India? It is the race to become a household name and reach every possible Indian in the country. The political parties are constantly aiming to be in the limelight as much as possible. Moreover, it's no surprise that politics form an integral part of the Indian ecosystem, which makes political advertising even more crucial, especially in current times.
The subtle art of political advertising seldom breaks into controversies which ironically makes them even more popular amongst the public. The simplest possible way into a political ad is to just put up a smiling politician's banner, that assures for a better future. Sometimes it's fascinating and even slightly funny to see them self-praise.
A political ad is the attempt to woo the public with unique and attractive campaigns and propositions, and have now become a regular thing. You turn on the television and you are most likely to watch oppositions debating about their mission to better India, or you may switch on to the radio and you are likely to hear a political party's jingle. This loop has been continuing since years now and forms the crust of political ads.
However, today political marketing has to be creative, engaging and powerful, because the evolution of the digital world has given birth to sleek political advertising along with cutthroat competition. It is as impactful and captivating as any other popular brand promoting themselves in the market. The paradigm shift from traditional forms of advertising to a prodigal activity is worth discussing.
So, in this article we will be analyzing in detail the important aspects of political advertising, the best platforms to use and how to make a good political ad campaign.
Inception of Political Advertising
Political communication forms an integral part of India's democratic system and it involves the use of various media options to reach out to its voters as well as create a favourable voting behaviour. There has been a clear fundamental shift in the political communication of parties from speeches and rallies to Facebook communities. The public is now getting exposed to more ad campaigns during the election cycle and over the year as well. Hence, the use of media verticals like TV, print, radio, and most importantly digital media has evidently increased.
Sharique Khan, Anchor at NDTV, says, "Earlier, parties generally came out to the public during the last few months before the elections. They mostly talked about their work and propaganda. In today's scenario, politicians and parties tend to add that extra spice and often present more than what they do. The news on different media follows a tap system, where these political ads are running throughout the year. There is too much bombarding for the audience". (Source: Agency Reporter)
What led to the growth of political ads?
There was a time when political campaigns used to be a simple form of one-to-one communication where politicians used to visit each voter's home, convincing them to vote for them. The time however has changed, now political parties are taking a technology-driven strategic decision along with the blend of traditional forms.
However, in and after 2014 political parties learnt the value of good political ads. The 'Ab ki Baar Modi Sarkar' ad that ran through IPL 2014 for 50 days of the tournament which coincided with the election season created a lasting impact.
Since then political parties have been highly relying on such impact properties to run their ads and even the TV channels are keen on running political advertisements looking at the high revenue. Political parties have mostly relied on news channels for advertisements and they surely get the maximum coverage through them. But only 24% of TV viewers in India watch news channels and the other 76% must be reached. Events like IPL draw big numbers which explains why politicians are keen for prime time slots in sports, entertainment and movies. Look at the number of political ads in movie halls that aim for wide reach.
We see a significant growth in the Political Advertising scenario in India, especially in the past few years. Apart from these theoretical reasons, there are three basic driving forces that has led to its expansion and this includes:
Enlargement of voters' size
Technological Advancements and their opportunities
Rising competition in the Indian politics
There may not have been a huge difference in the content of the communication, but there is certainly a shift to experiment with the technological paradise. The new advancements are compelling enough to utilize them.
Over the years the ads have become grander and bigger, all of them fighting to reach maximum voters. In fact, according to a study by WION, as per the Lok Sabha elections, those who spent more on ad campaigns, do win. This clearly explains why we are bombarded with ads on TV, social media platforms and on the streets as well.
Where Does Political Advertising Stand Today?
From Indira Gandhi's 'Gareebi Hatao' campaign to Kejriwal's 'Acche Beete 5 Saal, Lage Raho Kejriwal', political campaigns have always shone their way through the elections. So much so that these slogans are on our tip of the tongue. However, there are some basic steps on which political ad campaigns are based on, here are some of them:
Segmentation: One of the most important factors of a political ad is the segmentation of the messages. The primary objective of a political ad is always mass marketing, that is choosing a message that reaches out to a wide range of audience, and is the most used theme of the ad.
However, segmenting your messages as per the specific needs of the voters can be an effective way to market your political party. For instance, Aam Aadmi Party's overall message/slogan is 'Jhaadu Chalao, Beimaan Bhagao' however, their 'Degree Dikhao' 2023 campaign had a very specific objective under which party leaders were supposed to share their educational qualifications every day with the public.
Targeting: For a political ad campaign to be successful it is very important to know your target audience, and curate the messaging of your ad accordingly. As a political party or an independent candidate you must always cater to the needs of your target audience and your ad too must conform to that message. If you feel that your target audience's primary need is education, then your ad must have the similar message. Understanding of regional issues and curating ads as per those needs is a pathway to a successful ad.
Brand ambassador marketing: It is a no-brainer that every political party has chosen a face to market themselves, for BJP it's Narendra Modi, Rahul Gandhi for Congress, etc. We've seen that in most cases the public vote for the leader or 'brand ambassador'.
The brand Modi was a prominent local brand that the rest of the nation was already aware of and the brand value of Modi was higher than the brand value of BJP in the eyes of the public. Taking this insight into consideration, the party decided to project Modi in all the campaigns rather than BJP.
Branding throughout the year: Branding of your political party isn't an overnight job that one runs before the elections, branding needs to be done throughout the year. These can be a mix of social media ads, print ads, radio jingles, etc. In fact, WhatsApp marketing too can be used effectively to reach out to wide audiences and spread their message across.
-For winning parties- What might work out the best for winning parties is to constantly create a buzz around their achievements and market them. Several political parties use the same method and messaging so that they continue to stay in power.
-For losing parties- While the winning party talks about their victories, the party who have lost can use reverse engineering and highlight the shortcomings of the ruling party.
The ads and marketing campaigns must go on throughout the year in order to retain their agenda in the minds of the voters.
How a Powerful Political Ad Can Alter Perception and Voting Behavior's?
According to the Hypodermic Needle Theory, mass media can have an immediate, direct and powerful influence on its audience. The political parties work towards changing the perception of the voters, they adopt effective practices to influence and impact the public. Many times, Facebook has been used for designing political communication strategies to influence the voters' choice based on the latest trends.
A few years back, after the Cambridge Analytica Scandal, Facebook had announced that it will verify the political ads. It had announced that Indian advertisers, specifically political parties who wish to turn political ads on Facebook for the 2019 General Elections, would need to conform to certain guidelines and rules. The basic rules that advertisers were required to fulfill was to confirm their identity and location in order to allow transparency and prevent abuse of the system.
Media Channels Used for Political Advertising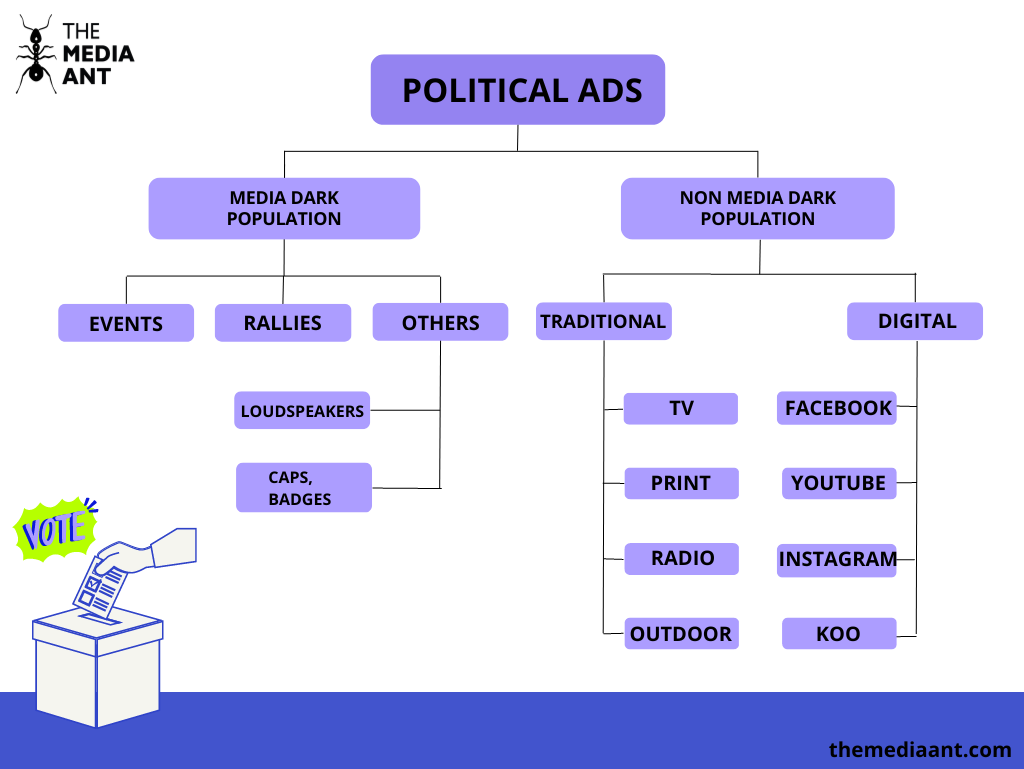 Media Dark Population
According to Economic Times, as of 2021 only 52% of Indian population had internet access as of 2022. Hence, it wouldn't be wrong to say that a major portion of Indians do not have access to any form of media. As per India census, 68.86% of the population in India belongs to the rural area and the challenge for political parties to reach out to this majority. Well, because a political party's ad needs to reach out to the masses. 
In areas like these, the best ways to convey your political ad message is through;
Events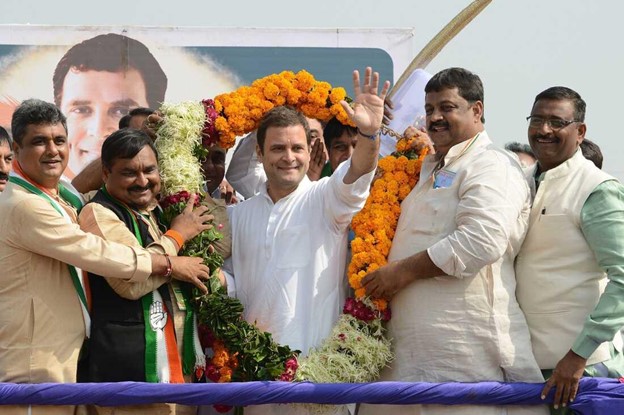 Rallies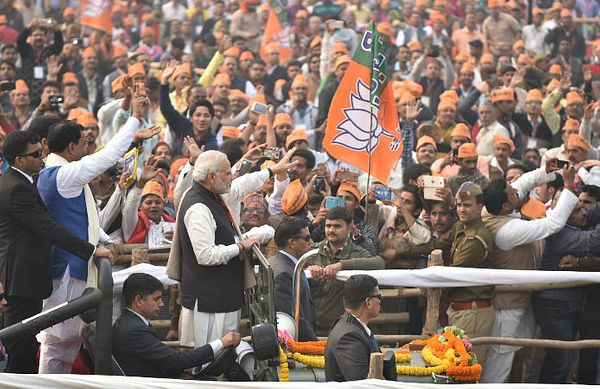 Non-traditional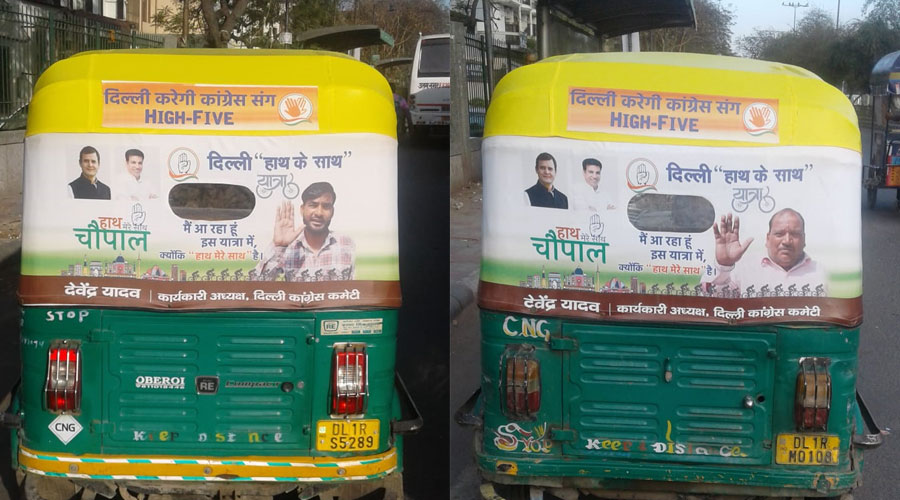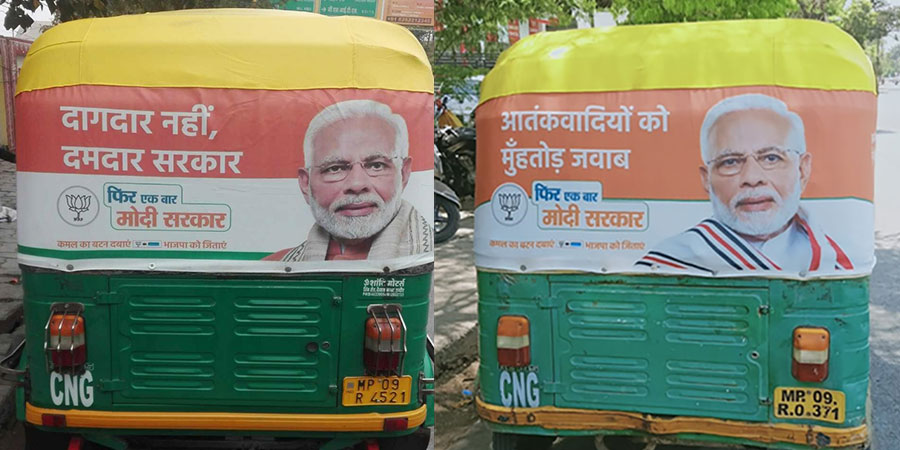 We live in a media rich era, but even in times like these voters in the rural areas rely on informal sources such as family, friends and peers, that influence the political behaviour of a voter.
Several political parties voraciously use events, rallies and non-traditional modes of advertising to influence the choice of consumers.
Advertisements in media dark areas include loudspeakers, accessories like badges, caps and outdoor advertising, including posters, banners, pamphlets and hoardings. Efforts are directed towards repetition of catchy content through all possible mediums of communication for it to stay as top-of-mind-recall of voters. One of the most important categories is 'event', which enables on-ground symbolic activity to express strength through public meetings or rallies, resentment through protests, connectivity through road shows, inclusiveness through religious visits and dinner programmes.
Why do people love going to rallies?
It is often the love for the political party or the leader of a particular political party or the cogent political cause by the passionate supporters, which brings them to fight against all odds and be a part of the crowds. After every such rally or political campaign, the organisers boast about the 'record-breaking turnout' so that the opposition would know exactly how many turned up. You might often see photographs and snapshots of the crowd just to show the popularity of the party.
The voices that the voters hear from the pedestals are neither unique or new on content, promises or cause and they echo much of what has already been discussed in television channel debates and newspapers. Yet, we see an outpouring of crowds which is a mystery, especially when there is no quid pro quo. Experts are of the opinion that this might be the cause of the Bandwagon Effect, which often leads to cognitive biases amongst the masses that arises out of norms and pressure put by influential groups. No matter what the reason is, it's not a surprise that advertising forms like rallies, and events are a major success in India.
Media Light Population
Reaching out to the non-media dark population, that is, the number of people in India who have access to any form of media might be easy but competition is high. In the race to win this mindshare of voters, political parties focus on 360-degree communication for candidates. These ads can be broadly categorised into two verticals – first is 'content development', which includes punch lines, slogans, manifesto development, speeches and interviews which are to be delivered by leaders and audio-visual bytes broadcasted through mainstream and social media. Second is the 'medium' through which their content is disseminated, and this includes television, radio, newspaper, social media, etc.
Traditional methods of advertising
TV
Print
Radio
Outdoor
Non-trad
With the sound of the election bugle the voters are bombarded with ads of political parties on TV, newspapers, radio, hoardings and banners. Newspaper ads can work wonders for political parties in order to reach out to the top tier masses, the educated class who can be influenced through proper messaging. Radio ads that primarily consist of slogans and punchlines of political parties too are effective, in fact community radio is highly useful in political advertisements to reach rural masses.
However, the most effective way to spread your ad across pan India is through Television, irrespective of gender, class, and geography TV as a medium has the highest reach. For a long time political parties have used prime time on news channels to advertise themselves and now they are even looking out to place their ads on GEC channels as well.
Hoardings, banners, auto advertisements, cycle branding too are widely used, the major reason being the objective of reaching out to the maximum number of people. 
Digital Methods of Advertising
Koo riding the political wave
There could be an opportunity for Koo, during the election which is seeing itself as an alternative to Twitter in India. The platform is expected to be used by political parties to capitalise big in the run-up to the 2024 Lok Sabha polls, much like how Twitter did in 2014.
As per The Print, experts are of the opinion that in the 2024 general election Koo can have its own Twitter moment.
"As far as representation among politics is concerned, there are over 20 political parties and thousands of members from different parties on Koo," the company's co-founder and CEO Aprameya Radhakrishnat. "With 90 percent of Indians preferring to communicate in their native language rather than English, Koo may become a platform of choice for political parties to engage with a wider population base in a language of their choice." (Source: The Print)
Political advertising in the world of Social Media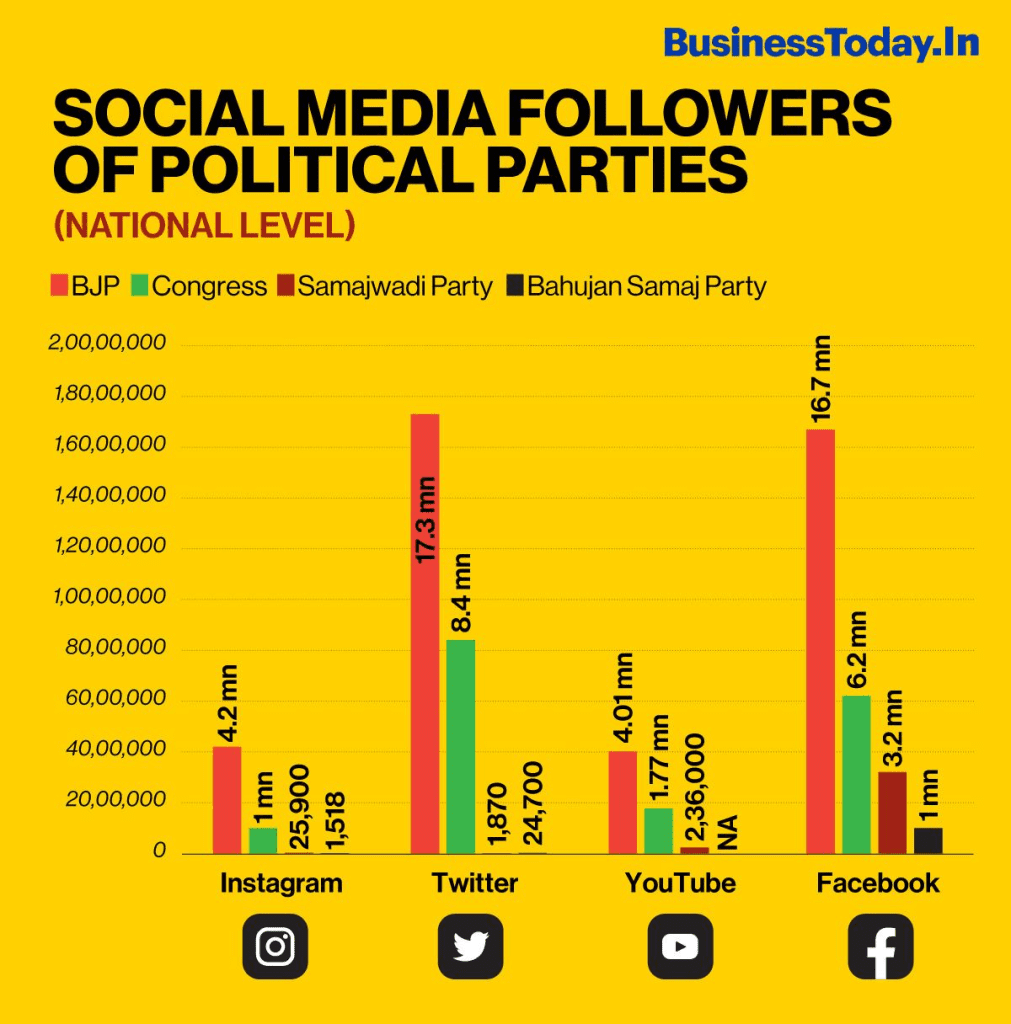 Facebook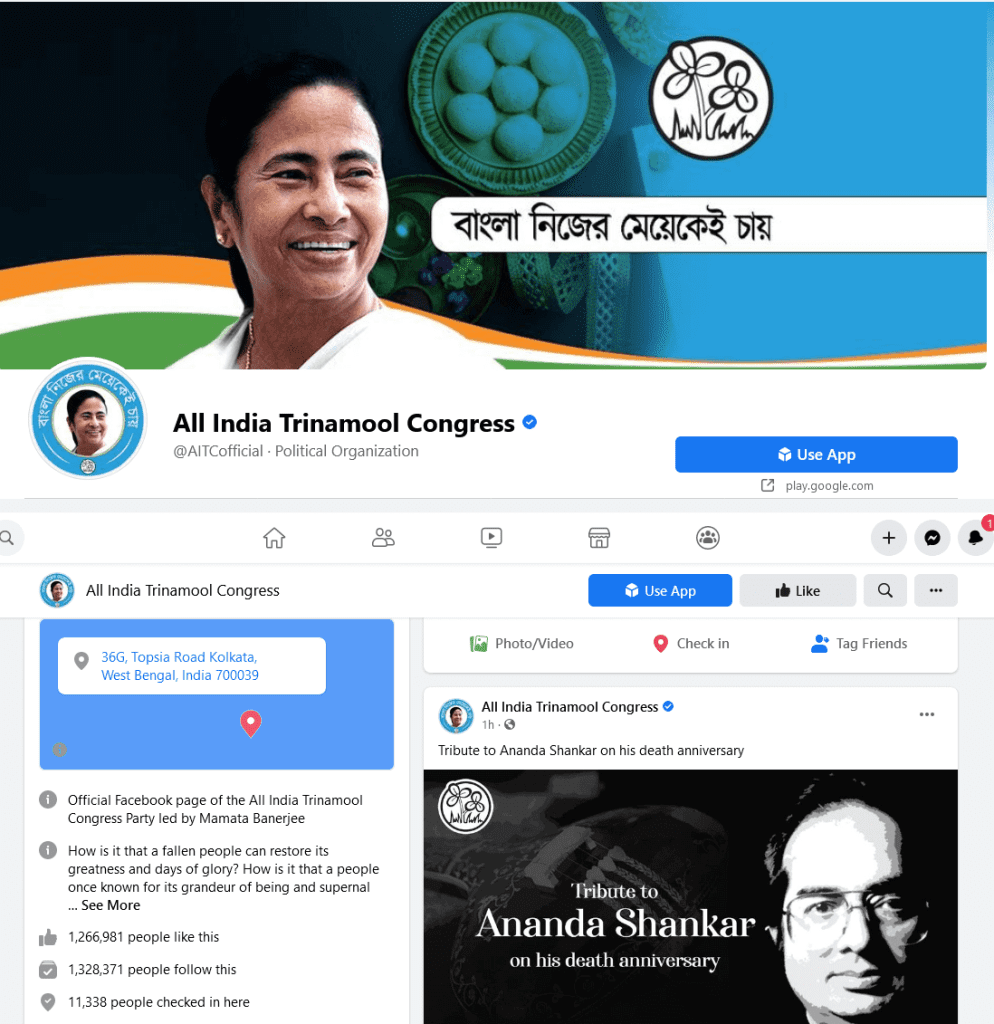 YouTube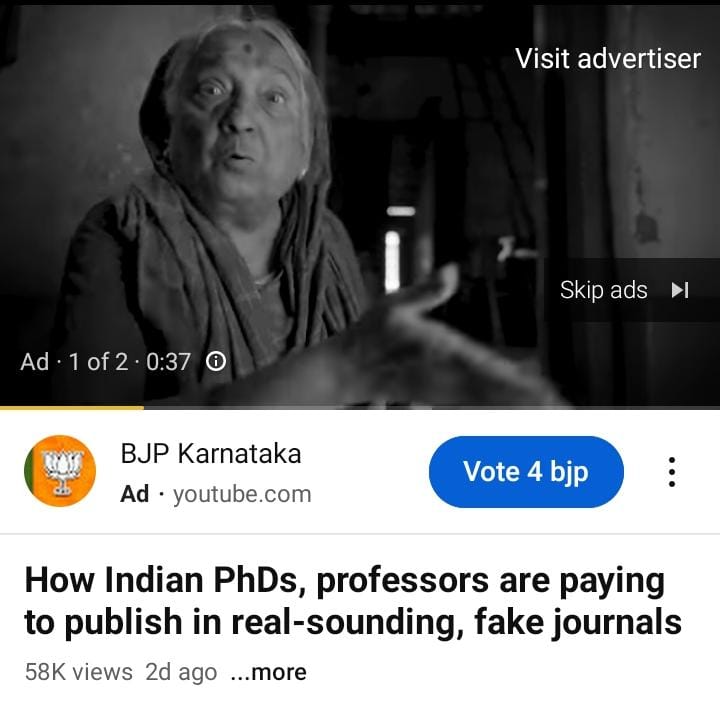 Instagram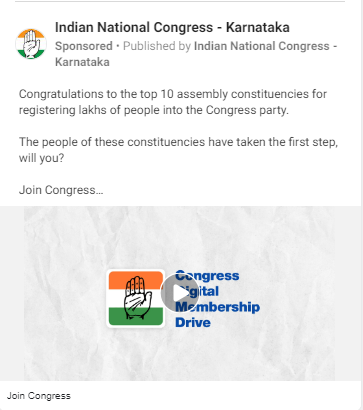 Twitter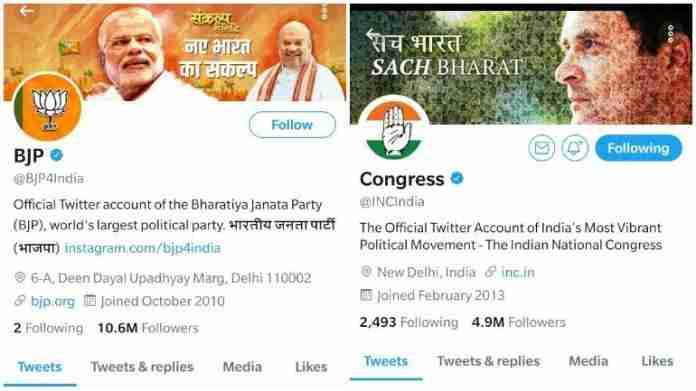 According to experts, digital advertising involves more than just disseminating and advertising political and electoral campaign materials. They also allegedly involve calling voters, sending them audio and video messages, and even deploying LED screens in rural villages and small towns.
The Bharatiya Janata Party (BJP) dominates all social media platforms in terms of social media presence, closely followed by Congress. The Samajwadi Party and the Bahujan Samaj Party (BSP), regional players in Uttar Pradesh, are far behind in terms of social media usage. The state-level BJP and Congress organisations in Uttar Pradesh each have sizable social media followings on Twitter and Facebook.
According to Business Today, (in conversation with a Noida based digital agency) a political campaign on social media can take anywhere from Rs 4 lakh to Rs 15 lakh per month. These ads can include creating content to designing political strategies for candidates or parties for the purpose of small-scale political campaigning.
For a political party to campaign at a larger scale or statewide — which can typically include social media and digital media calling, messaging and designing strategies — it can go anywhere between Rs 10 crore to Rs 15 crore per month.
Year wise spends of advertising: (Source: India Today)
| | |
| --- | --- |
| F.Y. | Amount in (Rs crore) |
| 2017-18 | 117.76 |
| 2018-19 | 45 |
| 2019-20 | 293 |
| 2020-21 | 242.38 |
| 2021-22 | 490 |
| Total | 1188.14 |
What Makes a Good Political Ad?
Effective slogans: Actions speak louder than words but in politics words do speak much louder. Slogans are the chariot of a political movement that help politicians reach to the temple of governance and are used to sway the mood and opinion of people across the political spectrum worldwide. From Indira's 'Garibi Hatao' to Mamata Banerjee's 'Khela Hobe' slogans by political parties are edged in our minds.
The acceptance and popularity of a particular party's slogan shows which party was able to sway the choice of the people, and inevitably use them to stay in power and be in the minds of the voters.
Battle of the tweets: Twitter is undoubtedly a social war room for political parties which has been and is being used by politicians to spread their political agenda, message and impact the choice of the voters. However, most of the Twitter users belong to Tier 1 & Tier 2 cities and is considered as an 'elite' platform. So, the constant reply on tweets, retweets, trending hashtags make the crust of Indian political parties in Twitter.
Though there were regulations and policies on political ads on Twitter, political parties have not stopped themselves from posting and tweeting aggressively on Twitter. The good news however is that Twitter has relaxed the policies now which will be a great opportunity for parties to start advertising again.
Caricatures to narrate your message: Political cartoons or caricatures, whatever we call them, are without any doubt the most eye-catching part of a newspaper, twitter feed, or instagram. The oversized avatars or larger-than-life torsos of politicians not only brings a smile on our faces but they also help in pulling the opposition down from the respected pedestal where the public has placed them. These images dominate our social media feed and pose a strong potential to leave a lasting impact.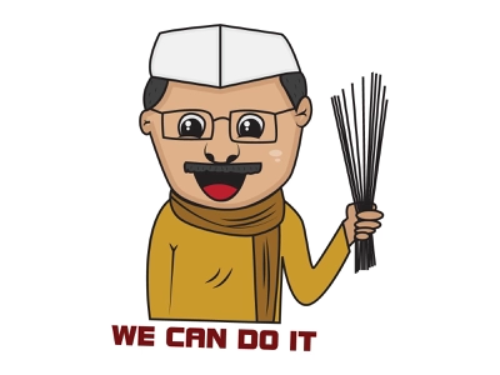 A Political Advertising Model
Let's get one thing straight, advertisement of a political party is like marketing of any other brand which too needs a clear and well-planned strategy. So here we are explaining top 3 BJP campaigns based on a marketing funnel that is, TOFU (top-of-funnel), MOFU (middle-of-funnel) and BOFU (bottom-of-funnel).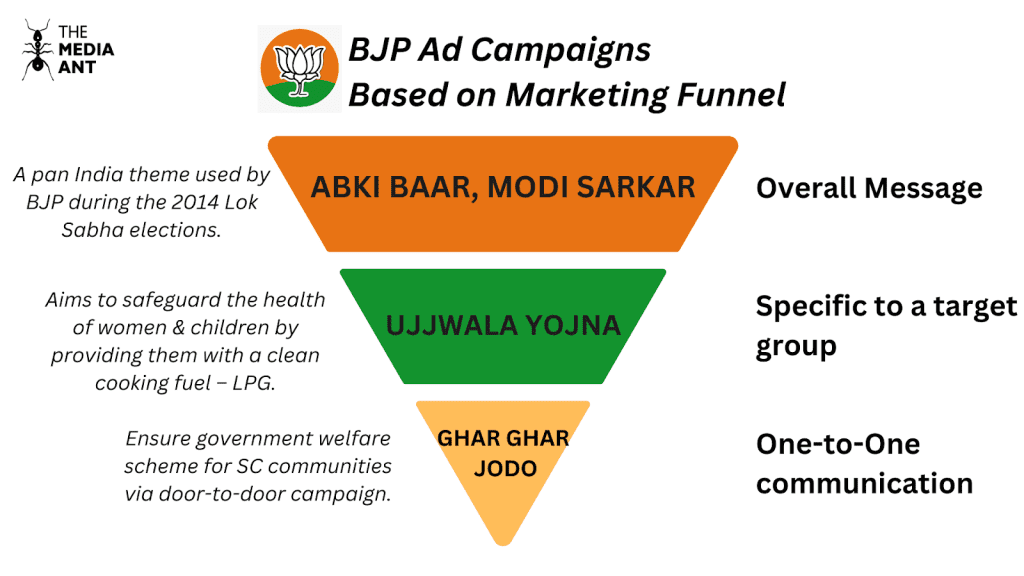 TOFU- Ab Ki Baar, Modi Sarkar
The famous slogan, Ab Ki Baar, Modi Sarkar has secured the top-of-funnel as the objective of the campaign was to reach out to a wide audience and spread their message pan India. The 2014 Lok Sabha Election catchline took Twitter by a storm and became one of the most popular slogans of all time.
The slogan was a collective effort and in fact, the last two words 'Modi Sarkar' was coined by Nisheeth Sharan, the head of Utopia Consultancy, the PR firm hired by BJP for their election campaigns. The first few words of the slogan 'Ab Ki Baar' was suggested by BJP's election campaign committee. Big guns like Amit Shah, Arun Jaitley and Sushma Swaraj were a part of this panel.
The slogan was highly inspired by the famous and popular slogan 'Ab ki Baari, Atal Bihari'. The slogan and campaign still remains in our memory and is on the tip of our tongues at the same time is open to individual interpretation.
MOFU- Ujjwala Yojna
Pradhan Mantri Ujjwala Yojana (PMUY) aims to safeguard the health of women & children by providing them with a clean cooking fuel – LPG, so that they don't have to compromise their health in smoky kitchens or wander in unsafe areas collecting firewood.
The messaging was clear and was directed to a specific group of people that is women and children, the objective being their welfare. The campaign held out a promise for a social transformation. Not only did it protect the health of the women and their family, it also indirectly saved the health costs of the individual, their family and the overall state.
Their campaign aimed only at women in the rural areas and hence all their campaign creatives included faces of rural women who were to be benefitted by the campaign.
BOFU- Ghar Ghar Jodo
The primary objective of the 'Ghar Ghar Jodo' campaign was for the BJP to reach out to SC communities and ensure that government welfare schemes are available to all of them. Since, the scheduled caste society is one of the marginalized groups in India, the BJP government ran a door-to-door campaign and encouraged them to fill out forms so that they could get the benefits.
The campaign took a one-to-one communication route to outspread their message in the SC community and leave an impact amongst its voters.
Campaigns that Changed the Course of Political Advertising
Congress' 'Kattar Soch Nahi, Yuva Josh' Campaign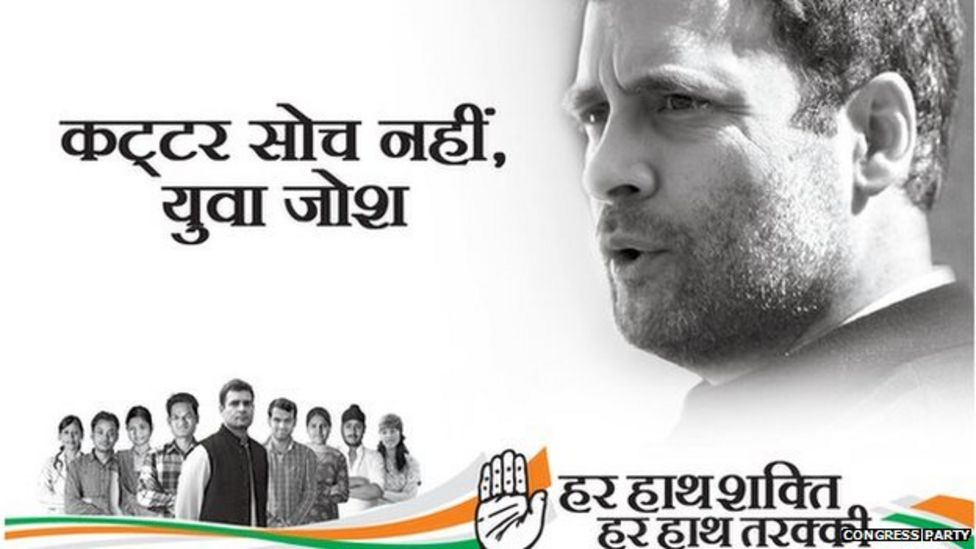 The punchline of the 40-second commercial, "Kattar Soch Nahi, Yuva Josh," emphasises the relationship that a youthful leader can have with the country's youth. The campaign fits into a bigger concept called "har haath shakti, har haath tarraki," where "haath" (hand) stands for the Congress party's emblem.
The tagline of the TV commercial, "Kattar Soch Nahi, Yuva Josh," features a Muslim woman named Hasiba Amin who works for the Congress. The phrase "Har haath shakti, har haath tarraki" refers to a bigger theme. The campaign tries to show that India needs youthful, liberal leaders who can relate to the younger generation.
They want to shun the extremist ideologies, which propagate division of the country on religious lines. The campaign takes a direct dig at Narendra Modi.
BJP's 'Main Bhi Chowkidar' Campaign
In an effort to gain support from the public for the Lok Sabha elections, the Bharatiya Janata Party intensified its "Main bhi chowkidar" campaign on Sunday. Prime Minister Narendra Modi and other party officials, including its president Amit Shah, prefixed the word "chowkidar" to their names in their Twitter profiles.
As chowkidars of our country, we are dedicated to developing a green economy through the use of cashless transactions. For many years, the threat of corruption and black money has harmed us. It's time to get rid of these for a brighter tomorrow."#MainBhiChowkidar #ChowkidarPhirSe," tweeted Piyush Goyal, minister of railways.
AAP's 'Degree Dikhao' Campaign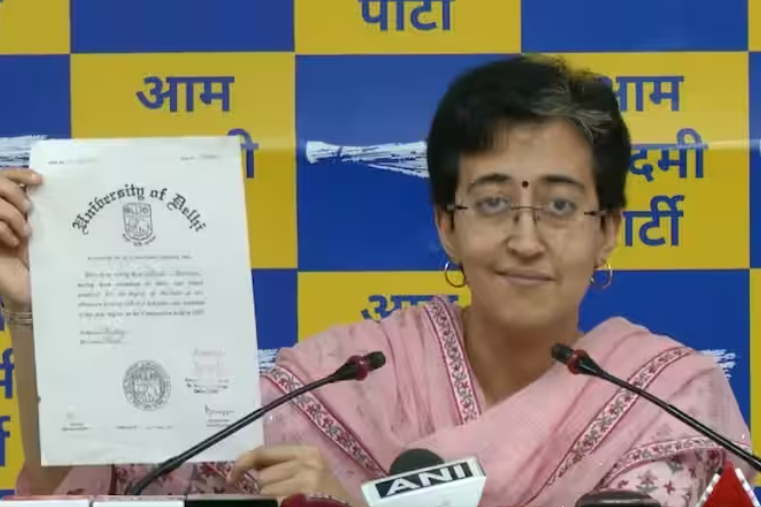 The Aam Aadmi Party (AAP) launched its "Degree Dikhao" campaign a week after the Gujarat High Court (HC) invalidated the Chief Information Commission's (CIC) ruling regarding Prime Minister Narendra Modi's academic credentials.
AAP leaders will daily disclose their educational backgrounds in public as part of the campaign. During a press conference today, Delhi Education Minister Atishi displayed her two PG degrees from the University of Oxford in addition to her undergraduate degree from the University of Delhi.
Atishi remarked, "I am starting the campaign by sharing my three degrees," as she listed her credentials. Shouldn't all of the country's political leaders stand up in front of the public and display their degrees so that the people may see how educated their leaders are?
She remarked that if the BJP's prominent politicians have undergraduate or graduate degrees, they should display them to the public. "It represents our alma mater when we attain a distinguished or constitutional position. Additionally, it inspires students in the schools where the person in the constitutional post had his or her higher education and makes our fellow students feel proud.
Political ads by Brands
Power of 49- to unleash the power of women voters in India
'Power of 49' is a campaign that aims to address problems facing women. With the hope that a more informed and involved female electorate will ensure that the system responds more diligently to women's issues, thereby positively influencing national development, it aims to "unleash the power of a 100 million informed women voters" — to awaken Indian women to the power of their vote (the Power of 49% of the electorate, which women constitute).
Women often assume their vote has no impact since they are unaware that they make up 49% of the electorate, which causes them to cast a family vote. For the first time, there is a movement that aims to educate women about the idea that no political system can ignore them any more if they can cast a collective, autonomous, and informed vote.
Using thought provoking print ads to spread their message across pan India and encourage people and especially women to make an impact by exercising their voting rights.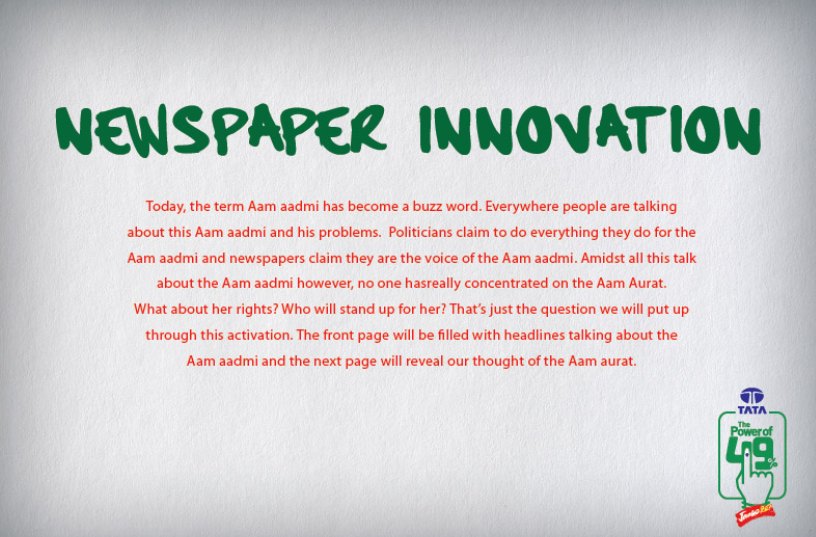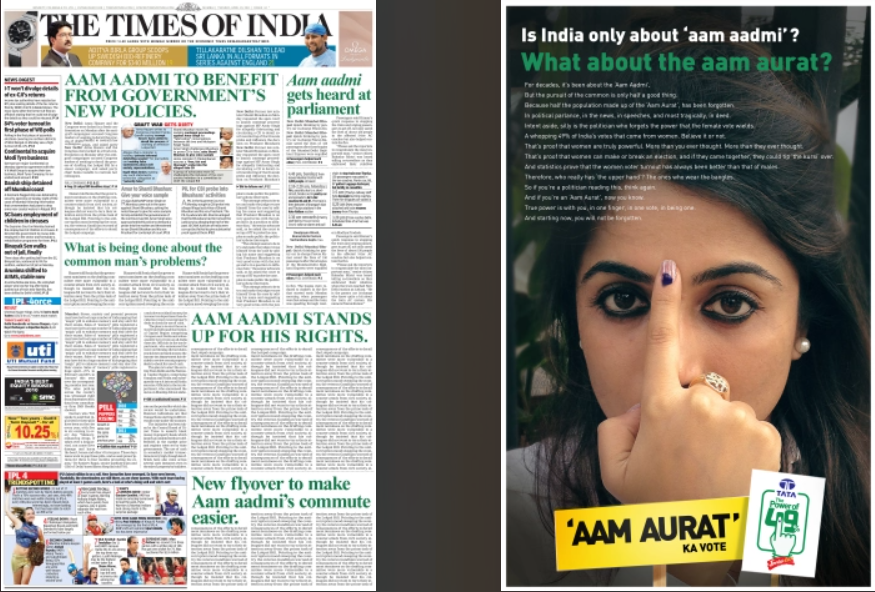 TATA made sure that every citizen can play an important part in supporting the initiative through these following steps:
Make everyone AWAKEN to the power of women
Help women TABLE and VOICE their wants
Make politicians TAKE NOTE of women's wants
An INFORMED and EMPOWERED female electorate vote
(Source: TATA International)
To build an informed voter base through partnerships, branding, messaging, and volunteering was required.
According to TIL's MD Mr. NN Tata, who said, "The Power of 49 is an important effort of the group and it has my total backing, TIL is completely in support of this programme. I have no doubt that our teams working in India will take advantage of the chance to actively contribute to the success of this effort."
Giving back to society has long been an aspect of the Tata way of doing business. When combined with their agenda for promoting gender sensitivity and volunteerism within the Tata group, they effectively made a contribution at the individual company and work group levels that could have a multiplier effect on the communities in which we live and work. Let's all band together to support the Power of 49!
Political Ads: Everything Said & Done !
Politics has not been free from the influence of marketing. Political activities are no longer complete without political marketing. Large sums of money are being spent on advertising, which is not just done during election seasons but throughout the year. Thousands and millions of rupees are spent on political marketing in the context of Indian politics. There have been numerous instances where normal governmental and administrative actions have been projected as "achievements" in the advertising landscape.
At The Media Ant we feel that everyone has the right to self-promotion. Political advertising can thrive on a very progressive level with the use of the appropriate media and communication instruments at the appropriate time. Being one of the top advertising agencies in India, we take pride in setting the bar higher for quality in terms of creativity, strategy, and designs. After all, a leader always selects the best candidates to ensure that each communication stands out and can be heard clearly (without the use of loudspeakers).
How can The Media Ant help you?
While communication and messaging of your political ad depends completely upon the political party's campaign objective, but reach and planning is where the expertise is needed. With The Media Ant, your brand is put in the best hands as we strive every day to provide top-notch advertising services to our clients. We have a dedicated team to look into your every need and provide you with the best advertising rates.
Let's take an example, for a political ad to be successful one must consider 3 things:
Messaging
Reach
Targeting
While messaging is something that depends completely upon the objective of the political party, reach and targeting is where The Media Ant expertises in. From mass media like TV to one-on-one communication like mobile van, we have over 2 lakh+ media options to choose from.
The Media Ant website has nuanced targeting filters which will help your political ad reach the right target group. You can use filters as per location or gender, and our team will provide you with the appropriate media option, which will help you fulfill your advertising objective. We take into consideration the campaigns', objective, target audience and budget and create a media plan accordingly, on the basis of which our team of experts decide on which advertising platform you should run your ads.
From TV to outdoor we've got you covered on every media vertical you want to opt for your political ad. The Media Ant has the necessary tools that can help you achieve your advertising needs. An advertiser who engages with us will never run short of options because of the high availability of media options that we provide.
As the best media planning and buying agency we will help you in:
Providing top-notch advertising services with a dedicated team to look into your campaign.
We help you get the best advertising rates.
Our team of professionals will help you plan, execute and monitor your advertising campaign, making your ad journey seamless from inception to the end.
We have 10 media verticals and over 2 lakh+ media options for you to choose from.
We've got an array of targeting filters which will help you reach out to the right target group.
Our team expertises in creating a well-defined media plan to fulfill all your advertising needs.
The Media Ant is your one stop media planning and advertising destination, so connect with us at Help@themediaant.com and begin your advertising journey right away!
| | |
| --- | --- |
| Was this article helpful? | |