Voot is a video-on-demand (OTT) platform, part of Viacom18 Digital Ventures, and is the 2nd biggest AVOD platform in India. With over 35,000 hours of exciting content for audiences with varying choices and preferences, covering Colors (Hindi), MTV, Viacom18 Motion Pictures, Colors Kannada, Colors Marathi, Colors Bangla, Colors Super, and Colors Gujarati, Voot offers the biggest TV Shows, Blockbuster Movies & Voot Originals, absolutely Free!
Voot advertising is pretty effective for brands and advertisers who are looking to create brand awareness and reach out to young audiences. Voot ads can work perfectly for female-centric brands
Top Facts About Voot
The total number of visits on Voot's website during the month of July – September was 84M, with 72% of users on mobile.
The audience segmentation for Voot app is 30% Female and 70% Male, with the largest age group being 18-24 year (54%), followed by 25-34 year (20%).
Even in the highly competitive Indian OTT industry, Voot app is able to get an average monthly downloads of 16.4M in the month of July – Sept 2022. In fact, the majority of audiences of Voot have interest in Arts and Entertainment and mostly consume TV streaming and movies.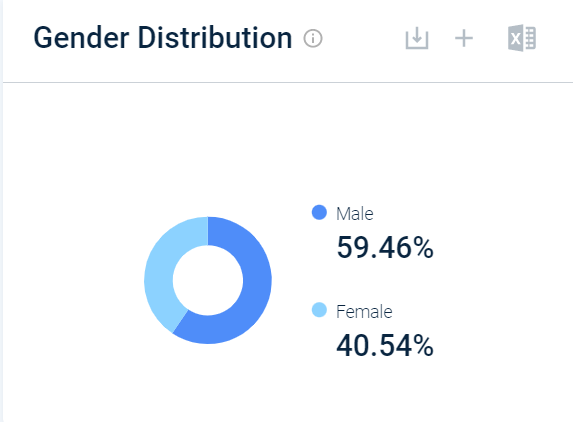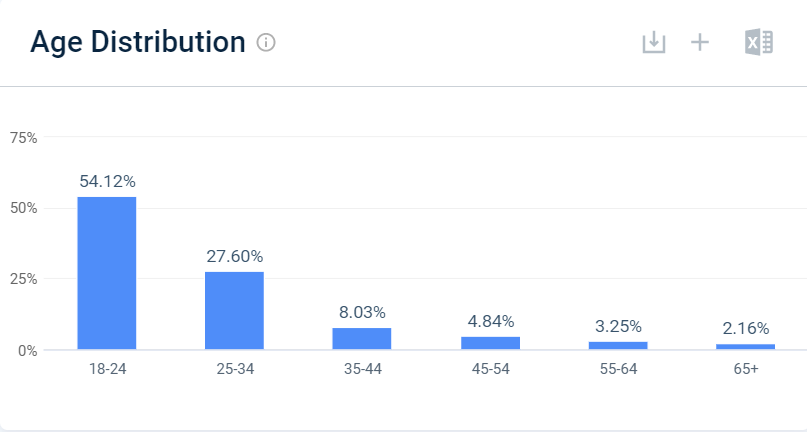 Top Reasons to go for Voot Advertising
Wondering why you should pick Voot advertising over anything else? Here are a few benefits your brand can get by advertising on this platform-
More and more people are shifting from traditional media to online platforms to watch shows, web series, and sporting events. Voot is one such popular platform with its number of viewers growing every day. Voot has more than 300 million subscribers, hence, running an ad campaign here would provide good reach to any ad campaign.
Reach out to regional audience
Brands who are looking to target regional audiences can benefit greatly from Voot advertising. This is because over the years Voot has made its regional content slate more dynamic and relevant, by introducing fresh regional content as well as launching popular originals in regional languages.
Target Millennials and GenZs
Voot advertising can give you the opportunity to target millennials and GenZs, since 54% of Voot audiences belong to the age group of 18 – 24. The content streamed on Voot is also directed towards the younger generation and hence brands looking to target young customers can use Voot ads to their advantage.
Top Ad Options on Voot
1.Video ads
There are three types of video ads made available by Voot-
Pre-Roll video ads
Pre roll video ads are 6-10 second long, non-skippable ads played before the video starts. These ads are ideal for teasers, promoting special offers or launching a product. They can be used to target your customers based on demographics, location, interest, genre or affluence.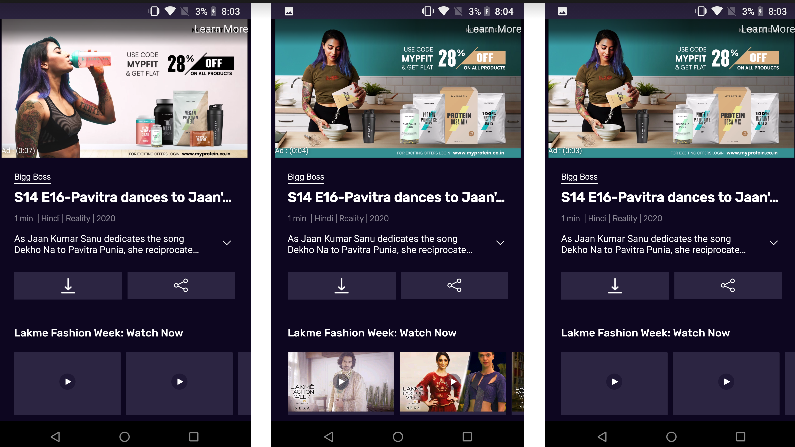 Mid-Roll video ads
Mid roll video ads are 10-100 second, non-skippable ads played during the video content. These ads are ideal for branding, sequential story-telling or consideration and are generally accompanied by a CTA button.Advertisers can target customers based on demographics, location, interest, genre or affluence.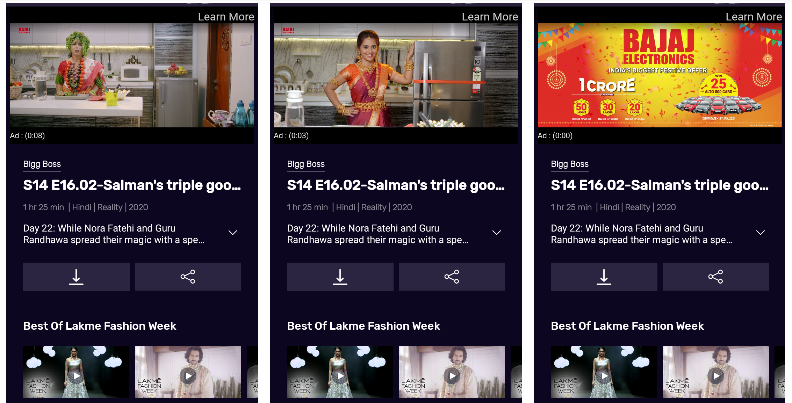 2. Masthead Banner ads
A banner ad, often known as a web banner, is an advertisement that appears on a website or mobile application. The advertisement is primarily made up of images rather than text; it could even be a multimedia object in.png,.jpg, or.gif format. For a full 24 hours, masthead banners are shown at the top of the platform's homepage. Masthead Banners can be displayed on the platform's app and website.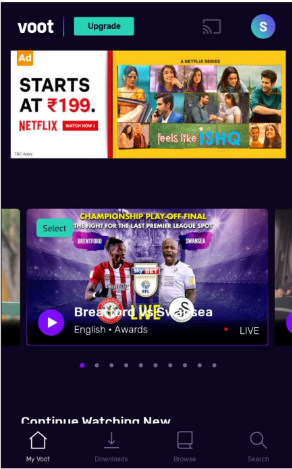 3. Banner ads
Frames Ads, Stubs Ads, and In-stream Ads are just a few of the placement options for banner ads, which are shown as rectangular picture advertisements. Frames Ads, which are displayed on the homepage, feature brand creative, a brand logo, the name of the company, the title of the current campaign, a headline, and a call to action button that directs users to a landing page.
Stubs Ads have a brand logo, brand name, campaign title, headline, and a call to action button that directs viewers to a landing page. They are presented as text-based banner ads below the platform's video content. In-Stream Ads will be presented as a static picture ad, a text banner, and a call to action button that will take viewers to the brand landing page for a minimum of 6 seconds and a maximum of 10 seconds over the course of the movie.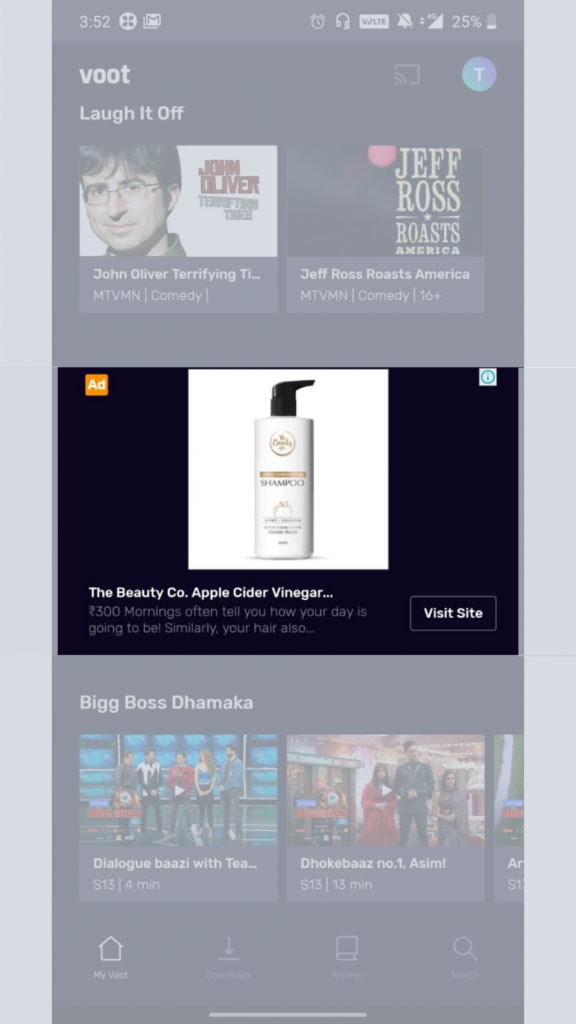 Top Targeting Options on Voot
Gender & Age Targeting: The audience can be targeted based on gender and age group.
Location/Geo Targeting: Geography targeting until the city level is possible on the Voot advertising platform.
Interest-Based Targeting: Voot audience can be segregated based on interest and affinity like parents, online shoppers, auto enthusiasts, travel and fashion enthusiasts, mobile banking users, etc.
Income Group Targeting: The audience can be segregated into low, middle and high-income brackets.
Program Genre Targeting: The audience can be targeted based on the content genre and language.
Device/Telecom Provider Targeting: The operating system and telecom service providers can also be used as targeting filters.
Top Shows– Segment your audiences according to the top shows available of the platform
Language– Be closer to your audience by delivering your brand message in the language they prefer.
Top 3 Brands Categories that Should Advertise on Voot
Cosmetics
Lifestyle & Apparel
Personal Care
Top 3 Cities that Prefer Voot Advertising
Average CTR for Voot Advertising
The average CTR for Voot is 0.2%.
Why opt for a media agency for Voot advertising?
Media agencies like The Media Ant are a one-stop destination for all your advertising requirements.
Wide range of advertising options on a single platform: From traditional advertising options like newspaper advertising to highly targeted in-app advertising, The Media Ant has 2 lakh+ media options to compare and select from.
Best advertising rates: Years of association with media owners and high volumes of the transaction enables The Media Ant to negotiate the best advertising rates for the clients.
Support throughout the campaign execution: Apart from buying ad spaces, The Media Ant also helps in planning the entire campaign and carrying out the execution on the ground and share proof of execution and post-campaign evaluation report.
| | |
| --- | --- |
| Was this article helpful? | |