Inshorts App is a news app that provides both national and international news in a summary of 60 words. Founded in 2013, Inshorts App allows its users to read the latest news articles from different sources.
While social media platforms like SnapChat and Instagram secures a safe place in your advertising strategy, Inshorts advertising is one such option that you might be missing out on.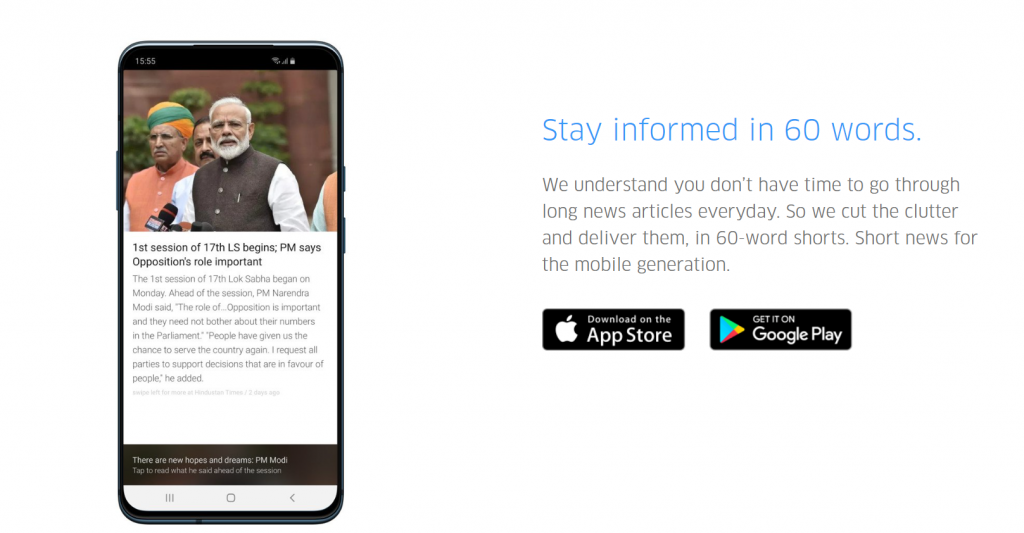 With personalized ads, Inshorts Advertising provides an opportunity for companies, brands, and publishers to advertise their products, especially without being intrusive.
The ad cost of advertising on this platform differs for various ad options as does the pricing models-which also depends on the ad option chosen and the number of days for the ads.
It can be called an underdog in the advertising landscape but is sure to give you massive reach and brand awareness. In case you are still indecisive, here's everything you need to know about Inshorts advertising that will definitely make you rethink your ad plan:
Top 3 Facts about Inshorts Advertising
As per Similarweb, the total visits of Inshorts in India in August 2022 was 1.5 Million and the average visit duration on the app for the same month was 2.33 minutes.
Users spend an average of about 14 minutes per day on the app.
Inshorts audience consists of 83% Male and 17% Female (On app) and 57% Male and 43% Female (On website)
The largest age group of visitors on Inshorts are 25-34 year olds (33%) (On Desktop) (Source- Similarweb)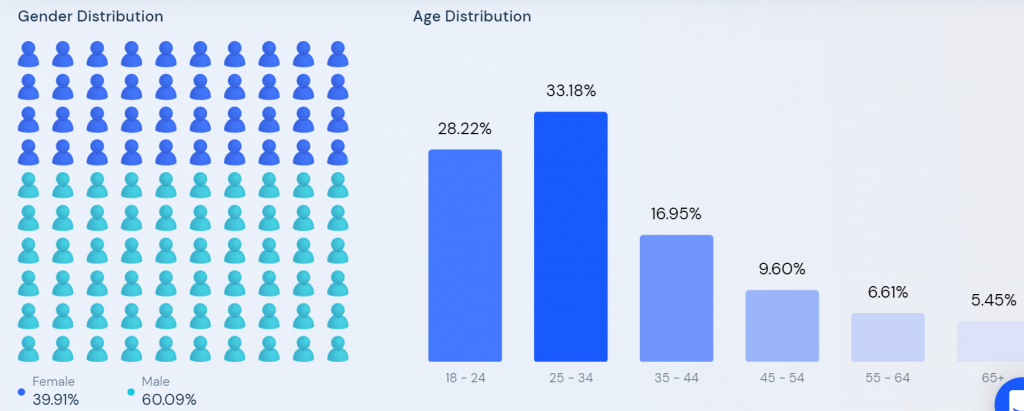 Top 3 Ad Options in Inshorts Advertising
Roadblock Ads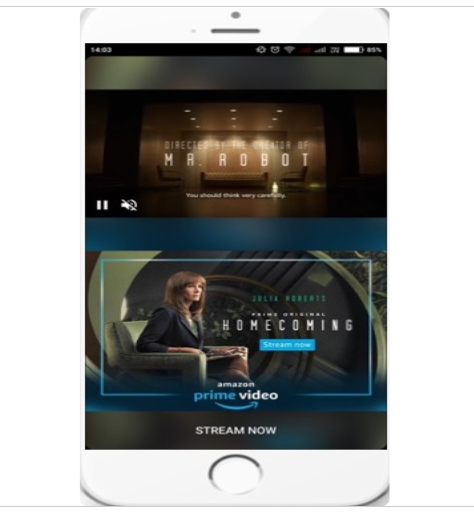 Inshorts Roadblock ads are high-impact ads that will block all ad placements on the platforms for a day. Inshorts Roadblock Ads will include 5 various ad placements, all of which will be displayed for 24 hours only. These include-
Interstitial Banner- Interstitial Banners are full-screen banner ads that will appear after the first 5 cards and then appear after every 7 or 8 cards.
2in1 Video Interstitial- 2in1 Video Interstitial is a new advertising format that will divide a screen into two halves horizontally with the top half having a video and the bottom half showcasing the brand creative as well as a call to action button, redirecting users to the landing page.
Native Banners- Native Banners are displayed on the bottom of the card which will have similar content, they will also include a call to action button redirecting users to the landing page.
Vertical Video Interstitial- Vertical Video Interstitial will be displayed as a full-screen video ad in portrait mode.
Theatrical Video Interstitial- Theatrical Video Interstitial will appear as a landscape video ad with a static interstitial background.
These Roadblock ads are used for- Impact
Banner ads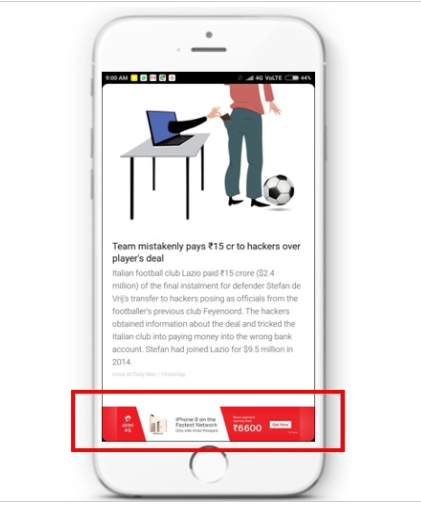 Banners Ads are rectangular image ads displayed along with the content on the site. Banner Ads are of two types, i.e. Interstitial Banner Ads and Native Banner Ads. Interstitial Banner Ads are displayed as full-screen images or GIF ads that will appear after the first 5 cards and then will appear after every 7 or 8 cards. Native Banner Ads are rectangular image ads that will be displayed below the content which is likely to be similar to the advertisement.
Used for- Reach
Article ads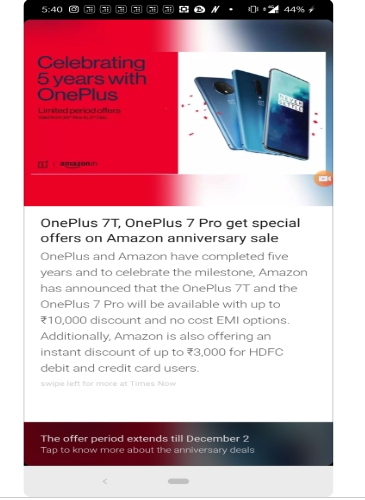 Article Ads will include four types of stories, i.e. Premium Story, Notification Story, Poll Story, and Normal Story. Premium Story, Notification Story, and Poll Story will be displayed on the 1st card, whereas Normal Story will be displayed on the 5th or 6th card of the app.
In Premium Story and Notification Story, a rectangular native banner which can be an image or video will be integrated into the brand content that will be displayed in the news feed. In Poll Story, an engaging poll will be provided below the brand content. In Normal Story, a rectangular native banner will be integrated into the brand content which will be displayed in the news feed.
Used for- Impact
Top Targeting Options in Inshorts Advertising
Inshorts provides one targeting option and that is Geography targeting.
What makes Inshorts the perfect ad option for SMEs is the feature of geography targeting. For any SMEs, their target audience would be more local than national. Hence, if you are looking to target such audiences in a specific location, Inshorts advertising can be the right choice for your business.
Geo-targeting on Inshorts let you reach you target audiences in a specific state or city with a budget that is well under your control. Unlimited reach with a limited budget- advertising doesn't get more lucrative than this now, does it?
Top 3 Reasons to go for Inshorts Advertising
Wondering why Inshorts advertising would do wonders for your brand? Here are the top 3 reasons why you should definitely go for this advertising:
1. Easy on the wallet: Although the ad rates would vary as per the digital advertising types, ad size and ad position, the targeting offered by the platform is Geography based. Hence, brands will limited budget don't need to run nationwide or regional campaigns, instead they can be area-specific and hence keep their budget spent on the ad fairly minimum.
2. Wide audience base: Millions of people visit the news app for their daily news updates and spend an average of 14 minutes per day browsing on the platform. any brand looking to run a reach or brand awareness campaign would get a good ROI from Inshorts advertising.
3. Mobile-friendly Ads: Most of the audience access e-commerce platforms from their mobile phones. Inshorts as a platform offers you with a variety of mobile ads like Roadblock, Banner, Article, Video, Magazine card and Fact card. They can help you optimize the sizing and content of your ads to best appeal to mobile users. This will help you increase your click through rate and help you score more business.
Top 3 Brand Categories that Should Advertise on Inshorts
The top brand categories that should consider Inshorts advertising are as follows-
BFSI
Real estate
Lifestyle
Brands that Should Not Advertise on Inshorts
The top brand categories that will not benefit a lot from Inshorts advertising are as follows-
FMCG
Top 3 Cities of India that prefer Inshorts Advertising
New Delhi
Bangalore
Mumbai
Average CTR
The average CTR for Inshorts advertising is O.5-1%
| | |
| --- | --- |
| Was this article helpful? | |