Looking to advertise your business in India?
With so many advertising channels available, it can be overwhelming to decide which one to use. From traditional mediums like television and print to digital platforms such as social media and search engines, each advertising channel has its own strengths and weaknesses.
In this article, we'll explore the different types of advertising channels available in India and provide insights on which one may be best suited for your business needs. Whether you're a small startup or a large corporation, understanding the different advertising channels can help you create an effective marketing strategy and reach your target audience more efficiently. So let's dive in and explore the 10 types of advertising channels available in India.
What is advertising?
Advertising is a marketing tool through which companies promote themselves using different mediums available in the market. Using various types of advertising, a company can promote its products and services both online and offline. In order to identify which medium suits you best, define your audience clearly. Next, choose a combination of options that will impact your target audience in the most cost-effective way possible.
Read on to find out what medium would work well for your business, budgets and strategy.
Types of Advertising
There are many different types of advertising. Traditional advertising or offline methods are radio, print, TV, and out-of-home advertising. Online advertising mediums include search engine ads, display ads, social ads, email marketing and more. Traditional advertising methods continue to have an edge over online methods in India, where a majority of the population is still adapting to the digital world.
TV Advertising
TV advertisements are nothing but TV commercials. Marketeers call them TVCs or adverts. TV advertising has a wide reach since televisions are available in most households from large cities to small villages. Considering the reach that TV viewership enjoys, TV advertising is the medium of choice for large, well-established brands that cater to a large section of the society.
Video Ads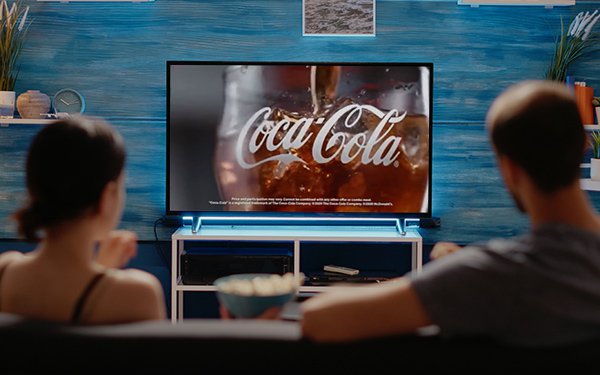 Video ads are typically 30 seconds in duration. They are played during breaks in TV shows. Video ads are made by professionals and therefore work well for established brands with big marketing budgets. This form of TV advertising caters to a wide audience. It is especially useful for brands in the Consumer Goods sector.
Aston Band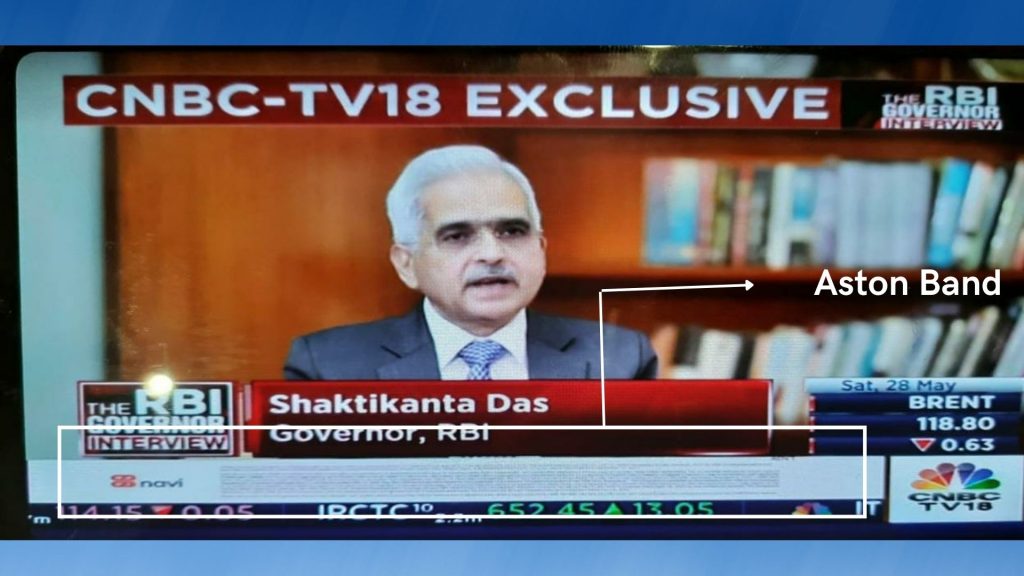 Aston bands are advertising strips that you will see at the bottom of the TV screen. They are static in nature with a typical exposure of 10 seconds. They don't interrupt the content being aired. Costs are based on the number of bands aired per day multiplied by the number of days.
L Band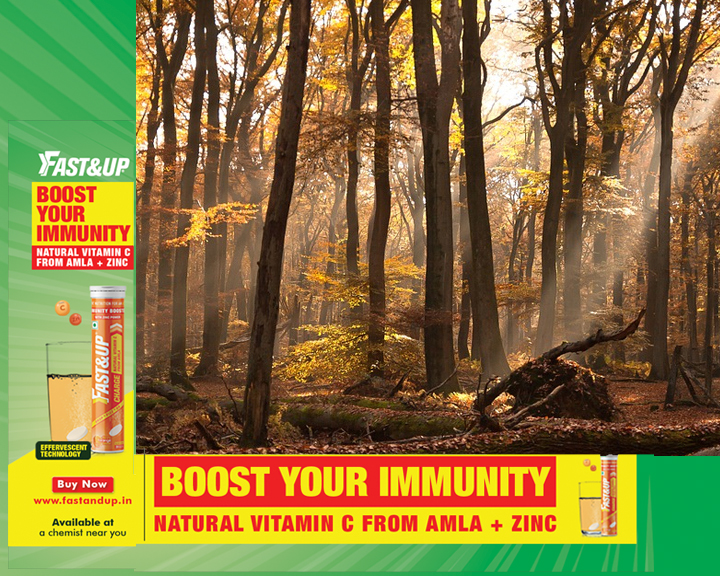 L bands, as the name suggests, are static, L-shaped strips of advertising material. They appear on the left and bottom of the TV screen. Like Aston bands, these adverts are played alongside content, for a typical duration of 10 seconds. You're likely to see them on news and sport channels.
Online Advertising
Digital advertising, online advertising, web advertising – all these terms mean that businesses use the internet to promote products and services. Internet users are increasingly using mobile to access the web. The number of smartphone users in India has crossed a whopping 748 million, making online advertising a lucrative medium to grow a business. The various types of advertising in this space include social media, search engine, pay-per-click and more. Let's understand some of them here.
Banner Ads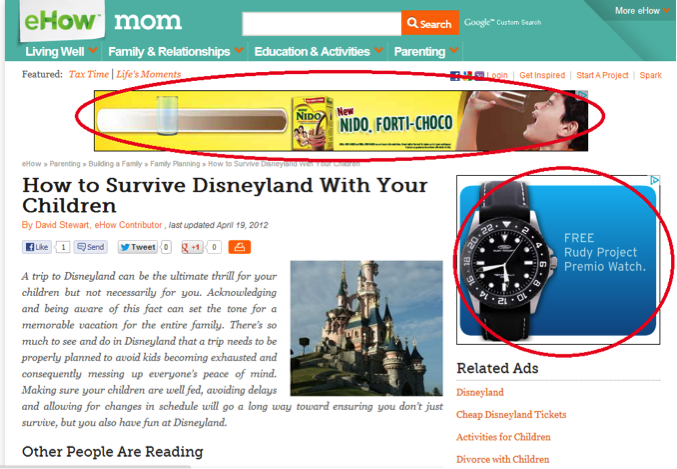 Banner ads are rectangular graphics of different standard sizes that you will see on the top, bottom or sides of webpages. Banner ads are effective when they're placed on relevant, high-quality websites. Clicking on it will take you from the host website to the advertiser's website. Cost of a banner ad depends on its size. Cost-per-click (CPC) depends on your industry and the quality of the host website. Banner ads work as a great remarketing tool to target those who left your site without purchasing.
Video Ads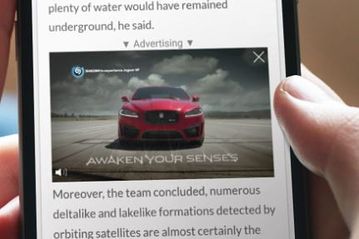 Video ads are similar to TV commercials. Many social media sites and streaming platforms allow you to place your video ad inside their online content. Video ads are in great demand today. This format is highly engaging, flexible and can be shared.
Text Ads

Text ads are usually sent in bulk to a targeted audience. You can do this through SMS or Whatsapp on mobile devices. Text ads are short, precise and more readable. They have a better open rate than email. The SMS relies on cellular networks to send text messages while Whatsapp needs an internet connection. SMS ads work well if a big chunk of your audience does not use a smartphone. Remember to employ this medium for users that already know your brand, else it becomes spam. This type of advertising is a great way to stay in touch with existing customers.
OOH Advertising
Any form of advertising you experience out of your home falls under the category of OOH advertising. OOH advertising spaces are a natural part of any urban landscape. Although most of us have our heads buried in our cellphones, OOH advertising continues to offer maximum exposure. It is an integral part of global marketing strategy.
Bus Shelter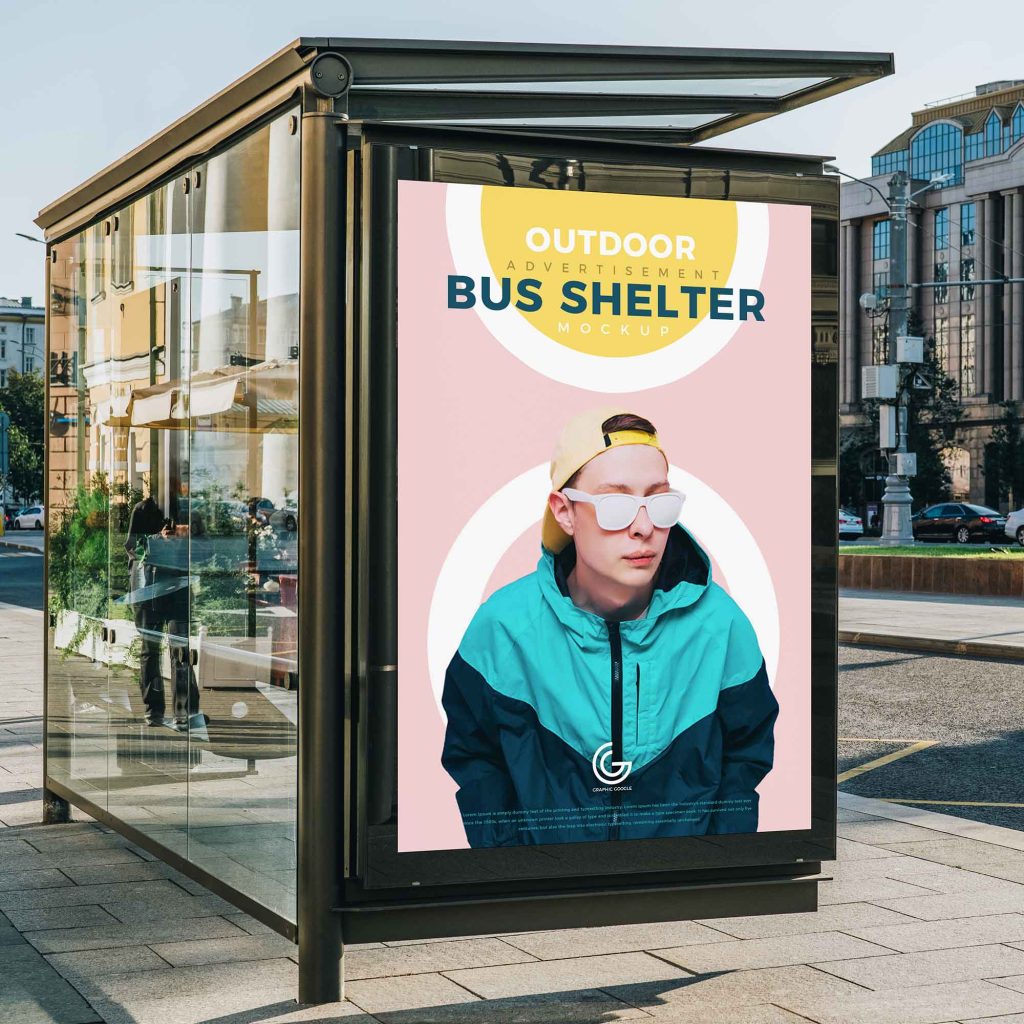 Bus shelters or bus stops are points where people get on and off a bus. This type of OOH advertising works well if you're a local business and want to target customers in the locality. They're especially effective in large metropolitan cities where most people use public transport for daily commute. Available across the city, these ads can target your audience geographically, where large hoardings are not available.
Hoarding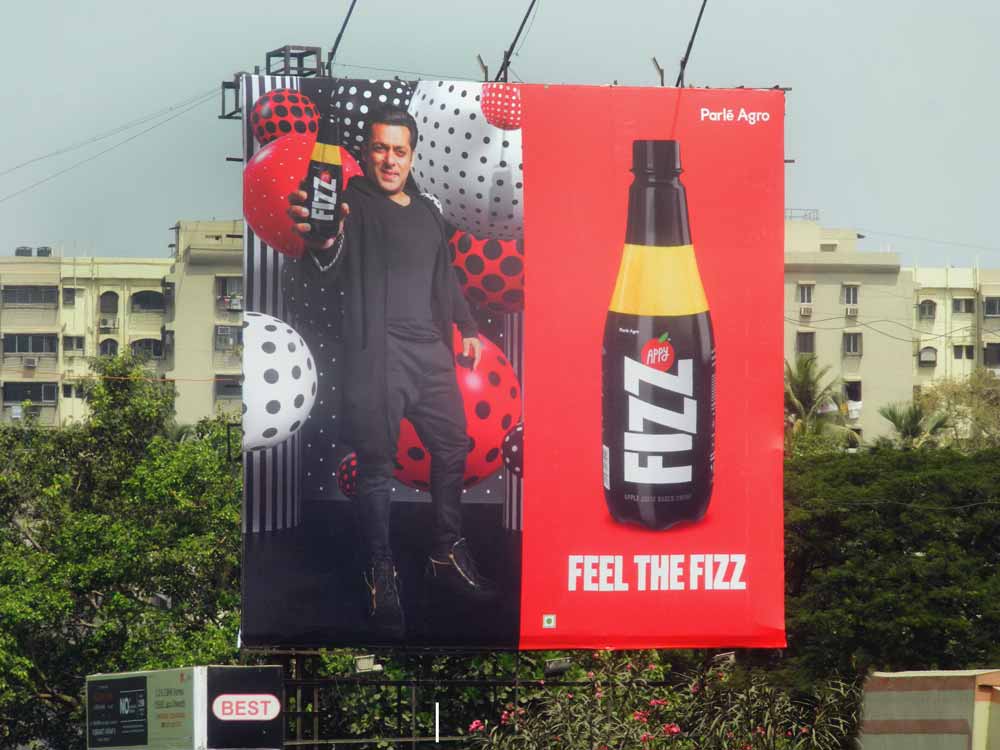 Think London's Piccadilly circus and New York's Times Square – what comes to your mind? The mammoth hoardings of course. Popularly known as billboards, everybody would be familiar with this type of advertising. It started in America in the 1800s and quickly became popular around the world. Today, hoardings are available with graphic and multimedia components. You'll find them in high-traffic areas and major highways. They're good for brands that want to target a wide cross-section of the population.
Pole Kiosk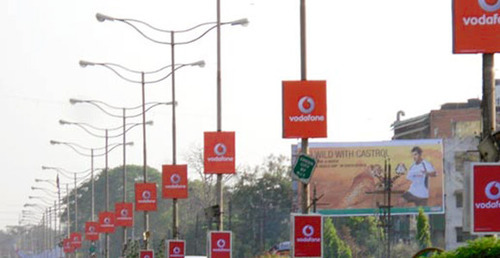 A pole kiosk is a compact billboard that is mounted back to back on electric poles. You'll see this type of advertising medium on footpaths with high pedestrian traffic. If you're standing outside a college and see an ad for a coaching centre mounted on an electric pole, that's a pole kiosk ad targeting the students of that institution.
Sky Walk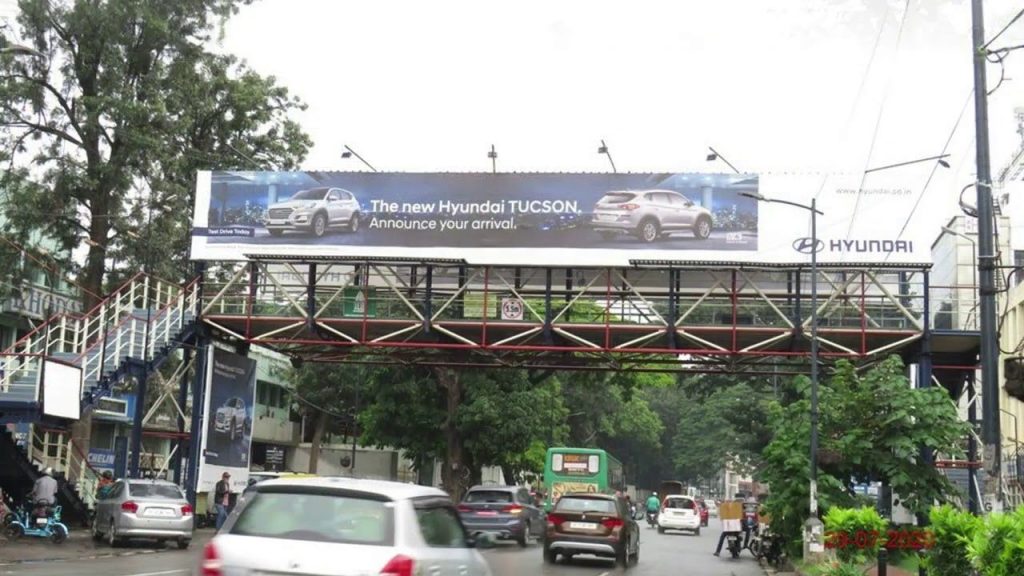 A skywalk is a bridge that helps pedestrians get from one end of a major road to another without interrupting the flow of traffic. Similar to hoardings, advertising on skywalks offers great brand visibility to vehicle passengers and pedestrians.
Newspaper Advertising
A large section of India's population subscribe to newspapers everyday. Newspaper advertising is still the most cost-effective medium to reach an audience that does not use digital news platforms. Newspapers in multiple Indian languages enjoy good readership. Newspaper advertising offers various size options. A good first step is to identify which newspapers your consumers are likely to read and buy ad space accordingly. Costs would depend on leadership volumes, size of the ad and the day of circulation.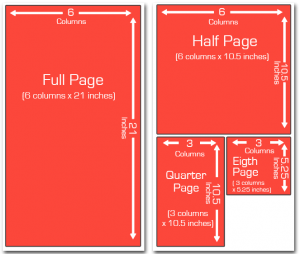 Half Page Ads
If you divide a sheet of newspaper into two halves, a half page ad would cover any one of these halves.
Quarter Page Ads
Quarter page ads cover one-fourth of a newspaper page.
Full Page Ads
A full page ad covers one entire side of a newspaper page. You will see no other text on that page other than the advertisement.
Jacket Ads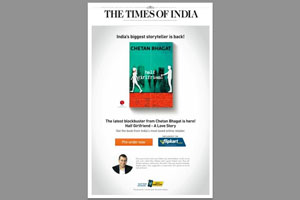 A jacket is a strip of paper that is affixed upon the newspaper, specifically for the purpose of advertising.
Airport Advertising
Airport outdoor advertising refers to ads that you place in the areas where people enter and exit the airport building. The various types of advertising in airports target frequent flyers and tourists visiting a city. Invest in airport outdoor advertising if your target audience is affluent and upwardly mobile.
Continuous footfall in busy airports with long exposure time allows clear visibility of your brand.
Digital Screen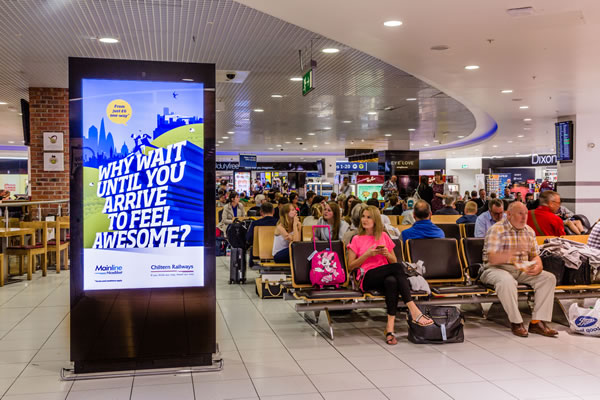 Digital screens are high-resolution displays commonly found near cafes and waiting areas.
Hoarding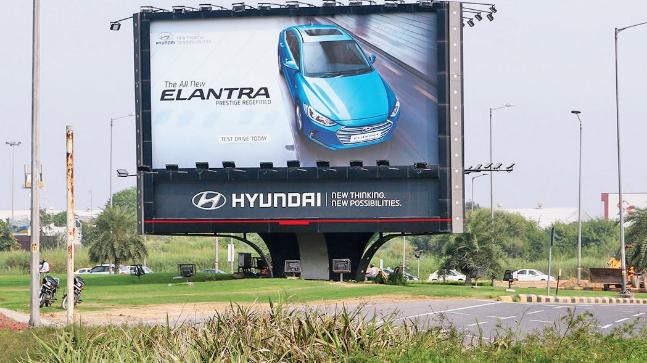 Airport hoardings offer visitors first glimpses of local brands as they enter the city. They're always well-lit to be visible even in the night.
Luggage Trolley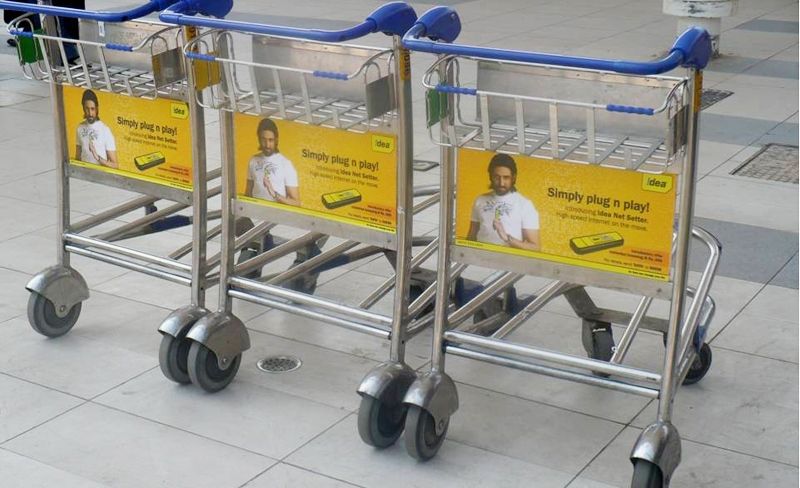 Ads on luggage trolleys are more economical than digital ones. You'll often see ads of local travel agencies displayed on trolleys.
Inflight Magazine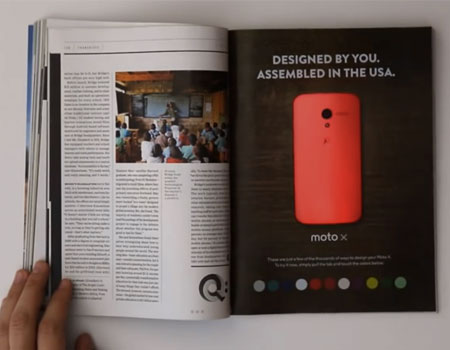 Magazines that you read while flying feature articles on travel, wellness, sport and local culture. They also offer ad spaces for businesses in these categories.
Theatre Advertising
Cinema screens in India are a major source of entertainment in spite of the emergence of digital streaming platforms such as Netflix and Hotstar. These types of advertising offer nationwide reach making it a great way to grow your brand. A good practice is to analyse the type of movie to partner with in order to attract the right audience. Theatre advertising is predominantly offered by multiplex brands such as PVR and INOX. Multiplex clientele are typically upmarket with good spending power. Ads are only displayed once the audience is in the theatre. You can be assured that your ad receives complete focus since the consumer is in a relaxed environment and is therefore more amenable to the communication.
Slide Ad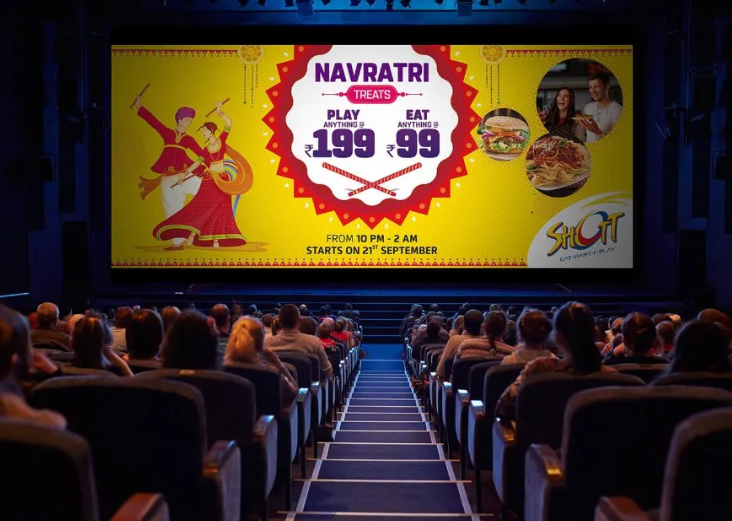 Slide ads are images played with or without audio. They are displayed for 10 seconds on average. They can be played either before a movie begins or during the interval.
Video Ad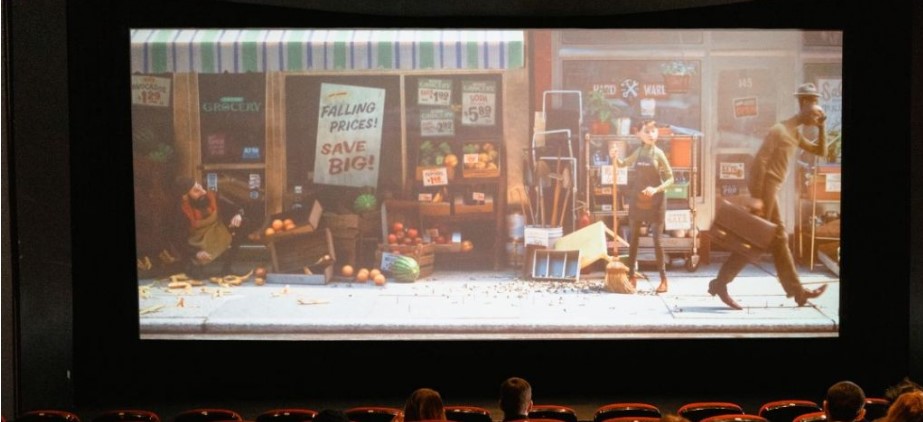 Theatre advertising using the video format offers your audience high definition audio and visual quality.
Social Media Influencer Marketing
When you employ content creators with a large following within your niche to promote your brand, it means that you are engaging in social media influencer marketing. Influencers need not necessarily be a celebrity. A brand's goal in social media influencer marketing is to piggyback on the trust of the influencer's followers and gain access to their audience. An influencer's followers trust them to suggest quality products and services and are therefore more likely to convert to your customers. Influencers receive a commission if someone purchases using a unique link that you provide to the influencer.
Use social media influencer marketing to reach new audiences in niche communities.
Non Traditional Advertising
Non traditional advertising methods are either unorthodox or newly emerging mediums. In India, some non traditional advertising methods include advertising on public buses and auto rickshaws.
Bus Advertising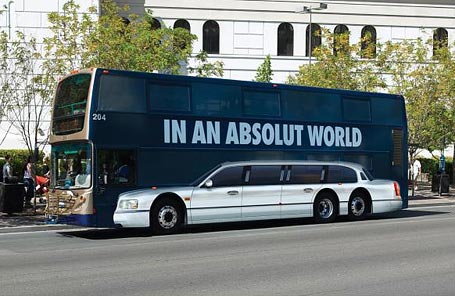 Advertising on public transport is one type of outdoor advertising. Consumers usually only get a brief moment to interact with such ads in moving traffic, so they're designed to have large images and bold text.
Auto Advertising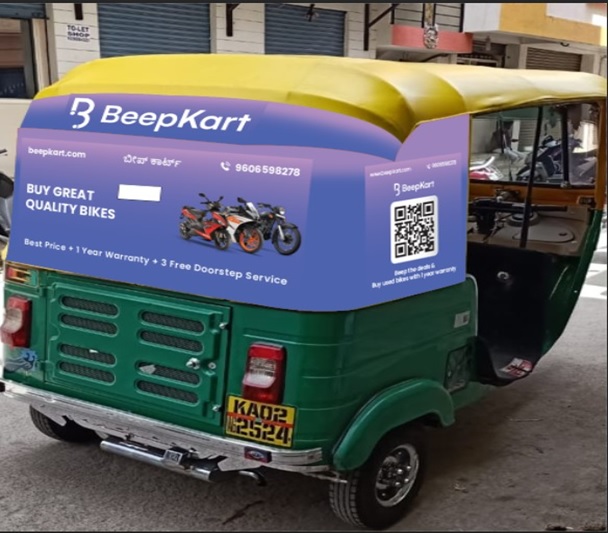 With autos moving around various parts of a city, this highly economical type of advertising can capture the attention of the young and the old, especially in traffic signals.
Magazine Advertising
Many popular magazines have taken the digital route, yet print versions continue to be popular across age groups. Magazine advertising is an important source of revenue for publications. They allocate significant ad space in every issue. Identify a magazine whose audience is aligned with yours. For example, if your business makes automobile accessories, advertising in an automobile magazine would place you directly in the hands of car enthusiasts.
Full Page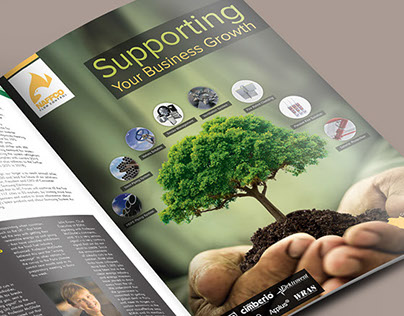 Magazine advertising on a full page covers one full side of a magazine.
Half Page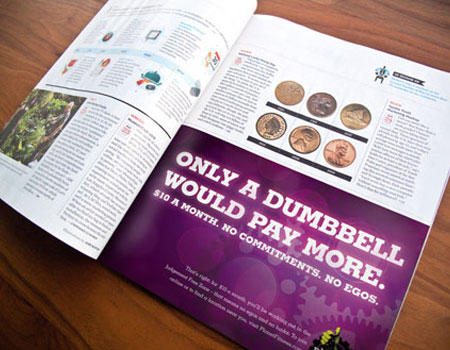 A half page ad will cover half of a page of the chosen magazine. Half page magazine advertising offers more competitive rates.
FM Radio Advertising
FM radio ads were the best medium to promote a brand's products before the emergence of TV. Today, FM radio ads continue to have good viewership in metro cities where traffic jams are an everyday affair and listeners stay tuned into their favourite channels for an extended period of time. FM radio ads cost based on the duration of the ad and the number of times it is played.
Jingle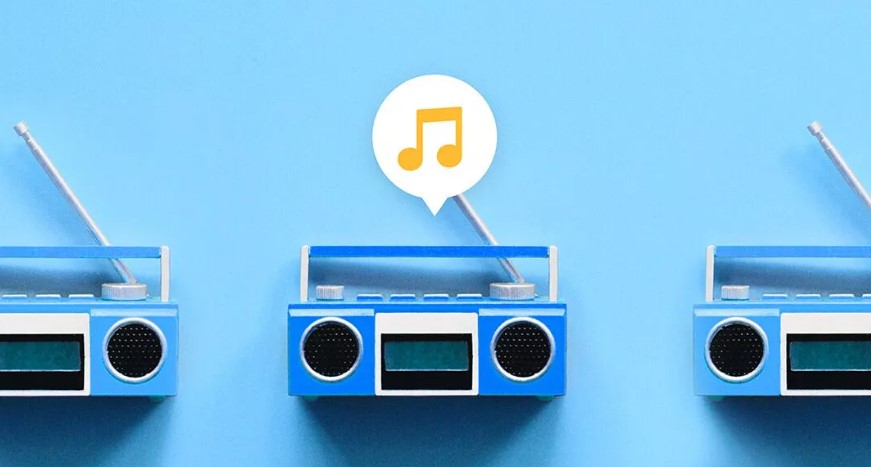 A jingle is a short, catchy song incorporating your brand name. It is created to promote a product or service. A good jingle can capture your audience's attention and remain memorable.
Time Check
A time check advertisement is a pre-recorded message that an RJ will play before, during or after his show.
Frequently Asked Questions on Advertising
What is advertising and example?
Advertising is a method of drawing public attention to the features of a product or service for the purpose of selling. Advertising usually costs money for a business. A short promotional video that is played in the beginning of a Youtube video with the option to SKIP is an example of advertising.
What's the difference between marketing and advertising?
If marketing were a tree, then advertising would be one of its branches. In other words, advertising is one form of marketing. Any action that you take to promote your brand is called marketing. If you pay to place an ad on any medium as part of your marketing strategy, that's advertising.
What are some benefits of advertising for a small business?
For a small business, advertising can attract new customers, increase traffic to the website, improve brand awareness and help you stay ahead of competition. It is also a great way to announce new product launches and promote special offers.
Why are advertisements important?
Advertising is a necessary and crucial part of any marketing strategy. Advertisements enable you to spread the word about your brand, attract customers, generate sales and grow your profits.
| | |
| --- | --- |
| Was this article helpful? | |