Creative liberty, out of the box ideas, innovative techniques, with a pinch of artistic and persuasive abilities can get you a whole bunch of captive audiences. Advertisers have the power to influence and shape public perception, and with that power comes the obligation to ensure that their messages are honest, ethical, and socially responsible.
Balancing creative expression with the well-being and trust of consumers is crucial in maintaining a harmonious and ethical advertising landscape. To ensure the authenticity and keeping in mind the well-being of the consumers the regulating body Advertising Standard Council of India has stated guidelines that brands need to follow.
However, we do understand that the ASCI guidelines are pretty cumbersome. Hence, we read the ASCI guidelines so that you don't have to.
So let's take you through the ASCI guidelines in the simplest way possible, and stating examples of brands and advertisements who violated the guidelines. Make sure you carefully read it till the end, because well you would not want to repeat the mistakes these brands made.
Introduction to ASCI
The Advertising Standards Council of India (ASCI) was established in 1985 with the aim of promoting self-regulation in advertising and safeguarding consumer interests. It ensures that advertisements comply with its Code for Self-Regulation, which mandates that ads must be legal, decent, honest, truthful, and free from potential harm, while also promoting fair competition.
ASCI operates as a voluntary self-regulation council and is registered as a non-profit organization under Section 25 of the Indian Companies Act. Its principal members include reputable companies from the advertising industry in India, such as advertisers, media organizations, advertising agencies, and other professional services associated with advertising practices. ASCI is independent of the government and does not create regulations for the general public or industries.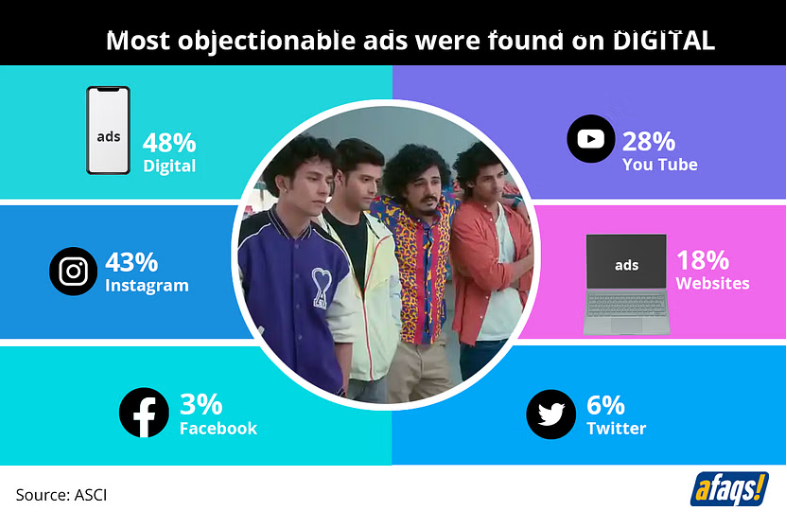 Purpose of the Regulatory Body
The primary purpose of the Code is to regulate the content of advertisements, rather than impeding the sale of products that might be deemed offensive by certain individuals. As long as the advertisements for such products themselves are not offensive, there typically won't be any grounds for objection based on this Code.
The responsibility for adhering to this Code for Self-Regulation in Advertising rests with everyone involved in commissioning, creating, placing, or publishing advertisements, as well as those assisting in their creation or publication. All advertisers, advertising agencies, and media entities are expected to refrain from commissioning, creating, placing, or publishing any advertisement that violates this Code. This Code establishes a self-imposed discipline that applies to all individuals involved in the process of commissioning, creating, placing, or publishing advertisements.
Standards of Conduct with Examples
Truthful & Honest Representation
To ensure truthfulness and honesty of representations and claims made by advertisements, and to safeguard against misleading advertisements, ASCI ensures that every brand must conform to the claims made by them in an advertisement, be it the description, usage or benefits of the product or service.
Brands that violated the guideline:
Anti-corona Mattress:
The pandemic was a life changer for all of us, and we are not just talking about the lockdown, social distancing, or frequent hand washing. Our conversations back then centered around Corona, and the advertising industry was no exception.
As a result of the circumstances surrounding the Covid-19 pandemic, advertisers were attempting to establish a direct or indirect connection between their products and the virus in order to make them relevant and attract attention. Some advertisers were also utilizing their advertisements for social messaging purposes. However, there were instances where advertisements were openly promoting products through false or misleading claims related to Covid-19.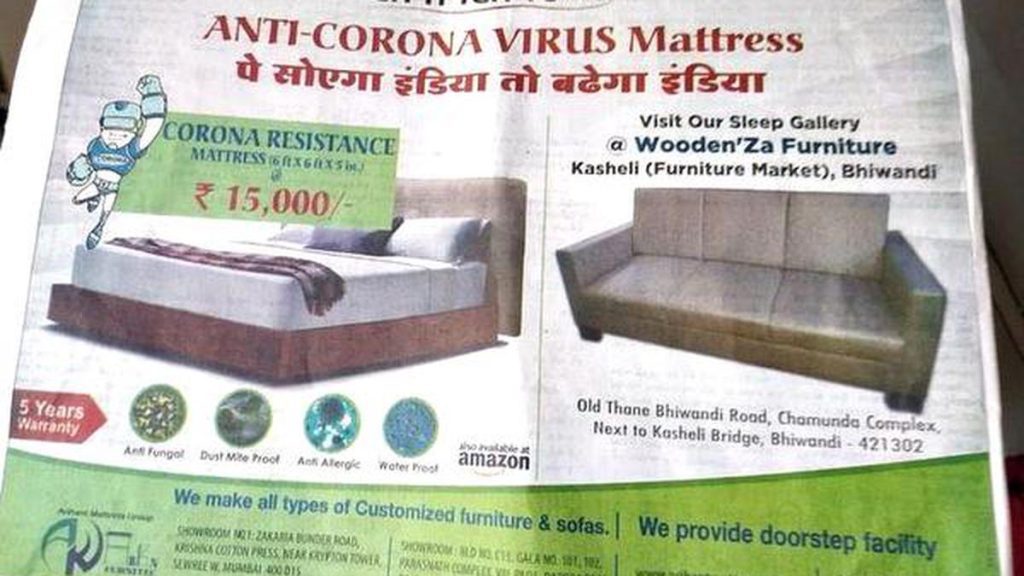 One particular claim that gained significant attention was the advertisement by Arihant mattress in a Gujarati newspaper, which went viral on social media. The advertisement asserted that the mattress was "corona-resistant" and "anti-corona virus." Consequently, the mattress manufacturer faced legal action under various laws, including the Disaster Management Act and the Drugs and Magic Remedies (Objectionable Advertisements) Act, initiated by the Maharashtra Food and Drug Administration.
Hamdard Safi:
The advertisement by Hamdard Laboratories (India) for their product, Hamdard Safi, included a claim stating that it provides the necessary support for the liver, thyroid, and other organs. After considering expert opinions, it was determined that the specific claims made in the advertisement regarding the product's effectiveness in improving liver and thyroid functioning were not adequately supported by clinical data. As a result, it was concluded that this particular aspect of the advertisement was misleading.
Misinformation provided for any healthcare product can be contravened under provisions of the Drugs and Magic Remedies Act (DMR Act), Drugs and Cosmetics Rules (D&C Rules) and Chapter 1.1 and 3.4 of the AISC Code, while some contravened the provisions of Drugs and Magic Remedies Act.
Non-offensive to Public
To ensure that advertisements are not offensive to generally accepted standards of public decency.
Advertisements should contain nothing indecent, vulgar, especially in the depiction of women, or nothing repulsive which is likely, in the light of generally prevailing standards of decency and propriety, to cause grave and widespread offence.
Brands that violated the guideline:
Layer Shot:
The ASCI had suspended the controversial advertisements of the body spray brand Layer'r Shot. ASCI stated that these advertisements were potentially in serious violation of its code against offensive advertising. Upon reviewing the ad campaign, ASCI invoked a special process called "Suspended Pending Investigation" (SPI) and requested the advertiser to provide a response regarding the matter.
The advertisement in question was potentially in violation of ASCI's chapter II, which specifies that advertisements should not contain anything indecent, vulgar, particularly in the portrayal of women, or anything repulsive that may cause significant and widespread offense considering prevailing standards of decency and propriety.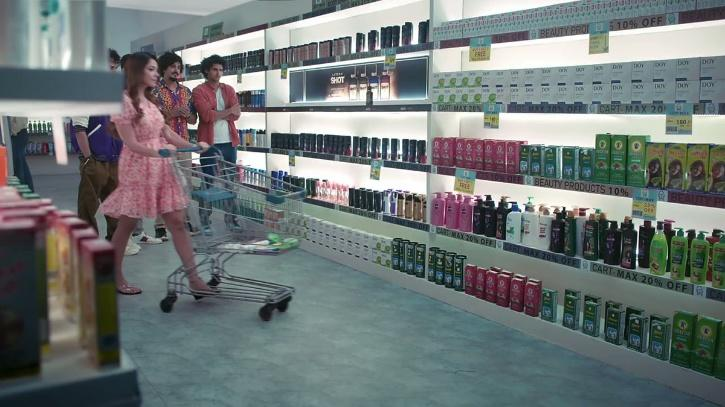 The ad was taken down immediately, in most cases ASCI gives the brands a chance to provide their arguments as well. However, in exceptional cases, when it appears prima facie when an ad is in serious breach of ASCI codes and the continuation of the ad might be of public harm, then ASCI would instruct the brand/advertising agency/advertiser/media buying agency to suspend the ad immediately.
However, the phrase 'offensive to public' is also very subjective so ASCI makes sure it carefully looks into the complaint and creative of the ad and make a judgement. A classic example of this can be the current situation where every big advertisement goes under massive social media trials. From Unacademy to Nykaa, advertisements from various brands have resulted in a surge of strong reactions from internet users who have delicate religious and cultural sensitivities.
The public outcry is often significant to the point that brands are compelled to withdraw their ads and issue apologies for their innovative and distinctive concepts intended to capture attention and promote specific products.
For cases like these, the Secretary General of ASCI, Manisha Kapoor said, "The ASCI code says that advertisements should not contain anything indecent or repulsive which is likely to cause grave and widespread offense, given generally prevailing standards of public decency and propriety."
However, she clarifies, "It is important to note that as per case laws, the viewpoint of an ordinary citizen is considered, and not that of an out of the ordinary or hypersensitive person." (Source: E4M)
Against Harmful Products
To safeguard against the indiscriminate use of advertising in situations or of the promotion of products which are regarded as hazardous or harmful to society or to individuals, particularly children, to a degree, or of a type which is unacceptable to society at large.
This code of conduct ensures that no advertisement should incite crime, deride any individual, or feature any act that is harmful to the public, especially children. It is under this guideline that the advertisement of alcohol and tobacco is prohibited, and that's how the concept of 'surrogate advertisements' comes into the picture.
Any product that has a health warning stating '……..is injurious to health' on their packaging must not feature personalities from the field of sports or entertainment.
Let's dig a little deeper into this guideline;
The Cigarettes and Other Tobacco Products (Prohibition of Advertisement and Regulation of Trade and Commerce, Production, Supply and Distribution) Act, 2003 (COTPA):
The primary legislation governing tobacco control in India is the Cigarettes and Other Tobacco Products (Prohibition of Advertisement and Regulation of Trade and Commerce, Production, Supply and Distribution) Act, 2003 (COTPA). This act serves as a comprehensive law that regulates various aspects related to the advertising, trade, commerce, production, supply, and distribution of cigarettes and other tobacco products in the country.
While advertising tobacco products are banned, health activists and officials are of the opinion that advertisements of pan masala or other mouth fresheners are surrogate ads for tobacco products. Earlier the Delhi state government issued letters to several actors not to endorse mouth fresheners. However, it's not too long back that three popular actors faced massive backlash for endorsing a pan masala brand. Later, the actors pulled out of the endorsement and posted a public apology on social media as well.
Whether Bollywood stars agree to stop their endorsements or not is a debate, but pan masala promotions aren't going away anytime soon.
Alcohol Advertising Laws:
Since 1995, the advertising of liquor has been prohibited in the country. However, companies often employ brand names on unrelated products as a means to enhance brand recall. Officials familiar with the matter have stated that the consumer affairs ministry has sent notices to several liquor brands for failing to comply with regulations that ban surrogate advertising. These brands have been found advertising themselves through music CDs, packaged water, and non-alcoholic beverages, according to the officials.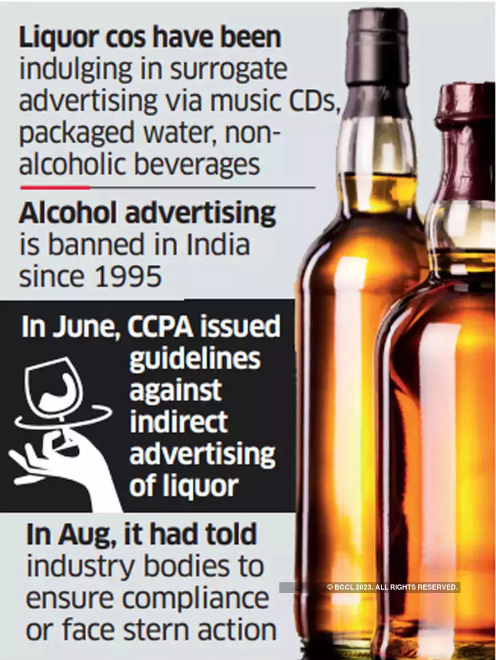 In June 2022, the Central Consumer Protection Authority (CCPA), which is responsible for safeguarding consumer rights, issued guidelines specifically addressing surrogate or indirect advertising.
Fair in Competition (HUL)
To ensure that advertisements observe fairness in competition such that the consumer's need to be informed on choice in the marketplace and the canons of generally accepted competitive behavior in business are both served.
Under the guideline fair in competition advertisements shall not make unjustifiable use of the name or initials of any other firm, company or institution, nor take unfair advantage of the goodwill attached to the trademark or symbol of another firm, its product or the goodwill acquired by its advertising campaign.
Brands that violated the guideline:
Reckitt Benckiser vs HUL:
Reckitt Benckiser introduced Dettol handwash and subsequently aired a TV advertisement that compared the cleaning product to Hindustan Unilever Limited's (HUL) Lifebuoy soap.
During the pandemic, India witnessed its first reported IP dispute related to the pandemic. Here, Hindustan Unilever (HUL) took Reckitt Benckiser (RB) to court over a DETTOL hand wash advertisement allegedly mocking the effectiveness of HUL's LIFEBUOY soap.
Reckitt Benckiser India Limited, the defendant in this case, aired an advertisement for DETTOL liquid hand wash that denigrated Hindustan Unilever Limited's Lifebuoy soap. The advertisement used a similar trade name, trade dress, and associated product of the plaintiff. It also claimed that washing hands with DETTOL liquid hand wash was more effective in protecting oneself compared to using a solid soap like the plaintiff's product.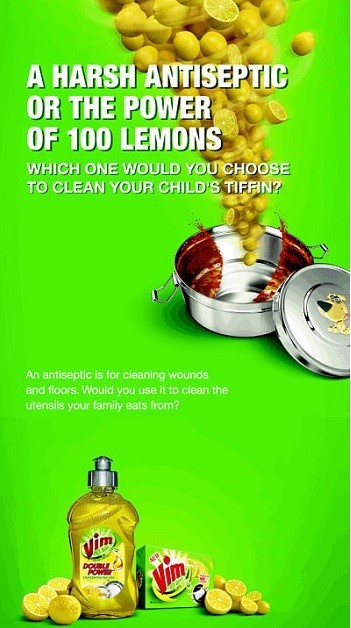 HUL issued a complaint that read, "Nations across the world are communicating just the opposite and asking people to wash their hands with soaps and water whereas the Defendant is creating fear amongst the general public by falsely propagating that soaps are useless by maligning the market leader in the soaps category. When the need of the hour is for everyone to come together and work towards common good, the Defendant's action is irresponsible and against public morality." (Source: Lexology)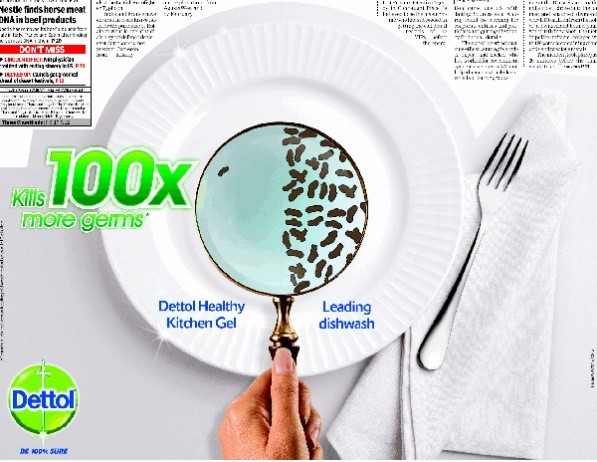 In such cases, the Trade Marks Act can be utilized to protect the intellectual property rights of the affected party. In certain cases, a party may defend disparagement claims by invoking the fundamental right to freedom of speech or Section 30 of the Trade Marks Act. The latter provision permits such advertisements as long as honest practices are followed, and the rival product is not portrayed negatively.
Disclaimer Guidelines
Guidelines for Advertisement Depicting Automotive Vehicles
Preamble:
Advertisements have a significant influence on people's behaviour. As such, advertisers are encouraged to depict advertisements in a manner which promotes safe practices, e.g., wearing of helmets and fastening of seat belts, not using mobiles/cell phones when driving, etc.
Guidelines Specifically, advertisements should not:
a) Portray violation of traffic rules.
b) Show speed maneuverability in a manner which encourages unsafe or reckless driving, which could harm the driver, passengers and/or the general public.
c) Show stunts or actions, which require professional driving skills, in normal traffic conditions, which in any case should carry a readable cautionary message drawing viewer attention to the depiction of stunts.
Brands that violated the guideline:
Bajaj Pulsar:
Bajaj Pulsar and Bridgestone Ecopia Tyres TVC have been upheld as misleading advertisements in November 2017. The Advertising Standards Council of India (ASCI) has deemed an advertisement for Bajaj Auto's popular motorcycle, Pulsar, as misleading for two reasons.
ASCI noted that the advertisement showcases the rider performing stunts in regular streets, markets, and traffic conditions, including wheelies being performed among a group of people dancing. This contradicts the disclaimer in the advertisement, which states that the stunts were performed under controlled and isolated environments.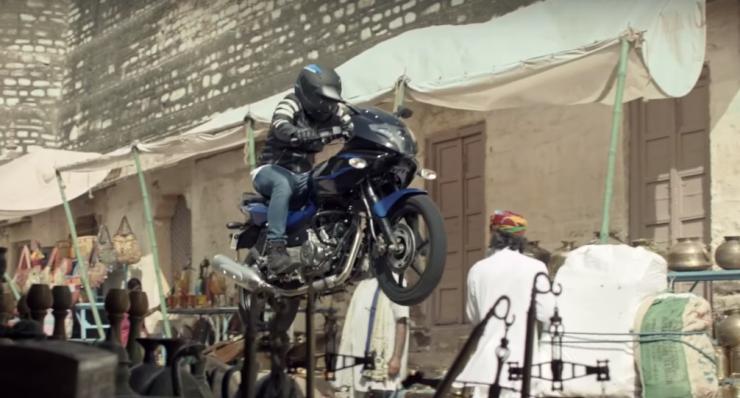 The advertisement was found to be in violation of the ASCI Codes for two reasons. Firstly, despite the disclaimer, the visuals in the advertisement depicting the rider performing stunts in regular traffic and in the presence of bystanders and the public were deemed to promote dangerous practices, demonstrate a lack of concern for safety, and encourage negligence. Secondly, the absence of a disclaimer for the stunts shown in the advertisement was considered misleading as it depicted and encouraged a hazardous practice that contradicted the ASCI Codes and Guidelines for Advertisements for Automotive Vehicles.
Qualification of Brand Extension Product or Service
In order to evaluate the genuineness of an unrestricted product, or service brand extension of a product (e.g., liquor and tobacco) whose advertising is prohibited by law, The Advertising Standards Council of India (ASCI) has decided the following objective criteria to be used to qualify a correct brand extension product or service.
Brand extension product/service should be registered with appropriate government authority for example, GST/FSSAI/TM/FDA, etc.
However in cases of brand extensions there are a few things that need to be considered:
A. Brands present in the market for more than 2 years.
Sales turnover of more than Rs. 5 Cr per annum nationally and more than Rs.1 Cr per annum per state.
Valid certificate from an independent organization like NielsenIQ or an independent and reputed CA firm.
B. Brands that are launched recently in the market and have not completed 2 years.
Sales turnover of Rs 20 Lakhs per month from the date of launch.
Demonstrate fixed assets investments which are exclusive to the advertised brand extension of not less than Rs. 10 Cr. The fixed assets could be land, machines, factory, software, etc.
Give evidence of turnover greater than 10% of the turnover of the same brand in the restricted category.
If a brand extension cannot meet the qualification criteria, for the purpose of the ASCI code it would not be considered a genuine brand extension, but rather a surrogate created to advertise a restricted category.
Guidelines on Advertising of Food & Beverages
Preamble
Communication and advertisements related to F&B can have a significant impact on the lives of the public in general, and their physical and material well-being in particular. It is therefore imperative that F&B advertisements fulfill their intended roles, and advertisers adopt strict principles of self-regulation, and not mislead the general public in any manner detrimental to well-being.
Guidelines:
Ads should not be misleading or deceptive. They must not mislead people to believe that consumption of the product might lead to personal changes.
Every claim made in the ad should be substantiated and supported with adequate scientific evidence.
Ads that include consumers reacting to health and nutritional claims shall be supported by evidence and meet the requirements of Food Safety Standards Act & Rules.
Ads must not disparage good dietary practices under any circumstances
The advertisement should in no way promote excessive consumption of the product.
The ads should not undermine the importance of a healthy lifestyle.
Brands that violated the guideline:
Britannia Milk Bikis:
Recently, ASCI asked FMCG brand Britannia to withdraw its 'Doodh Roti ki Shakti' for Milk Bikis endorsed by Amitabh Bachchan. The advertisement asked mothers to give a packet of Milk Bikis instead as they have the power of milk and wheat flour.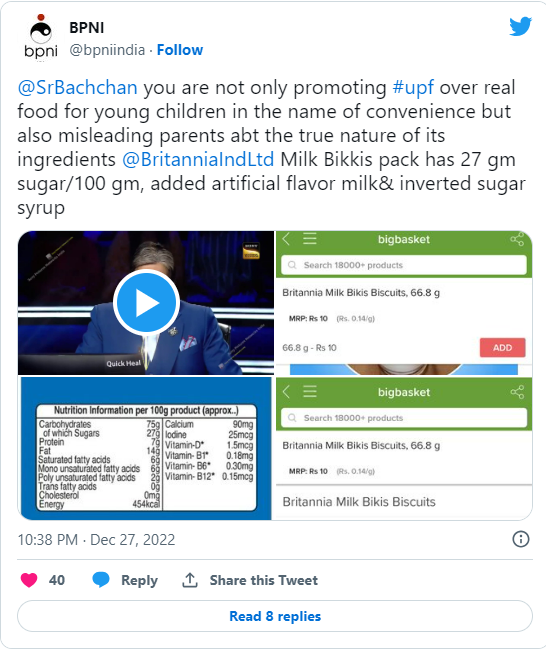 The Nutrition Advocacy in Public Interest-India (NAPi), a national think-tank consisting of independent medical experts, pediatricians, and nutritionists, has raised concerns and written to Amitabh Bachchan regarding his endorsement of processed food. Bachchan is not the only celebrity involved in promoting processed and junk food products specifically targeted at children, as several other celebrities have also been enlisted by top companies for such endorsements.
In order to combat childhood obesity, the international agency proposes restrictions on all advertisements for food products that contain high levels of saturated and trans fats, free sugars, and salt. The main categories of food products that are heavily advertised include soft drinks, sweetened breakfast cereals, biscuits, confectionery, snack foods, ready meals, and fast food outlets.
The Bournvita Controversy:
A social media storm arose when Instagram influencer Revant Himatsingka had to take down his video criticising Bournvita.
In a now-deleted video posted on April 1, Revant Himatsingka criticized Bournvita for marketing their product as a "health" drink. He argued that the tagline of Bournvita, "taiyari jeet ki" (preparation for victory), should be changed to "taiyari diabetes ki" (preparation for diabetes). Himatsingka further claimed that Cadbury, the parent company of Bournvita, is primarily a chocolate company rather than a health company.
He expressed concern about one specific ingredient in Bournvita, labeled as 'Colour (150C),' which he alleged could potentially cause cancer and weaken the immune system. Additionally, he highlighted that Bournvita's ingredient label lists 50 grams of sugar per 100 grams of the product.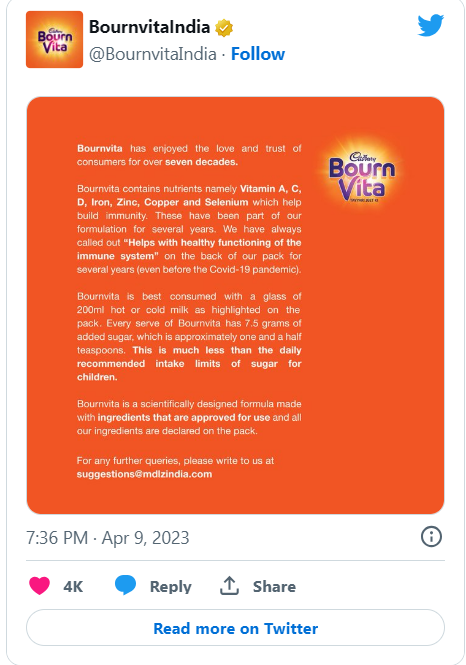 However, the company stated that Bournvita 'Helps with the healthy functioning of the immune system' on the back of our pack for several years (even before the Covid-19 pandemic)," Years ago ASCI too claimed, "Bournvita is fortified with Vitamin D and phosphorus, both required for maintaining bone health. Bournvita is also fortified with iron and other micronutrients iodine, and B9 and B12 vitamins that are directly responsible for blood circulation and brain function. Due to the presence of these ingredients, Bournvita could make a supportive claim that it has ingredients that help build muscle, bones and active brain." (Source: News18)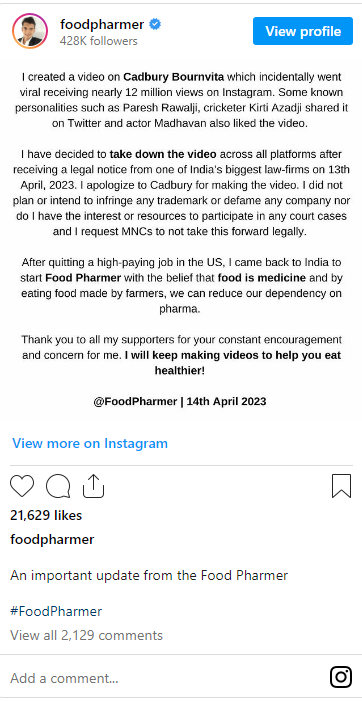 Although there have been multiple discussions regarding the implementation of a health star rating system, the Food Safety and Standards Authority of India (FSSAI) has not yet introduced such a system to alert consumers about the potential risks of consuming excessive calories through non-medically necessary nutritional supplements.
Guidelines for Advertising of Educational Institutions.
Preamble:
The advertising of these products and services can have an impact on the minds of growing children and vulnerable parents. Therefore, in addition to being truthful and honest, and complying with Chapter I of the ASCI code that requires ads to be honest, ads must also consider any harm that can be caused through the depictions or messages.
Chapter III of the ASCI Code requires advertisements addressed to children to not contain anything, whether in illustration or otherwise, which might result in their physical, mental or moral harm, or which exploits their vulnerability
Guidelines:
Every claim of affiliation, registration, endorsements, etc must be substantiated with adequate evidence.
The name of the affiliated institution shall not be less than 50% in any advertisement, be it hoardings, TV, internet, etc. Audio ads on radio must include the name of the affiliated institution.
The ads should not guarantee high marks, jobs, admissions, salary increase, etc.
No numerical value should be claimed in the ad. For example, 100% jobs, placements, etc.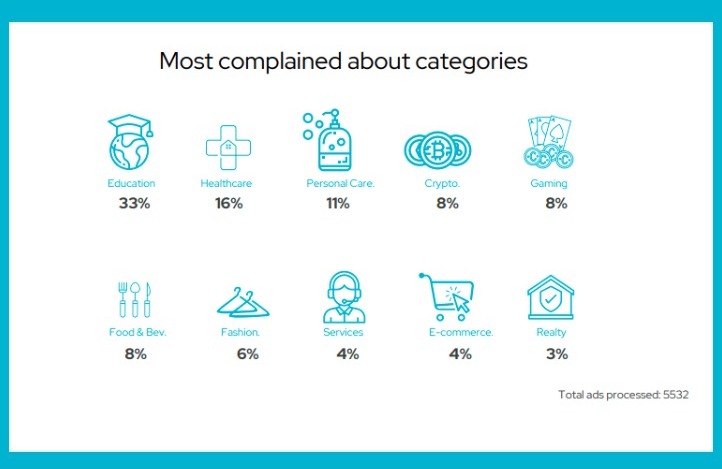 Brands that violated the guideline:
Education companies made up 33% of complaints made by consumers. 83% of parents said the claims and promises made in the ads made them feel as if their child would miss out on big achievements if they do not enroll. (Source: ASCI Report 2023)
BYJUs White Hat Jr.:
WhiteHat Jr is an edtech platform that targets kids in the age of 6-14 and teaches them coding. During IPL 2020, White Hat Jr went on an ad spree and netizens were of the opinion that these ads were promoting unhealthy competition and selling fear.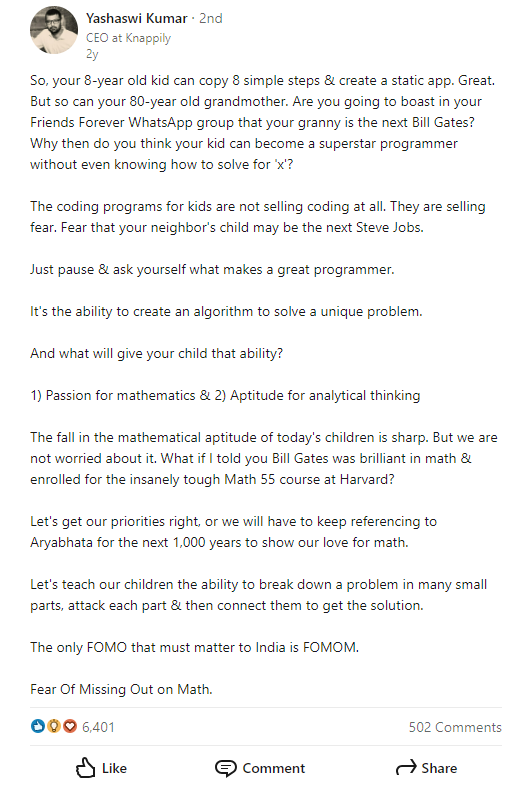 ASCI went on to issue 15 complaints on 7 of their ads and 5 of these ads were potentially in violation of guidelines. One ad showed a 7-year-old girl as a TEDx speaker and app developer and several other ads were scrutinised as the ads did not sit well with the consumers.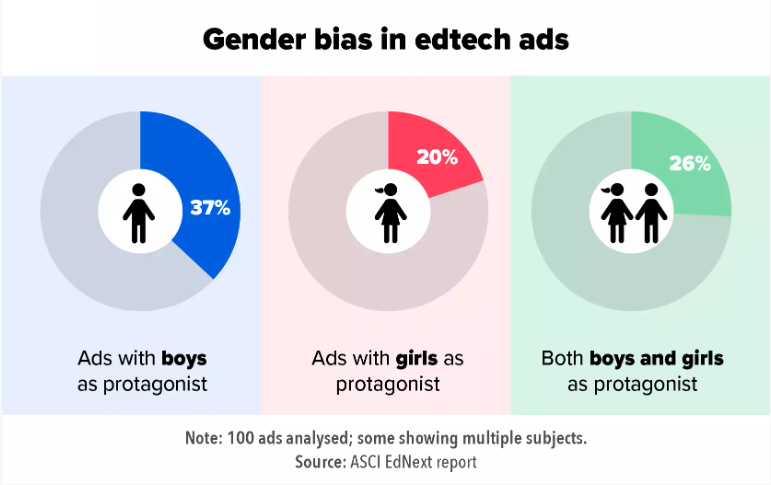 ASCI Guidelines on EdTech Ads:
Ads must not show school students compromising on sleep/meals to study as it can promote an unhealthy lifestyle for children.
While ads may show disappointment with low scores, it should not portray average/poor scorers as unsuccessful or failure.
Ads must not create a false sense of urgency or fear of missing out on opportunities if they do not enroll themselves.
Ads must not suggest that certain subjects are associated with a particular gender alone.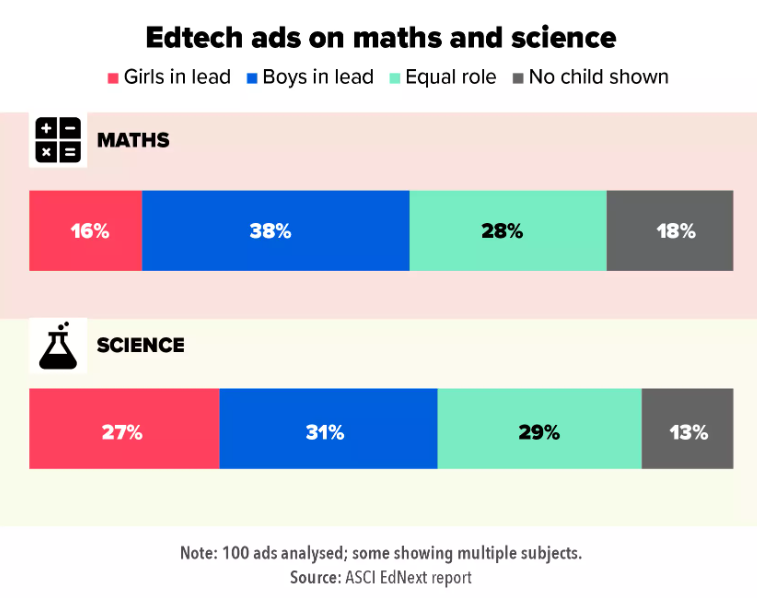 Guidelines for Disclaimers Made in Supporting, Limiting or Explaining Claims Made in Ads
In the Code of Conducts 'Against Misleading ads' ASCI code states that "Advertisements shall neither distort facts nor mislead the consumer by means of implications or omissions." Therefore it is important that certain claims be appropriately explained to ensure that consumers with average intelligence are not misled, nor deceived by means of implications or omissions.
These guidelines are meant to help Advertisers, Agencies and the Media to better understand the rules in the ASCI Code for Self-Regulation in Advertising in so far as they relate to disclaimers used in Advertising.
According to the draft guidelines issued by the Ministry of Consumer Affairs, advertisements that utilize small fonts for disclaimers will be categorized as "misleading." The guidelines further state that the font size of the disclaimer should match the size of the claim made in the advertisement.
Likewise, if the disclaimer is presented through a voice-over (VO), the guidelines emphasize that the claim made by the advertiser should align with the voice-over in the advertisement.
The ministry has also outlined detailed rules for ads targeted at children, which includes prohibiting content that "take advantage of children's inexperience, credulity or sense of loyalty, or exaggerate the features of a good or service in a way that could lead to children having unrealistic expectations of such good or service."
Guidelines for Advertising of Skin Lightening or Fairness Improvement Products
Preamble:
While all fairness products are licensed for manufacture and sale by relevant state Food & Drug Administrations (FDA) under the Drugs & Cosmetics Act, there is a strong concern in certain sections of society that advertising of fairness products tends to communicate and perpetuate the notion that dark skin is inferior and undesirable.
ASCI already states that advertisements should not deride race, caste, colour, creed or nationality. Yet, given how widespread the advertising for fairness and skin lightening products is, and the concerns of different stakeholders in society, ASCI, therefore, felt a need to frame specific guidelines for this product category.
Brands that violated the guideline:
Emami vs HUL:
In 2017, ASCI had dismissed all complaints by HUL against Emami for two of their face wash brands. Fair & Handsome Instant Fairness and Fair & Handsome 100% Oil Clear came under the radar when HUL filed complaints against the ads for being misleading.
Rigorous clinical study reports, consumer evidence and research studies were presented to prove how the face wash delivers accurate results. The findings in the clinical study as well as the consumer study were in support of Emami. HUL raised 7 objections on their Instant Fairness Face Wash product and 8 objections on their 100% Oil Clear product. However, ASCI dismissed all their complaints.
Guidelines for Celebrities in Advertising
Preamble:
Celebrities have a strong following and hence high credibility among consumers. Therefore, advertisements featuring celebrities need to doubly ensure that claims made in it are not misleading, false or unsubstantiated; so as not to harm the interests of the consumers, especially for products or services which can cause serious financial loss and physical harm. These guidelines are developed so that the advertiser is guided to produce and release appropriate advertisements featuring celebrities in it.
A massive 803 percent jump was witnessed in complaints against celebrities in FY23 to 503 ads, as against 55 in the year-ago period. In terms of sectors, gaming, classical education, healthcare and personal care were found to be the top violative categories, accounting for over half of the problematic content, the ASCI report said.
Cricketer M S Dhoni tops the list of celebrities who have failed to do necessary due diligence as he featured in ten counts of non-compliance, the body said, adding that he was followed by actor-comedian Bhuvan Bam who had seven counts of non-compliance.
Brands that violated the guideline:
L'Oreal India P. Ltd. (Garnier Micellar Cleansing Water):
The advertisement with celebrity Alia Bhat claimed, "Makeup off in just one swipe," which was not substantiated. The claim is misleading by exaggeration, and is likely to lead to grave or widespread disappointment in the minds of consumers. The advertiser did not provide any testimonials, or any evidence of the consent of the celebrity for the product efficacy claims.
Lenskart.com (Lenskart Blu Smartphone Lenses):
The advertisement's claim, "Aankhe toh thakengi hi …kyunki digital screens Mein hoti hain harmful blue light… Jo na ruke ordinary lenses se…Na anti-glare se… Ruke to sirf lenskart blue lenses se…" was not substantiated with reliable evidence that digital screens emit blue light and its exposure is harmful to users.
The advertiser did not submit any comparative data to prove the effectiveness of the Lenskart Blue Lens in obstructing the harmful blue light of the digital screen, compared to regular lenses and antiglare lenses. Also, the visual of Katrina Kaif urging customers to visit the Lenskart store for a Lenskart Blue demo when seen in conjunction with the claims is likely to mislead consumers regarding the product efficacy.
Guidelines for Usage of Awards or Rankings in Advertising
Preamble:
Awards and rankings are increasingly being used by advertisers to make superiority claims for their products and services in advertising.
Consumers, owing to a lack of knowledge, may be led into believing that an award or ranking which is given to a brand, product, institute or service makes it superior and/or more authentic.
Therefore, the awards and rankings used in advertising should be sourced from credible, recognised, independent bodies, which employ ethical processes, rigour and appropriate research, so that superiority claims made by advertisers are substantiated and do not mislead consumers.
Guidelines for Real Money or Online Games
Preamble:
Online gaming, where consumers are required to put up money for a possibility of cash or equivalent winnings, has become immensely popular. Such games are called "ONLINE GAMING FOR REAL MONEY WINNINGS". Vast amounts of resources are being spent to establish new brands and new formats in this category.
For advertisements of 'Online Gaming for Real Money Winnings' the following specific guidelines have been developed to guide advertisers so that their advertisements do not violate the ASCI code pertaining to misleading advertisements, or of being harmful to society or individuals.
Real money gaming has been considered the most violative sector, that is 92% of ads did not adhere to rules.
The ads should not show less than 18 years engaging in the game.
Audio/video: "This game involves an element of financial risk and may be addictive. Please play responsibly and at your own risk."
The audio disclaimer should be in normal speaking pace, so that it is understandable to the consumers.
The disclaimer should occupy 20% of the space in the advertisement be it TV, print, digital, etc.
Ban on Online Betting Apps:
The Ministry of Information & Broadcasting (I&B) along with ASCI has released an advisory urging TV channels, newspapers, and digital media outlets to avoid publishing advertisements related to online betting platforms.
The advisory specifically advises online platforms, including advertisement intermediaries and publishers, to refrain from displaying such advertisements within India or targeting the Indian audience.
The ministry stated that betting and gambling are prohibited in many regions of the country, and there are concerns that advertisements for online betting encourage an activity that is mostly forbidden. Such advertisements are deemed to pose significant financial and socio-economic risks to consumers, particularly to youth and children.
The Madras High Court in 2020 castigated Sourav Ganguly and Virat Kohli for endorsing fantasy platforms. In fact, during the IPL season in 2020 gaming giants like MPL, Dream11, WinZo who spent big on advertising refrained from telling consumers about the hazards of real money gaming.
Brands that violated the guideline:
Dream11 & MPL:
Earlier in 2021, advertisements by Dream11 and My11Circles telecasted on television appeared to be not in line with the ASCI requirements.
The guidelines required all advertisements to carry a disclaimer regarding the risk of financial loss and the addictive nature of such games in print and audio/visual formats: "This game involves an element of financial risk and may be addictive. Please play responsibly and at your own risk."
The companies did modify the mandatory warning message (in Hindi version) to convey the message that these games can result in the formation of "habit" while the ASCI mandates to state the games are "addictive".
One must note that the ad copies were using the word "आदत" (aadat) while the word "लत " (lat) must have been used. आदत means habitual while लत means addictive. The message that needs to be communicated seems to have been subtly altered in favor of gaming companies by simply replacing certain words.
Guidelines for Influencer Advertising
Preamble:
With lines between content and advertisements becoming blurry, it is critical that consumers must be able to distinguish when something is being promoted with an intention to influence their opinion or behaviour for an immediate or eventual commercial gain. Consumers may view such messages without realising the commercial intent of these, and that becomes inherently misleading.
As per ASCI, 1 in 4 ads processed in FY23 has violations by influencers, especially in the Personal Care category followed by F&B and Fashion. A massive 803 percent jump was witnessed in complaints against celebrities in FY23 to 503 ads, as against 55 in the year-ago period.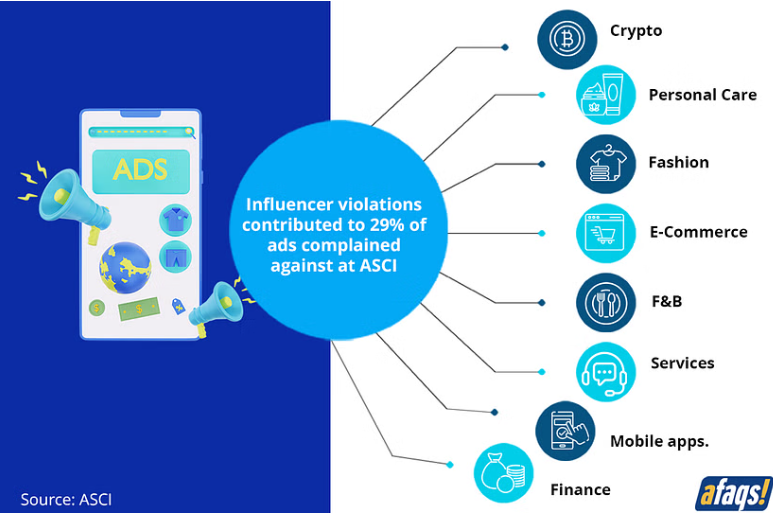 Influencer Guidelines on Crypto:
Since the Advertising Standards Council of India (ASCI) established advertising guidelines for social media influencers, there have been over 2,700 reported violations. Instagram and YouTube were the platforms where these violations were frequently observed.
Between January 2022 and May 2022, data released by ASCI indicates that more than 92% of the violations related to crypto-related advertisements in India were attributed to influencers rather than celebrities.
Most influencers promoting crypto brands refrained from providing accurate disclaimers to the consumers. Investing in crypto includes risk, but the basic disclaimer lacked in the promotional content created by influencers. Since influencers have a huge youth fanbase, ASCI found it important to regulate the crypto ads by influencers.
The regulating body then introduced guidelines where influencers must mention cautionary disclaimers before the promotion of the product.
ASCI released new guidelines as well that stated:
All materials and perks such as gifts, equity, discounts, hotel accommodation & awards when endorsing any product, service and scheme must be disclosed during the promotion.
Disclosures made in the ad must be clear and simple, and must be in normal talking pace.
Advertising of Virtual Digital Assets & Linked Services
Preamble:
This guideline mostly includes "crypto products" or Non-Fungible Tokens (NFTs). Such products are a relatively new and an evolving form of investments. There is a need to protect consumer/investor interests, as users may not be aware of risks arising from this form of trading and investment.
The market for VDAs is not regulated and can be very volatile, since it is usually not backed by any tangible assets.
Guidelines:
All ads for VDA products and VDA exchanges, or featuring VDAs, must carry the following disclaimer. "Crypto products and NFTs are unregulated and can be highly risky. There may be no regulatory recourse for any loss from such transactions."
Celebrities banned from advertising crypto:
SEBI has proposed that celebrities and public figures should be banned from endorsing crypto currencies, media networks have reported.
The regulator has said that the public personalities could be held accountable if the crypto ads are found to be violating regulations.
From actors Ranveer Singh and Ayushmann Khurrana to cricketer Dinesh Kartik, crypto platforms have been roping in India's top celebrities to advertise crypto trading in the country with a population of more than 1.3 billion.
The SEBI also suggests rewording of disclaimer provided by ASCI by adding "dealings in crypto products may lead to prosecution for possible violation of Indian laws such as FEMA, BUDS Act, PMLA, etc," after stating the risk and mentioning that no legal recourse is available for fraud.
Guidelines for Harmful Gender Stereotypes
Preamble:
The guidelines on harmful stereotyping follow the release of ASCI's study GenderNext, conducted along with Futurebrands in October 2021. The study examined the depiction of women in advertising and identified several stereotypes and tropes.
While the report encourages advertisers and creators to demonstrate more progressive roles based on the insights revealed, it also identified some stereotypical depictions that could negatively reinforce how people think they should look and behave, and how others think they should look and behave, based on their gender.
The ASCI guidelines prevent any kind of stereotyping or misrepresentation of a gender in ads, however, the guidelines do not intend to prevent ads from featuring:
a. glamorous, attractive, successful, aspirational or healthy people or lifestyles;
b. one gender only, including in advertisements for products developed for and aimed at a particular gender;
c. gender stereotypes as a means to challenge their harmful effects.
Brands that violated the guideline:
Layer Shot:
The commercials triggered an outrage and was slammed by Bollywood celebrities such as Hrithik Roshan, Priyanka Chopra and Farhan Akhtar for being 'tasteless' and 'disgusting'.
The Information & Broadcasting (I&B) ministry asked Twitter and YouTube to remove the Layer'r Shot commercials from its social media platforms, as it triggered outrage for "promoting sexual violence against women".
I&B ministry had said that the videos were "detrimental to the portrayal of women in the interest of decency and morality" and in violation of the Information Technology (Intermediary Guidelines and Digital Media Ethics Code).
Guidelines for Online Deceptive Design Patterns in Advertising
The Advertising Standards Council of India (ASCI) has established guidelines for Online Deceptive Design Patterns in Advertising. These guidelines aim to address deceptive practices used in online advertising that may mislead or confuse consumers. Some key aspects of these guidelines include:
Transparency: Advertisements should be clearly distinguishable from other content on the webpage or platform to avoid misleading consumers.
Labeling: Any labeling or disclosure required by law or industry standards should be prominently displayed and easily noticeable to consumers.
Misleading Visual Elements: Advertisements should not use design elements that imitate non-advertising content, such as system or error messages, to deceive or confuse consumers.
Call-to-Action Buttons: Buttons or links should use clear and accurate labels to provide transparent information about the action they perform.
Data Collection and Consent: Advertisements should not manipulate or deceive consumers into sharing their personal information or giving consent for data collection.
User Interface Manipulation: Advertisements should not employ manipulative techniques that make it difficult for users to close, skip, or exit the ad.
ASCI on 'Greenwashing' claims
ASCI is set to ensure companies provide proof of their 'green' claims.
False pro-environment claims made by brands across sectors like fast fashion, air-conditioners, cars, foods, cosmetics, etc.
Words such as 'eco-friendly, energy efficient. Biodegradable, organic, net-zero plastic, green' not used without verification proof.
'Greenwashing' is classified as an unfair trade practice by the Consumer Protection Act, 2019.
Green labels given to products that meet energy efficiency, water conservation, and sustainable raw materials sourcing norms.
Eg.: Sanitary napkins claim to be biodegradable, however at an overall level they aren't biodegradable. Some elements of it might be biodegradable, hence, the claim is misleading.
In Conclusion
The goal of ASCI (Advertising Standards Council of India) is to uphold and enhance public confidence in advertising. Their role involves guaranteeing the accuracy, legality, and honesty of advertising content, promoting respectful portrayals of women without objectification, ensuring the safety of customers, particularly children, and maintaining fairness towards competitors.
However, the guidelines have a few loopholes as well which makes it difficult for advertisers as well as the regulation body to ensure the codes. For instance, in the case of influencers, although there is a process in place to register complaints for non-compliance, there is currently no mechanism to enforce adherence to the recommendations. As a result, industry participants are uncertain about the actions the advertising council can take when brands and influencers disregard the guidelines.
Industry leaders are of the opinion that an honest brand would adhere to the guidelines as they know that it is in their best interest. In a growing litigious economy, Indian advertisers need to ensure that their marketing campaigns are not negatively impacted by consumer backlash. Adhering to industry best practices that fulfill both legal requirements and nuanced social and contextual expectations will help prevent, and in the worst-case scenario, protect against regulatory action and negative publicity.
| | |
| --- | --- |
| Was this article helpful? | |