Restaurant Advertising In Non-Traditional Media
From pole kiosks to hot air balloons, you have media options for all kinds of budgets in non-traditional advertising. You have many cost-effective options in non-traditional media like auto branding, street furniture branding, wall paintings and graffiti, guerilla marketing of various kinds, pole kiosks, bus shelters, train shelters, and more. Street furniture of different kinds tends to be the least costly option while fancy full body covers on buses and trains are pretty costly.
Some of the most popular non-traditional marketing / branding options include :
Newspaper and magazine inserts, mobile van branding, metro station branding, local train branding, bus branding, auto branding ,e-rickshaw branding, IT park branding, cab branding, no parking boards, apartment branding, and mall branding among others.
Best Way To Advertise Your Restaurant In Non- traditional Media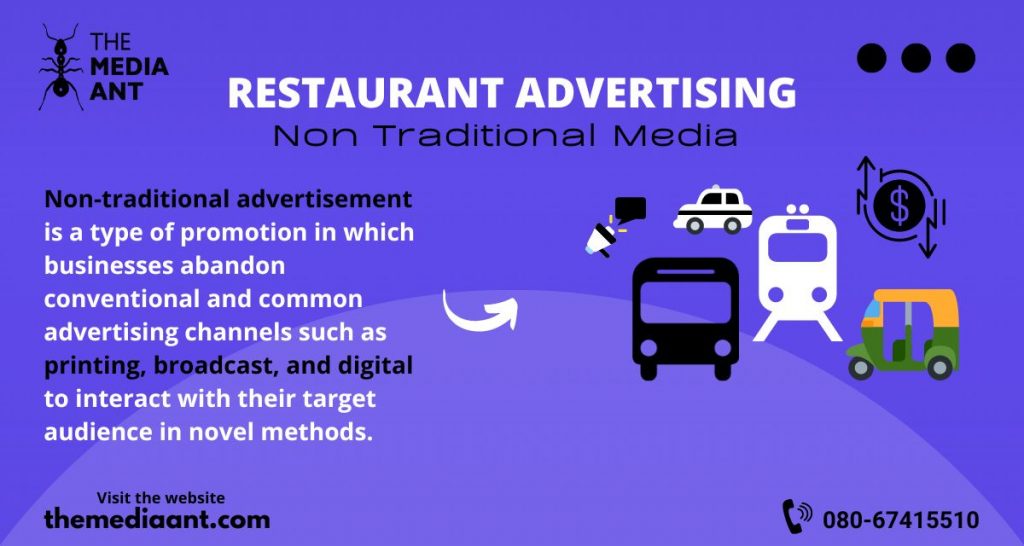 The best way to advertise for your restaurant in non-traditional media depends on factors like what kind of restaurant you own and your specific requirements and preferences.
There is no single best way to advertise your restaurant in non-traditional media as such, however there are ways that are far more effective than others. Certain methods are more cost-effective than others (like street furniture), while certain others help you get better quality impressions (like magazine and newspaper insertions).
However, arguably the best way to advertise your restaurant in non-traditional media is through mainstream options like transit branding and newspaper and magazine insertions.
The public transit running within the vicinity of your restaurant can help you make your target marketing more precise while the insertions make your ad stand out at low costs.
To figure out what would be the best way to advertise for your restaurant, you need to have all available ad options in view and then compare them on the basis of your requirements and preferences.
Visit The Media Ant to learn about all the different media options available in detail along with their rates, so that you can make a more educated decision as to what would be the best way to advertise your restaurant in non-traditional media.
Types Of Non Traditional Media Options For Restaurant Ads
The various types of non traditional media options for restaurant ads include:
1.Mall branding: Mall branding is also a great option for restaurant advertising as people going into the mall have already got spending in mind and are more likely to take action upon seeing your ad. If your restaurant is in the same shopping mall, then of course, the benefits of advertising in the mall are obvious.
Having your restaurant ads in premium locations in the mall can bear a good return on investment as people are already in the spending mindset. Moreover, seeing the ad in a high end market place like the mall enables you to utilize the goodwill of the mall as the consumer subconsciously associates one establishment with the other.
2.Newspaper and magazine inserts: Newspaper and magazine inserts are quite inexpensive and enable you to make your customer targeting more precise. Consumers can see your restaurant ads while relaxing over tea from the comfort of their home.
The Sunday editions are especially good for insertions as for many people Sunday is the designated shopping day. Many people actively look for inserts in Sunday newspapers to plan their Sunday shopping.
As they stand apart from regular ads, through newspaper insertions you can draw in the Sunday crowd as they flip through the newspaper to see where to go for their weekly shopping.
3. Bus and train branding: Buses and trains work essentially as mobile billboards for your restaurant ads. You can avail all sorts of options for transit branding according to your budget like full body jackets,side panels, back bannels, and inner body branding.
With inner body branding, your restaurant ads have the advantage of staying with the consumers for the entire duration of their journey and having a greater chance of making an impression.
4. Auto branding: Auto branding is one of the least costliest of all transit advertising options. Auto rickshaws quite literally reach every nook and corner of the country and give your restaurant ads a wide reach.
You can book autos that have the surrounding area of your restaurant as their regular route and be reassured that your ad is going to the remotest corner within a certain radius of your establishment.
5.Street furniture/ Street level urban media: Street furniture includes all kinds of OOH advertising located at street level. As they are placed at eye level with the audience, they have a greater chance of making impressions.
You can use different types of street furniture to advertise your restaurants at relatively lower costs. You could brand park benches, bus shelters, telephone booths and so on. To learn more, fill the form below:
Restaurant Advertising Ideas for Non Traditional Media
One can easily come up with innovative restaurant advertising ideas for non traditional media, due to the sheer number of advertising options available.
Since non-traditional media includes all sorts of media options from auto branding to digital marketing, restaurant advertising ideas for non-traditional media can range from rather conventional methods such as pasting advertisement stickers on the backs of auto rickshaws to high tech animations on digital OOH platforms.
You can have standee displays outside shops pasted with your advertisement and use other inexpensive media like pole kiosks, street furniture, and walking billboards (a person wearing a banner of your ad on his back like a backpack and roaming about the vicinity of your restaurant).
You can come up with great restaurant advertising ideas to advertise in public transport precincts. You can brand the stairs of the escalators in a metro station so that your ad unfolds before the people as the stairs go up.
You can have flash mobs advertising your restaurant in metro stations as there are a lot of people there who would love to be entertained as they wait for their trains.
You could use street furniture of various kinds to meet the eyes of pedestrians as they walk by them. Benches on the sidewalk and park benches can be quite effective as they provide a large, flat surface area for the advertisement.
You can also try walking billboards where you hire people to walk about the market with the banner of your ad on their back like a backpack.
However, guerilla marketing is not the only option for your non-trad restaurant ads, here are some of the best restaurant advertising ideas for non-traditional media.
Different kinds of public transit essentially work as mobile billboards for your ad.You can brand the transport that runs in the areas around your establishment and achieve highly focused target marketing. With inside stickers, and side and back panel branding on auto rickshaws, you can advertise your restaurant in its own vicinity and achieve precisely targeted advertising at really low costs.
The best types for restaurant advertising are those that are  quirky and unique so that they stand out and attract more customers. You want to keep it classy and at the same time tap into the creative possibilities offered by non traditional media. Transit branding is the  most highly recommended non-traditional media for restaurant ads. 
The rationale behind restaurant ads on public transit:
Apart from a few regulars, restaurants mostly rely on people who are either out of their homes or on some work or have chosen the restaurant to celebrate an occasion. 
Unlike restaurant chains, the demographic targeting for restaurants usually remains fixed within a certain radius of the restaurant. And, the majority of public transit has fixed daily routes.
So, if you advertise on the public transit running within a certain radius of your establishment, you can make your target-marketing extremely precise.
The people on public transit have repetitive travel routines. They are very likely to board the same bus or train to work everyday. This means high brand recall for your restaurant advertising as they are likely to remember the ads they see again and again.
The ads on transit media have the advantage of staying with the audience for longer. The ads on transit media have a high visibility. On a thirty minute journey, it is safe to assume that a person is going to see the ad at least once.
Aside from transit media, there are various kinds of guerilla marketing that you can use to advertise your restaurant at low costs and make a deeper impact on your audience through personal interactions with flash mobs.
For restaurant advertising, guerilla marketing can work very well as people like to experiment with food and innovative marketing techniques make them expectant of finding lively and refreshing food at your restaurant. For example, you can have an inflatable mannequin dressed in your waiter's uniform placed across the street from your restaurant or have a flash mob advertising your restaurant in a busy square. Most times guerilla marketing has a surprise element which helps to give your advertisement a longer memory life.
Advantages Of Creative Restaurant Ads In Transit Media
Creative ads always come with many benefits whether they be on transit media or any other media. Having your creative ads in transit media is perhaps the most effective way to advertise through non traditional media.
Creative ads are more likely to be remembered and help build a positive association with the brand in the minds of the people.
Creative ads in transit media like local trains and subways can help you get a better brand recall as most of the passengers take the same vehicle to work every day and are more likely to remember ads they see daily.
In transit media, people stay with your ad for the entire duration of their ride. Hence, people are more likely to pay attention to your ad and appreciate its creativity, rather than ignoring it after not getting it at first glance.
The ad, for many people, is the first encounter with the brand, and a creative ad for your restaurant can help you make a good first impression.
Creative ads in transit media are also very cost-effective and pasting advertisement stickers inside public transit is one of the least costly modes of outdoor advertising.
Public transport is used by people from all walks of life which means your ads can target a broader demographic.
Top Restaurant Opening Advertisement Agency
To book your restaurant opening advertisement in various non-traditional media options, visit The Media Ant where you can learn in detail about all the different ad options and their rates. 
Our team guides you every step of the way from choosing an ad option to executing the ad campaign. The Media Ant is a top restaurant opening advertisement agency in India which helps you with a multitude of other types of advertisement besides non-traditional advertising as well.
| | |
| --- | --- |
| Was this article helpful? | |