Founded in 2006 in Sweden by Daniel Ek and Martin Lorentzon, Spotify is the world's biggest music streaming platform by number of subscribers. Users of the service need to register to have access to one of the largest collections of music in history, plus podcasts and other audio content.
The model that Spotify operates is called a freemium model. The Free Spotify access comes with lower sound quality, advertisements and requires an internet connection, whereas Spotify Premium gives exclusive features and services like uninterrupted music streaming and the option to download songs for offline listening.
Today, Spotify is the world's most popular audio streaming subscription service with more than 500 million users, including 205 million subscribers in more than 180 markets. (Source- spotify.com)
If you are still wondering how to make the most use of Spotify ads and are not sure whether this medium can help boost your brand's conversion rate, here is all you would need to know to get started.
Top 3 Facts about Spotify Advertising
The average monthly downloads of Spotify App in India is 15.2 Million. (Data from April 2022 to March 2023)

The Monthly Active Users of Spotify app in India are 37.64 Million and the average session duration is 6 minutes. The Daily active users of the app are 11.3 Million. (Data from April 2022 to March 2023)

The user demographics (India) of the app are 24.7% Female and 75.3% Male, with the highest age group being 25-34 year old (39%) followed by 18-24 year old (29%). (Data from April 2022 to March 2023)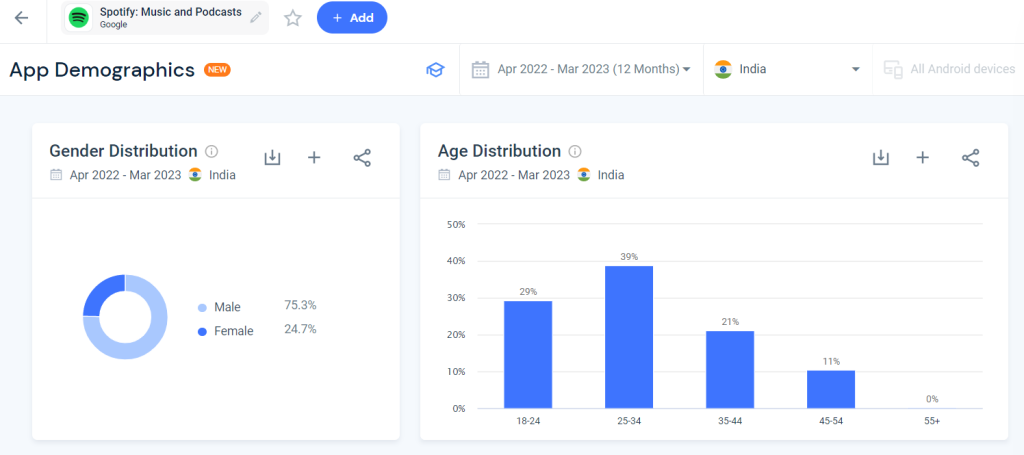 Top Reasons to advertise on Spotify
Here are some of the reasons why advertising on Spotify can be terrific for your brand-
Spotify is the most popular music streaming platform in India and globally with millions of daily and monthly active users (data given above). Advertising on such platform could provide extensive reach to your brand's advertisement.
The cost to advertise on Spotify is quite affordable. This benefit coupled with the extensive reach offered the platform makes it a great candidate for providing good ROI.
Majority of Spotify's uses are Gen-Z and Millennials falling under the age bracket of 18- 40 year old. Brands looking to target this specific group can advertise on Spotify and show their ads to their target group when they are in a good mood, listening to their favorite music.
The platform offers a variety of in-depth targeting options like interest, genre, fan based targeting, etc., that makes sure your brand's message is delivered to the most appropriate audience.
Types of Advertising Formats/Options Available in Spotify
Here are the different types of advertising formats available to advertisers through Spotify:
1. Audio ads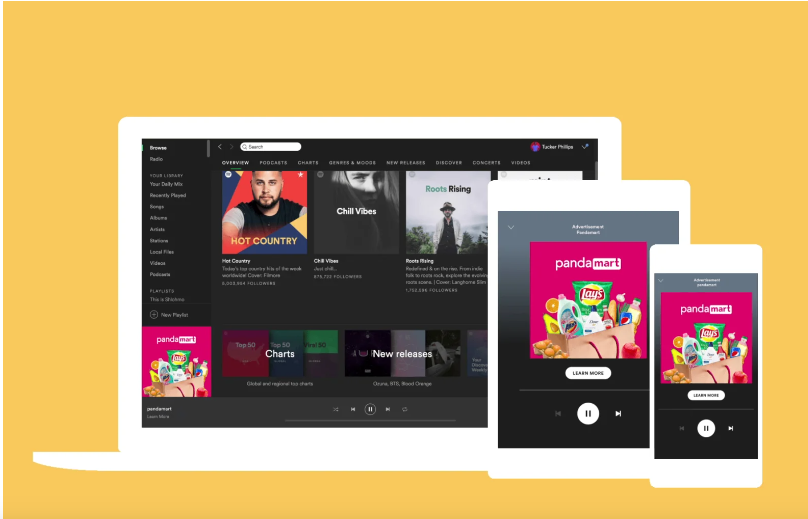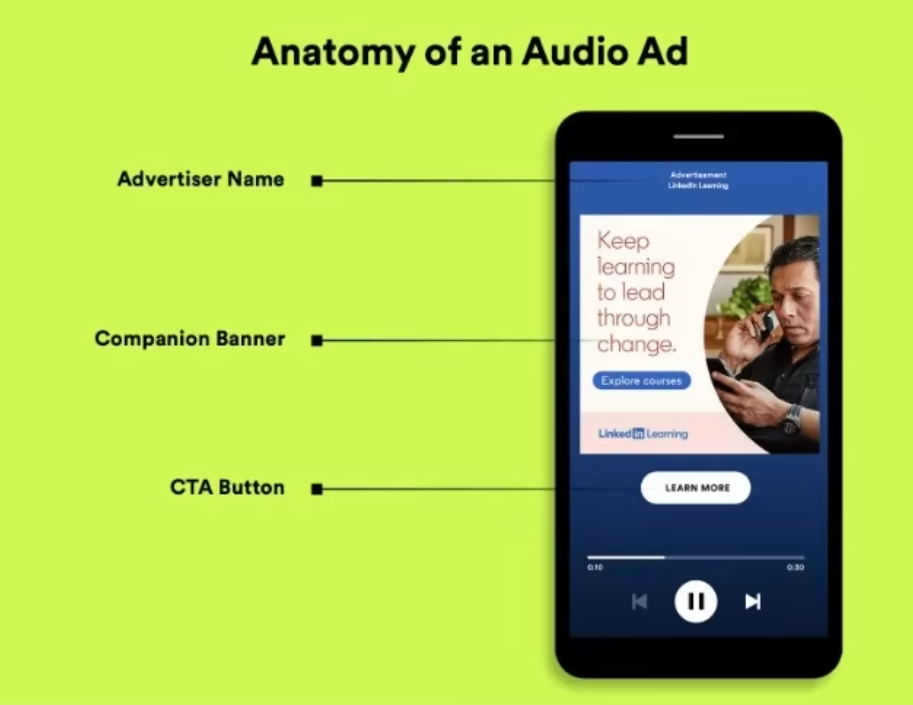 Spotify Audio ads are a preferred advertising format, with high levels of popularity. This is due to the advanced targeting capabilities that allow advertisers to reach their desired audience at the most opportune time and location. Additionally, audio ads cannot be skipped, making it more likely for the audience to engage with the message, and boosting the likelihood of campaign success. Advertisers can select from either 15-second or 30-second ad slots, and there are a variety of self-service tools and services to aid in creating audio ads that will resonate with the audience.
2. Display ads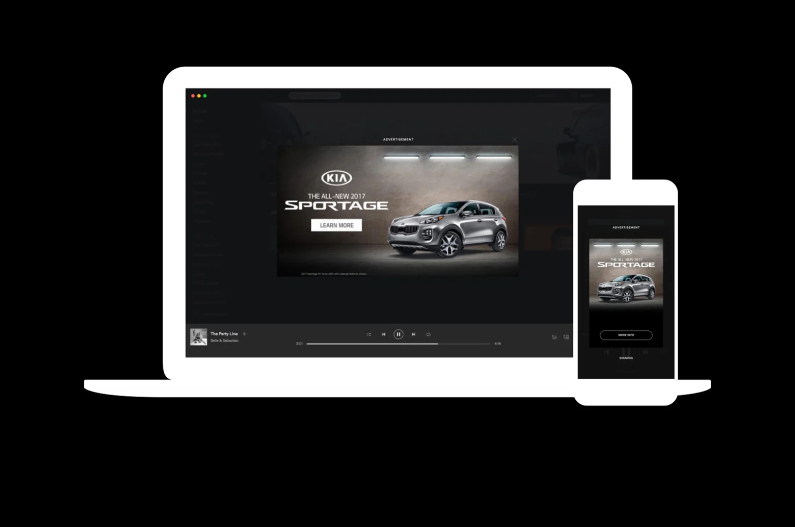 Spotify Display ads are a useful way to create an immediate visual impact. The overlay experience provides an engaging and clickable ad that is designed to be highly visible. Whenever an ad-supported user opens the Spotify app, they will see the overlay ads, which can lead to higher click-through rates and drive traffic to the advertiser's website. For a more powerful impact, advertisers can choose Homepage Takeover, which allows them to dominate the Spotify desktop homepage with interactive media for a full day. Advertisers should also stay updated on responsive display ad best practices to maximize their ad effectiveness.
3. Video ads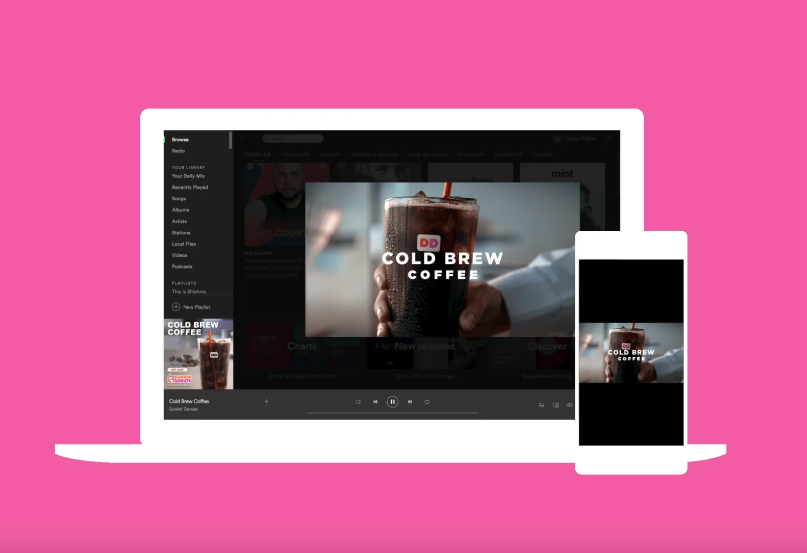 Spotify Video advertisements are effective because they use both audio and visual elements to create a lasting impression. When it comes to Spotify, video ads are only shown to users who are using the app and have the volume turned up, which guarantees that the ads receive both attention and interaction. These ads come in either 15 or 30-second durations.
4. Podcast ads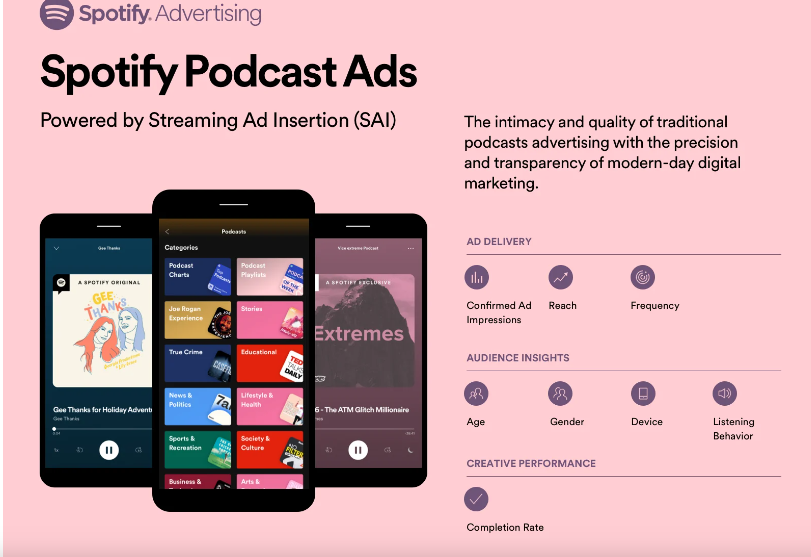 Unlike other media formats, podcasts can reach listeners in moments where they are emotionally invested and immersed in a topic that's important to them. By crafting effective messaging and calls-to-action, your podcast ads have the potential to generate significant impact. One can create and launch campaigns that engage listeners globally or locally, and increase their reach through the Spotify Audience.
5. Sponsored playlist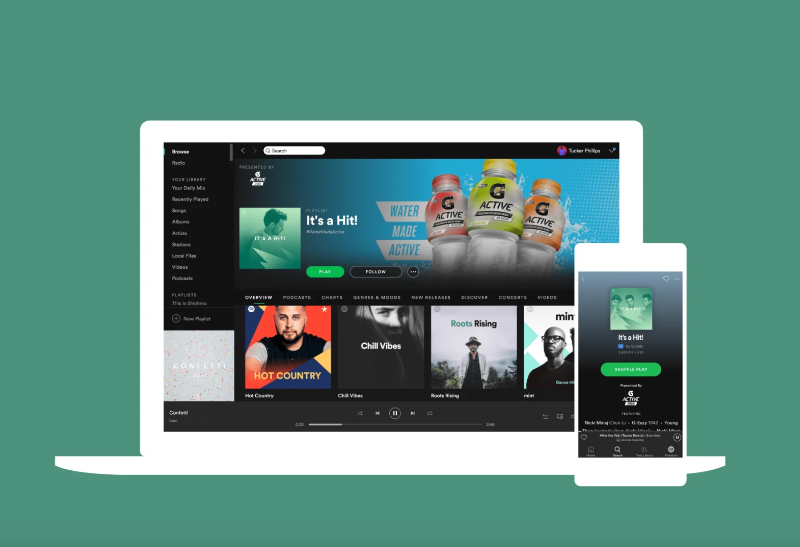 If you're looking to maximize exposure on Spotify, sponsoring a playlist is a good option. Your branding will appear in a large header image above a particular playlist that aligns with the specific music tastes of your chosen target demographic. This ensures your message is heard by your target audience when they are streaming the music they love—and the research shows that 93% of the brain's engagement with content on Spotify transfers directly into ad engagement.
Types of Ad Targeting Available on Spotify
Spotify Ad Studio's effective targeting options lets advertisers reach their target audience. The advanced targeting options made available by Spotify are interests, real-time contexts, and genre targeting, and fan base targeting for music-related campaigns. One can use one advanced targeting option per ad set.
Age, gender, location, and platform targeting
Through Spotify's demographic targeting, advertisers can connect with their target audiences across platforms with the platform's first-party age, gender, and location data.
Through interest based targeting, Spotify lets you reach highly relevant audiences based on their podcast, playlist, and platform preferences.
Real-time context targeting
In this type of targeting, brands can reach listeners as they soundtrack specific moments throughout their day.
Genre targeting delivers your message immediately after a user has listened to a specific genre.
This type of targeting targets known fans of an artist you're promoting or fans of other artists (available when promoting an artist or music event).
Top Brand Categories that Should Advertise on Spotify
Spotify App Advertising is done by advertisers who are looking to target a mass audience. Through streaming intelligence, ads on Spotify do target advertising that helps them advertise to the right audience of your particular brand. Some past advertisers of Spotify Advertisements (by The Media Ant) are Tanishq, Anytime Fitness, Bose, Dineout, My Protein, Swiggy, and more. These are the brand categories that would benefit the most from advertising on Spotify-
1) Fashion and Lifestyle
2) Food and beverages
3) E – commerce
4) Health and fitness
Top 3 Cities of India that prefer Spotify Advertising
The Indian cities from which brands did the most Spotify advertising are as follows-
1) Delhi
2) Mumbai
3) Chennai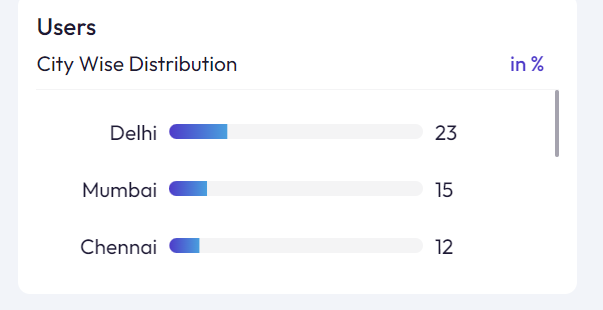 Average CTR of Spotify ads
The Average CTR for Spotify ads is between 0.3% to 0.4%.
Spotify Advertising Cost
Spotify Advertising Cost varies depending on the various ad options chosen by the brands and the duration of the Spotify Ad option. Spotify Advertising Cost is otherwise quite budget friendly and can be a good option for advertisers who are looking for a large scale advertising choice. Looking for the most updated ad rates? Visit The Media Ant Spotify App Advertising page to know the detailed cost.
| | |
| --- | --- |
| Was this article helpful? | |