We are human beings, and no matter how careful we are, we lose one or the other document. But thanks to our media and the capability of reaching out to hundreds instantly, we can actively look for it using all the help we can get. We cannot afford to lose such vital possessions; thus, fast action is required to recover the lost documents.
One of the best ways to act quickly is to place a lost document ad in the newspaper. They are used to tell the public about a lost or misplaced document so that the person who finds it can return it to its rightful owner. However, these adverts are also placed when a document is found, but the owner cannot be located.
Types of Document lost advertisement in the newspaper
A few significant sorts of document lost advertisement in newspaper are:
Loss of Passport Advertisement
Loss of Aadhar Card Advertisement
Loss of Property Paper Advertisement
Loss of Insurance Paper Advertisement
Loss of Education Document advertisement
Loss of Personal Document advertisement
Loss of Share Certificate Advertisement
Loss of Original Documents Advertisement
Property Document Lost Advertisement in the Newspaper
The information generally presented to the country's public that a person has lost his property papers is known as a public notice for loss of property documents in newspapers or property document lost advertisement in the newspaper.
Public notification of such loss is vital since it provides proof that you have lost your property papers and will not be held accountable if they are misused. Property document lost adverts can also be placed on any public platform on the internet, making them available to everybody, although newspapers continue to play an essential role in advertising for lost documents in India.
Document Lost Advertisement Format in Newspaper
Important points to remember when writing Lost document advertisements:
Begin with 'Lost Document'.
Specify the item.
Give a brief physical description.
Mention when/where the document was lost or found.
Reward, if any, to the founder.
Contact information (address and phone number)
Any extra pertinent and necessary information, if essential, but the advertiser should restrict it to a maximum of 50 words.
Lost Document Advertisement Example
My Original Certificate & Mark sheet for Main Secondary Examination Year 2011 Roll No. 5161657 & Senior Secondary Examination Year 2013 Roll No. 5663417 Pass out from CBSE have been lost. Aman Kishore R/o C- 224. Surya Nagar. Ghaziabad-201011. 0040252708-2
The Lost Document advertisement example above might assist you with the details to include in the lost document advertisement.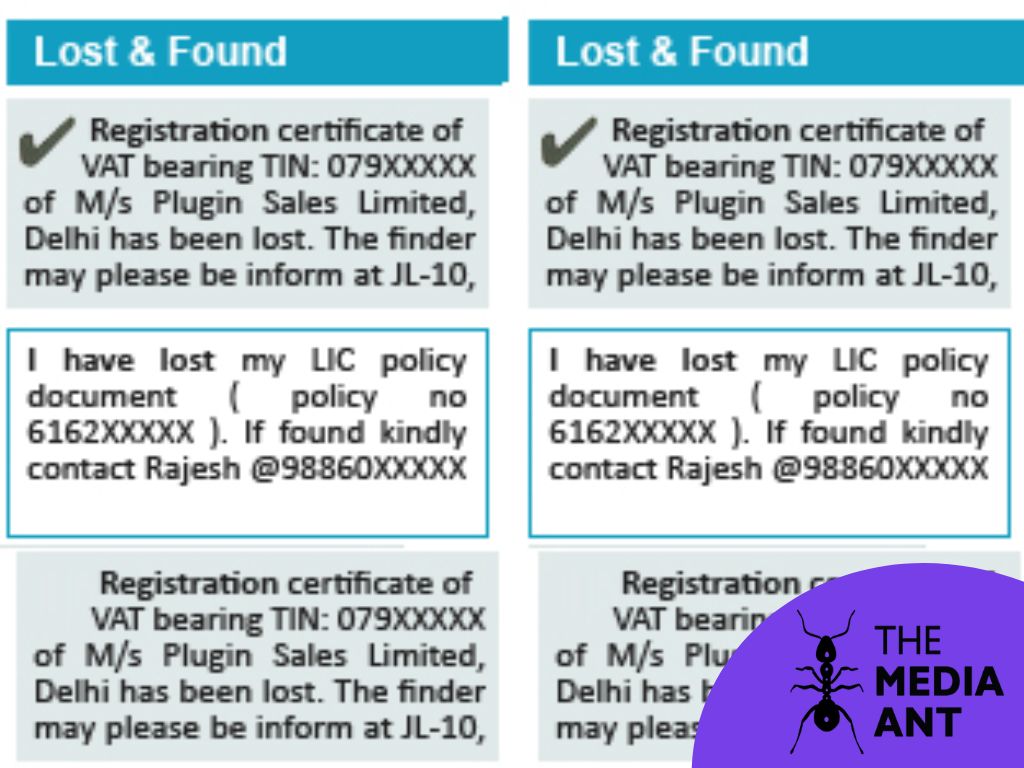 FAQs RELATED TO LOST DOCUMENT AD IN THE NEWSPAPER
How do I advertise lost documents?
"How can I get my lost documents advertisement in the newspaper?" but where and how. Newspaper classified ads for lost documents will assist you in reaching out to your target market! You have various options, and the best way to figure out which is best for you is to try them all.
To begin, visit The Media Ant website using the ad placement Options.
Open the newspaper genre on the main page to find the advertisements section.
Once you've found it, place your ad there by following these simple steps:
Select which location, publication and category (classified ad).
Enter the ad text manually or choose from a library of sample ads.
Select the size and position of your ad.
Upload a picture for your advertising.
Click the "Submit" button.
Request an express quote.
Following the price, you may pick the day you want your document lost advertising to appear in your preferred newspaper.
What is the effectiveness of a lost document ad in the newspaper?
Some of the reasons why you should book your lost document advertising in the newspaper are as follows:
Informs the public: A lost document advertising in a newspaper tells the public about missing papers so they can be restored to the owner if they are discovered.
Helps in retrieval: A lost documents advertisement in a newspaper can assist the owner in retrieving a lost document because these advertisements tell others about it so they can look for it.
Legal conditions are met: To avoid the exploitation of your missing document, you must print a lost document advertisement in the newspaper after filing an FIR with the police.
Aids in the simple acquisition of duplicates: These missing document advertisements in newspapers, accompanied by a police FIR, are used as proof of misplacement to aid in quickly purchasing copies.
Newspapers have an extensive readership: In India, people from all walks of life read newspapers.
How much does it cost to advertise a lost document in the newspaper?
Like the other forms of Newspaper advertising, lost document advertising costs also vary and depend on different factors. Here are some of those factors:
Ad Placement- If you place your ad at the top of the page in the newspaper, it will cost you more. Similarly, ad placement at the end of the page will cost comparatively less.
Ad Size- Generally, newspaper ads are sold by the column inch. If your ad takes more space, you will have to pay more and vice versa.
Types of Ads- Costs for ad types are also different; for instance, a box ad on the editorial page may cost more than a service directory classified ad.
The ad position, size, and placement determine the pricing structure for lost document advertisements in newspaper.
You don't have to be concerned about the expense and wonder, "How much does it cost me to put up with this lost document ad?" The cost of lost document advertising in newspapers for each media choice is outlined in detail on The Media Ant website.
| | |
| --- | --- |
| Was this article helpful? | |