Transit Media for Logistics Ads
The size of the Indian logistics market was around 250 billion U.S. dollars in the financial year 2021 and by 2025 it is expected to reach 380 billion U.S. dollars (Source: Financial Express).
Although the industry took a serious hit during the two years of the pandemic, in 2022, the industry has picked up pace and is  back on its feet.

The Union budget plan of 2022, with the 'PM Gati Shakti Plan' is expected to give further impetus to the industry with dedicated freight corridors, tech- driven warehousing and better connectivity. It is evident that logistics is a fast growing industry in the country with fierce competition.
With favorable government policies and small fleet owners setting up business in remote areas, the competition today is greater than ever. And if you are to make it in this industry, having a stout marketing strategy is absolutely non negotiable. 
With so many innovations in media popping up everyday and so many media options to choose from, one can be at a loss to know which advertising option to pick.
If you are struggling to figure out which media option would suit your logistics firm the best, don't worry, we've got you covered.
Why Transit Media is the Best Choice for Your Logistic Business?
Ever noticed how sports channels on TV proliferate in commercials for sports brands? Or how cookery channels have got all kinds of commercials for spices, cooking oils, kitchenware, and such stuff? Or how tech channels run commercials for mobile phones and related accessories like earphones more than any other category?

Wonder if it is a coincidence or clever marketing. By how common the pattern is, the latter seems far more plausible.
The strategy here simply seems to be to advertise on the platforms that belong to or are related to your business sector.
Now, if you have got a logistics company, transportation is most probably a major part of your operations, and if you want to incorporate this strategy into your marketing plan, advertising on transit media would be the way to go about it.
Just a basic understanding of human psychology is enough to explain the expected utility of advertising in transit media: a logistics advertisement on a mode of transportation should be more effective the same way a microwave advertisement is on a cookery channel.
It's about credibility – you take the word of the blacksmith over the goldsmith's looking for advice to repair your bicycle.
Even though in reality a bus or train is no more qualified to promote a logistics firm than a billboard or a newspaper, the passive, unthinking viewer's mind is quick to draw the association between public transport and the transportation of commercial goods and assume authenticity.

And the extra bit of brand recall achieved by that subconscious association may be just what you need to put you a step ahead of the competition.
In addition to the above mentioned rationale, using transit media for logistics ads makes a lot of strategic sense in terms of other factors such as advertising costs, reach and exposure duration as well.
Transit advertising is one of the least promethean modes of non traditional advertising. Although it is unconventional, it is by no means over the top and doesn't elicit the scruples many other non traditional forms of advertising elicit from advertisers.

So, if you want to experiment with non – traditional media for your logistics ads without risking taking it too far, transit media is the way to go.
With transit branding, your logistics ads would have a wide geographical and demographic reach with the longest exposure time of all media at a relatively low cost.
Types of Logistics Advertisement in Transit Media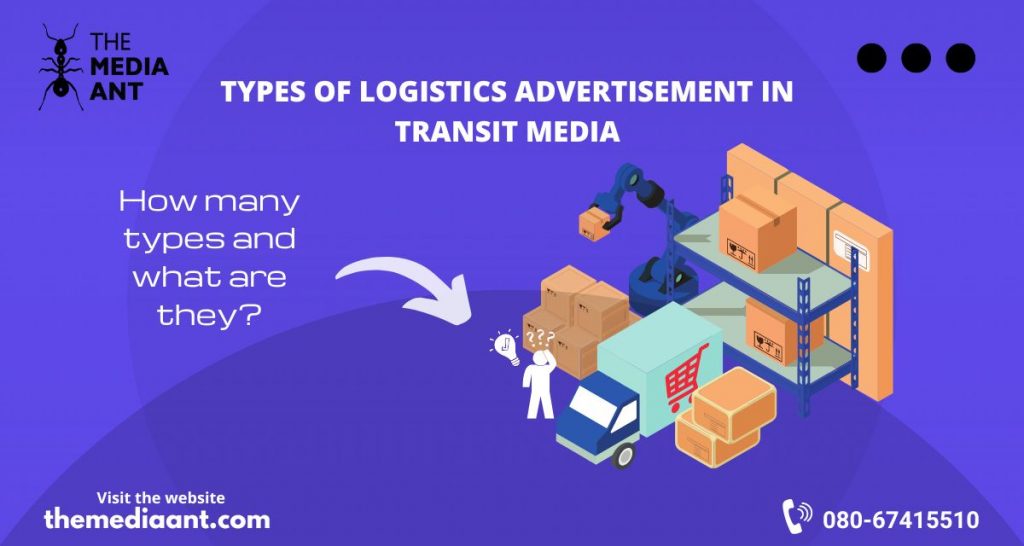 In India, bus branding, auto rickshaw branding, subway branding and airplane branding are the main media options for logistics advertisements in transit media.
1. Auto Branding : For auto branding, you can have your advertisement stickers pasted on either the sides or the back of the vehicle or else you can cover the entire hood of the auto rickshaw with your advertisement.

Understandably, the last is the most costly option of them all, though auto branding is a pretty inexpensive ad option to begin with.

Inside stickers for logistics advertisements in autos would not be highly recommended unless you have a really stringent budget because the surface area is limited and so is the number of people who can see the ads.
2. Bus advertising : Bus Advertising is available in the form of back panel, side panels, front panel and inner body branding. In most cases, you avail all these options together when you brand a bus.

Bus branding is a little costlier than auto branding but it is well worth the extra buck because you get more impressions through inside branding. And on the exterior side panels, you get a large surface area on which your logistics advertisements can attract attention more effectively.
3. Branding Public Transport Precincts : Advertising in public transport precincts like metro stations and airports can give your ads many quality impressions as these places are always filled with people waiting for their ride with nothing to do.

You could put your logistics advertisements practically anywhere from metro pillars to the benches at the airport. Airport branding is usually pretty costly but if you are looking to target premium customers, you should definitely consider the option.
Effectiveness of Logistics Advertisement for Non Traditional Media
1. Non-traditional media of any kind is really great for drawing the attention of people. It stands out from traditional media like billboards and hoardings and hence makes more impressions.
2. Out of all non-traditional media, transit media is the least likely to backfire by being too different and making the viewer skeptical of the ad. This is because although the form is relatively novel, the format of transit media is the same as billboards. For branded buses, in essence, they are just mobile billboards for your advertisement.
3. Inner branding on buses also comes with the benefit of giving your ad a long exposure. Your logistics advertisement would stay with the commuters for the entire duration of their journey and will thereby have a greater chance of getting noticed.
4. Further, the people who take the bus or train to work usually board the same vehicle everyday and this gives your ad a better brand recall.

Public transit is used by people from all walks of life which means your logistics advertisement can target a wider range of audience.5. Auto rickshaws have a really wide reach. They reach every nook and corner of the country from highways to dirt roads and can give your logistics advertisements a truly wide reach.
It is also pretty inexpensive to brand them and hence auto rickshaws are ideal if you want to just dip your toes in non-traditional advertising.
Cost of Non Traditional Media for Logistics Advertising
There is as much variety in the cost of non-traditional media as there is in their types.Though, the vast majority of non-traditional media are rather inexpensive.

You can run your logistics advertising campaign at surprisingly low rates through newspaper and magazine inserts, email marketing, and transit advertising and guerilla marketing of different kinds.
As already discussed, transit media is great for running a logistics advertising campaign. The costs of transit advertising are just the cherry on the top as generally transit media advertising tends to be quite cost effective.
Auto, Cab, and Bus branding are the most inexpensive of the advertising options in transit media while metro and airplane advertising are among the high end transit branding.
A logistics advertising campaign in the airport may cost you a big buck, but the return on investment may make it well worth it.
Ad rates in transit media vary on different factors such as the city, the transportation type and of course the discretion of the individual vehicle owners.
At The Media Ant you can find the discounted rates for ac and non ac buses, cabs, metro stations, and auto rickshaws in different cities of the country including Delhi, Mumbai, Chennai, Kolkata, Pune, Bangalore, Hyderabad and many more.
Top logistics advertising ideas
At The Media Ant you can find top logistics advertising ideas in different media both traditional and non traditional. There are many innovative ad options such as :
Mobile vans, paper cup branding, IT park branding, Mall branding, No Parking boards, apartment branding, electricity bills branding, newspaper inserts and so on.
Fill the form below to know more about the advertising options you could avail for your logistics ads.
Best logistics company advertisement agency
The Media Ant is a recognized advertising agency that can help you plan your logistics company advertisement most efficiently as per your requirement, preferences, and budget.

Our team guides you every step of the way, right from choosing the right ad options to the very end of your campaign.
We follow up with the media providers regularly to ensure a seamless execution of your campaign and provide top class monitoring services.

Fill the form below to know more.
Logistics company advertisement in non traditional media
You can find many exciting options for your logistics company advertisement in non-traditional media from hot air balloons and mobile billboards to guerilla marketing.

After low costs, the biggest benefit accrued by non-traditional media is perhaps that unconventional media helps your advertisement stand out and make more impressions.

Also, going against the grain tends to resonate with the young generation and so advertising in non traditional media is a good way to target this demographic.
| | |
| --- | --- |
| Was this article helpful? | |