What are Education Ads In Newspapers?
The education industry in India today has grown enormous. And it's been growing at the same steady pace for a decade — and it's showing no signs of slowing down.
Edu tech is where the big fish are today. The ''coaching center'' culture is in full bloom and educational institutes of various kinds far exceed traditional, government- schools in the country on all quantifiable parameters.
From creche to university, from edu-tech to the didi in the neighborhood who takes tuitions at home, the newspapers are filled with education ads.
Indian parents, infamous for unanimously pushing the idea of paper-reading as an essential part of education, completely miss the irony of the newspapers today containing more education ads than education while they browse through them plotting their child's future
But it can hardly be helped, for newspapers just make a terrific medium for education ads.
There are several hypothetical reasons for this, the most mainline of which is more of a complex of reasons:
The commercialisation of education is seen as a threat to the quality of it by many Indian parents, at least subconsciously.
Traditionally, education has been a very dignified, if not holy part of life across the wide variety of cultures in south east asia/ in this part of the continent.
And, so, the reduction of the attainment of knowledge to a transactional exchange, makes certain sensibilities uncomfortable. Now, it seems safe to assume that the parents with such sensibilities are the kind who also hold the medium of newspapers in quite a high esteem, lowkey as it may be.
No matter how much they criticize and fuss and fume at the papers, the very fact that they get upset shows how seriously they take the medium. You will find several newspapers bookmarked on the browsers of these digitized old souls.
And if you survey them on the most credible place to look for education options, you'll have your faith in the power of the paper in the country revived.
As opposed to other big media like tv and social media, which bear associations of fun and entertainment for most Indian parents, newspapers are assumed to be inherently related to information and knowledge. You READ the newspaper.
Moreover, the ads on the newspaper are inherently reserved for the Literate. Those, right there are solid reasons that could explain why education ads in newspapers seem to work so well.
Selecting the right kind of media is the first step towards executing a successful ad campaign. All considerations, all analysis and monitoring, go right out of the window if the choice of the media itself is not right.
Once the media is selected the next question to settle is which particular firm dealing in the selected media would suit our objectives best.
There's a notable proliferation of Education ads in newspapers like The Times of India, Education Times, Business Standard, Prajavani and Education Plus from which it could be deduced that these are the best newspapers in the country to put your education ad on.
You can learn in detail about the ad options provided by these newspapers at The Media Ant if you are looking to put out your education ads in newspapers.
Educational Advertisement in Newspapers
Only dreamers would deny the complete commercialisation of education in the country today. Only vain idealists would fail to appreciate it as a good thing. Only the simple minded discredit the marvel of edu tech.
More jobs, more readily available quality education at affordable prices, more skill-specific certificate-courses available in flexible formats.
More complex competition to keep business heads excited; more work for media owners, more options to choose from for advertisers.
Someone looking to advertise their educational services could very well be baffled by the sea of options available today.
The Media Ant, India, is definitely an ad agency worth checking out if you are at a loss to know how to advertise your educational services best.
They offer guidance every step of the way from booking the educational advertisement in newspapers at the best acquireable rate to the smooth execution and monitoring of the campaign.
If you are more interested in online advertising ( how could one not be, for all its digital charms), you should consider putting your ad on the online issues of reputed newspapers like The Hindu, The Times of India and Hindustan Times.
By giving out your educational advertisement in newspapers like these, you can capitalize on the wide reach of the online platform and the authoritative image of the traditional medium of newspapers at the same time.
Benefits Of Education Advertising In Newspapers
The benefits of education advertising in newspapers are as multifaceted as they are numerous. They include all the benefits of advertising in newspapers in general, plus the unique benefits accrued by the combination of the medium of newspapers and the industry of education.
Newspapers have a great wide and deep circulation in the country. They reach every nook and corner of the country. Except for the tribals; wherever there is any kind of group habitation, from slums to gated communities, you can find the newspaper man on his bicycle under the rising sun.
The benefits of education advertising in newspapers become very clear when you consider how big a population of the country doesn't have access to electricity.
A significant portion of India still comes under rural areas, and the really remote villages, too far flung for electricity lines to reach them, have only the daily newspaper to keep them connected to the country.
No other media in the country has such a deep penetration which makes the potential benefits of education advertising in newspapers infinite.
In India, newspapers are a widely respected media. The reports in the newspaper are taken to be the official news, the ads in newspapers are seen as legitimate.
Your ad is often the first encounter the customer has with your brand. In such cases, the first impression of your brand the customer gets is wholly dependent on the advertisement, the 'advertisement' being the aggregate of the actual content (creative) and the form (media).
An advertisement you saw on a hoarding, for instance, wouldn't make the same impression on you as one you found in the newspaper, even if both had the exact same creative in different sizes.
And, so, if you believe the old adage that first impressions last, the benefits of education advertising in newspapers are only limited by your imagination.
Types of Education Advertisements for Newspaper
The types of education advertisements for newspapers are as varied and numerous as the educational institutions in the country themselves.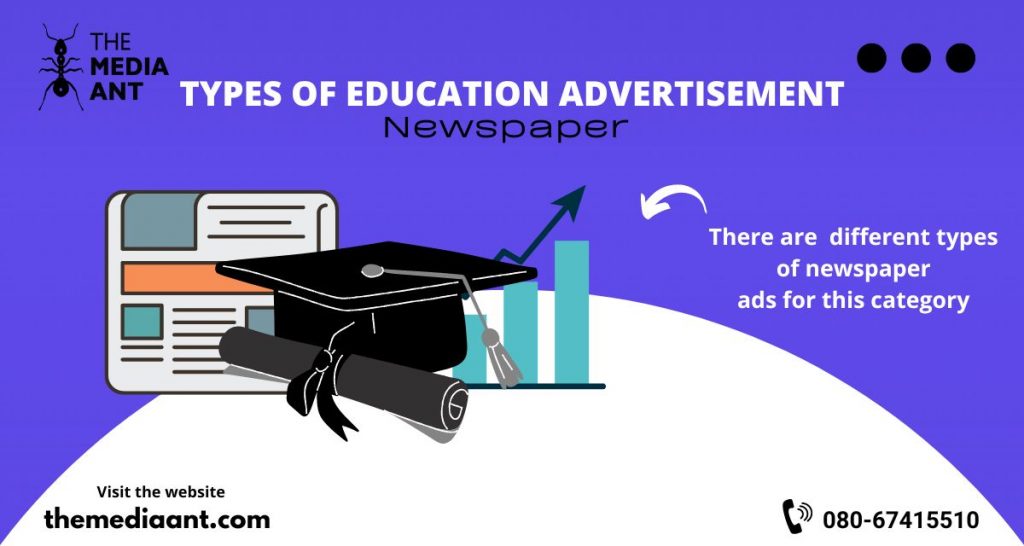 It's hard to classify them into distinguishable types except on the basis of broad newspaper ad categories – Classified and Otherwise (display ads).
To be able to tell between the types of education advertisements at a glance, it should suffice to remember that the black and white ads with only text are classified and the ones with graphics as well are display ads.
The term display classified-ad is sometimes used to refer to the classified ads in color which are getting more and more popular with the online editions of newspapers.
Apart from technical parameters, there are no types of education advertisements for newspapers. Advertisers are free to let their creativity run wild within the confines of the physical limitations of the media.
There are no standards, there are fickle conventions at most, which are perfectly breakable by a good idea. Common practices, however, include showing off your toppers, always including a few foreign faces in the photo of the students, promising placements, and advertising perks like transportation facilities.
So, there is a tremendous scope for creativity in various types of education advertisements in newspapers, as the market is all but saturated with banal ads. Your ad is bound to stand out with the slightest sprinkle of intelligent creativity.
You just need to rise above the odd trend of treating ads as fancy information displays prevalent in newspaper educational advertising in the country, and start advertising.
Education Advertising Rates In Newspapers
The Media Ant provides a seamless process to book online education ads for newspapers.
All you need to do is visit The Media Ant website and go to the Newspaper vertical where you will find a list of the top newspapers in India. You can book online education ads for newspapers by selecting your preferred newspaper and the ad option.
The Media Ant is a leading newspaper advertising agency in India with a clientele of over a hundred newspapers including major newspapers like The Hindu, The Times of India, Hindu Times, and Deccan Chronicle. You can visit our website to clear any doubts about booking educational ads in newspapers online.
How To Promote Your School In Admission Season?
The Mahakumbh for all Indian parents is about to begin. From finding the best schools for their kids to filling up long application forms to clear the interviews, it's a hectic schedule for parents.
Hence, the biggest challenge often faced by school owners and managers is to make some space in the consideration set of the parents.
When is the right time to promote your school?
Now. According to the Google Trend report (school related searches for the past 12 months), search related to school admission start increasing around December and continue to peak till April.
Since selecting a school has no room for impulse decision making, advertisers must make sure they engage their audience at every stage of the purchase funnel.
What are the most effective ways to market your school?
While looking for the best school for their kids, parents rate the potential schools on many parameters apart from school fees: faculty, infrastructure, healthy and friendly environment, extra-curricular activities, performance of alumni, digitization, safety and security and distance from home, etc.
Hence, the promotion should include all the features in the most engaging format.
This can be done in the form of brochures (print and pdf) or videos.
Next challenge is to identify the best platforms to advertise your school.
Which advertising media should schools add to their marketing campaigns?
Though nothing can beat building PR with the parents and engaging their audience in meaningful conversations on social media platform, it's also important for schools to mark their presence felt amongst the clutter of other competitors.
Thus, selecting the best advertising platform is of utmost importance.
Following are the most effective advertising options to promote school / Educational institute along with a tentative minimum budget.
Digital Advertising In Education Industry
Digital advertising is the most economical medium for promoting schools due to accurate targeting options offered by most digital advertising platforms.
Search Ads: The first step to gather information is to search on Google. Hence, it becomes even more important to capture your customer's attention at this stage only.
Image Ads: Both Google Display Network and Facebook offer multiple targeting options to expose the potential customers to your image ads. Past visitors can be re-targeted using retargeting ads. Both GDN and Facebook offer to target audience based on their interests. Using In-Market targeting option, advertisers can also target people actively searching for schools for admission.
Video Ads: It is a proven fact that video ads are more effective than image and text ads. Video ads are not only more engaging but also help advertisers to give a demo or detailed information about their product. The three most powerful platforms for video advertising worth considering are YouTube, Hotstar, and Voot. Not only are these very popular among parents but they also have options for targeting a specific audience based on demographics, interest, genres, and programmes.
Minimum Monthly Budget: INR 20,000
Tip: Invest in a good landing page for your website. Will help you in conversion as well as reduce the cost of digital advertising.
Radio Advertising In Education Industry
Radio Advertising In Education Industry is a good medium to target an entire city. Most of the people in India listen to the radio while commuting to work. Hence, radio provides a good opportunity to reach out to working parents.
Minimum Monthly Budget: INR 25,000
Tip: Pick your time when you want to play your ad.
Newspaper Advertising In Education Industry
Newspaper advertising is one of the most popular mediums for school advertising. It is one of the best ways to reach out to households. Advertisers can also target supplements based on Education.
Newspaper Advertising for promoting educational sector would bring credibility to the advertiser's brand.
Minimum Monthly Budget: INR 5 lakh
Tip: Keep your first ad large and then reduce the size. Do minimum 3 inserts
Outdoor Advertising In Education Sector
Outdoor advertising is a very good medium to target audience in a particular geography within the city. By advertising on hoardings or bus shelters in the vicinity of the school, advertisers can target parents living in nearby locations.
Since distance happens to be a major factor while deciding the school, schools can benefit from outdoor advertising.
Minimum Monthly Budget: 5 Lakh
Tip: Book your billboard only for 15 days. Shift to a new location after that.
Non-Traditional Advertising In Education Industry
Public Transport Vehicles like Buses or Metros (In case of metro cities) or local railway/metro stations or metro pillars can also serve as good mediums for school branding.
Minimum Monthly Budget: 50,000
Tip: Route and area targeting is a must for best result.
| | |
| --- | --- |
| Was this article helpful? | |