Advertising in World Test Championship 2023
The final of the 2021–2023 ICC World Test Championship, 2nd edition of the ICC World Test Championship, will be played from 7 to 11 June 2023 at The Oval, London, England, between Australia and India.
Australia and India qualified for the final as the top two teams in the league stage of the 2021–2023 ICC World Test Championship. While both teams had the highest number of points due to the COVID-19 pandemic and multiple series being postponed, the league standings were determined by win percentage.
Walking into the final India held the top position in the ICC Men's Test Team Rankings while Australia secured the second spot. Australia is making their debut in the world test final, while India, who were defeated by New Zealand in 2021, will be without several key players due to injuries. Their recent encounter in the Border-Gavaskar Trophy served as the last test tournament between the two teams. Notably, both teams have historically faced challenges at the Oval. Australia has won only seven out of the 38 Test matches played there, while India has managed just two victories.
Just weeks before the final, the ICC removed the "soft signal rule" and the rule would not be in effect starting from the world test final championship game
ICC World Test Championship 2023 Schedule
The World Test Championship is held once every 2 years, where cricket teams from around the world play test matches over the course of 2 years and the top two teams play against each other in the ICC World Test Championship.
This year the World Test Championship is being held on 7th June – 11th June at The Oval, London, England, between Australia and India. The live online streaming of World Test Championship 2023 will be on Hotstar, which is a perfect chance for brands to tap into sports advertising.
Target Audience on Hotstar
World Test Championship is a great opportunity for brands to target an array of audiences, especially premium consumers who are very likely to make purchases.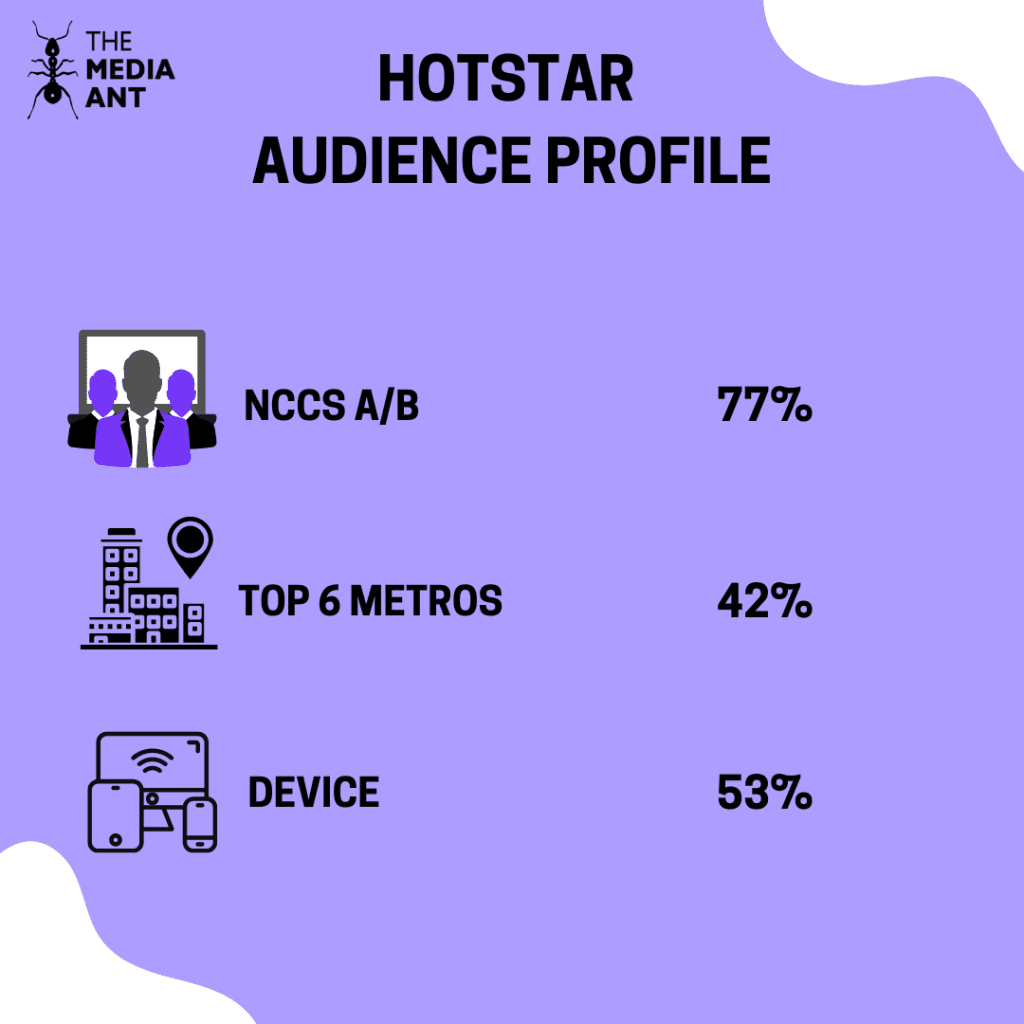 Advantages of Advertising in ICC World Test Championship 2023
WTC is a tournament that will enable advertisers to reach out to the cricket purists on Hotstar in a far less cluttered environment vs IPL or any big bilateral series.
15-20% Monthly active users are exclusive sports viewers in any cricket month on Hotstar hence adding World Test Championship 2023 to your June advertising plan will help drive incremental reach over your Hotstar GEC plan.
A single World Test Championship match delivers 80% reach compared to a typical series on Hotstar.
World Test Championship delivers approx 2X reach against any other test match that streams on the platform.
The expected viewership of the World Test Championship is 35Mn which is equivalent to an Ind-Pak match.
Engagement on the World Test Championship is comparable to any typical T20 or ODI match that streams on the platform.
Average watch time per user/match is 0.9x vs any ODI or T20 match on the platform.
Average watch time/per match day is 2.2x vs. any ODI or T20 match on the platform.
Ad options for World Test Championship Advertising
There are majorly two types of ad options available for World test Championship-
Digital
Mid-roll advertising: Mid-roll advertising refers to video ads that are inserted in the middle of online video content, such as live streams or on-demand videos. During the World Test Championship broadcasts, mid-roll ads can be strategically placed during breaks or intervals to capture viewers' attention.
Pre-roll advertising: Pre-roll ads are played before the main video content. In the context of the World Test Championship, pre-roll ads could be displayed before the start of live streams or recorded match highlights, allowing advertisers to engage with viewers before they consume the desired content.
Branded card on social feed: This ad option involves the placement of branded cards within social media feeds. Advertisers can create visually appealing cards that blend with the overall design of the social media platform and display relevant information or promotional content related to the World Test Championship.
Targeting options for World Test Championship
NCCS: Brands can use NCCS targeting to plan and execute regional marketing campaigns. By identifying NCCS groups, brands can tailor their marketing messages, promotions, and advertising to resonate with the local audience. This approach helps brands connect with consumers on a more localized and relevant level.
Device: With the widespread use of smartphones and tablets, mobile device targeting has become increasingly important. Brands can optimize their marketing campaigns to specifically target mobile users, considering factors such as device type, operating system (e.g., iOS or Android), screen size, or mobile app usage patterns. This allows brands to create mobile-friendly content, develop mobile apps, or run mobile-specific advertising campaigns to reach and engage their target audience effectively.
Geo: Location-wise targeting refers to the practice of selecting and reaching out to specific geographic locations as part of a marketing or advertising strategy. This approach allows brands to tailor their messages, promotions, and campaigns to specific regions or locations where their target audience resides or where they want to expand their presence.
Ad Rates for World Test Championship on Hotstar
The ad rates depend on several factors such as the ad options selected, the time of broadcast and the targeting options. Are you looking for the best ad rates to advertise in the World Test Championship? Look no further than The Media Ant.
The Media Ant is a leading ad agency in India with over 10 years of experience in the industry. With a strong team of experts, the agency has served more than 3000 clients across various industries, providing them with cutting-edge marketing solutions.
All you need to do is visit our website and click on the sports advertising option, which will direct you to the 'sports advertising' page. The page consists of various sports events amongst which you can choose the one you would like to advertise in. In this case, choose 'World Test Championship' to know the best rates. You can also go through various filters available on the website to get the best media plan from our professional team.
World Test Championship Advertising Agency
The Media Ant is the best ad agency for World Test Championship advertising. The Media Ant has been in the ad-buying business for a decade now. In these 11 years, they have advertised on a vast array of platforms, like print, digital, TV, radio, magazine, cinema, and outdoor, etc.
The Media Ant specializes in helping companies and brands create content, cultivate conversations, and build relationships with their customers through sports advertising. They use the latest technology and tools to analyze data and identify opportunities for optimization, giving the clients the best chance of success.
The Media Ant also has a good network of publishers, advertisers, and media sources, which allows businesses to reach a large audience. Furthermore, the firm has an experienced team of specialists that can give customized solutions to each business's demands.
| | |
| --- | --- |
| Was this article helpful? | |