Sports Advertising: The Game Changer For Brands
It isn't a secret that brands are quick enough to jump into the sports advertising bandwagon, which is due to the platforms power to spread messages on a huge scale. This is something that's becoming difficult due to changing consumer habits and new technologies.
Our article will talk about the marketing and psychological factors of sports advertising and sponsorship, but before that let's share a fun fact.
Advertising during sports dates back to ancient Rome where wealthy and influential citizens sponsored gladiator combats. The ads of these fights were advertised on walls and there used to be distribution of pamphlets.
Source: Elizabeth Elen Carter
With the gaining popularity of cricket in the field of sports, brands too left no stones unturned to engage with cricketers for endorsements.
Here's an advertisement of St. Peter cricket bats dated back to the year 1978. From subtle and straightforward print ads to brands going expeditious over creative video ads, we've come a long way.
Source: The Wasted Afternoons
The Whole New Ballgame
Moving on to the current scenario, in a country like ours where cricket is a religion, IPL has turned out to be the biggest festival for cricket fans. Not just that, the Indian Premier League has also become synonymous to entertainment.
But this cannot be the only reason for brands evangelists to aggressively vouch to get their space in the marketing battleground. As a die-hard sports fan has myriad reasons to support their favourite team, advertisers too have innumerable reasons to go for sports marketing. Let's look at some of the benefits;
Highly engaged audience: No channel switching during ad breaks!
Though streaming on the same devices as series, movies, or other content, live sports are far more engaging. Sports matches are not only a source of entertainment but major events that attract a lot of news and discussions.
It's like an edge-of-the-seat thriller where each and every action can lead to a different outcome. Hence, it commands the highest level of attention by the viewers who don't even change channels or swap the screens during commercial breaks which are much shorter too.
Strong emotional connect: Games end but memories stay!
Sports is not only a source of entertainment but a demonstration of action, skill, group dynamics, leadership, entertainment as well as pride (team/state/national level).
The motive to watch live sports might vary for the sports audience from national pride to following a particular sports player, but the emotions are strong and everything that happens during a match leaves a deep and long-lasting impact on the audience mind including which brands were associated with the match.
Positive association with brands: Remember that ad we watched during IPL 2020?
Sports is often associated with several positive emotions- patriotism, a bias for action, brotherhood, transparency, fair play, etc. When a brand associates itself with sports, in the audience's minds, similar associations are formed with the brands too.
Indian Premier League: The Baap of Manoranjan
The slow and dramatic countdown has just begun and things have already taken a turn with the free online streaming of the matches on JioCinema. In fact, the digital conglomerate is expecting 500 Mn viewership on its app and "India ka Tyohar" fever is all set to go live in March.
The battle of the giants is set to provide a splash of entertainment to our monotonous schedule and advertisers are going gaga over occupying the media spaces before someone else grabs the opportunity.
It created a buzz amongst cricket fans as well as advertisers and brands. Don't believe us? Checkout the facts below:
IPL 2022 was the most searched topic of the year 2022 which means there were more people searching for IPL than 'wordle' which was apparently the most searched topic globally.
IPL 2022 broke all records, not only in terms of viewership but also in terms of advertising:

Star Sports reportedly signed 13 sponsors.
Disney+ Hotstar witnessed over 13 sponsors for IPL 2023.
Source: Brand Equity
But, it's not the magic of 2022 only, with every passing year IPL has made records to break them the very next year. Have a look at the increasing popularity of IPL among people:
We all know Cricket is synonymous with religion in this country. This love for cricket transcended the national boundaries in 2008 when the Indian Premier League was launched. On similar lines to the English Premier League, the Indian Premier League was conceptualized to bring sports and entertainment together.
Currently, IPL has 10 teams who are named after 6 metros and 4 states of India- Delhi, Mumbai, Kolkata, Chennai, Bangalore, Hyderabad, Punjab, Rajasthan, Ahmedabad and Lucknow.
These teams are owned by corporates and celebrities. Every year there is an auction where team owners bid for their players from a list of selected players from Indian as well as overseas cricket teams.
Every year, IPL takes place in the months of March, April and May. Earlier, the matches took place in all the 8 home states of the teams in 20-20 format. Last year, the IPL started on March 26 and ended on May 29. This year, IPL is starting from March, 2023 and ending in May 2023 and the matches will be held in India. The primary reason for conducting the event during this time period is because it's a session break for students. Since a majority of IPL viewership comes from young audiences, conducting the series during the vacation period is ideal for the event. 
IPL 2023 Schedule
The Indian Premier League 2023 schedule has finally been announced! The tournament will begin on March 31, with defending champions Gujarat Titans taking on Chennai Super Kings at the Narendra Modi Stadium in Ahmedabad. The league will be returning to its traditional home-and-away format in India for the first time since 2019 and the final will also be held in Ahmedabad, on May 28. There will be a total of 70 league matches this year with the first match on double-header days set to commence on 03:30 pm (IST). The evening matches have been given a 07:30 pm (IST) start time.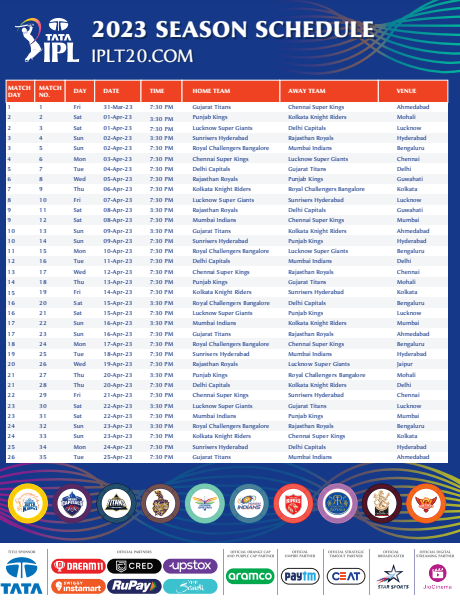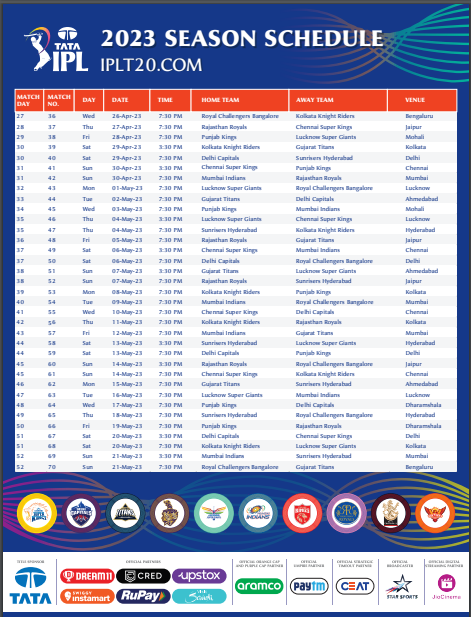 Source: ICC Cricket
Apart from being a sporting event, IPL is also packed with entertainment and marketing events. From quirky ads to catchy jingles, contests, celebrity's performance, fantasy sports league, on-ground activation, there has been no-stone unturned when it comes to promoting the mega event called IPL.
IPL Live Streaming On JioCinema: Shrinking An Entire Stadium Into a Mobile Screen
This year, Viacom18 bagged the digital broadcasting rights for the Indian Premier League. This means that Star India channels in the case of TV and JioCinema in terms of digital have the official rights to broadcast and stream live IPL matches.
In the media rights auction held on June 12 and June 13, Viacom18 won the digital rights for the Indian Premier League (IPL) for the 2023–27 cycle for a price of Rs 20,500 crore. Hence, the e-auction of TATA IPL Auction 2023 will be streamed online on Jio Cinema.
The network overpaid for the TV rights with a 30% premium over the basic price of Rs 18,130 crore, according to experts. The broadcast rights were sold to Disney Star for Rs 23,575 crore, and for TV viewers the auction will be broadcasted live on Star Sports channels.
TATA IPL 2023 Auction Advertising on Jio Cinema and Star Sports can help brands and advertisers to get the maximum exposure and brand awareness. The growing viewership and the fact that IPL has now become synonymous with entertainment is something that brands must tap into.
IPL Advertising 2023: The JioCinema Advantage and How to get the maximum out of your investment?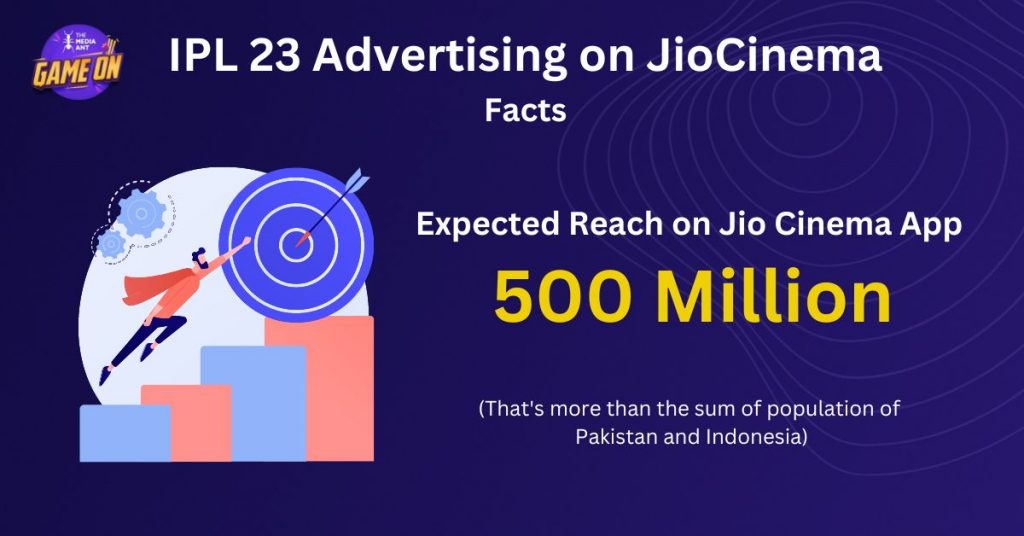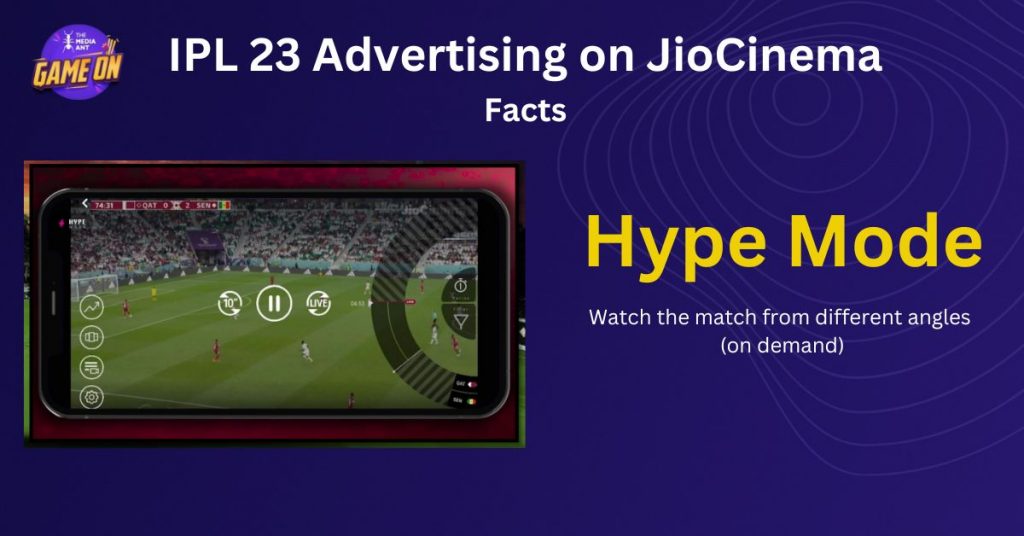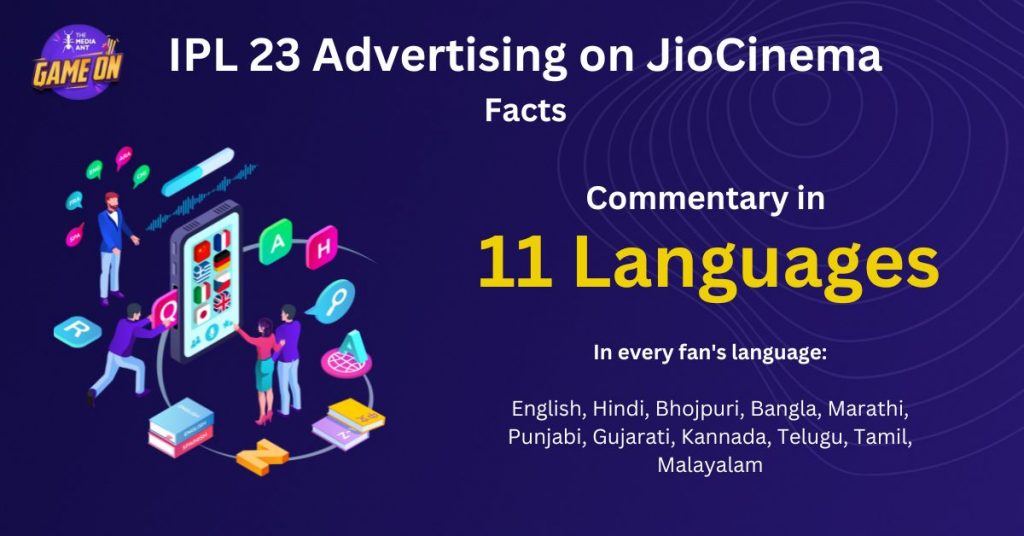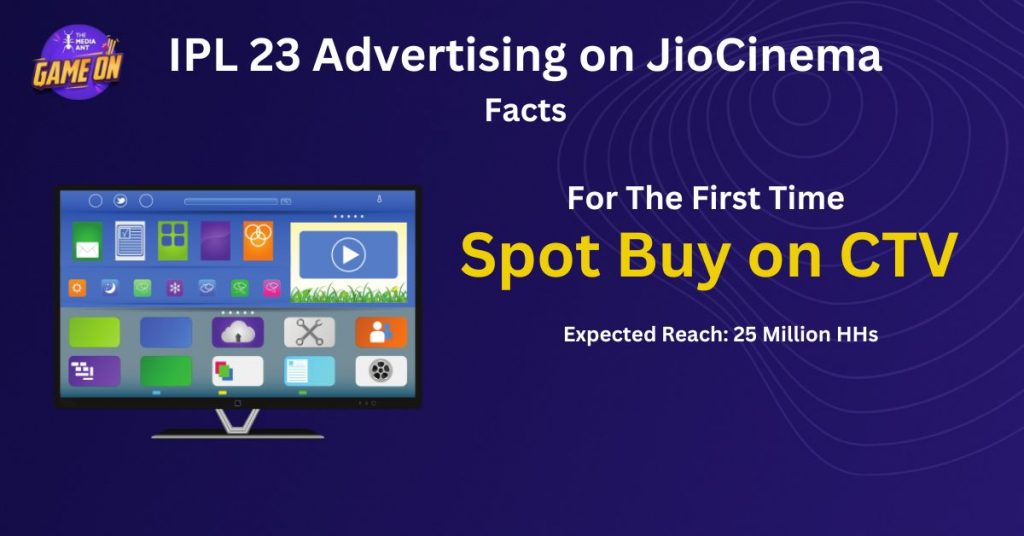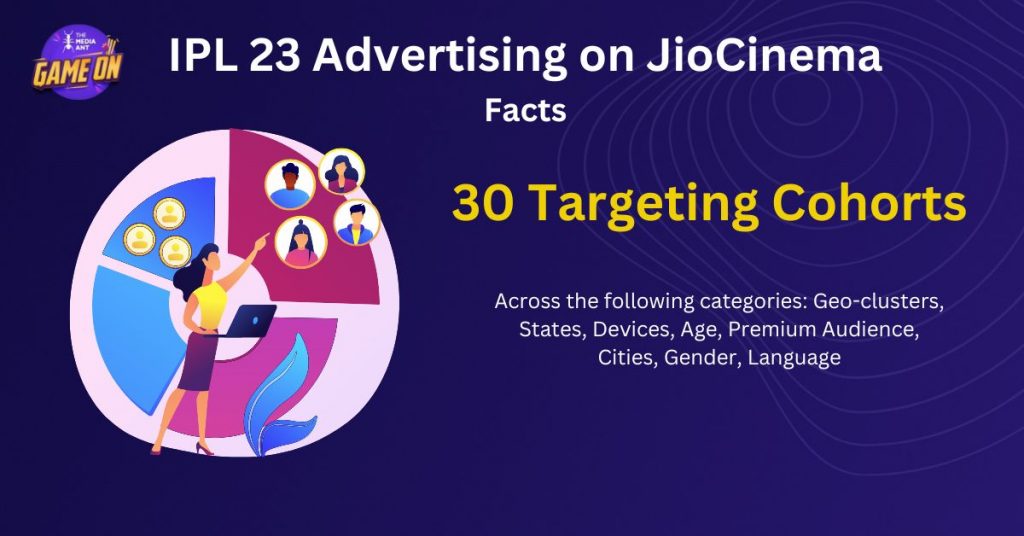 What's New on JioCinema: Unravel the Advertising Quest
The unexpected happened this year with JioCinema bagging the digital media rights for TATA IPL 2023. In fact, for the first time in the history of IPL, the amount of digital media rights exceeded TV rights. After the massive success of FIFA World Cup 2023, JioCinema has made IPL watching free for all its users and is expecting a viewership of 500 Mn.
Apart from this, here's what's new for viewers:
Hype Mode: Be ready to get a world class experience with a never seen before feature on OTT that is the Hype Mode. The Hype Mode, which allowed users to toggle between different camera perspectives and also threw up quick game insights, was a huge hit during FIFA 2023 as well. This is a one of a kind feature that will enhance the online streaming experience for the users.
Pre & Post Match: With JioCinema expect fresh and insightful perspectives from popular cricketers, like Chris Gayle and Suresh Raina.
Advertising on JioCinema: Understanding The Audience
The total number of visits to the JioCinema website during the month of November 2022 was 41.6 million.
The audience segmentation for JioCinema is 33.15% Female and 66.85%Male, with the largest age group being 18-24 years (42.71%), followed by 25-34 years (31.25%).
Even in the highly competitive environment in the Arts and Entertainment category, JioCinema traffic has increased by 504.8% compared to last month.
IPL Advertising on JioCinema: Advantages For Advertisers
High Impact Advertising: The impact of JioCinema advertising during IPL is going to be unparalleled. With online streaming of matches overpowering the viewing experience, the viewership of JioCinema is expected to skyrocket.
Not only this, when compared to other mediums of advertising, Hotstar IPL has brought a disproportionate amount of impact when compared to the share of spends (as seen in image above). A detailed analysis for IPL 2022 ads is in the following section.
Audience profile: Major part of the IPL audience on Hotstar was formed by the millennial and Gen Z (Above 15 years of age), urban males with high purchasing power and a high propensity to buy. A report by KPMG has categorized digital users of the country in various brackets based on the income level and evolution of these digital users. The audience profile of Hotstar matches that to the top-level digital consumers of the country- Digital Sophisticates (top 3%) and parts of Digital Enthusiasts (36%) and has the following characteristics:

They belong to the top income bracket in the country and complete most transactions online.
Likely to have several paid video & audio subscriptions that make it difficult to target them through advertising on digital platforms since Hotstar IPL is one of the fewest media to advertise to paid subscribers of OTT.
Apart from estimating 500 Mn viewers on their app, JioCinema is also expecting to tap into young audiences. Taking into consideration that IPL streaming on JioCinema is going to be free, it will also be a great opportunity to reach Tier 2 & 3 cities.
Highly engaged users: Apart from live sports, JioCinema will also offer regional language commentary in 11 languages, a hype mode feature, and an insightful panel discussion with fresh and talented cricketers. The result is a highly engaged user.
Brand association with IPL: The cash-rich cricket league IPL is growing 75% in dollar terms since 2020, making it a 'decacorn'. As per a report titled, 'Beyond 22 Yards' IPL would be the most profitable new-age startup in the coming years.With Disney Star bagging the TV rights for Rs. 23,575 Cr and Viacom18 acquiring digital rights for Rs. 23,758 Cr, the IPL ecosystem is getting bigger. Other factors like the increase in the number of matches, rise in sponsorship deals and high ticket sales has increased the valuation of IPL. All this combined, in 2022 IPL has reached a staggering $10.9 Bn business now.
Low advertising budget: Sports advertising is widely popular for being a high-impact property. For years, sports advertising has meant television advertising where although reach is high, advertising packages have been exorbitantly high-priced. JioCinema is disrupting this practice by offering cost-effective advertising packages. Now advertisers have more power in their hands to decide where and how to advertise.
Targeting options: One of the major advantages that JioCinema is offering is the ability to target the audience during a live match. This is something unheard of for other platforms. JioCinema which has an edge when it comes to technical expertise and high reach is offering a number of audiences targeting filters to select their audience. We will discuss this in detail in the next section.
IPL On JioCinema: What are The Various Options For Advertising on JioCinema
Brands who want to raise their awareness among the audience and capture their attention should opt for IPL advertising. These are apt for both online and offline brands like FMCG, automobile, etc.
These ads are charged on the basis of views/impressions. The objective of these ads would be to reach out to a maximum number of people and gain their attention and trust by showing these ads for optimum number of times.
Mid roll video ads are 10-30 sec non-skippable ads that would be played during the over breaks, drink breaks, and other breaks during the live streaming of matches.
These ads are very effective in terms of branding because they are long enough to narrate a touching story and are delivered to an audience that is highly engaged in the match.
However, these might not be a very good option for driving traffic to the website since people would not like to leave a live match to visit another website. Only one level of targeting is possible for mid roll video ads.
Pre-roll video ads are 5-10 sec long non-skippable ads that are played before the live streaming of a game starts. Since these are played before the live streaming of matches, they are not as high impact as mid-roll ads but experience a higher CTR. Two levels of targeting are possible in the case of pre-roll video ads.
Featured Cards are simple banners that carry the brand logo and message.
Featured card options:
Super 4's
Fall of Wickets
Super Saves
Player Specific Moments
DRS
Milestones
VOD (Video-on-Demand)
Video on Demand is referred to as VOD. VOD for IPL are quite popular amongst viewers and cricket enthusiasts, as they show the highlights of the matches. Audiences can catch glimpses of the 'wow' moments of the match after or during the match.
Masthead
A banner ad, often known as a web banner, is an advertisement that appears on a website or mobile application. The ad comprises images rather than text; it could even be a multimedia object in .png, .jpg, or.gif format. For 24 hours, masthead banners are shown at the top of the platform's homepage. Masthead banners can be displayed on the platform's app and website.
In-App Banner
In-app banner advertising refers to the use of a rectangular graphic display that stretches across the top, bottom, or sides of an app, allowing businesses to display their advertisements.
Squeeze Ups
Squeeze-ups enable businesses to display their advertisements during pertinent times of the game in both portrait and landscape modes.

IPL on JioCinema: Understanding the Targeting Options
These targeting options for advertising in JioCinema:
Geo Clusters
Geo clusters targeting is basically using geographic location as the primary deciding element, marketing geographics involves segmenting the consumer market into smaller, more manageable parts based on the location.
Audience Targeting
With audience targeting, you may divide your whole audience of potential clients into groups according to a variety of factors, such as online behavioural traits, demographics, hobbies, and purpose. Delivering personalised and optimal experiences based on consumer demands and interests is made easier with audience targeting.
For instance, last year's data for IPL on Hotstar shows how the female audience for IPL viewership has increased tremendously in the past few years. The growth in female viewership has also given rise to several female centric brands who are now actively advertising on IPL.
Device Targeting
Device targeting allows you to target your ads to people based on the device they're using. Device targeting is a Google Ads tool that enables you to choose which ads are shown on which devices. In it, you can create mobile-only campaigns, specific ad variations for tablets, and different bidding strategies for desktop ad groups.
For Google Ads you have three choices, Desktop, Mobile And Tablet. One can also break things down further by specifically targeting different operating systems.
Language targeting
Language based targeting is basically targeting people who speak a certain language that the brand is trying to reach. This way brands can reach out to their potential customers in the language they speak and feel.
How to use the IPL audience targeting options to maximum effect: Some Examples
Example 1: Targeting the Southern States: KKB Lungi
About the brand: KKB is a very popular lungi brand in the country.
Reason to select the targeting option: Lungi is particularly very popular in the Southern part of India. Men wear lungis at home as well as in public as well. Considering JioCinema has a significant population of the male population, targeting the Southern States region like Tamil Nadu, Kerala, Andhra Pradesh/Telangana, and Karnataka can help the brand to reach out to the audience in target geographies only.
Example 2: Targeting all the metro cities: Furlenco
About the brand: Furlenco is a popular furniture and appliances renting company.
Reason to select the targeting option: Furlenco has a presence in the top 6 metro cities. Considering the very high percentage of migrants in these metro cities (male form a higher percentage of the migrant population) and the convenience of renting furniture and appliances instead of buying, the IPL audience on JioCinema is a perfect fit for targeting. Hence, targeting the IPL audience in the metros is a good idea for a company like Furlenco.
Example 3: Targeting Female: Niine
About the brand: Niine is a sanitary pad brand
Reason to select the targeting option: IPL is a high-impact advertising property and provides the best launchpad for brand-awareness campaigns. A sanitary pad is a product that's used by females of all ages and in all geographies. Hence, targeting the female audience who's watching IPL live on JioCinema can be a good idea.
Example 4: Targeting people with lower value handsets
About the brand: Brand Factory is one of India's biggest discount retail chains that offers a wide range of apparels.
Reason to select the targeting option: Brand Factory is one of the largest discount chains in India hence targeting budget handset would be an apt IPL 2022 advertising option on JioCinema.
Example 5: Targeting people with premium handsets: Imagine Stores
About the brand: Imagine stores are retailers of Apple products
Reason to select the targeting option: Apple products are expensive. People who already own a premium handset have a high affinity towards buying expensive handsets and other gadgets by Apple.
IPL 2023 Advertising Rates
For Pre-roll ad video: INR 225 for a 10 sec video for 1000 ad impressions
For Mid-roll ad video:

Live (10-sec): INR 200
Highlights (10-sec): INR 150
Following is a table describing how the IPL 2023 ad rates will change as per the levels of targeting:
| | | |
| --- | --- | --- |
| Ad-asset (10 sec) | Type | Rate card |
| | ROS | 200 |
| Midroll (Live+PPL) | Targeted | 250 |
| | 2 level | 300 |
| Pre-roll | ROS | 225 |
| | Targeted | 300 |
| Highlights/VOD | ROS | 150 |
| | Targeted | 175 |
How to calculate the cost of advertising on IPL 2023 on JioCinema?
Understanding the IPL advertising rates can be quite confusing because of the targeting levels and ad length.
Want to know an estimate of what would be your IPL 2023 budget?
IPL 2023 Sponsorship Options: A brief overview
Apart from the usual IPL 2023 advertising options, here are a few IPL 2023 sponsorship packages. All the sponsorship packages cover one or more JioCinema IPL 2023 ad types discussed above. To know more about them, send an email to ipl23@themediaant.com.
1. Sponsorship Tier: Co-Presenting
2. Sponsorship Tier: Powered by
3. Sponsorship Tier: Associate
4. Studio Title Sponsorship
5. Sponsored Segments
6. In Show Product Integration
Connected TV is a Jackpot for Advertisers in IPL 2023
The television world is bustling and it is predicted that connected TV universe projections will go up to 100 million. Connected TV advertising (CTV) is a rapidly growing platform for advertisers and has the potential to be a "jackpot" for advertisers during the Indian Premier League (IPL) 2023.
CTV allows users to access content on their television through the internet, rather than through traditional cable or satellite providers. This allows for more targeted and personalized advertising, as well as the ability to track and measure the effectiveness of ad campaigns. With the increasing popularity of streaming services, more and more viewers are turning to CTV for their entertainment, making it a prime platform for reaching a large and engaged audience during high-profile events like the IPL.
Additionally, with the IPL 2023 being a major sports event, the viewership is going to be huge, as the game will be broadcasted in 11 different languages, which means advertisers will be able to reach a vast audience and target them based on their preferences and demographics.
Advertising During IPL: Some Case Studies
Following are some advertising case studies during IPL:
1. How an e-commerce giant promoted its annual sale season through IPL 2020 on Hotstar.
Brand: Flipkart
Category: E-commerce
Campaign Objective: To promote Big Billion Days Sale
Approach & Targeting: Customized scheduling, Takeover of IPL Social Feed (Exclusive brand page), Celebrity Duets
Creative: As shown in the figure below
Impact:

Highest visibility in the festive sale period- reached 38 million.
Exclusive brand page presence on IPL social feed generated a funnel of 2 million visitors with a 2% organic CTR.
The celebrity duets drove ~7lakh interactions.
2. How a pre-used car seller improved its brand uplift through customised ad scheduling
Brand: Car Dekho
Category: Automobile
Campaign Objective: To maximize user intent
Approach & Targeting: Chaser ads: Car Dekho ads were scheduled after auto OEM ads
Creative: As shown in the figure below
Impact:

There was a 9% uplift in consideration vs the benchmark of 7%.
3. How an FMCG brand conveyed the geo-targeted message in key markets through Hotstar advertising
Brand: Maggi
Category: FMCG
Campaign Objective: Geo-targeted messaging to build brands in key markets
Approach & Targeting: Creatives specific to each market
Creative:
Impact:

16% increase in brand awareness
9% increase in a purchase intent
4. How a B2B Finance App built awareness and drove app installs
Brand: Khatabook
Category: Finance
Campaign Objective: To reach a relevant audience to build awareness and drive app installs
Approach & Targeting: B2B targeting- retailers and business owners
Creative:
5. How a soap brand reached out to its core audience through audience targeting- female
Brand: Lux
Category: FMCG
Campaign Objective: Brand building in relevant TGs
Approach & Targeting: Female audience targeting
Creative:
Impact:

Uplift of 11% in Ad awareness
Uplift of 9% in consideration
6. How a coupon brand drove user acquisition by investing in performance heavy assets
Brand: Cashkaro.com
Category: Finance
Campaign Objective: To drive app installs
Approach & Targeting: 6s Pre-roll and 10s Mid-roll ads
Creative:
Impact:

70K installs in 2 weeks
80% install to sign-up rate
2% CTR
IPL Advertising Tips: How to design an effective creative?
A number of our customers ask us if there are any tips/best practices that we can share on how the video creatives for JioCinema advertising during IPL matches should be. So, we thought we would add the same here.
One important thing to keep in mind while conceptualizing an IPL ad is that during IPL live matches, the audience is totally engrossed in the cricket match. Hence, while we understand that it's a high impact spot but a lot of it also depends on the video creative.
If the creative is contextual and captures the audience's attention without being a distractor, then the purpose is solved. For example, Swiggy had an insight that while watching a match, people usually order food.
Using this insight, they designed the entire campaign where for every sixer, a special discount was offered to the audience.
This is the best example of driving website traffic and purchase without diverting audience attention from the game.
Here are some of the learnings from our earlier ad campaigns which might help you:
Clear brand role in the story: Interesting creatives are good but the essence lies in how well have you written the character your brand plays. About 92% of creatives followed this principle in IPL 2020 and saw a 1.8X impact.
Last frame but also the first: Most digital ads end with a CTA page where the brand name and logo are displayed but a good practice is to include the brand name and logo in the first frame too. Only 57% of the creatives in IPL 2020 followed this and it got them 1.2X incremental impact.
Integrate early: Do you like to keep your audience in suspense till the last frame of your ad or you integrate your brand early in the creative makes a big difference. 78% of the creatives in IPL 2020 followed this and got a 1.1X incremental impact.
Presence of Human/Celebrity: When trying to establish a brand, a human face/ even better, a known face can help the audience connect with the brand and the ad. 91% creatives in IPL 2020 followed this and had a 1.9X incremental impact.
Simple & clear messaging: IPL breaks are short and most audiences have a short attention span hence, the simpler and clearer the message is, the more impact it would create. 93% creatives followed this advice and the incremental impact was 1.4X.

Bonus: Contextual ads perform better. Here are the top performing campaigns of IPL 2022 with cricketing context and cricket stars:
IPL Advertising 2023 on JioCinema: How to measure the performance of your campaign?
One of the biggest questions advertisers have when opting for digital advertising is- how to independently confirm the delivery of the ads? Here is a tip.
While advertising on IPL 2023 on JioCinema, brands can opt for a 3rd party install/attribution measurement software as well as brand lift studies to help understand the performance of their campaign (at a nominal cost).
Want to know more about 3rd party installs/ attribution software? Check out our article on top 5 digital marketing attribution software.
Following are some of the most popular 3rd party trackers:
AppsFlyer
Branch
Double Click Manager
Adding
Sizmek
Interested to know more about IPL advertising read our other articles;
Cricket IPL Ads: Then and Now (IPL 2022)
Women's IPL 2023 Media Rights & Advertising Opportunities
TATA IPL 2023 Auction Advertising
| | |
| --- | --- |
| Was this article helpful? | |