Key Takeaways:
6 startups sponsors in WPL 2023.
Fashion & Lifestyle is the most represented sector.
Mumbai Indians & Royal Challengers Bangalore with highest viewership.
The ad spends poured in WPL 2023 has been pretty modest as per IPL standards, however it remains a significant context when it comes to women's game and where it stands today.
Even if we talk about the broader history of cricket on a global scale, women's cricket in India has often been associated with misogynistic attitudes and social and institutional 'other-isation'. Be it the pay gap between female and male players or the mere comments made by common public or BCCI administrations towards the women's game.
Women's cricket governance was globally merged with its male counterparts in 2005, and the following year witnessed the subsequent merger of the Women's Cricket Association of India and the BCCI. But the progress of the game has remained slow for a decade now.
However, Indian women's cricket has come a long way over the past few years, with the team's performances on the international stage improving drastically. Not only that, the overall perception about our 'women in blue' has also changed. From implementation of equal pay to using terms as batter instead of batsman, are small steps in the right direction.
Moreover, the long-awaited breaking of the glass ceiling in the part of women cricketers has finally come to play as Women's IPL takes a kickstart. One thing we are sure about is that there's a long way to go for the league to cement itself. Hence, here we are doing a complete analysis of the advertiser's profile for the first ever season of WPL and how it is varying from the previous season of IPL.
Women's Premier League 2023 Sponsors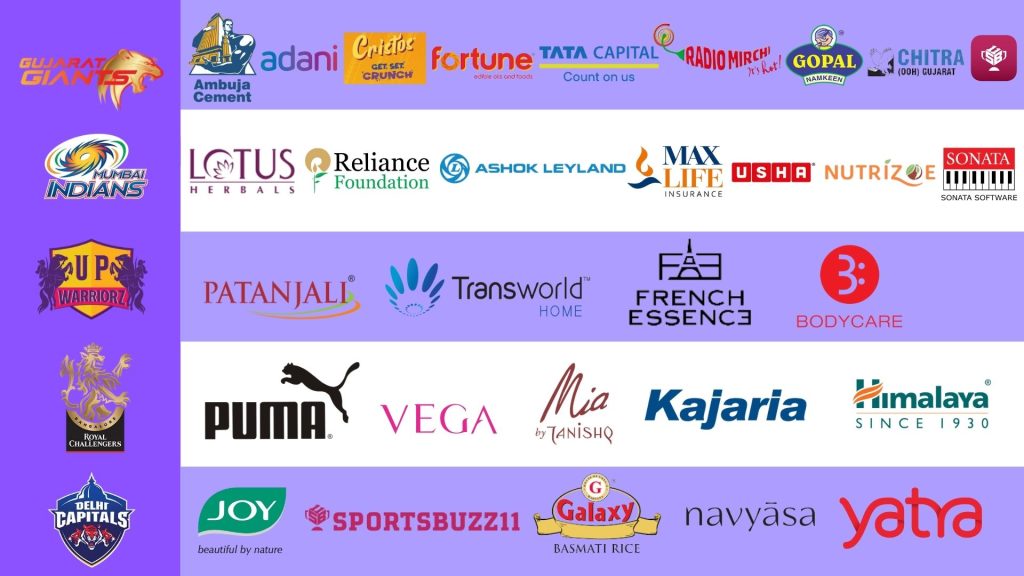 List of Women's Premier League 2023 Sponsors
| | | |
| --- | --- | --- |
| Sponsorship | Brands | Industry Sector |
| Title Sponsor | TATA Group | Conglomerate |
| Associate Sponsor | Noise | Lifestyle |
| Associate Media Sponsor | Bank Of Baroda | Banking & Finance |
| Co-Powered Sponsor | Hero Vida | Electric Vehicle |
| Other Key Sponsors | MPL Striker | Gaming |
| | H&M | Fashion |
| | JSW Paints | Home Improvement |
| | World Gold Council | Research |
| | Apar Industries | Engineering |
| Official Fantasy Partner | Dream11 | Gaming |
| Official Strategic Timeout Partner | CEAT Tyres | Automobile |
| | | |
| | Mumbai Indians | |
| Principal Partners | Lotus Herbals | Beauty & Skincare |
| | Ashok Leyland | Automobile |
| Associate Partners | Dream11 | Gaming |
| | Sonata Software | Software |
| Official Partners | Usha | Home Appliances |
| | Max Life Insurance | Insurance |
| | Nutrizoe | Female Health |
| | Reliance Foundation's Education & Sports for All | NGO |
| | | |
| | Royal Challengers Bangalore | |
| Principal Sponsors | Kajaria Ceramics | Home Improvement |
| Key Sponsors | Mia by Tanishq | Jewellery |
| | Dream11 | Gaming |
| | Vega Beauty | Beauty & Skincare |
| | Himalayan Face Care | Beauty & Skincare |
| | Puma | Fashion |
| | | |
| | Delhi Capitals | |
| Principals Sponsors | JSW Paints | Home Improvement |
| Official Partner | Yatra.com | Travel |
| Associate Partner | Galaxy Basmati Rice | FMCG |
| Key Sponsors | Sportsbuzz11 | Gaming |
| | Navyasa | Fashion |
| | Joy Personal Care | Beauty & Skincare |
| | | |
| | Gujrat Titans | |
| Title Sponsors | Ambuja Cement | Construction |
| Principal Sponsors | Sportsbuzz11 | Gaming |
| | Cristos | FMCG |
| Key Sponsors | TATA Capital | Banking & Finance |
| | Adani Group | Conglomerate |
| | Fortune | FMCG |
| | Gopal Namkeen | FMCG |
| Official Partners | Chitra OOH Gujrat | Agency |
| | Radio Mirchi | Media |
| | | |
| | UP Warriorz | |
| Principal Sponsor | Patanjali Ayurveda Ltd | FMCG |
| Key Sponsors | French Essence Perfume | Beauty & Skincare |
| | Transworld | Logistics |
7 Major Trends from WPL 2023 Sponsors Profile
Advertisers have already geared up for the Women's Indian Premier League, and brands like ITC, Parle that have already advertised during the men's IPL before are now exploring this new property in sports.
The league took off in March this year, and the tournament is already seeing interest from new brands that have never advertised during IPL before and traditional advertisers as well.
Vijayaraghvan, CoFounder & CEO FastandUp said, "Advertising during women's IPL will be a natural extension". (Source: Print)
He also added that brands are getting one more opportunity through women's IPL to advertise in a cricket property. A lot of brands who did not have the budget to advertise in IPL are now tapping into WPL due to cost-effective advertising inventory.
Also, this is the first ever women's IPL that is being hosted and with women cricketers getting recognition, brands are not missing the trend because women's cricket is showing a lot of potential now.
In fact, a lot of brands are creating a separate narrative and messaging for their ads exclusively for WPL. This is majorly to attract women consumers, though as per BARC majority of viewers for WPL are men at 55%. However, it could be the image of the tournament which is not just about sports but revolutionising women in cricket. Therefore, brands too are tapping into the story and making an attempt to show themselves as 'woke' and leave a mark.
Did More Women Watch WPL 2023 as compared to IPL 2022?
Did The Mad Race For Sports Sponsorship Among Startups As Seen During IPL 2023 Continued During WPL 2023?
The first-ever Women's Premier League is seeing an overflow of brands, which includes established brands as well as startups. For the league, 79.5% of established brands and 20.5% of startups have signed up for sponsorship.
For IPL 2022, 29 startups participated in the advertising wave, out of that 10 were unicorns, representing 35% of the participating startups. These unicorns have a total valuation of $43.6 Bn, with Dream11 and Meesho leading the pack with a valuation of $8 Bn each.
In the case of WPL, 6 startups have tapped in for sponsorship and most of these brands are a mix of gaming, fashion & lifestyle and healthcare. However, the one thing that we need to keep in mind is that it's the first season of WPL and the tournament will need time to establish itself. Moreover, the overall sponsors for WPL are a lot less than that of IPL, which is also a reason for the less number of startups.
Startups Sponsoring WPL 2023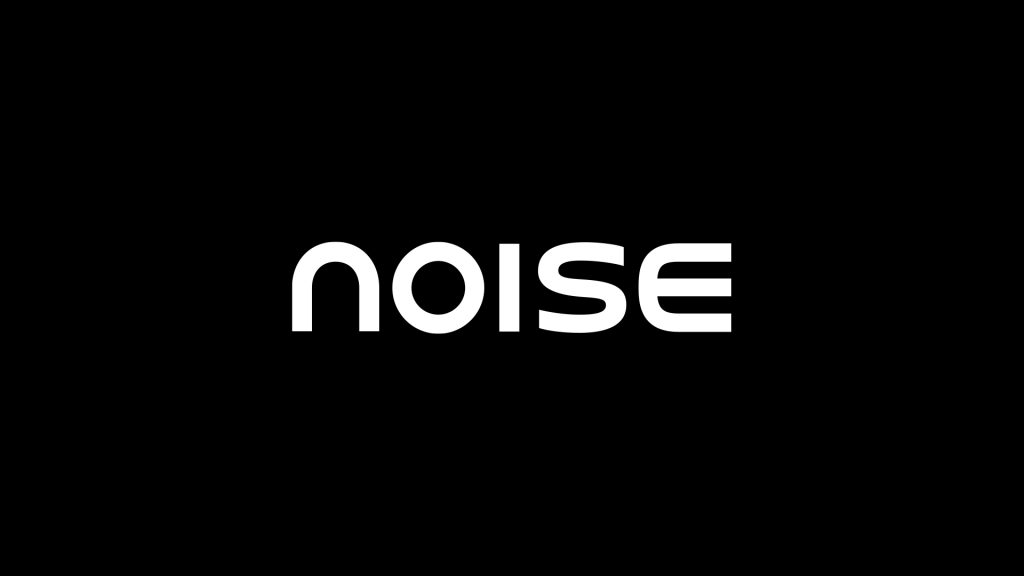 Noise is an Indian firm that manufactures and distributes wearables and other similar goods. As of June 2020, it is the electronic industry that dominates the present market in the production of smartwatches. This company came into force due to the collaborative efforts of two brothers, Amit Khatri, and Gaurav Khatri. The Noise products are now accessible on numerous outlets such as Amazon and Flipkart. For four years in a row, they have been featured as the bestselling brand on Amazon and Flipkart, and in 2019. According to a recent Counterpoint research analysis, Noise was leading the market in 2021 with a 27% share and over 278% year-on-year growth in the smartwatch category.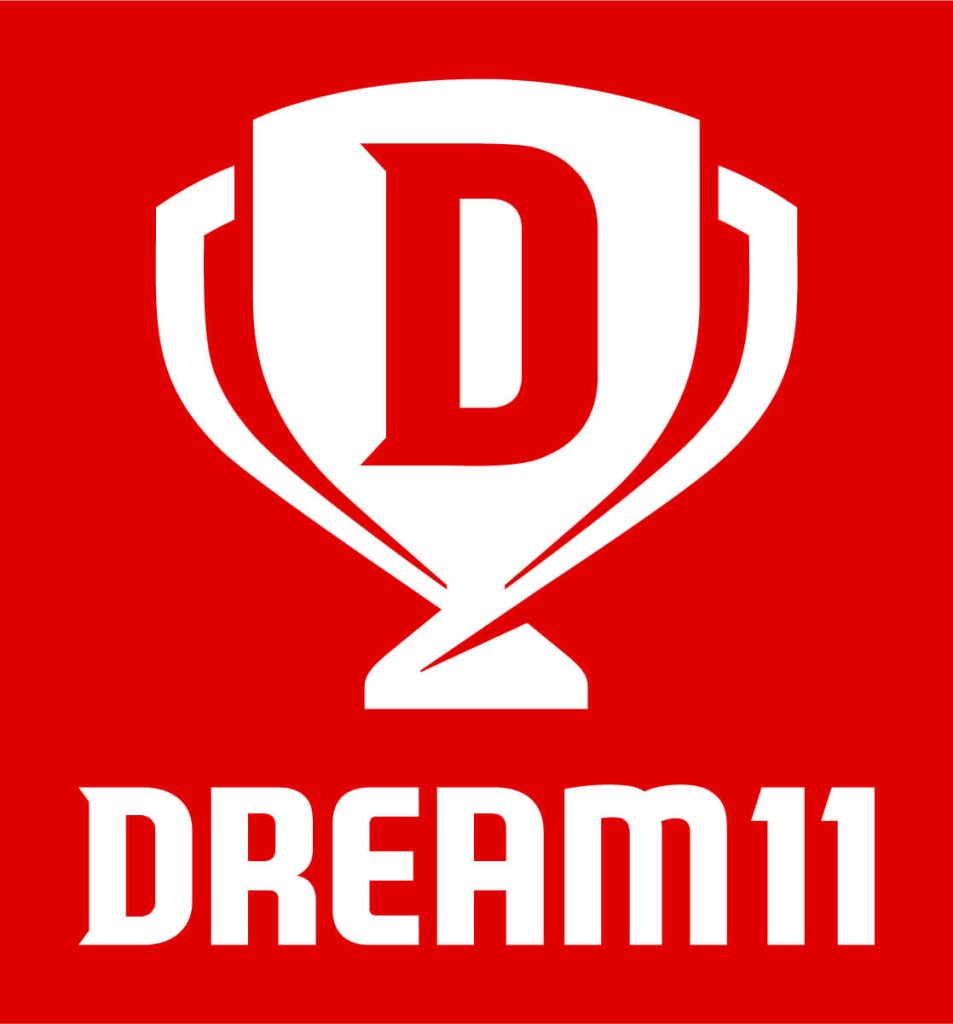 Dream11 is a fantasy sports website where users may participate in fantasy cricket, hockey, football, kabaddi, and basketball. It was founded in 2008 by Harsh Jain and Bhavit Sheth and offered freemium fantasy cricket in India in 2012. It became the first Indian gaming firm to join the unicorn club in April 2019. Dream11 had 160 million active users in India by December 2022. Dream Sports, Dream 11's parent business, secured $840 million in fundraising in 2021, headed by Tiger Global, D1 Capital, Falcon Edge, DST Global, and Redbird Capital. In 2017, the firm collaborated with three cricket, football, and basketball leagues. Dream11 has been named the Official Fantasy Partner of the Caribbean Premier League and the Indian Super League.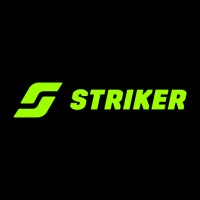 App for esports and skill games Striker, a digital sports collectibles platform founded by two of Mobile Premier League's workers, Krishna Mohan Vedula and Nitesh Jain, has received funding as it prepares to enter the young but rapidly rising Web3 gaming industry. Striker's marketplace lets users acquire and sell digital player cards. It also allows people to form teams out of these cards and compete in fantasy games. Web 3 is still in its early stages, but it is thought to be the next edition of the internet that will be decentralized and operate on a blockchain. While MPL has made no financial commitment, it will assist Striker by providing technical and infrastructure assistance.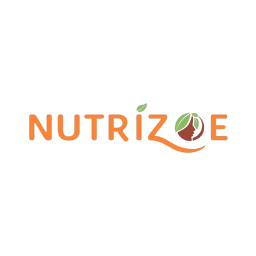 Nutrizoe is a women-focused nutrition company with a new-age format of ready-to-eat (RTE), zero prep time (RTC), highly appealing, and nutritious goods. The company's initial product, "Lactobites," was developed in accordance with the RDA of a nursing mother and has been favorably received by India's premier maternity chain hospitals and gynecologists. With over 25 components and no preservatives or additives, it is a powerful on-the-go nourishment for many parents. With a growing market potential of 10Bn by 2025, Nutrizoe strongly believes that it will be one of the major platforms for all the Products/Services for Women from Puberty to Menopause.

Fantasy sports platform SportsBuzz11 has associated with Delhi Capitals as the official fantasy partner and back-of-jersey sponsor for the ongoing Women's T20 League. The tournament is being played between 4 and 26 March 2023. The SportsBuzz11 logo will be featured on the back of the match and training jerseys of the Delhi Capitals throughout the competition. The fantasy sports platform, SportsBuzz11 has announced a new partnership with the Indian cricketer, Nitish Rana. In this new association, the left-handed batter will serve as the entity's brand ambassador.
Sports Has Always Been Considered A Man's Territory. Did WPL 2023 Sponsorship Pattern Prove This Wrong?
Women-Centric Brands Tapping Into WPL
Mia by Tanishq, Vega Beauty, Himalayan Face Care, Navyasa, Joy Personal Care, Lotus Herbals and World Gold Council have associated with the women's cricketing tournament.
The Indian Premier League (IPL) has been the most desirable property for businesses to associate with over the past 15 years. To reach their target market, brands from all categories line up. These brands tend to be those that cater to male viewers since cricket is primarily followed by men in India. A female-centric brand is uncommon in this environment. The Women's Premier League (WPL)'s first season, however, heralds a shift.
Through the eight teams or the broadcaster, numerous businesses that appeal to women have made ties to the tournament. Everything from jewelry to cosmetics to sari labels can be seen promoting the cricket competition.
For Royal Challengers Bangalore, significant sponsors include Vega Beauty, Himalaya Face Care, and Mia by Tanishq. For Delhi Capitals, key sponsors are Navyasa and Joy Personal Care. Mumbai Indians' Principal Partner is Lotus Herbals. Meanwhile, the World Gold Council has become a sponsor of Viacom18 Sports, the event's official broadcaster. WPL has also onboarded Patanjali the principal sponsor of UP Warriorz. Patanjali falls under the FMCG category and when it comes to purchases of such products it's mostly the women who do the decision-making in households.
Did FinTech and EdTech Categories Win the WPL Race Like IPL 2022?
Categories Advertising The Most
Fashion & Lifestyle: It could be due to the first time advantage of the game or the fact that it's women's cricket, we saw a lot of lifestyle brands sponsoring in the first-ever season of WPL. About 18.2% of fashion and lifestyle brands are sponsoring in WPL which also includes popular brands like H&M, Mia and Vega Beauty.
Gaming: Gaming sector players contend that the gaming industry and sports events are a match made in heaven, and it's key for gaming brands to make the most of WPL as it can offer different opportunities for brands. Old players like MPL, Dream11 and Sportsbuzz who have been advertising in IPL have put their money on WPL as well.
FMCG: 11.4% of FMCG brands have rode on the WPL waves this year, brands like Fortune, Patanjali, and Galaxy Basmati Rice are major sponsors of WPL. A prime reason for this could be the reach and popularity of cricket as a sporting event.
Categories Absent From The WPL Ad Landscape
BFSI: IPL 2022 witnessed a surge in BFSI brands and Fintech, big brands like Acko, Slice, KreditBee were key sponsors. As per Inc42, about 34.5% of brands were from the BFSI sector. However, for WPL only 3 BFSI brands signed up which were Max Life Insurance, Bank of Baroda and TATA Capital.
Automobile: WPL also saw a lack in automobile brands, Hero Vida which is an electronic vehicle brand and Ashok Leyland, a leading commercial vehicle manufacturer are the only automobile brands who are sponsoring in the tournament.
Logistics: While IPL has seen popular logistic brands like Zepto and Swiggy Instamart, WPL roped in none.
Ed-Tech Brands Withdraw
Women's Premier League's first season did not witness any EdTech brands as sponsors. There is a possibility that EdTech brands did not see any scope or opportunity in the league. Another reason could be the decreasing number of EdTech brands for IPL as well, and the same trend was followed in WPL. Though IPL 2022 had BYJU's and Unacademy as the prime sponsors, the number has decreased over the years and WPL saw none.
In fact, as per Brand Equity, big brands like BYJU'S and Unacademy are giving IPL 2023 a miss. Hence, there is no confusion that WPL also suffered from the same trend and received the backlash from the EdTech industry.
Ban On Crypto & Gambling Apps
The new Women's Premier League (WPL) clubs have been instructed by the Board of Control for Cricket in India (BCCI) not to enter into sponsorship agreements with businesses involved in the cryptocurrency, gambling, tobacco, real-money gaming, and betting industries.
However, there are no limitations on the franchises' ability to contract with fantasy sports organisations. Surrogate advertising and cryptocurrency-related promotions were previously subject to more monitoring. Speaking of cryptocurrencies, the Securities Exchange Board of India (SEBI) sent a letter to the Parliamentary Standing Committee on Finance in June 2017 requesting that celebrities refrain from endorsing an industry known for its volatility.
Asserting that celebrities will be held liable if the advertisements were discovered to be deceptive, the Advertising Standards Council of India (ASCI) intervened. Actors have to use due diligence, it stated.
Gaming for real money saw a range of highs and lows. Companies in the area are having trouble building credibility. According to media sources, many state governments have criticised skill-based real money gambling, which generates more than half of this sector's revenue. Hence, for WPL the BCCI made a conscious step to ban the advertising of cryptocurrency, real money games, and tobacco.
Which Team Got The Highest Number of Sponsors? (Team Value)
Sponsoring in IPL has never just been about advertising in the tournament, but is highly affected by the team a brand is sponsoring for. As per BARC, matches played between Mumbai Indians, Chennai Super Kings and Royal Challengers Bangalore has the highest viewership. The value of the teams also depends majorly on the players who are a part of the team, as well as the popularity of the team. We can see that brands followed the same trend for Women's Premier League's first season.
For WPL, RCB has bagged popular brands like PUMA, Mia by Tanishq and Vega Beauty, the Smriti Mandana led team had the highest number of brands from the Fashion & Lifestyle sector. Even Mumbai Indians have roped in popular brands like Lotus Herbals, Ashok Leylands and Sonata Software. Patanjali became the principal sponsor of UP Warriorz, willing to tap into the limelight of encouraging women empowerment.
Which Sponsors Marked Their Debut In The Field Of IPL-WPL Sponsorship? (WPL First Brands)
The Women's Premier League might take a few seasons to set itself up, however the first ever season gave brands the opportunity to sponsor at a much lesser sponsorship cost compared to that of IPL. The low entry barrier has enabled several brands to sponsor in WPL and enter in the sport advertising arena, who had never even entered the IPL ad landscape before.
Several Fashion & Lifestyle brands like H&M, Navyasa and Mia are key team sponsors for WPL, mainly to attract women audiences. Apart from women-centric brands, many other brand sectors like BFSI, Construction, FMCG and Automobile too have entered the WPL advertising ecosystem.
Here is a list of brands who have advertised in WPL (these brands have never advertised on IPL):
Noise
Bank of Baroda
Hero Vida
H&M
World Gold Council
Apar Industries
Sonata Software
Nutrizoe
Kajaria
Mia by Tanishq
Vega Beauty
Himalaya
Galaxy Basmati Rice
Navyasa by Liva
Joy
Cristos
Gopal Namkeen
Chitra OOH
Patanjali
French Essence
Transworld
Which Are The Brands That Continue To Bet Big On Cricket?
Dream11: Dream Sports, which was founded in 2008 by Bhavit Sheth and Harsh Jain, has expanded over the years to offer a variety of fan involvement opportunities, including fantasy sports, content, shopping, experiences, and events. One of the unicorn's subsidiaries is called Dream11.
According to Dream11, it has more than 80 million users. The business has been planning a $1.5 billion IPO in the US, which would value it at $6 billion. (Source: Inc42)
Official fantasy sponsor of the Tata WPL 2023 is Dream11. This season, the gaming unicorn has partnerships with two WPL teams, which is a record. In addition to being an official fantasy sponsor with the Women's Premier League's first season, the unicorn also serves as the key sponsor of Royal Challengers Bangalore and the associate sponsor of Mumbai Indians.
MPL: Founded in 2018 by Sai Srinivas Kiran G and Shubh Malhotra, MPL offers various gaming options, including daily fantasy sports. MPL, at the latest edition of WPL, has partnered as the official key sponsor of WPL.
At present, MPL claims to have 85 Mn users in India, the US, and Indonesia. For years, the startup has partnered with several game developers and added more than 70 games to its platform.
The startup became a unicorn in 2021 after a Series E round by raising around $150 Mn from Legatum Capital, Accrete Capital and Gaingels LLC, at a pre-money valuation of $2.3 Bn. (Source: Inc42)
CEAT Tyres: Founded in 1958, CEAT is one of India's leading tyre brands and the flagship company of the RPG GROUP . Driven by the purpose of helping the world move safely and smartly, CEAT provides world-class products and services across 110+ countries.
CEAT Tyres has been the official strategic timeout partner of IPL since 2015, and even in WPL the company has signed up for the same.
What's Driving The Brands To Advertise?
Viewership: This was the first ever season of Women's Premier League and it's natural for the tournament to take some time to gain momentum. However, WPL 2023 gained 45% female viewership which is pretty close to that of IPL 2022. The average reach per match (based on cum reach of WPL 2023 on TV) was 60% of the first 8 matches of IPL 2022(Data Source: BARC), which is impressive for a first time tournament.
Based on Gender: As we discussed earlier, WPL has attracted a lot of women-centric brands from Vega Beauty to Navyasa, popular female brands can be seen in the league. This is the first time the viewers will be witnessing female-centric brands in the league, which will change the way audiences view women's cricket. The shift is also important in the advertising industry as brands too want to change the way consumers perceive them and WPL is the perfect platform.
Low entry barrier: There are plenty first time brands who have entered the WPL advertising landscape, and this could be because of the cost-effective nature of the tournament. While IPL advertising is quite expensive, the Women's Premier League is a much cost effective property, hence a lot of brands who have never advertised in any sports event have now tapped into WPL.
Did Advertising in WPL 2023 Mean Women-centric Ads Too?
As soon as The Board of Control for Cricket in India (BCCI) launched the Women's Premier League in 2023, brands planned to make the most out of the tournament, which has allowed them to ultimately appeal to a broad audience and encourage women in sports.
Women's IPL franchises have gotten a lot of interest despite being a new product. Surprisingly, some female-focused firms that are new to sports sponsoring are beginning with the first WIPL.
Moreover, companies are launching advertisements that portray the sporting league in its authentic form, utilising well-known athletes and remaining faithful to the spirit of this homegrown property. In addition, these key elements that predominate the popular culture around the league, such as the extent to which fans would go to in order to cheer on their favorite teams and their expression of affection for the players, can be observed in the campaigns as well.
Apart from that, women are usually asked questions regarding their game that men aren't and they are often gendered when it comes to cricket in particular or any sports in general. Principal Sponsor of Royal Challengers Bangalore, Kajaria's campaign has highlighted these questions and Players of RCB are seen breaking these stereotypes.
Ashok Leyland, who is the Principal Partner of Mumbai Indians, has highlighted the pain points that its players have faced to be where they are in sports today. Fortune has featured Indian Cricketer and Gujrat Giants' player Hurley Gala's mother who is shown talking about nutrition and cooking healthy food for her daughter.
On the other hand, the #NotFair campaign by Himalaya Wellness Company was started on the field. During the first two days of the match, the RCB players were seen sporting #NotFair on their headgears, which has sparked curiosity among the viewers. Following that, the headgears had the message "Himalaya Rose, Beauty is not equal to Color" with the objective to debunk beauty myths and encourage inclusivity. This campaign has extended even to the print medium.
Here's a look at Women's IPL campaigns that are making a difference by talking about gender biases in the sports ecosystem and celebrating women in sports.
Shift In The Message
MIA
Kajaria
Lotus Herbals
PUMA
Ashok Leylands
WPL- A Step In The Right Direction
The first ever season of Women's Premier League concluded on March 26, 2023. The tournament witnessed tremendous response on ground but the response on TV was tepid. JioCinema experienced the highest watch time per users that is, 50 mins per match as per Viacom18 Sports.
Women's Premier League roped in 50+ advertisers for its first season and the league also had the highest viewership for any women's sports event. The inaugural match between Mumbai Indians and Delhi Capitals bagged 10 Mn viewers. As per industry experts, WPL received massive footfall in the stadium but the TV viewership was not as high as expected. The match on Sunday experienced 35,000 people and there were 20 – 25,000 spectators for the match before.
As per BARC, TV rating for the 1st week was 0.22, for 2nd week it was 0.28 and 0.22 for the 3rd week, which experts are saying is not high but a decent number for a first time event. According to E4M, the live reach for the tournament for week 1 was 51Mn and 61Mn for week 2. The ad revenue collected by Viacom18 is about 80-90 Cr and the official broadcaster collected around 70-90 Cr.
The broadcasters are concerned about the viewership, the advertisers are worried about their ROI, both of which are likely to increase with the upcoming seasons. However, for women cricketers and audiences the Women's Premier League 2023 is a milestone in the field of cricket. WPL is a landmark which has taken the initiative to commercialise women's cricket and bring them into the limelight.
Hence, as the first ever tournament comes to an end, we keep our fingers crossed and look forward to a future where women cricketers get their due recognition and fame, something that their male counterparts have been long relishing.
(Source: E4M)
| | |
| --- | --- |
| Was this article helpful? | |