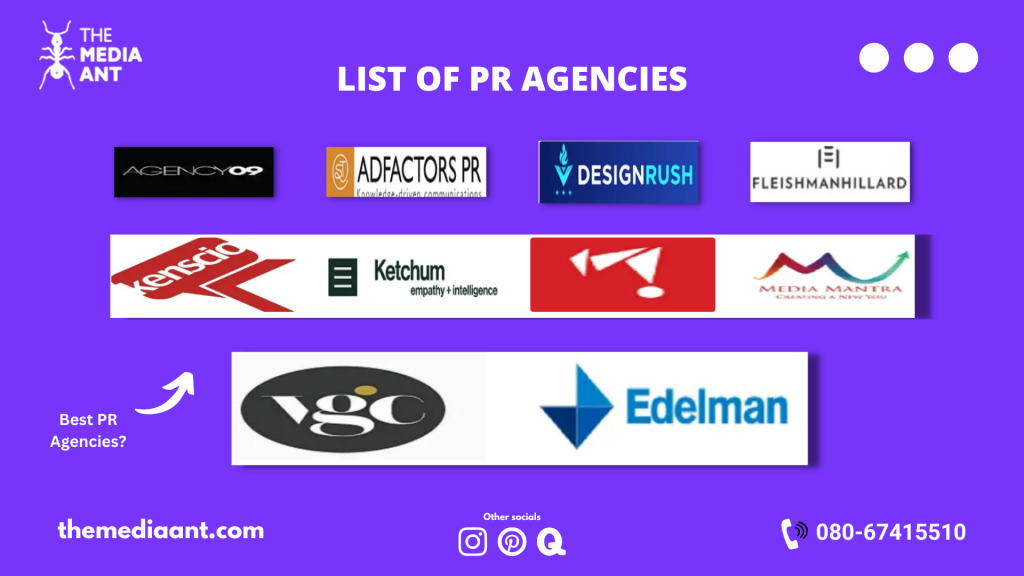 What is a PR Agency?
The field of PR agency (Public Relations) exists to support communication among companies, groups, and people. To assist their clients in reaching new audiences and achieving their commercial goals, a PR agency assembles people, research, and cutting-edge technologies.
You can understand your audience better with the aid of a skilled PR agency, and they can also show you how to engage them in important ways.
How Can PR Agencies In India Help You?
PR agencies in India have the capacity to devote all of their time and energy to marketing and selling the goods and services provided by your company.

The finest PR agencies in India are made up of a highly qualified collection of experts in their particular fields, so they can assist a corporation or business in more effectively reaching its target clients.
PR agency can produce information-based advertisements for the company's goods and services.
Doing significant study about the firm, the brand, the products they offer, how people react to them, and more.
Good planning should be done regarding the media alternatives and ad types to be used, as well as the where, how, when, and for how long.
PR agencies in India do proper customer and client feedback gathering that will aid in making future plan decisions.
However, one must consider that a corporation could likely complete the task independently. The group can create ads, print them, and advertise using television, the internet, or other media; the business may even handle those accounts.
The second query can then be, "Why does your business require any PR agency?"
Here are some of the reasons why a company must hire a PR pr agency in India:
The top Digital PR agencies in India are the experts in this field. The agencies consist of a good team of professionals for specific functions like planners, copywriters, art directors, etc.
To give the business the finest outcomes possible, Indian PR Agencies make the greatest use of their expert staff, their knowledge, and their experience.
Digital PR agencies focus on a particular objective and are very professional.
You can greatly cut back on your PR expenses by hiring PR agencies in India.
Top PR Agencies In India
What can be the first thing that comes to mind when one thinks of any PR agency? They will undoubtedly consider the size of the pr firm, their fees, and the expense of the PR campaigns.
Top digital PR agencies may come to mind as massive corporations and impersonal companies that disturb you and even charge you for every minute they spend working on your project and making calls.
Although many people and organisations hold this belief, it is not the case in reality. This belief can be very widespread. In actuality, top digital PR agencies in India are beneficial for every type of business, regardless of its size.
Top PR Agencies in India may be one of the greatest choices for the business for a variety of reasons. Here are five reasons to think about working with PR agencies in India:
You Require a New Perspective: A corporation can benefit from the objective viewpoint from an outsider's perspective provided by an ad agency because it will assist the brand gain a better understanding and perspective.

This could even lead to a brand-new viable option that your business may not have previously considered.
Many firms have previously benefited from working with Top PR Agencies in India, and some digital PR agencies even have the advantage of dealing with numerous enterprises.

PR agencies have experience working with a variety of brands and businesses, so they can offer you professional guidance on what measures will be advantageous for your brand's success and which ones would be detrimental.
Help you Hook Up: The Top PR agencies in India have all the resources and connections you'll need to create successful and affordable PR campaigns.

PR agencies are skilled in both creating and placing advertisements. They also have the digital proficiency needed to create appealing advertisements.
Digital PR agencies even maintain positive relationships with various businesses and PR firms, which can help you do your work properly. One needn't worry about providing additional information to top PR agencies in India because they already have it all.
Budget Handling: The Top PR agencies in India are well aware of how to get a brand's big break in terms of marketing and pr. They have interacted with numerous businesses and brands over the years that represent a range of industries and pr budgets.
They have the knowledge and skills to perform the best cost management for any industry as a leading pr agency in India. A corporation can minimize its financial load on PR by working with PR agencies to increase its audience.
Better Results: The Media Ant is aware that running a successful business may be challenging and that it takes a lot of effort and commitment, therefore every dollar spent on pr should be worthwhile.
When considering successful marketing campaigns, one must take into account a thousand different variables; at this point, a PR firm might step in to help lighten the load.
The company is relieved of worrying about the brand's PR plans since the top digital PR agencies in India will handle every facet of the company's PR and marketing strategy. For the organization to be able to execute their job, PR agencies can handle the task effectively.
It doesn't matter how your business is set up; it could have a small internal staff or even be expanding beyond the current marketing plan. You must have considered hiring an PR agency at some point.
As a result, you shouldn't decide to restrict your business by doing your own self-promotion. In order to finally make a wise choice, you should take a risk and contact any PR agency.
Yes, PR agencies in India can assist companies in gaining a better understanding of their industry and in developing a cohesive, cost-effective ad plan.
So whenever we talk about pr and marketing strategy, ad agency is a must and can be a win-win!
Effectiveness of a Digital PR Agency
A Digital PR agency may assist you in the planning process, such as where and when your advertisement should be presented as well as in handing it over to your client and audience.
So, we may compare a digital PR agency to the tailor who will simplify your PR process. A lot of organisations are not truly necessary for PR companies. The PR agencies of India will be explained and discussed in this post.
A brand or business can benefit from the top digital PR agencies' assistance in reaching the right audience, raising recognition, and generating leads and sales.
The top PR agencies in India can assist a brand or business in reaching the right audience, raising awareness, and generating leads and sales.
PR agencies may even assist a brand in choosing the best PR strategies that can be appropriate for the brand. They can also help the business cut costs and have a better ad spend budget.
How Much Does a PR Campaign Cost?
| | | |
| --- | --- | --- |
| | | |
| PR Agency | Tasks | Starting Budget |
| Freelancer | Online website press release | Rs 5,000/Engagement |
| Freelancer | Digital + Print PR | Rs 50,000/Engagement |
| Agency | Retainer | Rs 100,000/month |
| Agency | Event-based PR | Rs 200,000/event |
| Agency | IPO PR | Rs 10,00000/Launch |
Why Use a PR Agency?
PR agency helps in reputation management. How? Let's get a general notion of it. Reputation management requires reliable media contacts. In your corporate career, for instance, you may run into horrible scenarios like poor PR or disgruntled clients complaining about your goods on social media.

When this happens, media connections can assist you in repairing the harm with a straightforward press release. Businesses have the ability to establish these connections through digital PR agency services.
Trust is a critical factor in determining whether a business will succeed or fail in any field. Sales loss is another consequence of a lack of confidence.
However, if they employ a public relations professional, that person can endeavour to enhance an organization's reputation through thought leadership content, influencer contacts, and networking techniques, increasing credibility.
By utilising the concepts that your target customers react to more favourably, a PR agency may help you communicate positive messages to your audience that are consistent with your brand's image.
What Does PR Agency Do?
PR agencies might employ unconventional tactics to get attention from the public and boost your bottom line. In a crisis, they can also make use of your strong brand equity.
Planning and efforts in crisis communications can be helpful amid corporate scandals, employee wrongdoing, and environmental disasters. Obviously, a crisis can damage your company's reputation, but your PR expert can assist you in fast repairing the damage and recovering.
Be familiar with the distinction between media relations and public relations before you begin your search for a Digital PR agency.
Both are crucial to your brand, but media relations specialists are focused on persuading journalists to write about a particular business.
An efficient communications programme will be created by a PR agency in India after thorough consideration of your company's needs and goals.
How Much Does PR Agency Cost In India?
In order for your consumers to receive superior PR services, it is crucial that, as a member of the PR agency industry, your PR campaign has the maximum scalability, speed, and infrastructure.
You can visit our blog to know how much PR agency cost in India and get the maximum out of your ad campaigns.
In The Media Ant you will get the list of top PR agencies in India and their costs that will help you to make a sound decision regarding which PR agency you should work with.
Our agency page has the complete list of PR agencies with the necessary information like online rates, address, contact details, etc.
You can even filter out agencies on the basis of location, and advertising services (such as, influencer, airport, digital, TV, print, etc).
| | |
| --- | --- |
| Was this article helpful? | |