Advertising in Sports Illustrated Magazine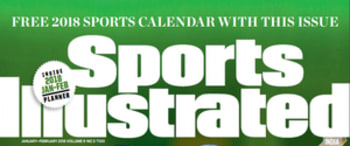 About Advertising in Sports Illustrated Magazine
To view Sports Illustrated magazine online, please click on the link provided below: Link to Sports Illustrated Magazine E-Copy
Confused?
We can help
Hire our expert media planners to find, plan and place your next promotion.
About Sports Illustrated Magazine Advertising
Sports Illustrated Magazine is the Indian edition of Time Warner's US magazine by the same name.
About Sports Illustrated Magazine Advertising
Facts and Figures of Sports Illustrated Magazine
93% + male readership  
Age bandwidth - 18 to 45 years old.

Traditionally Anchored



Socially Active
Emerged and Converged
Health Conscious
Active Community Member
Engaged and Informed
Well Groomed
Brand Conscious
Future Aware
Traveler
Has Peer Groups
Is a Family Man
Corporate
Facts and Figures of Sports Illustrated Magazine
| | |
| --- | --- |
| Channel | Copies |
| On Stand Sales | 70,000 |
| Subscription | 32,000 |
| Promotion Copies | 8000 |
Facts and Figures of Sports Illustrated Magazine
| | | | |
| --- | --- | --- | --- |
| Issue Month | Issue Topic | Issue Description | On Stand Date |
| January/February 2018 | THE GEN-NEXT ISSUE | The multi-sport issue will detail what to look forward to in 2018-19 and review of Indian cricket team's overseas tour | 5th of January and February |
| March 2018 | THE ACADEMY SPECIAL | The best sports academies in the country. Plus, the Ganga Rafting Festival and in-depth features on sports from various conflict zones in India such as Kashmir, the red-corridor on MP, Jharkhand and Andhra | 5th of March |
| April 2018 | THE SOTY ISSUE | Our recognition of the best of sporting excellence in 2017. Plus, a look at India's contingent for 2018 Commonwealth Games as India is expected to be among the top medal finishers. | 5th of April |
| May 2018 | THE FITNESS ISSUE | the regime and training of Pankaj Advani, one of best cueists that cue sports like billiards and snooker has ever seen after winning 15 World Championships. Also, a detailed feature on the state of university sports in India, | 5th of May |
| June/July 2018 | THE WORLD CUP ISSUE | It's that time once every four years when football fever sweeps across the world with the FIFA World Cup. | 5th of June and July |
| August 2018 | THE BUSINESS OF SPORTS ISSUE | Asian Games: Jakarta will host the biggest quadrennial continental games. India have always sent a big contingent to these games. We look at India's participation in detail with historical perspective. | 5th of August |
| September 2018 | THE MIND OF THE SPORTSPERSON ISSUE | A detailed study on the mental side of champions athletes and what makes them stand apart from the rest, with a special on five-time world chess champion Vishwanathan Anand, who has spent close to 30 years playing at the elite level. Also, the use of space-age technology to develop prosthetics for parasport athletes. | 5th of September |
| October 2018 | THE FASHIONABLE 50 ISSUE | After the success of the firstever list of India's most stylish athletes, it's time for the new list of athletes who have impressed us with their style quotient | 5th of October |
| November 2018 | THE LEGENDS ISSUE | We track the lives of some of India's most famous living sportspersons and what they are doing at the moment away from the limelight. Plus, a comprehensive story on the changing trend of taking up professional sports as a career option in middle-class Indian families and cycling as a lifestyle sports. | 5th of November |
| December 2018 | THE EXTREME ISSUE | While India has enjoyed reasonable success at the continental level in boxing, an increasingly larger number of people are getting to hooked to other forms of combat sports like mixed martial arts. We spot what's changing, where we stand. Also, a close look at the growing trend of heli-skiing and cross-country skiing in India, as well as other extreme sports and X-Games. | 5th of December |
Facts and Figures of Sports Illustrated Magazine
| | |
| --- | --- |
| Special Issue | Golf |
| Special Issue | Motorsports |
Facts and Figures of Sports Illustrated Magazine
Sports Illustrated Magazine largely covers the below mentioned sections in each edition:
​Cricket
Special features
Boxing
Basket Ball
Hockey 
Badminton 
Football
Cycling
Adventure Sports
Movie
These are indicative and are subjected to change.

Who Should Advertise ?
Sports Illustrated Magazine has carried advertisement of various brands covering multiple categories. Some of the brands who have advertised earlier are shown below:
Who Should Advertise ?
| | |
| --- | --- |
| Client Name | Category |
| Oris Watches | Watches |
| LIC | Insurance |
| Aircel | Mobile |
| Tata Safari | Automobile Manufacturer |
Execution Process
Step 1: Select Variables: Media Option, Ad Position, Number of Insertions and Magazine Issue Dates. 
In case you need any help with planning, please write to help@TheMediaAnt.com

Execution Process
| | |
| --- | --- |
| Variables | Sample Variable Selections |
| Media Option | Full Page/ Back Cover/ Gatefold |
| Ad Position | Regular/ Premium/ Innovative |
| Number of Insertions | 1/ 3/ 7 |
| Magazine Issue Dates | January/ February/ May |
Execution Process
Step 2: Email the filled table to help@TheMediaAnt.com or Create Package online at The Media Ant.
Step 3: We will check the ad space availability and prevailing discount at the time of booking.
Step 4: Upon confirmation of availability from our end, you need to submit the artwork and make the payment.
Execution Process
Post release of your ad in Sports Illustrated Magazine, TheMediaAnt would deliver a hard copy of the magazine to the address shared during booking. In addition, a picture of the ad in Sports Illustrated magazine's respective edition to be shared via email.
Similar Media
In addition to Sports Illustrated magazine advertising, one can explore more similar options and they are provided below.​
1. Similar Magazines in Sports Category
here
to view other magazines in Sports Category.
FAQs
Once the advertisement is printed in Sports Illustrated Magazine, copies of Sports Illustrated Magazine are sent to the client within one working week.

FAQs
With in 10-12 days of publishing Sports Illustrated Magazine you will likely to get the Hard Copy on request.

Sports Illustrated Advertising Rates 2022
The Media Ant is committed to getting the most accurate data for the users. Hence, we ensure the advertising rates are updated frequently. Sports Illustrated Advertising is one of the most popular Magazine Advertising options hence advertisers need to know Sports Illustrated Advertising Rates 2022. You can find the updated Sports Illustrated Advertising Rates 2022 under the tab "Media Options & Pricing" To know the last updated date for Sports Illustrated Media Kit 2022, please check the blue tick beside Sports Illustrated Advertising Rates under the Media Options tab.

Sports Illustrated Advertising Rates 2022
| | |
| --- | --- |
| S. No. | Category |
| 1 | Computers / Electronics / Accessories |
| 2 | Tech |
| 3 | Automobile |
| 4 | FMCG |
| 5 | Education |