Advertising in Overdrive Magazine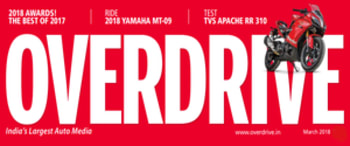 About Advertising in Overdrive Magazine
Overdrive magazine has made it its mission to make life easier for its readers by testing vehicles and enabling them to make the right choice when it comes to choosing automobiles. Targeted at affluent auto enthusiasts, the magazine strives to achieve excellence by keeping its reader abreast of every development that occurs in the ever-evolving automobile market. Not only do you get in-depth reviews of the hottest wheels, but also helpful tips, step-by-step guides and expert advice. With its highly interactive mediums spread out over various platforms, Overdrive makes sure that the young and passionate enthusiasts are hooked onto the magazine
Confused?
We can help
Hire our expert media planners to find, plan and place your next promotion.
About Overdrive Magazine Advertising
Overdrive magazine has made it its mission to make life easier for its readers by testing vehicles and enabling them to make the right choice when it comes to choosing automobiles. Targeted at affluent auto enthusiasts, the magazine strives to achieve excellence by keeping its reader abreast of every development that occurs in the ever-evolving automobile market. Not only do you get in-depth reviews of the hottest wheels, but also helpful tips, step-by-step guides and expert advice. With its highly interactive mediums spread out over various platforms, Overdrive makes sure that the young and passionate enthusiasts are hooked onto the magazine
Facts and Figures in Overdrive Magazine
| | |
| --- | --- |
| Regions | Circulation |
| North India | 50,726 |
| West India | 48,937 |
| East India | 40,853 |
| South India | 24,375 |
Facts and Figures in Overdrive Magazine
60% readers are in the 20-50 age group
57% of the readers have been reading OVERDRIVE since past 7 years
69% of OD readers own a 4-wheeler & 51% 2 wheelers
78% of readers refer to the magazine before making a purchase decision
High concentration in SEC A1
On an average 3 people share a copy
Average reading time is 50 mins
Facts and Figures in Overdrive Magazine
Overdrive Magazine largely covers the below mentioned sections in each edition - Caters to Car & Bike
 News
 Reviews

 First Impressions
 Tests

 Motor-sport
 Features 
Vehicle rating
 Comparisons
These are indicative and are subjected to change.
Who Should Advertise?
Overdrive Magazine has carried advertisement of various brands covering multiple categories. Some of the brands who have advertised earlier are shown below:

Who Should Advertise?
| | |
| --- | --- |
| Client Name | Category |
| Vogo Rentals | Motorcycle rental |
| Sony | Consumer Electronics |
| Honda | Automobile |
| Porsche | Automobile |
Execution Process
Step 1: Select Variables: Media Option, Ad Position, Number of Insertions and Magazine Issue Dates. 
In case you need any help with planning, please write to help@TheMediaAnt.com
Execution Process
| | |
| --- | --- |
| Variables | Sample Variable Selections |
| Media Option | Full Page/ Back Cover/ Gatefold |
| Ad Position | Regular/ Premium/ Innovative |
| Number of Insertions | 1/ 3/ 7 |
| Magazine Issue Dates | January/ February/ May |
Execution Process
Step 2: Email the filled table to help@TheMediaAnt.com or Create Package online at The Media Ant.
Step 3: We will check the ad space availability and prevailing discount at the time of booking.
Step 4: Upon confirmation of availability from our end, you need to submit the artwork and make the payment.
Execution Process
Post release of your ad in Overdrive Magazine, TheMediaAnt would deliver a hard copy of the magazine to the address shared during booking. In addition, a picture of the ad in Overdrive magazine's respective edition to be shared via email.

Similar Media
In addition to Overdrive magazine advertising, one can explore more similar options and they are provided below.
1. Similar Magazines in Automobile Category
here
to view other magazines in Automobile Category. ​
Similar Media
Click here to view advertising options on Overdrive website.

FAQs
Once the advertisement is printed in Overdrive Magazine, copies of Overdrive Magazine are sent to the client within one working week.

FAQs
With in 10-12 days of publishing Overdrive Magazine you will likely to get the Hard Copy on request.