Newspaper advertising has always been and still is the first choice of advertising that businesses think of doing.
This is because the print sector has been around longer than any other kind of media advertising we see today.
Moreover, advertisers can run their ads in sections of the newspaper which will closely relate with their target audience.
With the advent of digital news portals and online news apps the print industry did witness a decline in ad revenues, but it gradually saw a resurgence.
According to the EY-FICCI 2022 report, the print sector will reach INR250 Bn by 2024 and advertising is estimated to grow by 4% CGAR.
Home delivery circulation of newspapers and news stands have already recovered by 85% for Hindi publications and most of the regional newspapers.
Compared to the pre-pandemic levels, the ad revenue for English newspapers have already recovered to 65%, and regional languages and Hindi newspapers have recovered by a considerable margin of 78%. Talking about the advertisers, FMCG, Real Estate and BFSI have been the largest contributors of print ads.
We are sure you don't need any more reasons to advertise in newspapers.
However, the number of newspapers available in the market and the ad options can indeed make you feel overwhelmed and you ought to be indecisive.
In this article, we will be discussing Times of India Advertising and give you in-depth information which will help you in making a sound decision.
Times of India Advertisement
The Times of India, popularly known as TOI, undoubtedly falls under one of the most authentic and trustworthy newspapers in India.
The newspaper falls under the Bennett, Coleman and Company Limited, also known as the prestigious Times Group.
The foundation of the Times Group dates back to 1838, which makes it the oldest newspaper in India, however since then the magic and power that the newspaper holds amongst the audience hasn't ceased.
The reason why Times of India Advertisement is highly popular amongst brands and advertisers is because of the massive circulation and readership.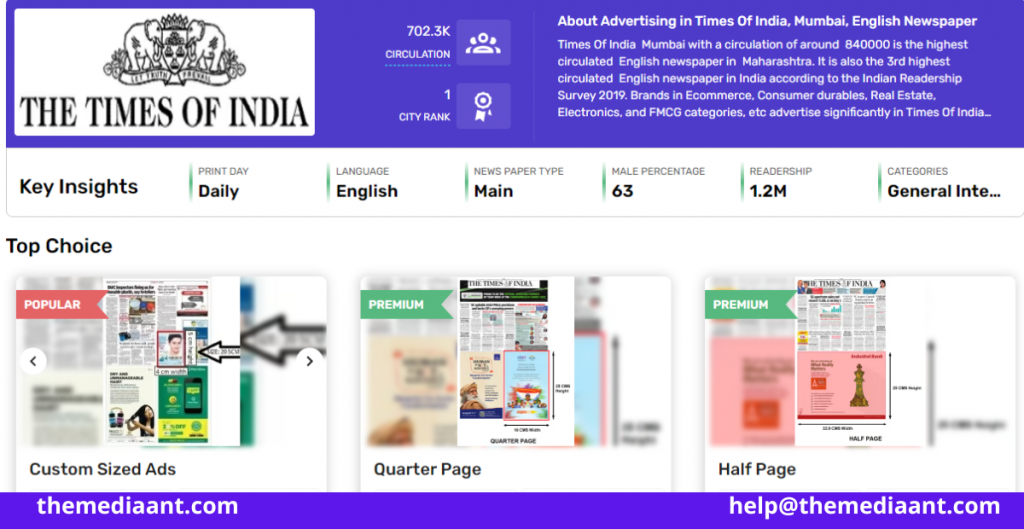 Times of India ads can be one of the most beneficial advertising mediums for your brand if you are looking to reach out to a wider audience. Times of India has a readership of 4L on a daily basis, with 71% of male and 28% of female readers.
It can also be a good advertising channel if your target audience consists of urban regions, as 48% of TOI readers belong to NCCS A1 and 24% belongs to NCCS A2.
Ad Options In Times Of India
The ad options available in Times of India Advertisements can get a bit intimidating, as the myriad ad types and their cost varies depending on the position, size and placement of the ad. But don't worry we've got your back, here's a list of the most popular ad options to make your Times of India ads stand out.
Times Of India Front Page Ad Cost
Times of India ads on the front page can cost a bit higher than the other ad options. But the amount of reach and attraction your brand or product would receive from a display ad on the front page is worth the amount.
The best part of having your ad displayed on the front page of Times of India is the size of the ad which is sure to grab the attention of the readers.
When a reader sees an ad on the front page of the newspaper they tend to retain it more and can even take an action.
The Times of India front page ad cost is a bit expensive, but as we mentioned before the price is worth the engagement your brand can receive.
Please fill the form one of our representative will connect with you shortly
Times Of India Classified Ads
Times of India classified ads are one of the cheapest ad options available on Times of India advertisements and are a great option for brands with a small budget.
Times of India classified ads are priced according to the number of words that your ad consists of.
Some of the examples of Times of India classified ads are local activities, lost and found, accommodation, employment notices, sales and purchase, to-let and etc.
There's a notion that Times of India Advertisement is for brands with high advertising budgets, however Times of India classified ads can be used by SMEs and local brands too.
Why Should You Go For The Times Of India Advertisement?
The Times of India is an English language newspaper which is also an online news portal that is managed by The Times Group.
One cannot deny the fact that Times of India ads can leave a high impact on the audiences, due to the large readership and the trust that people have on the media conglomerate.
TOI has been in the print industry for years now and the century old newspaper still holds a powerful influence over the readers.
Over the years the newspaper has experienced growth due to its consistency and better source of information. Times of India covers news on a wide range of genres, such as national & international news, lifestyle, fashion, sports, politics, entertainment, etc.
The newspaper has started publishing ads which is a cherry on the top, and it benefits the brand and advertisers to a large extent.
Reasons Why You Should Do Times Of India Advertisement
1. Extensive Reach
Times of India ads will undoubtedly help you to reach a large audience all thanks to its high readership and circulation all over the country.
Reaching out to a wider audience and getting visibility for your brand is the ultimate objective of an advertiser and with Times of India advertisement you can easily get maximum reach and cover your target audience.
2. Authenticity & Trust
We do not deny the fact that digital has taken over the ad world, but talking of traditional media print ads still hold a position of trust and leadership.
According to a 2020 study by Advertising Standard Council of India (ASCI) 77% of Indians trust newspaper ads.
The reason being the intent of the medium, newspaper is well known for being honest in its approach, print has become synonymous with honesty and seriousness.
Hence, Times of India ads are definitely more trustworthy than that of other ad mediums.
3. Accurate Results
If you are looking for better results and ROI, Times of India advertisement can serve your purpose accurately.
They offer the most cost-efficient ad options and with a high readership base.
Nothing could be more convincing for you than advertising in TOI.
4. Wide Range Of Ad Options
From Times of India front page ads to classified ads the newspaper offers an array of ad options at different rate cards.
So even for an SME or local business, Times of India ads can work wonders.
If a brand cannot invest too much on advertising they can still go for Times of India classified ads in order to get visibility.
How To Book Classified Ads In Times Of India?
These are the following steps you can take in order to book classified ads in Times of India:
Step 1: Visit The Media Ant website.
Step 2: Go to the Newspaper vertical on the homepage of the site.
Step 3: When you click on the newspaper vertical, you will be directed to the tool page.
Step 4: Go to the Times of India, advertising page in order to book your ad.
Step 5: You will then be directed to the ad options available for TOI.
Finally you can go through the filters, and select the ad option preferred by you.
Times Of India Advertisement Cost
The Times of India advertisement cost may vary depending on the type of ad you opt for.
The pricing model for Times of India ads depend upon the position, size and placement of the ads.
The 'Top Choice' section in the page of Times of India Advertising has detailed Times of India advertisement costs for all media options available on The Media Ant portal.
You can also select various targeting parameters while using Times of India ads. This can be done by saving the media option to the bag and accessing it there.
You will find headings like 'banner' and 'front page' from where you can pick the most suitable one.
You can also check the best-discounted rate for your selected volume. However, Times of India ad costs are very effective and are ideal for big brands as well as small ones.
This is because you can run nationwide campaigns, the campaigns can target a large group of customers.
| | |
| --- | --- |
| Was this article helpful? | |